Last updated on January 23rd, 2023 at 11:50 am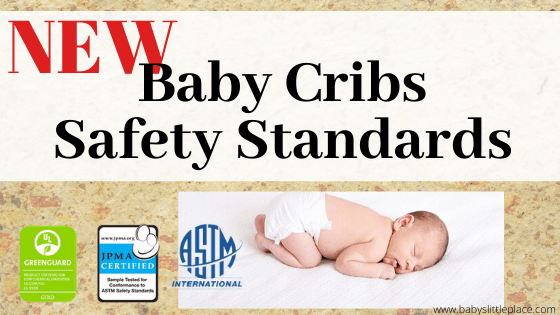 Does your crib meet all current baby crib safety standards?
Your newborn will spend a lot of time sleeping, so it is essential to provide him with a safe sleeping environment. But that doesn't mean that only the crib must meet all baby crib safety standards! To be as safe as possible, consider additional guidelines about how to use the crib safely.
Using a new crib is usually the safest choice, but that doesn't mean you can't safely use older or used one as well. If you are familiar with all current baby cribs safety standards and your older crib meets them, then it is as safe as any new crib on the market!
RELATED ARTICLE: The safest baby cribs
---
Current Baby Cribs Safety Standards
All cribs sold in the United States must meet new federal requirements for overall crib safety!
1. Recall list
Unfortunately, sometimes a potentially hazardous safety issue occurs when the product is already in use. The manufacturer must immediately recall such crib, notice customers, and CPCS (Consumer Product Safety Commission) place it on its recall list.
Although such a crib shouldn't be on the market anymore, you can make sure by checking their list on the link provided above.
2. Traditional drop-side cribs are prohibited!
Because of numerous injuries and even tragic baby death, the Consumer Product Safety Commission banned the sale of cribs with a side that drops down.

The drop-side mechanism can break or deform, causing the drop-side to detach. Baby can roll into this space and become entrapped, which can lead to suffocation.

Cribs must have:
a steady framework, without dropping sides
sturdy feet
solid and reliable mattress support
3. Safety of crib slats
Wood slats must be made of stronger wood and placed no more than 2 3/8 inches apart. While solid woods prevent slats' breaking, the short distance between them prevents the baby from entrapment. Your baby shouldn't fit through the gap between slats!
4. Strong and reliable crib's hardware!
Crib's hardware must have anti-loosening devices to keep it from coming loose or falling off. Cribs wood shouldn't have cracks or splits, and its framework must be without sharp edges and rough areas.
It is also important that you firmly secure screws while assembling the crib. As such, they won't catch baby clothes, pinch him or otherwise injure your baby.
5. Safe mattress support
A new baby crib safety standard requires more durable mattress support.
Most new cribs have adjustable mattress support. That is an excellent feature, particularly for short moms! It's hard to place a sleeping baby over the upper rail to the bottom of the crib. Believe me, I know, and I am not even short. 
Anyway, setting the mattress higher for a newborn saves us a lot of trouble and backaches! Of course, you shouldn't forget to lower it down while your baby grows. That's how you'll prevent her from climbing, rolling, or falling out of the crib. 
Crib sides should be at least 26 inches higher than a mattress!
Additional baby crib safety regulations
A firm and tight-fitting mattress!
The mattress must be firm and fit tight in the crib, so a baby cannot slip in and get trapped between the mattress and the crib's rail.
If you have a crib mattress already at home, you can make two simple tests:
Firmness test: Press on the mattress's surface with your palm. If it holds firm and springs back in place quickly, it's firm enough.
Fitting test: Place the mattress in the crib and check if there is a gap between the mattress's edge and the crib's side. If it doesn't fit snuggly, place two fingers there. The space between the mattress and crib's frame shouldn't be bigger from two fingers!
Crib's assembling
Follow the provided instructions, and make sure that you assemble the crib correctly. If you are not sure, look for additional information, or even better, call the manufacturer for assistance.
When you are done, check the crib's stability. Give it a good shake, and if it wobbles, check if you assemble it correctly.
Cribs that are incorrectly assembled, can result in entrapment or even suffocation. Infants can become strangled when their head and neck become entrapped in gaps created by missing, loose or broken hardware or broken slats.
Non-toxic finish!
Rail teething is common and normal amongst babies. It is essential to choose a crib with a non-toxic finish.
Although CPSC baby crib standards cover this for new cribs on the market, you might want to check crib certifications anyway. If the crib is JPMA (Juvenile Products Manufacturers Association) or GREENGUARD Gold certified, it doesn't contain toxic chemicals or toxic paint.
You can preserve crib rails with rail protectors, but be careful in using any third-party models, as they have to meet safety specifications as well!
Design
The crib shouldn't have corner posts over 1/16th inch high, so a baby's clothing cannot catch. There shouldn't be any cutouts in the headboard or footboard, so a baby's head cannot get trapped.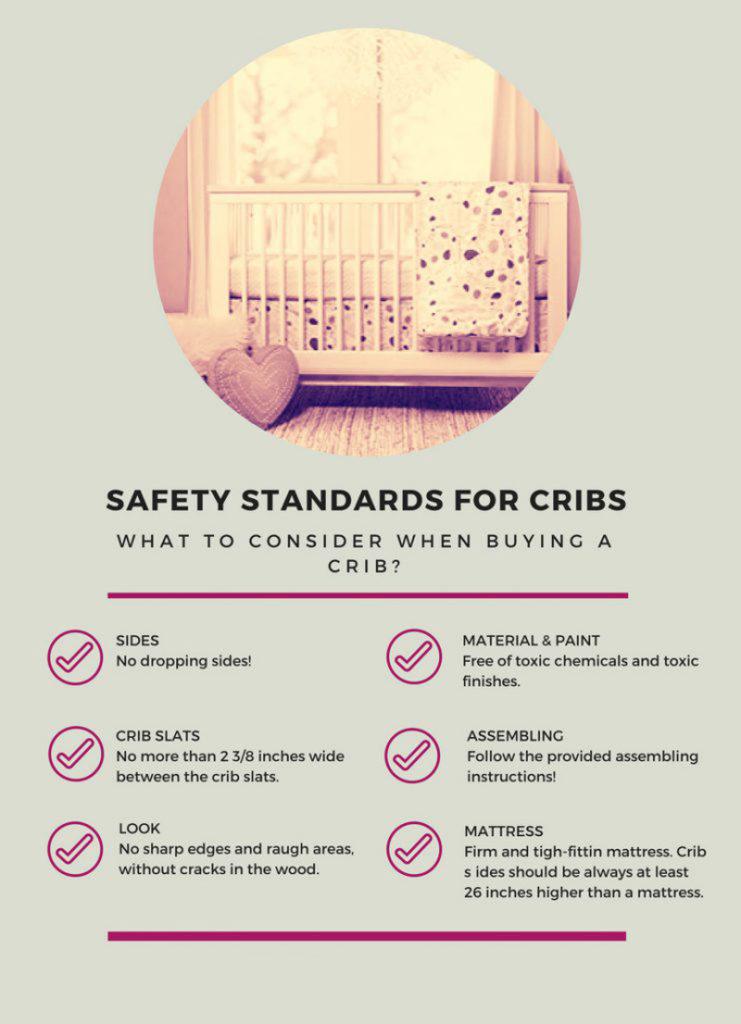 ---
Safety requirements for (old) used cribs
If you are getting a used crib, check it with extra care. First, find out if the crib has an unsafe design or any missing or broken parts.
Broken parts are not safe for your baby, so you should replace or repair them immediately! The crib shouldn't be modified or have any loose components. The infant can strangle to death if his body passes through gaps.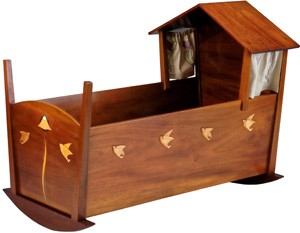 Important! Find out if the old crib hasn't been recalled by the manufacturer. You can find the data on the CPSC (Consumer Product Safety Commission) site in the recall section.
Avoid cribs made prior to June 2011, as they may not reach current baby cribs safety standards! CPSC released a new crib safety standard in 2011. Most notable was certainly their decision to withdraw drop-side cribs.
Cribs with one or more dropping sides are baned since 2011! Do not accept a used crib, with a drop-side rail, because of the safety reasons. 
---
Who set baby crib safety standards and guidelines?
CPSC (Consumer Product Safety Commission) is an independent agency of the United States government. The CPSC seeks to promote the safety of consumer products by addressing "unreasonable risks" of injury, doing research into product-related illness and injury, and developing CPSC safety standards.
JPMA (Juvenile Products Manufacturers Association) certification means that a baby product has been tested by an independent facility and met the guidelines set by standards developer ASTM International.
ASTM (American Society for Testing and Materials) is a standards organization that develops and publishes voluntary consensus technical standards for a wide range of materials, products, systems, and services.
GREENGUARD Gold Certification ensures that a product has met some of the world's most rigorous and comprehensive standards for low emissions of volatile organic compounds (VOCs) into indoor air.
---
Other baby crib safety guidelines that you should take into consideration!
If the crib meets all required safety standards, that is a big step towards your baby's safety. But just purchasing a safe crib is not the only thing you should do, because you have to use it correctly too! There are other safety measures, which you should take into consideration to provide the safest sleeping environment for your baby!
Never put pillows, blankets, and sheepskins in a baby's sleep environment, to prevent suffocation.
If you use position devices, use them carefully following the instructions.
The American Academy of Pediatrics (AAP) warned against using bumper pads. If you decide to use them anyway, use breathable materials, which fit firmly around the crib.
Avoid putting plush toys and any comforters in the crib with your baby.
Be careful that the cord from a baby monitor is not close to the crib, as the baby can strangle or choke.
Keep the crib away from blinds and windows or anything else that baby when he gets a bit older can pull down. Blinds or curtain cords on a baby rich can suffocate him/her. Also, this measurement prevents your baby from falling through the window.
Regularly check for loose or broken screws, bolts, and mattress support. You won't forget about it, if you check them, every time you change the sheets.
Always place your baby in the crib on his or her back.
The best place to sleep is in the same room with parents, but not in the same bed.
Remove bibs and necklaces from your baby's neck, before putting your baby in the crib.
Keep a smoke-free zone around your baby. Not just for sleeping, always!
Do not over clothe your baby while sleeping. The baby should be warm, but not too much because she can quickly be overheated.