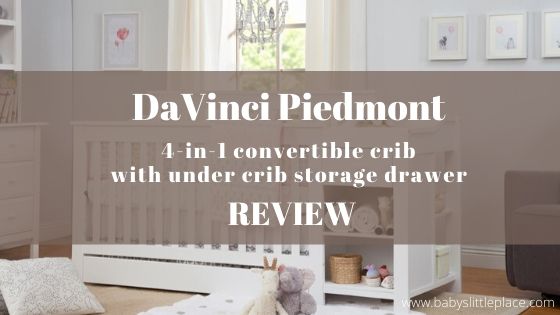 DaVinci Piedmont 4-in-1 convertible crib with under crib storage drawer Review
DaVinci is a well-known and trustworthy baby brand, with lots of top-rated nursery products. It boasts many different nursery furniture collections, including the Piedmont.
DaVinci Piedmont is one of their best-selling collections, where you can choose between two similar 4-in-1 convertible cribs. Piedmont cribs are very similar yet a little different, so I wanted to review both.
The first one is DaVinci Piedmont 4-in-1 convertible crib with an under-crib drawer. And the second is a version of the first crib with an attached changer. We've reviewed both, but you can't compare them to each other as they are designed for parents with different needs.
DaVinci Piedmont 4-in-1 convertible crib is a convertible crib with an added under crib storage drawer. It offers more storage than regular convertible cribs, but less than combo cribs, such as second Piedmont's model.
DaVinci Piedmont 4-in-1 convertible crib with changer (also called a combo crib) is a perfect choice for a space-conscious family. DaVinci added a changing table and kept all the great features of the first crib. This way, they further increased the amount of storage space and created a little nursery combined in one piece of furniture
---
DaVinci Piedmont 4-in-1 convertible crib review at a glance: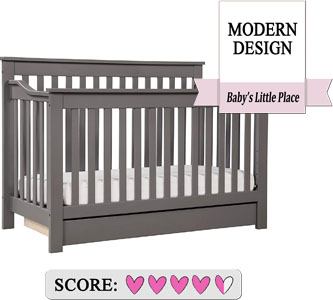 PROS:
it grows with your child
toddler bed safety guardrail is included in the price
a large under crib storage drawer
the drawer slides in and out easily
nice, modern design
sturdy crib
GREENGUARD Gold certified
meets and exceeds all required safety standards
changer with included changing pad*
changing table with one drawer and two specious shelves*
changer converts into a nightstand besides full-size bed*
CONS:
a lack of color assortment (three finishes for the first one, and only two for a combo crib)
many parents reported it's hard to assemble*
*only DaVinci Piedmont with an attached changing table
---
I can't get past the negative DaVinci Piedmont 4-in-1 convertible crib and changer reviews on Amazon, which can be very misleading.
For instance, the crib got fewer stars because it doesn't have a drop side. Drop-side cribs are dangerous! The sale of such cribs is even banned, so those reviews are completely groundless.
The second complaint is due to scratches, which occur during transport. Few parents got the crib with a scratch or dent, but they successfully replace the damaged parts. Anyway, that's not the crib's fault either, but a result of improper handling during transport. However, such reviews should serve as a warning to the DaVinci to check up the quality of their packaging.
---
Specifications:
DaVinci Piedmont 4-in-1 convertible crib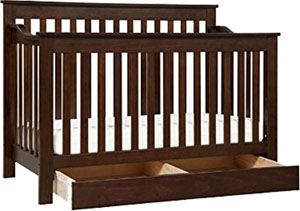 Assembled dimensions: 58″ long x 31″ width x 42″ high
Front rail measurement (top to floor): 34,875″ high
Assembled weight: 67 lbs
Available finishes: Espresso, Slat & Whitey
Compatible crib mattress size: standard size crib mattress
DaVinci Piedmont 4-in-1 combo crib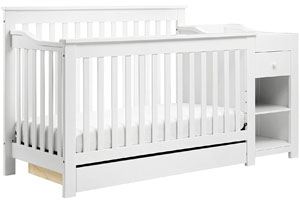 Assembled dimensions: 73,5″ long x 31,5″ width x 42,25″ high
Front rail measurement (top to floor): 34,875″ high
Assembled weight: 113 lbs
Available finishes: Slat & Whitey
Compatible crib mattress size: standard size crib mattress
Changing pad: included 1″ water-resistant pad
A fitting changing pad: 27,625″ L x 16,5″W
---
DaVinci Piedmont 4-in-1 convertible crib Review
The following features are the same on both DaVinci Piedmont convertible cribs:
Convertibility
DaVinci Piedmont can be the only bed you will ever need. It grows with your child from newborn to adulthood. As such, it saves you the hassle and money of buying multiple beds as your little one grows.
Conversions of both cribs are the same. DaVinci Piedmont transits into a toddler bed, daybed, and full-size bed. The only thing that is different is the changing table on the combo crib, which stays attached to Piedmont until the last conversion into a full-size adult bed.
THE CRIB:
It has four-level adjustable mattress support. You can start with the highest setting for a newborn, and gradually lower it down with your baby's growth.
Placing the sleeping baby to the crib is much easier and less stressful, thanks to this feature. And most importantly, because the job is more comfortable for you, there's less chance to wake up the baby!
Especially short moms will appreciate this feature. The front rail of the Piedmont crib is 34,8″ high, so it's not the highest nor the lowest crib compared to other convertible cribs on the market.
The vertical slat on the top of the front rail also doesn't do a favor to short moms. If you are very short, I suggest you think about low-profile cribs, which are perfect for short moms, or you might need a step stool to help yourself.

A TODDLER BED:
When your baby outgrows the crib, it is time for the transition into a toddler bed. The best time for the conversion is when your child begins to climb or reaches 35 inches, whichever comes first.
DaVinci Piedmont converts into a toddler bed with a safety guardrail. While you get it besides the classic convertible crib, you have to buy it separately for a combo model.
The conversion into a toddler bed is not hard. All you have to do is set the mattress into the correct position and replace the front rail with a toddle safety guardrail.
Note: While you get a toddler safety guardrail with the standard DaVinci Piedmont 4-in-1 convertible crib, you will have to buy it separately for a DaVinci Piedmont with a changer!
A DAYBED:
You don't have to make any additional purchases for this conversion. DaVinci Piedmont transit into a daybed by removing the toddler rail, and that's it.

A FULL-SIZE ADULT BED:
DaVinci Piedmont can transit into an adult bed. But that will cost you around $100 for a full-size conversion kit and money for a full-size mattress.
While the crib's front and backside serves as a nice headboard and footboard, a detached combo crib's changer converts into a matching nightstand.
How long can my child use a certain Piedmont's conversion?
Stop using DaVinci Piedmont as a crib when your child begins to climb or reaches 35 inches.
Toddler bed/daybed weight restrictions: 50 pound
Full-size bed weight restriction: 500 pounds
Storage drawer review
An under-crib drawer is an excellent addition for any modern family. By placing a trundle drawer under the crib, DaVinci efficiently used otherwise unutilized space under the mattress's area. It gives you more storage space and saves you from cleaning or crawling after lost toys under the crib.
The drawer is spacious and divided into two equal parts. It has pre-installed metal euro-glide, which makes opening easier.
What I don't like is that there is no barrier, which would divide the mattress support from the drawer. That's the same on almost all cribs with under crib drawers, and the DaVinci is unfortunately not an exception. The crib mattress is pretty high at first, so you can see what's in the drawer from any angle of the room. Some solve this aesthetic problem with a crib skirt, others don't mind it.
As this is a common problem, I can't say it's a major drawback for the DaVinci Piedmont. But I can't help stop wondering why manufacturers don't solve this problem.
Anyway, the DaVinci Piedmont's under crib drawer is quality made and a great bonus for every parent. Although it is usually a feature that makes parents opt for this crib, some wonder if it can stand without a drawer. Yes, it can, but I don't see a point why you wouldn't use it!
Safety
DaVinci Piedmont 4-in-1 convertible crib is made of sustainable New Zeland pine wood and TSCA compliant engineered wood. It is finished with a non-toxic multi-step painting process, and it's overall a safe crib.
The crib is sturdy and doesn't wobble, even after conversions. It doesn't have drop-sides, and that is how it should be! Selling drop-side cribs is banned since 2011! There were too many injuries and even tragic deaths because babies trapped in the mechanism.
DaVinci Piedmont is lead and phthalate safe, and GREENGUARD Gold certified. This certification reassures it is without toxins and doesn't pollute your indoor air. The crib also meets and exceeds ASTM (American Society for Testing and Materials) International and U.S. CPSC safety standards (Consumer Product Safety Commission). So, everything is OK, but if you want to know even more about cribs' safety standards, you can read our post about them.
---
Combo crib's Changing Table Review
DaVinci Piedmont possesses a quality changing table with one drawer and two shelves. As such, it's one of the best combo cribs with under crib drawer you can buy.
The changer can be attached only on the right side of the crib, which is not unusual for this crib's type. It is attached to the Piedmont until the last conversion into a full-size adult bed when it turns into a usable, matching nightstand next to the Piedmont bed.
Another great thing is an included changing pad. The dimensions of combo cribs' changing pads are smaller than standard changing pads, so it's sometimes hard to find a fitted one. That's why it is having an included one so great. If you want a different one, you have to find the one that fits into a changing station, which is 27,625″ long and 16,5″ wide.
Changing table size restrictions: Stop using it as a changing table when your baby reached 30 pounds.
---
Mattress for the DaVinci Piedmont 4-in-1 convertible crib
As I already wrote in the beginning, the DaVinci Piedmont possesses four-level mattress support, where you can start with the highest level for a newborn and gradually lower it down with your child's growth.
Both cribs are standard size regular cribs, so any standard crib mattress fits. Of course, DaVinci recommends their line of non-toxic, GREENGUARD Gold, waterproof mattresses. Their crib mattresses are quality and safe, but I wanted to remind you that you have a wider choice.
From affordable Graco's and Miliard's crib mattresses to NapYou or other dual-sided crib mattresses with a middle price range, and high-end crib mattresses such as Newton Wovenaire baby crib mattress.
Interior standard size crib measurements and the measurements of regular crib mattresses are regulated by the government. So, any new standard crib mattress fits into any new full-size crib!
---
The verdict
DaVinci Piedmont 4-in-1 convertible crib is a quality and safe crib. Both cribs have a modern design and fit nicely with most furniture. My only complaint is the lack of different finishes, but you have a choice to pick a matching DaVinci furniture in the crib's color. However, that represents additional costs, so I hope DaVinci sents Piedmont's cribs of other colors on the market soon too.
Both models offer more storage space than most cribs of their types. While the regular DaVinci Piedmont offers more space from classic convertible cribs, the DaVinci Piedmont combo crib offers more space from most combo cribs.
Although it may not look at first glance, are combo cribs space and money savers. Yes, a combo crib is bigger than a regular convertible crib but smaller from the stand-alone crib and changing table. And those with added under crib storage drawers, such as DaVinci Piedmont 4-in-1 convertible crib and changer, are with more storage space even better solution for modern families!
---
Here are the latest price of:
---