Last Updated on September 21, 2020 by Ines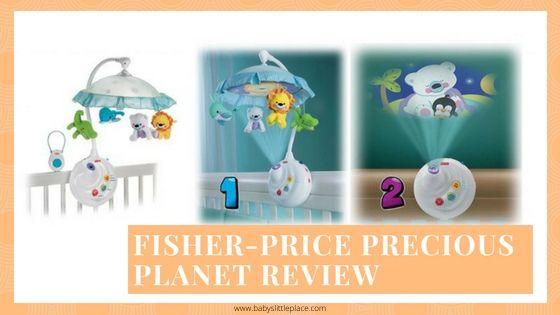 Fisher-Price Precious Planet, a Crib Mobile with Projection
Fisher-Price Precious Planet is a long-lasting crib mobile with projection and animal-themed design. It grows with your child, as it converts to a crib-side music box with ceiling projection.
When serves as a crib mobile, it projects images on a cute canopy above the baby's head. The canopy keeps images close, make it easy for young baby to focus. As baby grows, you can remove the mobile's arm with the canopy and leave the base on the crib. The mobile base then serves as a night light projector with colorful animal ceiling projection.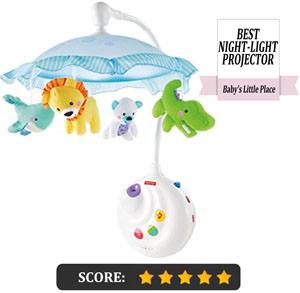 PROS:
it grows with your child
versatile use: crib mobile and a crib-side music box with ceiling projection
switching between sounds
adjustable volume
it has a remote control
night light projection on a canopy or ceiling
can be easily attached to the side of the crib
easy to set up
CONS:
if you have a really high ceiling, the light show might not be as clear as it is when projected onto the canopy
---
Fisher-Price Precious Planet mobile' assembly
The assembly of the mobile is easy and quick and does not damage the crib's frame. The crib base hooks on to the crib rail with the buckle on the back. For added security, there is an additional string that you tie around one of the crib slats.
The buckle is sturdy and along with string ensures that crib mobile doesn't fall down. Straps are also adjustable, so the mobile fits perfectly on cribs with wide rails as well.
What does 2-in-1 mean?
It means that you get one baby product, which you can use in two different ways. As I already mentioned in the introduction, you can use Fisher-Price Precious Planet 2 in 1 projection mobile as a:
crib mobile, with the projection on the canopy
a crib-side music box with ceiling projection

So you won't use it only for the first months of baby's life, but for many years to come. That and the ability to projects images into two different places gives additional value to this projection crib mobile.
---
How do I operate with the Fisher-Price crib mobile projector?
You can control the mobile with buttons on the mobile's base. With three large colorful buttons on the front of the mobile, you can switch between sounds: a heartbeat, nature sounds, and lullabies.
There are also buttons on the side of the mobile's base:
for turning on/off the mobile
for setting the volume level
for switching between different operating options *
* When you use the Fisher-Price Precious Planet 2-in-1 projection mobile as a crib mobile, you can choose between three different settings. The mobile can be set to play music only, or you can have music and mobile spinning. And the last mode is of course with the projection, so mobile will spin, play music and project images on the spinning canopy.
Another useful feature is operating with included remote control. Although the remote control doesn't have a wide range, you can turn the mobile on/off from the doorway of your baby room. That's completely enough to operate with the mobile, without disturbing or waking up the sleeping baby.
---
Fisher-Price Precious Planet Specifications
TOYS:
Four plush animals from around the World spinning on a mobiles' canopy:
yellow lion
light blue whale
green alligator
white polar bear
Plush toys are also removable. They attach to the canopy by the knot at the end of the string that slips onto the little holes on the canopy. So once you remove the canopy from the mobile, you can remove the plush toys as well. Add them to your child's toy box for further use.
ROTATION:
rotating direction: clockwise
it can play music without spinning the toys and projecting images
MUSIC & SOUND OPTIONS:
music duration: up to 20 minutes
volume setting: yes, two levels
the number of melodies: The mobile has three sound options. Classical lullabies from Bach, Beethoven, and Mozart, nature and ocean sounds, or heartbeat and white noise womb sounds.
customize with three musical settings: long-playing music, music with motion, and music, motion & projection
switching between sounds: yes, between classical music, nature sounds, and a heartbeat
LIGHTS:
It has a projector that repetitively cycles through animal pictures (polar bear & penguin in a snowy scene, hippo & monkey, two giraffes, a bird flying over water, alligator, turtle & whale).
It doesn't have a classic baby nightlight.
REMOTE CONTROL:
It has a remote that requires two "AAA" batteries.
TECHNICAL DETAILS:
weight: 3.17 pounds
dimensions: 23.5 x 18 x 17 inches
batteries: four D batteries for the mobile & 2 AAA batteries for the remote control
AGE:
as a crib mobile is designed for use from birth up to five months
When your baby stands up and starts to grab and pull down the toys, it's time to remove the mobile and start projecting images onto the ceiling. You can use the crib projector as long as you want, and your child doesn't get bored.
WARRANTY:
The warranty for the Fisher-Price Precious Planet projection mobile is 3 months from the date of purchase with a receipt.
---
Frequently asked questions about Fisher-Price Precious Planet projection mobile
1. There are buttons to switch between sounds, but can I switch between different lullabies?
Yes, you can. You can switch between Bach, Beethoven, and Mozart by continuously pressing the yellow button for lullabies. Once you've chosen a listening option, it will play for 20 minutes.
2. Will this crib mobile with projection fit on a convertible crib?
Yes, it will.
3. Is the projection bad for the baby's eyes?
No, the canopy rotates very slowly, and the colors are so subtle that they cannot possibly cause any problem that we can see.
4. Is there a power cord or it works only with batteries?
The mobile works only with batteries.
5. How long do batteries typically last?
It's hard to tell. It depends on how long you use the mobile, and what mode do you use. It also depends on the quality of the batteries you are using.
6. Is this noise activated?
No. There's a remote control to turn it on from a short distance away or buttons on the unit itself. If you are interested in a sound-activated mobile, you can read our VTech Soothing Ocean Slumbers Mobile review.
---
Why would you decide on a Fisher-Price Precious Planet 2-in-1 projection mobile?
Because you want:
baby gear that grows with your child
because you want a nightlight projector
as you are looking for a baby crib mobile that offers more than just spinning toys and one lullaby
because you want a safe purchase, and Fisher-Price is a well-established producer of baby equipment
We've found the best price for the Fisher-Price Precious Planet 2-in-1 projection mobile on Amazon.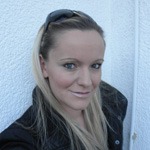 Hello!
I am the founder of Baby's Little Place. I'm a mom to the one-year-old daughter and I know how overwhelming could be when you are looking at things and tips for a new baby, especially if you are a first-time parent. That's why I set up this site…because I want to do something I am passionate about, as well as I want to help new parents and parents to be.

I hope you enjoyed reading my article! If you have any questions or comments, please leave them down below. I will be happy to discuss it with you!