If you are looking for a versatile sleeping solution for your little one, you probably have heard of "Pack 'N Play." But what is a Pack 'N Play, and why do so many parents love this peace of baby gear?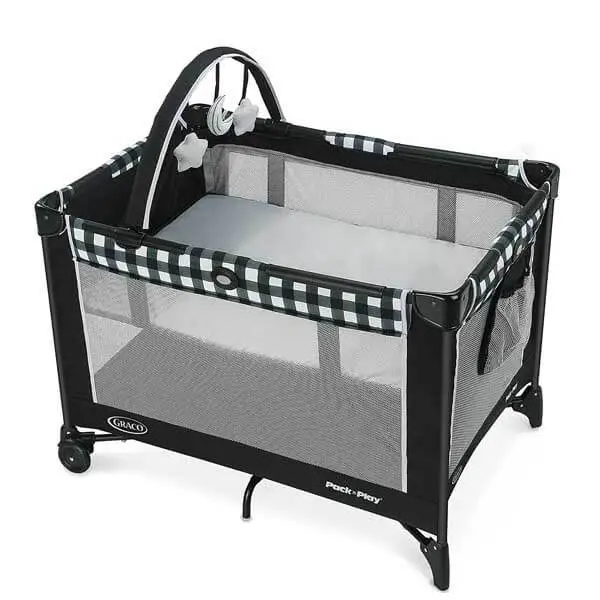 What is a Pack 'N Play?
A Pack 'N Play (also known as a Pack and Play or Playard) is a type of portable bed that children can use from birth through the toddler age. Pack 'N Plays double as a portable playpen, providing a convenient enclosed area for infants and toddlers to use at home or take with you wherever you go.
Pack and Plays are lightweight and foldable. They usually come in convenient traveling bags for easy transport, making them ideal for families on the go or for use in smaller living spaces.
A Pack 'N Play is one of the most helpful pieces of baby gear you can own. From nap time at home or sleepovers to traveling and camping, the use of Pack 'N Play is incredibly versatile. And these are only some of its benefits. As you will see, a Pack 'N Play can also be used in other ways.
What types of Pack 'N Plays do we know?
The purpose of all Pack and Plays is the same; providing a safe place to sleep and play – anywhere and anytime. Meaning their primary characteristics are the same. However, there are some differences, based on which we can divide Pack 'N Plays into three groups.
Knowing the differences will help you find the best Pack 'N Play that suits your family's needs perfectly.
To illustrate with an example: Do you travel a lot? It is a big difference if you carry around a 30lbs Pack 'N Play or a lightweight model such as the Guava Family Lotus, which weighs only 13lbs.
On the contrary, if you intend to use your Pack 'N Play mostly at home, consider additional features, like changing station, newborn napper, storage pockets, etc. By the way … If you want an excellent Pack 'N Play with many accessories, look into Graco's Pack 'N Plays. They are one of the best options on the market!
Pack and Play types:
Classic, traditional Pack 'N Plays
Care Station Playards
Lightweight Pack 'N Plays or travel cribs
What is a traditional Pack 'N Play?
A traditional Pack and Play is the most basic one. A typical traditional Pack and Play features a small mattress or pad for the baby to lie or play on, mesh sides for ventilation and visibility, and an automatic folding system for the compact and hassle-free fold.
Typically equipped with two wheels for effortless movement, these playpens are easy to move around the room and come with a travel bag for convenient transport when folded.
Traditional Pack 'N Plays are generally lighter than Care Station Playards but heavier than lightweight travel cribs, making them a suitable option for travel but less ideal than travel cribs for frequent or longer trips.
What is a Care Station Playard?
Care Stations Playards offer lots more than the traditional type. The name "Care Station" reflects the idea that this type of playpen is designed to be a versatile and all-in-one solution for parents to care for their babies and young children in one convenient location.
While Care Station Playards may have larger sleeping and playing areas than traditional Pack and Plays, their interior dimensions are approximately the same. However, due to their added features, Care Station Playards tend to be bulkier and heavier than traditional Pack and Plays, and may not be as portable or easy to move around.
Overall dimensions and added features differ from model to model, where most Care Station Playards hold two or more following features:
Full-size bassinet
Newborn bassinet
Portable napper, which can sometimes double as a rocker
Changing table
Storage organizer
Soothing devices like a musical box or crib mobile
These Playards also come with a carry bag, but you should know only the base unit and a full-size bassinet fold into it. Other accessories don't fit in, so you must pack them separately or leave them home.
These Pack 'N Plays are the best choice for home use or sleepovers in the grandparents' house. 
What is a lightweight Pack 'N Play or travel crib?
A lightweight Pack 'N Play, or so-called travel crib, is a type of portable baby bed and play area designed to be light, compact, and easy to transport. They weigh less than traditional Pack and Plays or Care Station Playards, making them ideal for families who frequently travel or have limited storage space at home.
A lightweight Pack 'N Play has a simple, triangular-shaped design with an aluminum or plastic frame and mesh sides. They do not stand on legs like traditional Pack and Plays and Care Station Playard. Their sleeping area is placed on the floor, contributing to the stability of the lightweight unit and making it safer for your baby.
The best travel cribs are ultra-light and fold small into a travel bag that is sometimes designed as a suitcase or convenient backpack.
They may not be as feature-rich or versatile as larger Playards, but they make up for it with their convenience and portability. They are easy to fold and store and can be taken wherever you go, even on the plane.
For what is a Pack 'N Play used for?
A Pack 'N Play is commonly used as a safe and enclosed space for infants and toddlers to sleep and play in, both at home and while traveling. It is popular for families who want a portable and convenient solution for their child's sleeping and playing needs, whether at home, grandparents' houses, or other caregivers' locations.
6 Ways to use your Pack 'N Play
You can use your Pack 'N Play as a:
Sleeping place
Playing area
Travel companion
Secondary crib
Newborn bassinet
Secure place for sleep and play outside
1. Using a Pack and Play for Sleep:
You can use a Pack 'N Play instead of a crib for everyday sleep. Moreover, the American Academy of Pediatrics recommends this bed type as a safe place for babies to sleep.
But if you ask me, Playards can not compete with traditional cribs for everyday sleep, especially when your baby gets older. Although they are getting more and more comfortable, Playard's mattresses aren't as cozy and supportive as classic crib mattresses. 
A Pack 'N Play mattresses are excellent for napping, sleepovers, or even longer vacations, but they cannot compete with the crib mattress in quality.
At that point, I want to remind you of the important fact: Newer use a crib mattress in a Pack 'N Play to make it more comfortable!
A crib mattress is too thick for use in a Pack 'N Play. Using it causes a severe safety risk for newborns and young babies. 
Mesh sides don't offer enough resistance if the baby rolls to the side. Consequently, the baby can fall from the thicker crib mattress and become trapped between the mesh and the mattress's edge. That could lead to injuries or even suffocation.
To lower the risk of SIDS (Sudden Infant Death Syndrom), use only the included Pack 'N Play mattress or purchase the one classified as safe for your type and brand of Playard.
2. Pack 'N Play can be used as a playpen:
Use your Pack and Play as a handy spot for your baby to play in. When you are alone with a baby, it is hard to even go to the toilet, let alone clean or cook. Having a Pack and Play allows your baby to be safe while giving you free hands and a minute for yourself.
Some Playards, like Lotus, have a zippered door on the side. This feature has many advantages, including transforming the Playard into a fort for toddlers. They absolutely love it!
3. Using Pack 'N Play as a travel companion:
Using your own portable crib saves you a lot of trouble. First of all, babies tend to sleep better in a familiar environment. And second, you don't have to worry if your holiday accommodation has a suitable baby bed.
All Pack 'N Plays fold into an included carrying bag. However, there are differences between them, which affect the suitability of their use on vacations.
If you intend to travel a lot, pick a lightweight travel crib. They are ultra-light and pack up compactly. There is a big difference if you take a 13 or 40lbs Pack 'N Play on the plane or train.
You can choose whichever Pack and Play you want for traveling by car. We had Graco Pack 'N Play Nearby Playard, which is a care station. If we went on shorter vacations, we took it with us without any problems. Of course, I had packed only the Playard and full-size bassinet and left all the accessories at home.
What I want to say is, that although it's heavier and the carrying bag is not as small as on lightweight travel cribs, we had no problems fitting our Graco into the car trunk with all other baggage.
4. Pack 'N Play is a suitable choice for grandparents' house:
Pack 'N Plays and portable cribs are the best choice for naps, play, and sleepovers with grandparents or other caregivers.
The best model for grandparents is a Care Station Playard. It offers everything from infancy through toddler age. It's like a little nursery in one. And when it is not in use, they can easily fold it away!
5. Pack 'N Play can be used instead of the bassinet:
If you want to save money, use a Pack 'N Play instead of a classic newborn bassinet. It is cheaper, and your child can use it longer.
While your baby can use a classic bassinet for the first 6 months the most, she can use a Pack 'N Play for 4 years or even more.
Pick a traditional Pack 'N Play or Care station Playard, and place it next to your bed. But remember! Use only the full-size bassinet hanging in the Pack 'N Play for sleeping overnight!
Accessories, like newborn nappers, bouncers, or nest-like bassinets that attach on the top of the Care station Playards are handy during the day, but they are NOT safe for longer, unattended sleep!
6. Using Pack 'N Play outside
Move your Pack and Play outside and use it as a safe sleeping or playing space.
Whether you put it outside your house, take it on the beach, or use it on a camping trip, a Pack 'N Play keeps your little one safe. Just don't forget to provide shade and/or a mosquito net.
---
Is a Pack 'N Play necessary baby equipment?
A Pack 'N Play is an excellent solution for a baby's sleep arrangement that many parents find essential. However, it is not a necessary piece of baby equipment.
A Pack 'N Play provides a safe space for infants and toddlers to play, rest, and sleep at home or while traveling. Thus it can substitute multiple baby gear, but it is not a must-have item.
Whether or not a Pack 'N Play is necessary for your family depends on your preferences. Some families may find a crib or bassinet enough, while others may see a Pack 'N Play as a valuable addition to their baby gear collection.
So, to decide whether you need a Pack and Play or not, consider your lifestyle, budget, and personal preferences.