Last Updated on January 6, 2022 by Ines
We will help you score the best Black Friday deals on nursery chairs. See which nursery rockers, gliders, recliners, and nursery chairs with ottomans are on sale this year.
The best Black Friday nursery rocker/glider [recliner] deals in 2022
A perfect nursery includes a safe crib for your little one, a convenient changing table, storage space for all baby's belongings, and a comfortable and calming ambiance for parents. And what is not cozier than a quality nursery chair?
To help you find the best one for an affordable price, we've gathered the best Black Friday nursery rocker and glider deals in 2022.
You can jump on 2022 Black Friday deals on:
Not only your child, but you will also spend a lot of time in the nursery. Cuddling, breastfeeding, relaxing, reading books, singing songs, or just rocking to sleep, a quality nursery chair will make that time with your little bundle of joy relaxed and even more special. Therefore buying a comfortable nursery rocker or glider is one of the best decisions you can make!
There are several nursery chair types, from classic rocking chairs to modern swivel gliders with or without the ottoman. While they have different functions, they have something in common, most of them are not cheap at all.
Actually, some are very expensive! And taking advantage of Black Friday deals on nursery chairs can help you save some much-needed money!
---
2022 Black Friday nursery rocker and glider deals
Will Black Friday nursery chair sales start any sooner?
Yes, we'll be expecting nursery chair deals to start ramping up a week to even a month in advance.
That means deals will start creeping up around early November, and in most cases, last until the end of the weekend after Black Friday.
Feel free to bookmark our page and revisit. We'll be updating it with the most recent deals, more information on what to expect, and finally, with the very latest Black Friday nursery chair deals in 2022.
Black Friday 2022 is not here yet. Until then, you can check up on some of the last year's Black Friday nursery chair deals:
Black Friday deals on Nursery Gliders
Evolur Harlow Deluxe Glider | Recliner | Rocker | Swivel
RECLINE: multiple reclining positions, controlled by the electronic push-button panel
SWIVEL: 270° swivel
GLIDING: yes, it provides a smooth gliding
ROCKING: smooth rocking motions
BASE: a solid metal base
FABRIC: easy to clean durable polyester fabric with foam filling
DESIGN: ergonomic design, with a high backrest and ergonomic backrest support
MORE: built-in USB port with an included power cord, convenient side pockets, durable, assembly without tools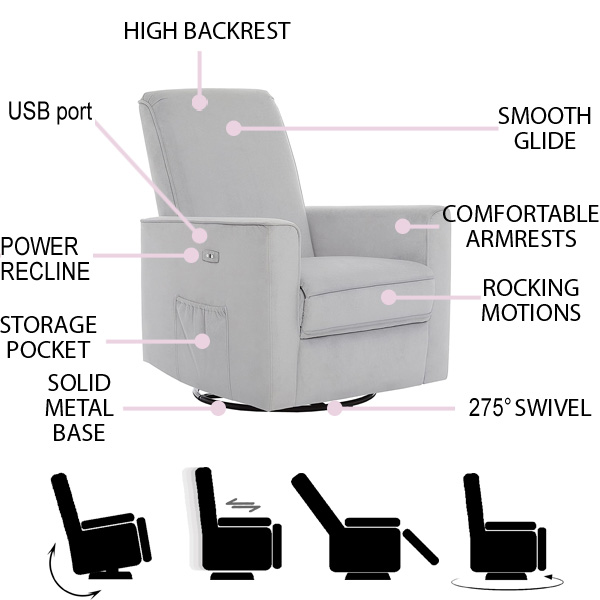 Project Nursery by Karla DuBois Grove Swivel | Glider | Recliner
RECLINE: manual recline, three secure seating positions, operated by an easy-to-reach lever
SWIVEL: 360° soothing swivel
GLIDING: gentle gliding motion
ROCKING: no
BASE: solid base with durable steel mechanism
FABRIC: durable upholstery
DESIGN: seating with durable pocket spring and foam, ergonomic, supportive pillow cushioning, padded armrests
MORE: clean, contemporary classic
Save $100.00 (20%) on Grove Reclining Glider
Use discount code BF2022 on Check Out!
Black Friday deals on Nurser Rockers
Rocking chairs do not recline, swivel, or glide. Although their movement is tied only to rocking, they are as comfortable and cozy as nursery gliders above. Even more, they remind us of the old days, which increases our sense of comfort and well-being. Therefore, sit back, relax, and enjoy their gentle rocking motions!
Delta Children Emma Upholstered Rocking Chair
MOTION: gentle rocking motion
BASE: sturdy and stable wood frame
FABRIC: soft, microfiber fabric
SEATING SURFACE: fully upholstered chair, thickly padded armrests, soft foam cushion with pocketed coil support
MORE: seat cushion is durable and removable for easy cleaning, non-toxic, tasted for safety
Dadada Baby Weeble Rocking Chair
MOTION: gentle sways back and forth
BASE: sturdy frame has steel legs and beechwood runners
FABRIC: 100% polyester wipe-off fabric
SEATING SURFACE: extra-comfortable ergonomic design with removable plush pillows (fill: 80% polyurethane; 20% polyester)
MORE: highly modern rocking chair
---
Do you intend to buy a nursery chair on Amazon?
Then look at Amazon Prime. With a subscription to Amazon Prime, you will gain an advantage over "regular" customers. And one of the biggest benefits is access to exclusive Amazon Black Friday deals and Cyber Monday deals.
What is Amazon Prime?
Amazon Prime is a paid subscription service that gives users access to Amazon services, which are not accessible to the typical Amazon customer. For example, you get free two-day delivery, Prime Early Access Deals, or free streaming music and video.
What is the cost of Amazon Prime?
One year subscription is $119/year, and $59/year for Student membership.
Monthly Prime membership costs $12.99 per month and $6.49 per month for students.
BUT, by clicking on the provided link, you can get a 30-day free trial!
---
Is buying a nursery rocker or glider on Black Friday worth it?
Yes, why not, just stick to the few rules!
Is this a nursery chair you really want, or you like it just because of a good Black Friday deal?
Do you prefer a classic nursery rocker or you want a nursery glider? If you want a nursery glider, do you need additional features, like swivel or recline mechanism?
Do you want a traditional recliner, which reclines when a lever or button is pushed, or you prefer nursery recliners that recline electrically?
Does it have everything you need?
Is this a new model? Many retailers offer good Black Friday deals on old models. I am not saying there is something wrong with those models, but it is might significant to you.
Check up the price history of your selected nursery chair and figure out if a Black Friday deal is as good as it seems!
What is the benefit of ordering nursery rocker or glider recliner online on Black Friday?
You will avoid big crowds on Black Friday. Especially if you are pregnant, that is much more comfortable and less stressful.
A big crowd plus closed space are a perfect recipe for catching a disease. You don't need that, especially during pregnancy!
The online market is huge. So you will have a bigger chance to find the best Black Friday deal there.
You have access to "web only" deals, special coupons, etc.
---
Tips to make the most out of Black Friday
Make a plan and stick to it! Do it before Black Friday! Think about when and where you will buy.
Impulse purchases on Black Friday are very common! Don't spend your money on things you don't need!
Frequently check our site as we will update it with current Black Friday offers!
Set your budget for Black Friday and stick to it!
Sign up for retailers' newsletters, as they will help you make the plan.
On Black Friday shop high ticket items, like cribs and nursery gliders and rockers first. You will save more money!
Don't take the first deal you see! Compare them, or look for the tips on online sites and blogs like ours.
Don't shop with your friends on Black Friday! You will lose much-needed time and concentration. Probably you will end up with a bunch of unnecessary things too.
Don't buy toys on Black Friday. There will be toy sales throughout the whole of December.
---
Should I pick a nursery rocker or glider?
You can pick amongst many different nursery chairs. Depending on your nursery style, you can decide on a vintage rocking chair or choose a modern swivel glider of various sizes, colors, materials, etc. You can even pick an ottoman that matches the nursery chair.
Nursery Rocker:
Nursery rockers have two curved bands attached to the bottom of the chair. That creates a classic rocking base, with floor contact only at two points. You can rock back and forth by shifting your weight or pushing lightly with your feet back on the ground.
Nursery Glider:
Nursery Gliders simulate a rocking chair motion. The seat swings back and forth on a stationary frame base. It cost more than a classic rocking chair, but it has lots more features as well.
Glider's benefits:
Pinch points are moved away from the floor, so they are safer for toddlers.
Their movement is smoother and quieter from the rocking chairs.
Some of them can even swivel.
Usually, they have an optional matching ottoman.
There are models with recliners, which are a comfortable choice if you intend to sleep in them from time to time.
Gliders usually include a locking mechanism that keeps the chair in place if you don't want to move.
What to look for when buying a nursery chair?
A nursery chair must be comfortable and safe! The best models adapt perfectly to your body. As such, they offer proper support to the important body parts, like the spine and neck. If all that is covered, you will be able to relax and enjoy yourself in the nursery chair.
The ergonomic design of the glider or rocker must perfectly suit your needs.
Safety:
All products, especially those meant for babies and young moms, must be safe! Check up if your nursery rocker or glider passed all safety tests and meets the required safety standards.
Breastfeeding:
You will probably breastfeed in your nursery chair, so think about what is your preferred breastfeeding position. If you plan to breastfeed in the lying position too, pick a glider with a recline.
Armrest:
Believe me, a comfortable armrest is very important! First of all, babies grow fast. And second, there will be times when you will have her in your lap for a long time. She will become heavier and heavier, so a good armrest does help!
Ottoman:
Raising legs reduces pressure on the spine and thus releases the whole body. If your nursery chair doesn't recline, think about buying a suitable ottoman.
Easy to use:
While getting into the chair must be easy, it is getting out easily even more important! Think about how you will get out of the nursery chair with a sleeping baby in your lap. You don't want to wake her up!
Squeaking:
Again, you don't want to wake up your baby, so your rocking chair shouldn't make irritating noises! Finding a silent rocker is extremely important!
Easy cleaning:
You will clean a lot, so spare yourself the trouble, and buy a model that can clean easily. A durable material, like leather or microfiber, that can be clean and maintained easily is your best choice!
Usability:
Don't buy a rocker or glider just for the nursery. Think about where will you place it, when it won't stand in the child's room anymore.
---