Last Updated on January 9, 2021 by Ines
Delta Children Emery 4-in-1 convertible crib Review
Delta Children Emery is a beautiful crib, with a small arch on the back. On the Emery, a classic elegance meets modern comfort, so it's perfect either for traditional or modern families. As the name suggests, we are talking about the 4-in-1 model, which can transit into three bigger beds.
In our Delta Children Emery 4-in-1 convertible crib review, we've checked the quality of its construction, tested its convertibility, and precisely reviewed what can the Emery offers to you and your baby.
Before we've even started reviewing its features, we've checked up its safety. That is our regular procedure for each review, and Delta Children Emery is not an exception. If the crib doesn't meet all the required safety standards, we do not even bother to evaluate other features, as the crib immediately gets zero points from us, and we advise not to buy it.
All cribs on the market are supposed to go through rigorous testing and meet all safety requirements set by the government. But there are differences between them regards to the stability, durability, and quality of the material. That's why we always check what tests a particular crib passed, and if it has any of the certifications, which reassures that it's of non-toxic materials.
The Emery not only meets all safety standards, it even exceeds them. You can read everything about its safety towards the end of our Delta Children Emery 4-in-1 convertible crib review.
Delta Children Emery Crib Review At A Glance: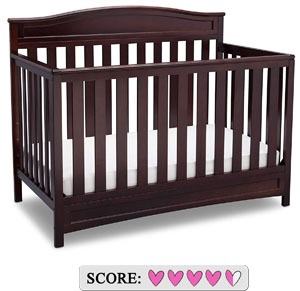 PROS:
it grows with your child
a timeless design
affordable crib
adjustable mattress support
sturdy crib
meets and even exceeds all safety standards
good airflow through the crib
easy to assemble
easy to convert
CONS:
we didn't find anything bad about it
some parents complained because they didn't get a safety guardrail in the package (That is not the manufacturers' fault since they had clearly stated it has to be purchased separately!)
Delta Children Emery's design and Specifications
We love Emery's sleek style with quality construction and airy open design. The back of the crib is a little higher from the front. That's because of the arch, which is closed only on the top.
Delta Children did not close the whole back of the crib but only the arch on its top. That ensures the crib's open design and provides better airflow through the Emery crib. Sufficient airflow through the crib prevents the baby's overheating and contributes to a lower risk for SISD (Sudden Infant Death Syndrom).
Emery is available in a natural colored palette of non-toxic finishes. You can decide on a Bianca White, Dark Chocolate, Gray, and White. Although these colors match with lots of different furniture, the selection could be better, in my opinion.
Delta Children Emery Specifications
Manufacturer: Delta Children
Model: Emery
Type: 4-in-1 convertible crib
Style: classic elegance
Material: natural New Zealand pine wood
Color: Bianca white, gray, white, and dark chocolate
If you have already checked the dimensions of the crib, you might think that with 43,75″, Emery is a very high crib. Don't worry, as this is only the highest point of the arch.
The height of the front rail, where you will place your baby to sleep, is 34″. And with such height, Delta Children Emery actually belongs to low profile cribs, which are the best choice for short moms.
We do not understand why manufacturers usually state only the highest arch' point. I think that the hight of the front rail is way more important. As they could have problems with reaching over the crib's rail, petite moms will appreciate such information.
Assembled dimensions: 55,75″L x 23,25″D x 43.75″H (34″)
Assembled weight: 63,8 lbs
---
Delta Children Emery's convertibility Review
Emery is a 4-in-1 model, which grows with your child. It converts from a crib to a toddler bed, daybed and finally into a full-size bed with a headboard.
If you decide on the last conversion into a full-size bed, it can be the only bed you will ever buy for your child.

TODDLER BED & DAYBED:
When your baby outgrows the crib, you have two options. You can convert it into a toddler bed or skip this conversion and transform the Emery directly into a daybed.
Why would you even skip a toddler bed? Because you will get only the parts for a daybed with the crib, and you don't want additional costs for a toddler bed safety guardrail.
Safety guardrail for the transition into a toddler bed will cost you around $50. I highly recommend it, at least from my experiences. My daughter would fall out of her bed without it for sure.
In fact, we have never used our Babyletto Hudson as a daybed. Given the way she is sleeping, I can't imagine how she would stay in her bed without a safety rail. She is four and sleeps in a junior bed now. And yes, you guess it right, it has a safety guardrail too.
Anyway, I think that a Delta Children's safety rail it's not too expensive, and it's worth the money you pay.
Also, I can't say that this is a significant drawback for the Delta Children Emery, as most brands sell their toddler bed safety guardrails separately too.
There are few bright exceptions, such as Babyletto cribs, where you get everything needed for their conversions with the crib. But the initial price of Delta Children Emery is lower, so adding the guardrail's cost doesn't make the overall purchase too expensive either.
FULL-SIZE ADULT BED:
Conversion into an adult bed will cost you again. The only part you will actually need, from the Emery is it's back, which will turn into a headboard. So, you will have to buy a full-size metal bed frame and a fitting mattress for this conversion.
That's the fact for all 4-in-1 convertible cribs! And it raises the question if the last conversion of 4-in-1 models even makes sense. Anyway, you have this option on the Emery crib, so you can later decide if you want it.
Convertible: yes
Number of conversions: 4
Conversion types: crib, toddler bed, daybed, and full-size bed
Weight Capacity: toddler/daybed = 50lb
READ ALSO: Best convertible cribs
---
Frequently asked questions about Delta Children Emery
1. How long can my baby use the Emery as a crib?
Stop using Emery as a crib when your child is able to climb out or reaches the height of 35″, whichever occurs first.
2. Is the crib portable?
No, it isn't.
RELATED: Best portable cribs
3. What about under-crib storage?
The height of Emery's legs is 4,5″, which in principle could make it possible for storing small boxes under the crib. But below the lower rail, on Emery's legs, is an attached decorative batten, which improves the crib's design, and prevents to store things under the crib at the same time.
RELATED: Best convertible cribs with under crib storage
4. Is the crib's assembling and conversions hard and time-consuming?
We didn't notice any problems with assembling the crib or with the conversions into bigger beds.
5. Can I use it as a co-sleeping crib without the front rail, next to my bed?
Because it is convertible, in theory, you could detach the front side, set the mattress to the height of your bed, and place the crib beside it. But we do NOT recommend it! The crib is not tested for such purpose, so its safety would be questionable.
---
Mattress information
Delta Children Emery is a standard size crib, so any standard size crib mattress fits into it. Interior measurements of full-size cribs and mattresses are regulated by the government. If you decide on a new mattress, it should fit perfectly!
U.S. regulations define:
a standard size crib is a baby crib with the following measurements: 52 3⁄8 ± 5⁄8 inches in length by 28 ± 5⁄8 inches in width
a standard crib mattress is a baby crib mattress with the following measurements: at least 27 1/4 inches by 51 5/8 inches and no more than 6 inches thick
We recommend using a Delta Children Twinkle stars crib mattress, which has a fiber core. The mattress is natural, waterproof, lightweight, GREENGUARD Gold certified, and without any toxic materials.
Emery's metal mattress support is adjustable to three different heights. Because of that, you can easily accommodate the mattress' height to your child's growth. Start with the highest position for a newborn and gradually lower it down with the baby's growth.
Compatible Mattress Size: standard
Mattress Included: no
Recommended mattress: Delta Children Twinkle stars crib mattress
Adjustable Mattress Height: yes, 3 positions
---
Is Delta Children Emery a safe convertible crib?
Emery is a safe crib, which meets and even exceeds all required safety standards set by CPSC (Consumer Product Safety Commission) and ASTM (American Society for Testing and Materials).
The crib is also JMPA (Juvenile Products Manufacturers Association) certified, which means it doesn't contain lead and other toxic elements. It is also phthalate safe and finished with non-toxic paint.
The wood construction is strong and sturdy, without dropping sides. Although drop sides were handy, they were not safe, and are banned since 2011. Do not use dropping side cribs!
---
Did you know that there is also a mini Delta Children Emery convertible crib?
Mini Emery is a 2-in-1 convertible crib, which converts it into a twin-size bed with a headboard.
Emery mini convertible crib is available in three colors: Bianca white, gray, and dark chocolate.
Its mattress support has two heights adjustments, and the mini mattress is included in the price.
The included mattress is 38″L x 24″D x 2,75″H, and the dimensions of a mini crib are: 41,25″L x 25,75″D x 38,25″H.
RELATED: Best mini cribs
---
THE VERDICT
Delta Children Emery is a safe and quality made convertible crib. It is very versatile and can be the only bed you will ever need for your child.
Yes, it could be available in little more colors, but we've found nothing else which could divert you from the purchase.
Here is the latest price of Delta Children Emery 4-in-1 Convertible Baby Crib on Amazon.