Last Updated on January 23, 2023 by Ines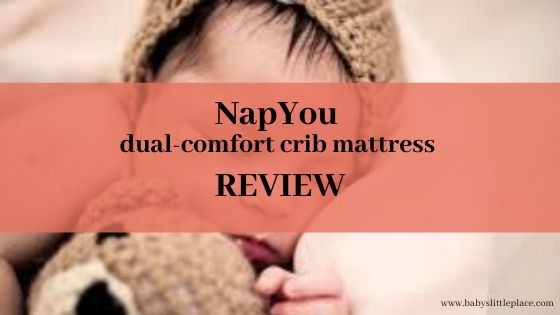 NapYou Dual Comfort crib mattress Review
NapYou dual comfort crib mattress is one of the newest baby mattresses on the market. As the name says, it is a dual-sided crib mattress, constructed from two sides of different firmness, one for infants, and one for toddlers.
My attention was caught by the fact that Amazon had partnered with NapYou and classify their baby crib mattresses as an official Amazon exclusive product.
As the largest online retailer recognized their potential, my first thought was that NapYou crib mattresses must have a good quality for a reasonable price. I am happy to say that our NapYou dual comfort crib mattress review showed me I wasn't wrong.
We shouldn't neglect the parents' opinions, who are very satisfied with the NapYou dual-sided crib mattress too. Read the review, and see if this is the right product for your family. I think you won't be disappointed.
NapYou Dual-Sided Crib Mattress Review At A Glance:
PROS:
good support
grows with your child
fits all standard size cribs and toddler beds
removable cover
easy clean
100% waterproof and machine washable cover
meets all industry standards
affordable crib mattress
durable
CONS:
it has a slight odor after unpacking*
*The smell of the freshly unpacked foam is common for foam mattresses. The smell usually airs out in a few days, and NapYou is not an exception.
---
Package of NapYou dual comfort crib mattress
NapYou comes vacuum-sealed, compressed, and rolled up in hard plastic. The roll is further packed in a relatively small cardboard box, which protects the mattress from damages during transport.
Package dimensions: 29.1 x 9.8 x 7.8 inches
Because the mattress comes rolled up, you need to decompress it first. I suggest you leave the unpacked mattress, on a flat surface in a well-ventilated room. That will not only decompress the mattress but help to air out the possible initial smell too.
Leave it like this for at least four days to fully decompress.
---
NapYou is a dual comfort crib mattress
While toddlers enjoy a soft and cozy sleeping space, newborns and young babies need a firmer surface. The firmness of a regular baby crib mattress is meant solely for babies, so those mattresses are often to firm for toddlers, and vice versa. As dual firmness baby mattresses combine safeness for newborns with comfortability for toddlers, they are a more and more popular choice amongst parents.
Dual-sided crib mattresses are constructed from two layers of different firmness. They have a firm side for infants and a soft side for toddlers.
Especially if you have a convertible crib, buying a two-stage crib mattress is very convenient. When you convert the crib into a toddler bed, flip the mattress too, and you are done.
NapYou dual comfort sleeping system review
NapYou's infant side is extra firm, super supportive, and safe for your infant. It might feel too firm for you but don't worry, that is how it should be.
On the toddler side, is an additional 1,5″ layer of softer foam. That makes it softer and cozier for toddlers. At the same time, it is still firm enough to offer sufficient support, which is excellent for a toddler's posture
In our opinion, NapYou could mark which side is which. On the other hand, you shouldn't have too many distinction problems, because the infant side is much firmer on the touch.
Lack of side marking is a common problem for many dual-sided crib mattresses, and I can not understand why. I think it's not so difficult and expensive to tag sides with a number, color, name, or something else.
Anyway, NapYou dual comfort crib mattress comes with the soft side facing up. If you unzip the cover and look closely at the foam, you should see a small layer of 1,5″ softer foam on the upper side.
Most dual-sided crib mattresses come with a softer side up, which is another thing I don't understand. Don't we use the firmer side for newborns first?
That reminds me…
When you flip the mattress, remove its cover first. Flip the mattress and put it back on.
Placing the cover back might cause you minor problems, but that is OK. It must fit snugly on the foam, to help maintain its shape.
Make sure you always set the dual-sided crib mattress on the right side!
---
NapYou' Structure and Specifications
The structure:
removable, waterproof cover
soft side for toddlers
firm side for infants
The NapYou dual comfort crib mattress specifications: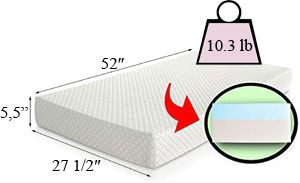 Mattress size: 52″ long by 27 1/2″ wide
The thickness of the mattress: 5,5″
Mattress weight: 10,3 lb
---
Review of other NapYou dual comfort crib mattress feature
VENTING & HEAT REGULATION:
If you already researched different crib mattress types, you might've noticed little holes on the side of some models. Those are venting holes, which are more common for innerspring mattresses.
The same as all foam mattresses, NapYou doesn't have them, but that's OK. First of all, the foam core provides good ventilation. And second, the cover is made of an organic cotton blend with excellent breathability, so the mattress doesn't need venting holes at all.
Because of the good airflow through the mattress, the mattress cools down faster, preventing the overheating of your baby.
FIRMNESS and SUPPORT:
As you know, is NapYou a dual-sided crib mattress. But just having two layers is not enough, to rate it high. Both sides must have the perfect blend of firmness and comfort for your child!
The high firmness of the newborn side is crucial. Not only because of the safety reasons but because it also provides the sufficient support your baby needs to start pushing up and rollover.
It is proven that crib mattresses with sufficient firmness lower the risk of SIDS (Sudden Infant Death Syndrom).
But, to be a perfect choice for your child, it must have a good toddler side too. It must be softer, contouring nicely to the toddler's body, and maintaining enough support to the important body areas.
The infant side of NapYou dual comfort crib mattress feels firmer from the toddler side. If you press on the infant side with hand, it holds firm, and springs back immediately, while on the toddler side you can saw an indention. That is how it should be!
As I had already mentioned, NapYou doesn't have any clear indicators on which side is the infant's and which toddler's, but it is easy to figure out via pressure.
FITTING IN THE CRIB:
NapYou dual comfort crib mattress fits in most standard size cribs and toddler beds.
The measurements of new baby crib mattresses must correspond to those set by the government. With 52″ x 27 1/2″ x 5,5″ NapYou fits perfectly. Of course, measurements of your crib must correspond to the guidelines too!
If you have a new crib, that shouldn't be a problem, because their measures must correspond too. But if you have an older crib check its inner dimensions first.
U.S. regulations define:
a standard size crib is a baby crib with the following measurements: 52 3⁄8 ± 5⁄8 inches in length by 28 ± 5⁄8 inches in width
a standard crib mattress is a baby crib mattress with the following measurements: at least 27 1/4 inches by 51 5/8 inches and no more than 6 inches thick
You can also make a home fitting test. Place two fingers between the mattress edge and inner crib's frame. It shouldn't be more than two fingers space there.
BOUNCE:
A good baby crib mattress must have just enough bounce! It shouldn't be too bouncy because of several reasons.
Too much bounce my encourage the child to stay awake longer, or it can be even a source of injuries for toddlers. Toddlers often use bouncy mattresses as a trampoline, and they can fall off the bed quickly.
Foam mattresses, in general, have less bounce from innerspring mattresses, and NapYou is not an exception!
DURABILITY:
Although durability can be a subjective term, several factors help determinate how long mattress will last:
the quality of the materials
if it's cared for properly
the quality of seams, etc.
Because of the nature of our work, we couldn't test NapYou for a longer period, but the experiences of many parents show it is a durable crib mattress, which doesn't lose shape or sag quickly.
CLEANING:
The cleaning is as easy as a breeze. For minor accidents wipe it with a damp cloth. As the cover is waterproof, liquids won't penetrate the foam's core. However, if a stain stays on it, you can unzip the cover and toss it in the washer. It is compatible with any washer and dryer.
WATERPROOF:
NapYou's cover is 100% waterproof. That is great because it doesn't only prevent liquids from entering inside, but it also prevents the entry of dust mites.
WARRANTY:
The purchase is risk-free, with a 30 days money back guaranty.
It is an easy return, but I suggest you just in case keep its plastic bag. One mom who wanted to return the mattress said NapYou requested to send it back in a bag.
NapYou also offers a 5-year warranty.
---
Safety Review
NapYou dual comfort crib mattress is made of high-quality memory foam, which is CertiPUR-US certified to be safe and of high quality.
The CertiPUR-US certificate ensures that the foam doesn't contain ozone depletes, mercury, lead, and other harmful chemicals.
The mattress fits perfectly into all regular full-size cribs, so there is no gap between the mattress and crib's frame.
NapYou has sufficient firmness for infants and a soft, but still very supportive side for toddlers. At this point I want to remind you again, that this is a double-sided crib mattress, so make sure you always turn it on the right side!
THE VERDICT
Your child's sleep is essential for his development. So, having a good baby crib mattress hugely decrease sleepless nights.
With a soft to the touch organic cotton blend cover, and a dual comfort sleeping system, babies enjoy sleeping on NapYou.
After our NapYou dual comfort crib mattress review, we concluded that this is a great product that offers high quality for an affordable price.
---