In this review, we'll look into the features and specifications of the NapYou Dual Comfort crib mattress. We'll review everything from its structure and specifications to its unique features, like its dual-firmness. So, let's get started and find out if the NapYou Dual Comfort crib mattress is the perfect choice for your baby's needs.
Product Review:
NapYou Dual Comfort crib mattress
---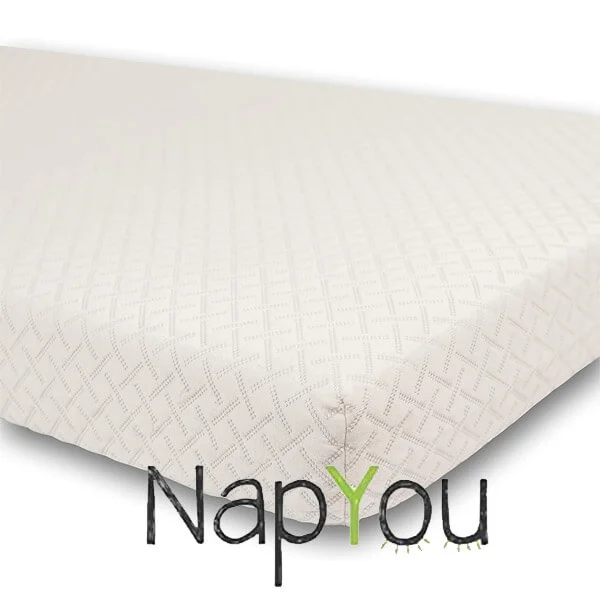 The NapYou Dual Comfort crib mattress is made of foam and designed with both firm and soft sides to accommodate your growing child.
Considering its price, it is a good crib mattress that meets all required safety standards. It is not as durable as some high-budget crib mattresses, but hey, it is up to five times cheaper, which certainly counts.
Baby's Little Place Score:
Just from the name of the mattress, we can tell that it is a double-sided model. Meaning it is constructed from two sides of different firmness, one for infants and one for toddlers.
The NapYou Dual Comfort crib mattress caught my attention because it sells as the official Amazon-exclusive product.
Amazon usually works with companies that make quality products at a reasonable price. So, if they recognize the NapYou crib mattress potential, it is certainly worth our attention. And my first impression about the mattress? It looked surprisingly well and quality, but we had to review it thoroughly before giving a final rating.
When buying any baby product, the opinion of parents who have already tried the product is also very important. Thus, we've also asked parents to share their experiences with the NapYou Dual Comfort crib mattress. I have to say that most of them had positive things to say in their reviews.
But make sure for yourself, so read our NapYou Dual Comfort crib mattress review breakdown to see if it is the right choice for your baby.
---
Pros and Cons: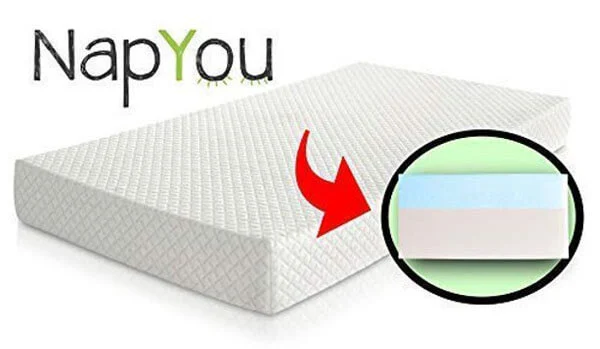 ---
Unpackaging and First Impression
The NapYou Dual Comfort crib mattress arrived compressed, rolled up, and vacuum-sealed in rigid plastic. The roll was packed in a relatively small cardboard box, protecting the mattress from transport damage. (Package dimensions are 29.1 x 9.8 x 7.8 inches.)
When you unpack the box, it should include the mattress, a waterproof cover, and a user manual.
Because the mattress comes rolled up, you need to decompress it first. It says it should expand in a few hours, but we had to wait about two days for it to grow to its full size. I suggest you leave the mattress on a flat surface in a well-ventilated room. That will decompress the mattress and help air out the initial smell.
The NapYou crib mattress has some initial smell, which might not be pleasant for someone, but it is common for foam mattresses, and it does go away!
So, my first impression. Yes, you can't use it right away, but I could see its potential when it was finally fully expanded.
---
NapYou Dual-comfort crib mattress Structure & Specifications
The structure:
Removable, waterproof cover
Soft side for toddlers
Firm side for infants
The NapYou Dual Comfort crib mattress specifications: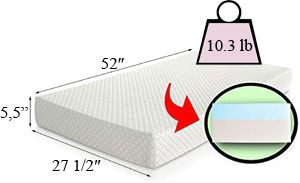 Mattress size: 52″ long by 27 1/2″ wide
Thickness of the mattress: 5,5″
Mattress weight: 10,3 lb
---
NapYou Dual Comfort Crib Mattress Review Breakdown
Venting and Heat Regulation:
If you have already researched different crib mattresses, you might've noticed little holes on the side of some models. Those are venting holes, which are more common for innerspring mattresses. Foam mattresses don't have them, but that's generally OK if the foam core provides good ventilation and has a breathable cover.
The NapYou Dual Comfort crib mattress has a unique waterproof, organic cotton blend cover. The company stated it has ultimate breathability. However, in reality, any waterproof cover slightly reduces the mattress's ventilation.
So, while the NapYou has good breathability and ventilation, it is not the best we've ever seen.
Sufficient airflow through the mattress allows the mattress to cool down faster, preventing the overheating of your baby. Since heat regulation depends on venting, I will say the same. It's good and sufficient to be defined as safe, but it's not the best we've seen.
If you want a crib mattress with superior breathability and excellent heat regulation, you will have to spend a little more. In that case, the Newton Baby Wovenarie breathable crib mattress is your best option.
Firmness and Support:
NapYou Dual Comfort sleeping system review
The infant side of the NapYou Dual-Comfort crib mattress feels firmer than the toddler side. If you press on the infant side with your hand, it holds firm and springs back immediately, while you can see an indention on the toddler side. That is how it should be!
NapYou's infant side is extra firm, supportive, and safe for your infant. It might feel too firm for you but don't worry; that is how it should be.
On the toddler side is an additional 1,5″ layer of softer foam that nicely contours to the toddler's body, making the mattress more comfortable. At the same time, it is still firm enough to offer sufficient support for a proper toddler's posture.
We've noticed that there are no markings to indicate which side is which. Well, the infant side is much firmer, so you should be able to figure out which side is which. However, proper labeling would give parents additional reassurance and eliminate confusion.
That is a common problem on dual-sided crib mattresses, which I can not understand. Labeling the sides with a number, color, or name would be a simple and inexpensive solution.
Anyway, our NapYou Dual-Comfort crib mattress has come with the soft side facing up. If you unzip the cover and look closely at the foam, you should be able to see a small layer of 1,5″ softer foam on the upper side.
That is another thing I don't understand. Don't we use the firmer side for newborns first?
That reminds me…
When you flip the mattress, remove its cover, flip the mattress, and put it back on. Placing the cover back might cause minor problems, but that is OK because it must fit snugly on the foam to help maintain its shape.
Make sure you always set the dual-sided crib mattress on the right side!
Fitting in the crib:
The NapYou Dual Comfort crib mattress fits any standard-size crib and toddler bed.
The measurements of new baby crib mattresses must correspond to those the government sets. U.S. regulations define a standard crib mattress as a baby crib mattress that is at least 27 1/4 inches long by 51 5/8 inches wide and no more than 6 inches thick.
The NapYou Dual-Sided crib mattress is 52 inches long by 27 1/2 inches wide and 5,5 inches thick, so it meets the required measurements.
Of course, the measurements of your crib must correspond to the guidelines too! Only thus, the NapYou crib mattress will fit snugly into your crib.
If you have a new crib, that shouldn't be a problem, as their measures are defined by law. But if you have an older one, check its inner dimensions first. U.S. regulations define a standard-size crib as a baby crib with internal dimensions 52 3⁄8 ± 5⁄8 inches long by 28 ± 5⁄8 inches wide.
You can also make a home-fitting test. Place two fingers between the mattress edge and the crib's frame. It shouldn't be more than two fingers of space there.
Waterproofing:
Our review shows that the NapYou Dual Comfort baby crib mattress has a highly effective waterproofing system.
The cover is reliable and effective. Liquids stay on the mattress's surface, making it easy to clean. Thus, it also prevents dust mites, bacteria, and mold formation in the mattress's core, ensuring a comfortable and hygienic sleeping environment for your baby.
The cover is made of a unique, organic cotton blend, so it is not plastic and does not make a crinkly noise when the baby moves around. Being made from organic cotton is also a big plus because it retains the mattress's breathability.
Cleaning:
Cleaning the NapYou Dual Comfort crib mattress is easy. We didn't have any problems and received no complaints about it either.
The cover is waterproof, so there's no need to worry about liquids penetrating the foam core. For minor accidents, just wipe it with a damp cloth. And if a stubborn stain persists, you can easily unzip the cover, toss it in the washing machine, and tumble-dry it at a low temperature.
Durability:
Although durability can be a subjective term, several factors help determine how long a mattress will last:
the quality of the materials
if it's cared for properly
the quality of seams, etc.
For a mattress in this price range, the NapYou Dual Firmness crib mattress is pretty durable and does not lose shape or sag quickly. However, you can not expect the same durability as for the high-budget crib mattresses made of high-quality materials.
Warranty:
The purchase is risk-free, with a 30 days money-back guarantee and a 5-year warranty.
However, I suggest you keep its plastic bag. One mom who wanted to return the mattress said NapYou requested to send it back in a bag.
Safety Review:
The NapYou Dual Comfort crib mattress is made of memory foam, which is CertiPUR-US certified to be safe. The CertiPUR-US certificate ensures that the foam doesn't contain ozone depletes, mercury, lead, and other harmful chemicals.
The mattress meets all required federal safety standards and fits perfectly in all standard-sized cribs. We tested it in the Babyletta Hudson 3-in-1 convertible crib, Delta Children Essex 4-in-1 convertible crib, and Dream On Me Synergy 5-in-1 convertible crib, and it fitted snuggly in all of them.
Another important factor for the mattress's safety is the proper firmness. We think the NapYou crib mattress is firm enough for infants, while it has a softer but still supportive side for toddlers too.
At this point, I want to remind you again that this is a double-sided crib mattress, so make sure you always turn it on the right side!
---