Last updated on January 23rd, 2023 at 04:35 pm
Why do babies need a firm crib mattress?
Young babies, especially newborns, sleep a lot. Some one-week-old babies need even up to 20 hours of sleep per day. And providing a safe sleeping environment is one of the firsts and most important parents' responsibilities.
There are many things you have to consider, but choosing a firm crib mattress is among the most important ones. Other important things in ensuring a safe sleeping environment include a tight-fitting crib mattress, choosing a crib that meets safety standards, and following all safe sleep guidelines.
So, do you need a firm crib mattress for your baby? Yes, you do, because it is much safer from soft, plushy crib mattresses. A quality crib mattress, in a crib that meets all required safety standards, is the safest sleeping environment for your baby!
First of all, a firm crib mattress reduces the risk of suffocation, and as such lower the risk of SIDS (Sudden Infant Death Syndrome). And second, a firm crib mattress provides sufficient resistance when a baby gets older. Babies need a firm surface to turn, push up, and eventually stand in the crib.
Why is a firm crib mattress so important?
Infants need a flat, firm, and even sleeping surface. A crib mattress shouldn't have any dents, bumps, tears, or other damage. Its edges must be strong and shouldn't bend under the baby's weight.
The safest sleeping position for newborns and young babies is lying on the back. If such a young baby somehow turns over, the firmness provides resistance for him, to turn the head away from the mattress easier. And a firm mattress's edges won't bend under the baby's weight, so your baby won't roll to the crib's side either.
Research has shown that a firm crib mattress reduces the risk of SIDS (Sudden Infant Death Syndrome)!
And that is not all! A firm crib mattress is extremely important for proper bone and muscle development! Because it provides sufficient resistance, babies can start turn over by themselves. They can push-up, and eventually stand in the crib. All this strengthens their muscles and ensures the proper development of their bones.
---
Extra-firm crib mattress
A crib mattress with proper firmness will probably feel too firm for you. And that is how it should be! Quality crib mattresses are extremely firm.
Don't worry your baby won't be uncomfortable on such a mattress. But be careful. She can get used to softer mattresses quickly. Of course, you will cuddle on your bed. Ther is nothing wrong with that! Just make sure you place her or him in the crib for longer periods of sleep.
You might wonder what about when they get older?
First of all, if the baby doesn't sleep on softer surfaces frequently, she won't miss it at all.
Of course, eventually, most toddlers want a little more coziness, which is fine. That's why I highly recommend a double-firmness crib mattress, such as Colgate Eco Classica, NapYou, or Babyletto Pure Core crib mattress.
These mattresses have two different sides, a firm side for newborns and young babies, and a softer side, which provides more coziness for toddlers.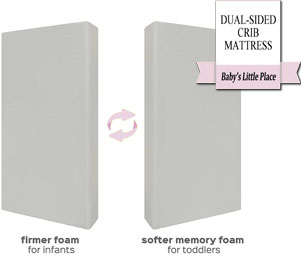 Deciding on a double-firmness crib mattress will save you money and provide the best sleeping surface for your child, from newborn to toddler age.
---
How do you know if the crib mattress is firm enough?
You can make a home firmness test. Press on the mattress with your hand. A crib mattress with enough firmness will immediately snap back on its initial shape. Also, the imprint of your palm shouldn't stay on the mattress!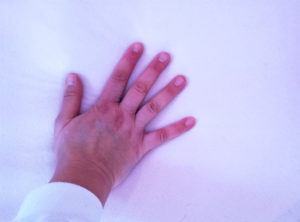 If you didn't buy it yet, you might find one with our help. We've already done a lot of crib mattress reviews, and we're still working on adding new ones. We cover everything a safe crib mattress must-have, including their firmness.
---
Other things you should consider when buying a crib mattress
Fitting in the crib:
A safe crib mattress must fit snugly into the crib. Internal dimensions of standard full-size cribs and regular crib mattresses are regulated by the government. So, any new regular crib mattress fits into any new full-size crib.
U.S. regulations define:
a standard size crib is a baby crib with the following measurements: 52 3⁄8 ± 5⁄8 inches in length by 28 ± 5⁄8 inches in width
a standard crib mattress is a baby crib mattress with the following measurements: at least 27 1/4 inches by 51 5/8 inches and no more than 6 inches thick
You must be a little more careful when picking a crib mattress for a mini crib. The mini cribs' dimensions are not defined by law! Compare the internal dimensions of your selected mini crib with the size of a mini crib mattress, before your purchase.
No matter, if you have a standard or a mini crib mattress, make a home fitting test before the use. The test is quick and easy!
Place the crib mattress in the crib.
Place your fingers between the crib's frame and mattress's edge.
A crib mattress is too small for the crib if space is bigger then two fingers.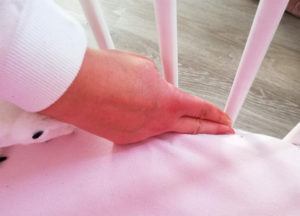 Breathability:
A quality crib mattress is breathable with good airflow through the mattress. There are several reasons why it is good that the mattress is breathable.
Sufficient ventilation prevents the formation of mold and fungus in the mattress's core. Breathable crib mattress cools down faster, preventing the overheating of your baby.
At this point, I want to mention a unique crib mattress, which might interest you. I am talking about Newton Wovenaire baby crib mattress, which is the only 100% breathable crib mattress on the market. Your baby can breathe right trough if she or he rolls over in the middle of the night. This is not the only unique feature of this crib mattress, but I won't go into details here. If you want, you can check its features in our Newton Wovenaire baby crib mattress review.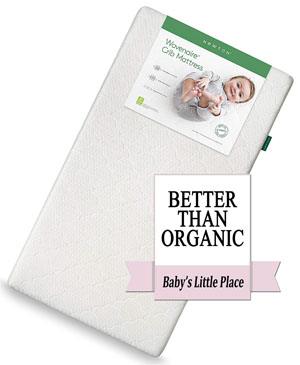 Other things to consider:
how quality are the seams and mattress's corners
how durable is your selected crib mattress
does it have a waterproof cover
how hard is the cleaning
---