Last updated on June 28th, 2023 at 01:48 pm
Many parents wonder how to choose a stroller that serves their needs while offering only the best to their babies. If you are one of them, you are at the right place, as we will discuss all the aspects you have to consider when buying a baby stroller.
So, let's dive in and discover how to buy a baby stroller that suits your lifestyle and budget and, most importantly, keeps your little one safe and comfortable.
How to buy a baby stroller
The best baby stroller is the one that fulfills your specific needs and the needs of your baby. But for this to be possible, you have to consider many factors.
How to buy the best stroller for your needs?
You will find the best stroller for your family's needs considering all of the below. You can find a detailed description of each step under this list.
When buying a baby stroller, consider this:
Think about your family's lifestyle and buy a baby stroller that suits your way of living.
Set the budget for your purchase and try to stick with it.
You have to understand your options, so carefully read the descriptions of all stroller types below.
Consider all the available baby stroller features. What do you really need, and what is optional?
Lastly, make sure the stroller you are buying is safe for your baby!
Now let's look at each of the listed points in more detail.
1. Choose a baby stroller that fits your lifestyle
To begin your search for the ideal baby stroller, take some time to assess your lifestyle and daily activities. Consider your typical routine and the places you'll be taking your baby.
Will you primarily use it for urban walks, jogging, traveling, or a combination of these?
Each type of stroller offers unique features to cater to different needs. For instance, if you're an active parent who enjoys jogging, you'll want a stroller with excellent maneuverability and sturdy construction specifically designed for jogging purposes.
Considering the Terrain and Climate in Your Area
Yes, the terrain and climate in your area also play a role in selecting the right stroller.
If you live in an urban environment with well-maintained sidewalks, a stroller with smaller wheels can suffice. However, if you live in a rural area or intend to stroll on rough terrains, such as gravel or unpaved paths, opt for a stroller with larger, air-filled tires and robust suspension for a smoother ride.
The climate is another factor to consider when choosing a baby stroller. If you live in a hot and humid region, choose a stroller with good ventilation, a canopy for sun protection, and breathable fabrics to keep your baby cool and comfortable. On the other hand, those living in colder areas should think about features that shield the baby from the weather, such as a windproof cover and insulation.
2. Determining a Budget for Your Stroller Purchase
I know you want only the top of the top for your baby. However, it's worth noting that excellent strollers can be found across all price ranges. The key lies in conducting thorough research.
We recommend considering your financial situation and setting a realistic budget range to avoid disappointment.
The cost of baby strollers depends on various factors such as brand, quality, features, and design. 
You can find basic strollers in the price range of $50 to $150. 
Mid-range strollers with additional features and better durability typically range from $150 to $300. 
High-end strollers may offer premium features and luxury materials, costing anywhere from $300 to $1,000 or more. But they may cost more just because of the brand name.
When you are buying a baby stroller, strive to balance quality, features, and price. You should prioritize safety, durability, maneuverability, and ease of use, not the stroller's look. At the end of the day, you have to find the stroller with the best value for your money.
3. Types of Strollers
With so many options available, understanding the various stroller types and their unique features can help you choose the stroller that suits your needs and preferences.
Traditional or Full-Size Stroller
Convertible or Modular Stroller
Lightweight or Umbrella Stroller
Travel System
Car Seat to Stroller
Jogging Stroller
Double Stroller
Traditional or Full-Size Stroller
A traditional or full-size stroller is designed for everyday use and typically features a sturdy frame, comfortable seat, and various additional features. Full-size or traditional strollers provide ample storage space and often come with accessories like canopies, cup holders, and snack trays. Some have fully reclining seats, some are compatible with infant car seats, and many can do both. They are versatile and suitable for long walks, shopping trips, and other daily activities.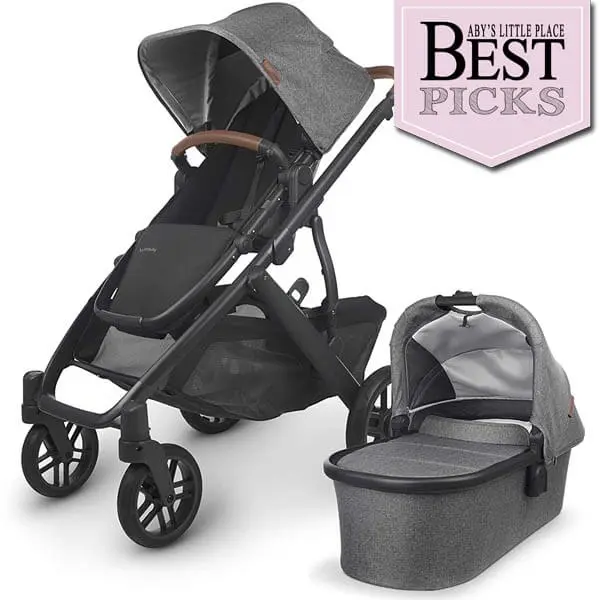 Benefits:
Sturdy and solid construction for durability
Good maneuverability for smooth navigation
User-friendly design for ease of use
Customizable features based on individual preferences
Things to consider when buying a traditional stroller:
Features may vary across different stroller models, so consider the features that are most important to you
Not ideal for portability or public transportation due to heavier weight
Some full-size strollers may not be suitable for infants younger than 6 months
Convertible or Modular Stroller
This type of stroller can convert into different configurations to adapt to varying needs. It offers versatility and flexibility as your child grows. Convertible strollers often have interchangeable components, such as seats, bassinets, or car seat adapters, that can be adjusted or swapped to accommodate different ages and stages of your child.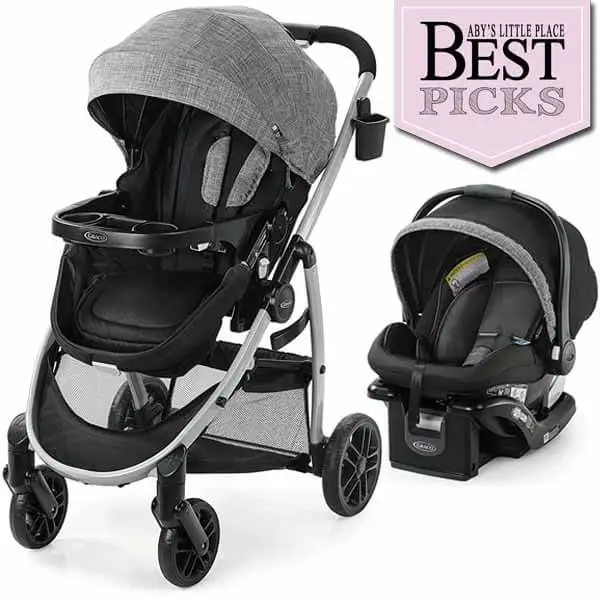 Benefits:
Suitable for use from the first day of your baby's life
Usually sold as a complete package, including a bassinet and reversible car seat
You don't have to purchase multiple strollers for different stages
Things to consider when buying a convertible baby stroller:
Features and configurations vary among different models
Consider the potential additional expenses, as you might need to buy specific parts, like a car seat or a car seat adapter for the stroller
If you have specific accessories or attachments in mind, such as a particular brand of car seat or a specific bassinet, ensure that the convertible stroller is compatible with those items
They can be heavier and bulkier than other types
Lightweight or Umbrella Stroller
Umbrella strollers are very light, compact, and easily portable, so they are great for traveling or running errands with your child. Their main feature is an umbrella-like folding mechanism, which allows them to fold and unfold quickly and efficiently.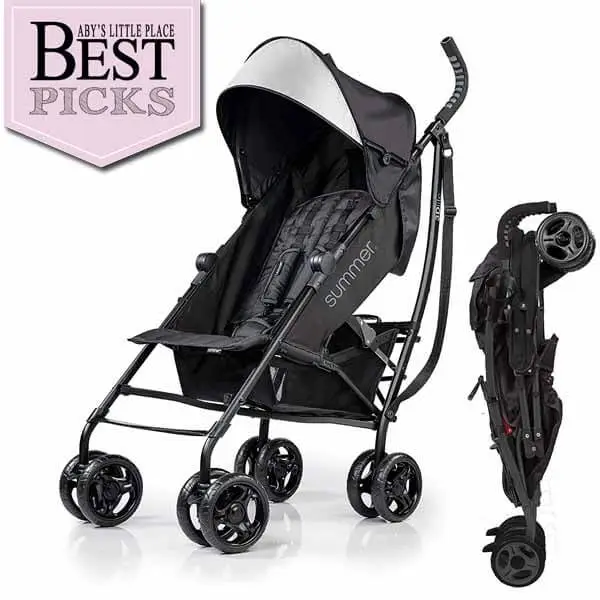 Benefits:
Easy and quick folding and unfolding
Lightweight and portable
Convenient
Fold down compact and slim
Easy to carry
Things to consider when buying a lightweight umbrella stroller:
It may not provide the same level of comfort, durability, or versatility as larger strollers
Not suitable for babies under 6 months
Older babies and toddlers might feel restricted, especially when wearing bulky winter clothing
Some models possess small plastic wheels, which limit their maneuverability
Travel System
A travel system combines an infant car seat and a stroller. It typically consists of three main components: an infant car seat, a car seat base, and a stroller (usually a compact or full-size stroller).
The stroller features a frame or seat attachment where the car seat can be securely attached, allowing you to transfer your baby directly from the car to the stroller without disturbing them.
Benefits:
Suitable for newborns and up
It allows an undisturbed transfer of a sleeping baby from car to stroller
Long-term value: after your child outgrows the infant car seat, you can use the stroller alone
Things to consider when buying a travel system stroller:
Some travel systems are cumbersome and bulky
There is a vast range of travel systems with different combinations of features, so you have to read their descriptions very carefully
Car Seat Carrier or Car Seat/Stroller
A car seat carrier is a type of stroller that is specifically designed to accommodate an infant car seat. Either the car seat securely clicks into the stroller frame, or the wheels and handlebar are already integrated into the car seat.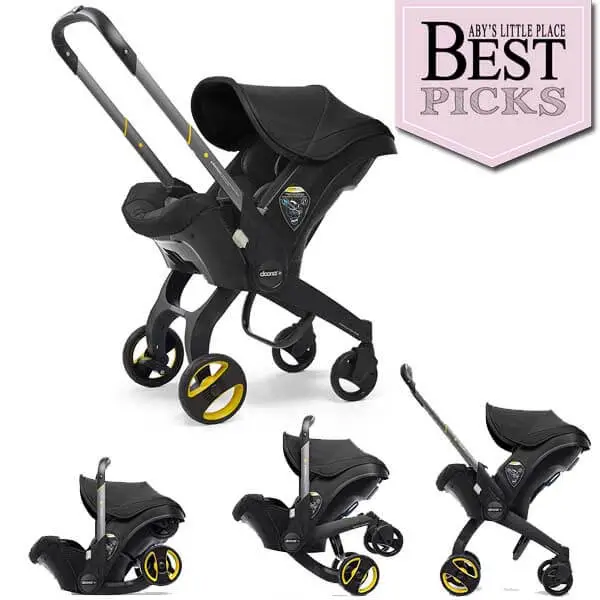 Benefits:
No need for a separate stroller
Lightweight and compact in design
You can effortlessly move your baby in and out of the car
Easy to transport and maneuver
There is no need for separate stroller attachments or transfers
Things to consider when buying a car seat carrier:
A limited lifespan: they are suitable for newborns up to a certain weight or height limit (usually around 12 to 18 months)
Usually, they do not come with extra features like cup holders or storage
Jogging Stroller
This stroller type is for parents who enjoy running or jogging with their child. A jogging stroller provides stability, control, and comfort during outdoor activities. 
Most jogging strollers have three large, air-filled tires, typically with a larger wheel at the front and two smaller wheels at the rear. Many jogging strollers feature a suspension system that helps absorb shocks and bumps.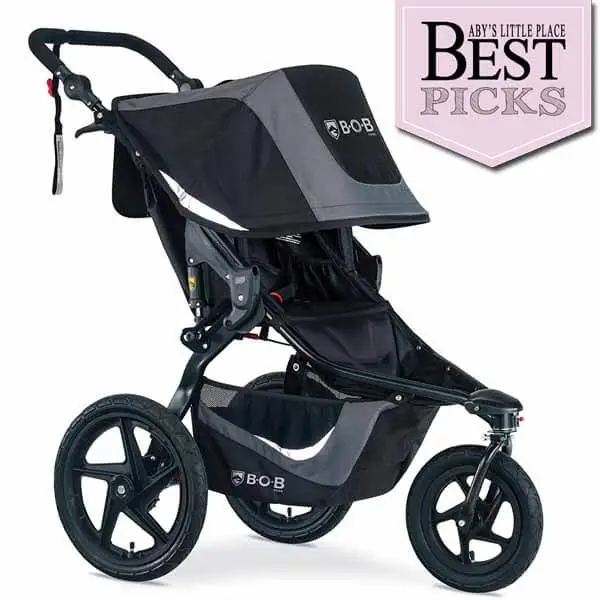 Benefits:
Many jogging strollers can accommodate heavier children, extending their useful life compared to traditional strollers
Easy to push on various terrains
Most jogging strollers offer the flexibility of a swivel front wheel or the stability of a fixed front wheel for higher speeds
Depending on the model, benefits can include compatibility with a car seat for newborns to toddlers, deep reclining seats, telescoping handlebars, and spacious storage baskets
Things to consider when buying a jogging stroller:
Jogging strollers are typically larger when folded, so check if it fits into your car trunk
Usually, they are also heavier, so consider if you need an additional stroller for everyday use
You have to check the tire pressure regularly and add air if needed
Most jogging strollers are not suitable for infants younger than 6 months
Double Stroller
A double stroller is a baby stroller designed to accommodate two children. It typically features two separate seats, side-by-side or one behind the other, allowing parents to transport twins or siblings close in age.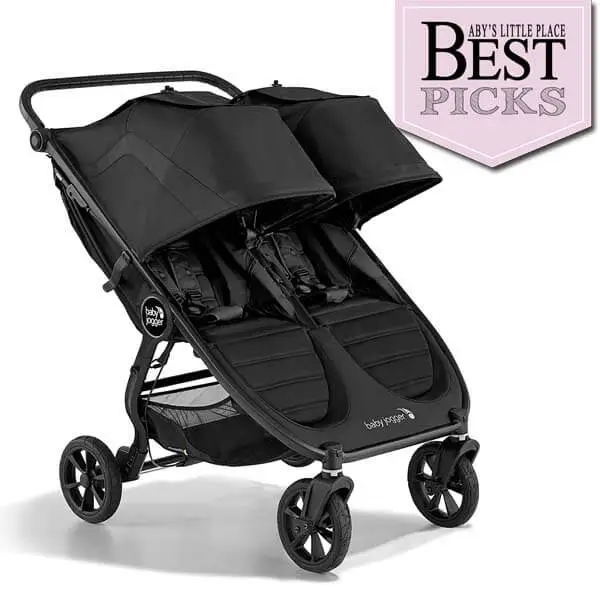 Double strollers come in various styles and configurations to suit different needs, including lightweight umbrella strollers, joggers, and full-featured models with multiple seating options, storage compartments, and adjustable handles. Some double strollers also have the flexibility to convert into a single stroller by removing one of the seats.
4. What to consider when buying a baby stroller?
Whenever someone asks me how to choose a stroller, I give them the same answer: What works for your friend may not be the best choice for you. When buying a stroller, you must consider various factors and decide what features are the most important to you!
As I have already written at the beginning, your lifestyle is the one that will help you the most when determining the type of stroller. 
However, strollers differ quite a lot in each type. Moreover, some models combine one or even more stroller types.
So go step by step and think about the following factors and features:
Newborn-friendly design: Do you need a stroller for your newborn? Then look for strollers that offer proper support and padding for newborns, such as a fully reclining seat or a bassinet attachment, allowing your baby to lie flat and comfortably.
Comfort and convenience: Will different caregivers use the stroller? In that case, consider strollers with adjustable handlebars to suit different caregivers' heights. Also, consider the storage space for diapers and essentials, a canopy for sun protection, and seats that can recline to different positions for your child's comfort.
Maneuverability: Pay attention to the type of wheels (e.g., air-filled or foam-filled) and the stroller's suspension system, as they can significantly impact its maneuverability on various terrains. Additionally, a feature like a smaller turning radius can make navigation easier in tight spaces, etc.
Folding mechanisms: Assess the ease of folding and unfolding the stroller and its size when folded to ensure it fits in your car trunk or storage area conveniently. Also, consider the stroller's weight, especially if you'll have to carry it often. A lighter stroller can be more practical for everyday use, etc.
Compatibility with car seats and travel systems: If you plan to use a car seat or a travel system, check if the stroller is compatible with these accessories, allowing for seamless transitions between the car and the stroller without disturbing your sleeping baby.
Long-term usability: Consider how long you plan to use the stroller. Some models can accommodate children up to a certain age or weight, providing better value for money and eliminating the need for frequent upgrades.
5. How to buy a safe baby stroller?
Your baby's safety should be your priority! Thus you must find a stroller with a reliable harness system, sturdy brakes, and stability. 
Check if your selected stroller meets all required safety standards. If it does, it means it has been rigorously tested to be safe for the baby. You can also check if your stroller has any additional certifications that further prove certain features' safety. 
Additionally, read reviews and consider feedback from other parents. You can check the "best baby stroller" lists with the best and safest strollers on the market.
Finally, test the stroller in person, examining its stability, ease of use, and overall quality before purchasing.
However, to ensure a safe strolling experience, you must also use your stroller correctly and per the provided usage guidelines.
Safety tips and usage guidelines:
Always ensure that your child is securely harnessed and buckled into the stroller. Make sure the harness fits snuggly but comfortably. Follow the manufacturer's instructions for proper usage of the harness system.
Stick to the weight limits and recommended age ranges specified by the stroller manufacturer. Using a stroller unsuitable for your child's weight or age can compromise their safety and stability.
Be mindful of the terrain and adjust your stroller's features accordingly. Use the appropriate wheel settings and suspension for different surfaces. 
Consider using the stroller's canopy or additional accessories for protection when encountering sun or rough weather, such as rain or strong winds.
Regularly inspect your stroller for any signs of wear, damage, or loose parts. Ensure all hinges, locks, and mechanisms are working.
Clean the stroller per the manufacturer's instructions.
Avoid overloading storage baskets with excessive weight because it can affect the stroller's stability.