Last updated on January 23rd, 2023 at 12:27 pm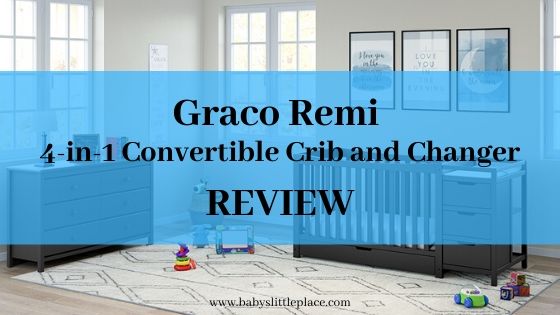 Graco Remi 4-in-1 convertible crib and changer Review
Graco Remi 4-in-1 convertible crib and changer is an ideal all-in-one nursery solution. It has a modern and functional design, which accommodates your growing child. Graco Remi could be the only bed your child will ever need. Yes, you'll have to make a few additional purchases, but the prices are reasonable.
If you want to check up prices for conversion kits, you can find links to the latest prices during this Graco Remi 4-in-1 convertible crib and changer review.
But, Graco Remi is not just a convertible crib. With a large drawer underneath the crib and an attached changing table with multiple drawers and shelves, it offers the most storage space you can get!
Graco Remi 4-in-1 convertible crib and changer is bigger than regular convertible cribs, but it is a space-saving solution anyway. Although it costs more than some convertible cribs, it's a money-saving solution too. I will explain how this is even possible throughout the review, so stay with me.
Overall, this is a good combo crib. By the way, the combo crib is a shorter name for convertible cribs with changing tables. We are satisfied with the Graco Remi 4-in-1 convertible crib and changer results, but we've found a few things that could be better.
---
Graco Remi 4-in-1 combo crib Review at a glance:
PROS:
a modern, space-saving design
it grows with your child
multiple drawers
it's a low profile crib, which is perfect for short moms
three-level mattress support
a spacious drawer underneath the crib
changing table with an included changing pad
it's available in multiple colors, including two-tones
the crib is JPMA certified
meets and exceeds all required safety standards
a space and money saver
CONS:
in the last conversion into an adult bed, the changing table doesn't convert into a nightstand
Why are cribs, such as Graco Remi space and money-saving solution?
Yes, combo cribs take up more space than regular convertible cribs. And yes, combo cribs usually cost more than regular convertible cribs. But…
If you add up the dimensions of the regular convertible crib and separately placed changing table, their footprint is much larger than the combo crib's footprint. The same applies to the amount of money you pay for the combo crib.
---
Specifications:
Assembled dimensions: 71.77″ long × 29.53″ width × 35.94″ high
Assembled weight: 105 lbs
Available finishes: White, Espresso, Gray, Pebble Gray/White & Natural/White
Compatible crib mattress size: standard size crib mattress
Changing pad: included 1″ water-resistant pad
A fitting changing pad: 16.73" W x 27.68" L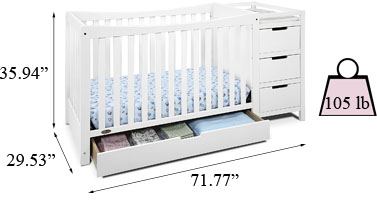 ---
Graco Remi review breakdown
We have reviewed the essential features, such as convertibility, a quality of changing table, and available storage space that a crib of this type should have. Then we compared our findings with combo crib reviews, such as Storkcraft Steveston, DaVinci Piedmont, etc., we've already made.
Convertibility review
Graco Remi is a 4-in-1 convertible crib, which can transit into a toddler bed, daybed, and full-size bed with headboard.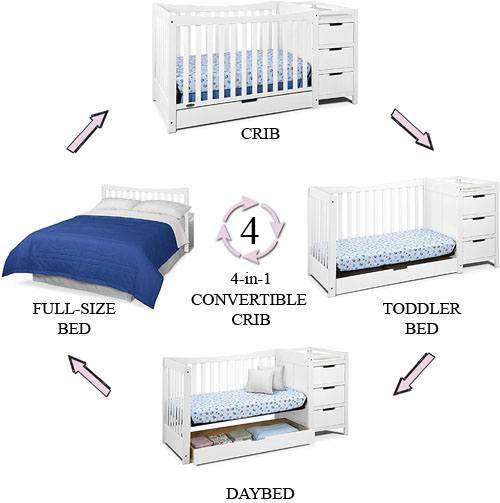 TODDLER BED:
Graco recommends the transition into a toddler bed when your child surpasses the height of 35 inches. The conversion is easy and shouldn't take you a lot of time. It's done by removing the front panel, lowering the mattress to its lowest stage, and attaching the stretcher bar, which is included. 
Graco Remi converts into a toddler bed without a safety guardrail. I am not very comfortable with such toddler beds, but lots of parents are completely satisfied with such an arrangement. Well, I'm just more relaxed if there is a rail, which prevents my toddler from falling out of bed.
If this is a problem for you, look at other convertible cribs with changer and drawer. We've made a list of the best ones, including the Graco Remi. While Remi has its advantages, such as its changer with multiple drawers, it is the only one without an optional toddler safety guardrail.
DAYBED:
When your toddler grows up, you can place the mattress on a higher level. This step converts the toddler bed into a daybed.
As you can see, the first two steps don't require any additional costs. Everything needed for the conversions is in the package, and the crib's mattress fits into a daybed and toddler bed too.
The changing table stays attached to the Remi on both stages!
Your child can use a toddler bed and daybed until he reaches 50 pounds.
FULL-SIZE BED:
Graco Remi will last well into adolescence as it converts into a full-size bed with a headboard. But you have to make few additional purchases for the last conversion. The last transformation requires a fitted mattress and a full-size metal bed frame conversion kit. You can decide for Graco's or purchase any generic full-size metal bed frame from most stores that sell beds and mattresses.
Under-crib storage drawer
An under-crib drawer fills an otherwise unused space under the crib. It gives you a lot of additional storage and prevents dust accumulation under the crib, which is excellent!
I don't like that there is no barrier between the drawer and mattress support. So, when the mattress is set to higher levels, you can see the content of the drawer from the side.
That is a common problem on almost all cribs with under crib drawers. I am not sure why, but that is how it is. That is why we did not rate Graco Remi 4-in-1 convertible crib and changer with fewer points in our review.
I think a thin wooden panel, which would prevent seeing into the drawer, wouldn't represent such a high cost for manufacturers. But from the other side, the absence of such a panel, enables better air circulation through the mattress, when it's in the lowest position.
Some parents solve this problem by installing a crib skirt, others do not notice it at all, and some don't like it.
Graco Remi can be installed without an under crib drawer, but I don't see a point as it is a great addition to your nursery!
Changing table review
Remi's changing table is one of the best on the market. It features three concealed drawers and two open shelves on the back.
You will also get a water-resistant changing pad with a safety strap for added security, which is great. Finding a fitted changing pad for a combo crib's changer is sometimes a hard job, so getting one with the crib saves you a lot of hassle.
The changing table can be fixed only on the right side of the crib, but that's how it is on almost all combo cribs.
The only complaint I have is the changer's convertibility. In the last conversion, the changer doesn't convert to a nightstand, which is a significant drawback comparing to other convertible cribs with changers. If you intend to use it as a full-size bed, and you see this as a disappointment, you might wanna look into other combo cribs with under crib drawers.
Safety
Graco Remi 4-in-1 convertible crib and changer meets and exceeds all applicable safety standards! It is CPCS (Consumer Product Safety Commission) compliant and JPMA (Juvenile Products Manufacturers Association) certified.
JPMA reassures that it has been tested by an independent facility and met the guidelines set by standards developer ASTM (American Society for Testing and Materials) International.
Graco Remi is a stable crib, which stays sturdy after all conversions. It is finished with non-toxic paint and doesn't contain lead or phthalate.
---
The right mattress for the Graco Remi crib
Graco Remi 4-in-1 convertible crib possesses three-level mattress support. You can start with the highest level for a newborn and gradually lower it down with the baby's growth.
The ability to place the mattress support high, together with Remi's low profile, makes it one of the best cribs for short moms, and surely the best combo choice for petite parents.
It has a metal spring support, which is strong and enables a better air circulation through the mattress.
Graco Remi belongs to standard size cribs. That's, of course, regarding its inner dimensions, because we all know it has a bigger footprint because of a changing table.
Dimensions of standard-size cribs and crib mattresses are regulated by the government. That gives you a wide selection of different crib mattresses, as any new model fits into a crib.
You can opt for a Graco's premium crib mattress, which has a great value for the price, or pick one of the dual-sided crib mattresses. Because they grow with the crib, are, in my opinion, dual-sided crib mattresses the best choice for convertible cribs.
I want to mention another crib mattress, which is in, my opinion the best one on the market. Newton Wovenaire baby crib mattress is a unique product, which is 100% washable and 100% breathable. It has many other great features, but it's not cheap. You can see more details in our Newton Wovenaire baby crib mattress review.
---
The verdict
I like Graco Remi's modern design and two-toned finished. If you are short of storage space, this one offers the most of it.
The Graco Remi 4-in-1 convertible crib is sturdy, safe, and quality made. If you don't mind that it doesn't possess a toddler safety guardrail, I see no reason why I should not choose this crib for your baby. Remember, Graco Remi can be the only bed you will need for your child!
According to our research, we've found the best price for Graco Remi 4-in-1 convertible crib and changer on Amazon!
---