Last updated on January 23rd, 2023 at 04:18 pm
This part of the Bassinet Buying Guide covers bassinet accessories and extra features, like sounds, night lights, vibrations, rocking, etc.
If you haven't already done so, please read the previous part of this guide first. It talks about the basics and vital bassinet features. Only then focus on all the additional features and bassinet accessories described in this section.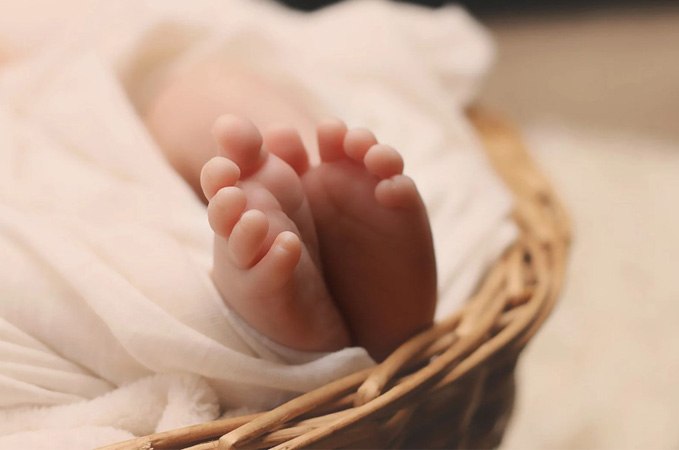 → PART 4 ←
Baby Bassinet Buying Guide
Bassinet Accessories
Bassinets are one of the most diverse baby beds on the market. Those deciding on a bassinet can choose between different shapes, sizes, types, styles, and numerous accessories.
But before you start thinking about bassinet accessories, read about all the basics and choose the type of bassinet you want.
As we've already discussed in the 3rd part, you have four options:
traditional bassinets
travel bassinets
bedside sleepers
smart or intelligent bassinets
When you are sure about the bassinet type, you can start picking bassinet accessories and added features that might come in handy for your family.
For example:
You've decided on a travel bassinet. All of them are compact, lightweight, and fold for easy carrying. But some come with a carrying bag, others don't. Some have a canopy or maybe even vibrate, play lullabies, etc.
These are all extras you don't necessarily need, but some of these are very handy and can add value to your bassinet. 
Some bassinet accessories are, of course, better than others. But what is important to remember is that some might pose a safety risk for your baby and are not worth your consideration! To help you avoid them, I will list all of them too! 
Now, let's look into all the possibilities in detail. 
The Best & the Worst Bassinet Accessories
The following table lists the safe* bassinet features and accessories and those you should avoid.
*Assuming all "good ones" are well-made and adequately tested!
Safe Bassinet Features
Better to Avoid
bassinet sheets
bassinet mattress protectors
adjustable height feature
wheels
carrying bag for a travel bassinet
rocking
canopy
soothing options
smart bassinet features
toys and/or mobile
extra storage
multipurpose
added cushioning
incline inserts and wedges
frilly curtains or fabric canopies
TABLE 1: Good vs. Bad Bassinet Features
Bassinet Accessories & Features to Consider
Bassinet Sheets & Mattress Protectors:
The best bassinet sheets and mattress protectors protect the bassinet's mattress and contribute to a safe and comfortable sleeping environment.
While almost every bassinet needs a sheet, many do not need a protector, as their mattress is already waterproof.
You can read more about this topic here:
Adjustable Height: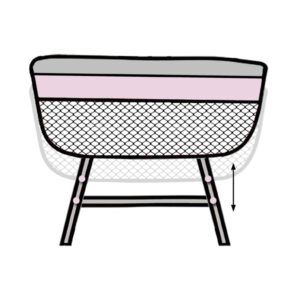 Baby bassinets have anywhere from a few to ten or more height adjustments. This convenient feature positions the bassinet at the same height as your bed. Thus you can ensure your baby is comfortable and safe no matter how tall your bed is!
Some bassinets can even stand higher than your bed, so you can lift or place your baby in the bassinet without bending or kneeling.
When buying a bassinet, ensure the height is extended enough for your or your partner's comfort and easy access to your baby.
Wheels: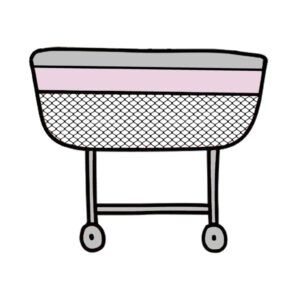 One thing parents love about bassinets is that they are much easier to move around than cribs.
Their lightweight alone already enables easy carrying from one room to another. But many have added caster wheels, making their movement even more hassle-free.
Some bassinets even hold an additional handle that helps you move the bassinet around your home.
But, although very convenient, wheels can also pose a risk. To keep your bassinet safe, ensure the wheels are securely locked and keep them locked at all times unless you move the bassinet. Newer, move your bassinet with the baby in it!
Carrying Bag for a Travel Bassinet:
Those who decide on a portable travel bassinet that folds down will appreciate a carrying bag. The whole unit folds into a convenient bag, making it ideal for family travel, visiting friends, or storage.
A bassinet folded in the travel bag is less bulky and easier to carry around.
Rocking Mechanism: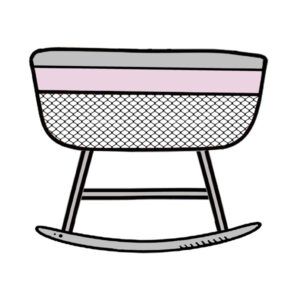 You can opt for a baby bassinet that converts into a cradle, i.e., a rocking bassinet. You can pick between two options, manual rocking or battery-operated mechanical gliding.
A rocking bassinet is attractive but introduces some safety hazards, so pick it wisely.
Those who decide on a rocking bassinet should consider the following things:
Pick the bassinet that barely rocks. Too much incline could cause the baby to roll against the cradle's side, posing a risk of suffocation or fall.
Make sure your chosen bassinet has a lock so that it can be used in static mode when you're not there to supervise.
Newer, let baby rock unattended, particularly if you have young children or pets who can exaggerate the rocking or even tip the bassinet. 
Stop using the rocking motion when the baby starts to move and roll over. Shifting weight in a rocking bassinet could tilt it too much.
Canopy:
A carefully picked canopy offers light-blocking protection during daytime naps. It can also help you in the evenings, so you can read or watch TV before bedtime without waking your baby.
To be safe, pic a bassinet with a stiff canopy covered with a breathable mesh. Ruffled curtains or fabric canopies that drape over the bassinet might look nice, but they can pose a strangulation hazard for your baby.
Do not forget to check how the canopy's attached to the bassinet. It can be retractable or removable so that it will not be in your way when you put the baby in the bassinet.
Any canopy must be securely attached to the bassinet!
Soothing Options: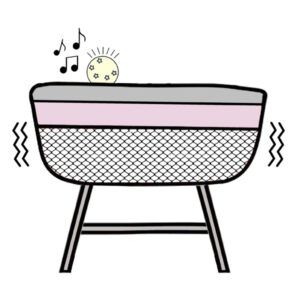 Bassinets may include several options with automated features that soothe your baby through the night. The most common are a musical box, gentle vibrations, and a soft nightlight to check up on your baby without disturbing her. Some bassinets even combine all of these.
Sounds: Those playing music have pre-loaded soothing sounds like a heartbeat, lullabies, white noise, or natural sounds.
Vibrations: Vibrating bassinets are gaining on their popularity. Mild vibrations not only soothe the baby but also helps in breathing, reduce colic, and help her fall asleep faster.
The downside is that they run on batteries, so you might have to replace them frequently. Furthermore, although they are great extras that soothe most babies, they could be too stimulating for some little ones.
Features of Smart Bassinets: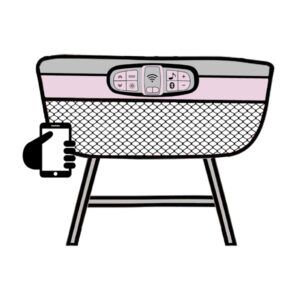 Smart bassinets offer a safe place to sleep, upgraded with built-in technology to help babies fall asleep and stay asleep. They soothe babies with a range of movements and sounds.
A smart bassinet reacts to the baby's movement or crying and lulls her back to sleep with different motions and/or sounds. Some can even bounce and sway as parents do.
Most smart bassinets are also Bluetooth-compatible and can be controlled remotely via a phone App. They can even remember your baby's sleep patterns, track her progress, and more.
Toys and Mobiles: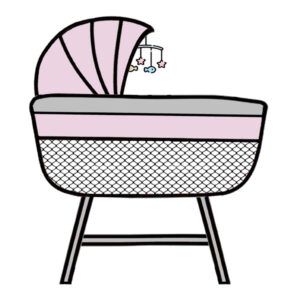 Some bassinets have toys attached to their canopy, baby travel play arch, or mobile. But usually, you have to buy these clip-on attachments separately.
Decide only on those toy accessories that attach securely to the bassinet.
When choosing a mobile or toy arch, ensure that your bassinet is strong enough to support the toy's weight.
Any strings, ribbons, and dangling toys must be out of your baby's reach and should not exceed seven inches in length.
You should remove all hanging mobiles and toys from the sleeping area once your baby can reach them.
Storage Space: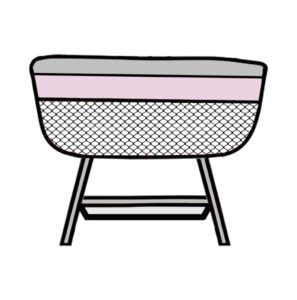 Some bassinets include extra storage space for baby essentials. The storage location is usually underneath the bassinet bed, though you can also find a few bassinets with sidewall storage pockets.
However, bassinet storage doesn't give ample space to carry many things simultaneously, so I wouldn't decide on a bassinet just because it gives me a little extra storage space.
On the other hand, holding at least a few baby necessities (favorite toy, wet wipes, diapers, pacifier, etc.) within arm's reach can be beneficial too.
The bassinet's storage offers enough space for storing nighttime essentials for one night. That way, you won't have to get up and look for things in the middle of the night each time your baby call.
Multipurpose:
Some bassinets can convert into a changing table. One method of conversion is with the help of a lever. Pulling the lever unlocks the bassinet from the base so it can be flipped over and transformed into a changing station.
The multi-purpose bassinet is not an overly sought-after feature, so there are not many convertible bassinets on the market.
Bassinet Features to Avoid
Added Cushioning:
Do not buy a bassinet with extra cushioning inside. Padded bassinet sides significantly heighten the risk of SIDS (Sudden Infant Death Syndrom).
If the baby somehow ends up with her face pressed onto the side that is not breathable, she can suffocate! Newborns can't move their heads to the side for easy breath yet.
I can't stress enough how important it is to choose a bassinet with breathable sides!
Also, do not put pillows, blankets, plush toys, or other fluffy soft materials into your bassinet! Only a mattress and tight-fitting bassinet sheet are needed!
Incline Inserts: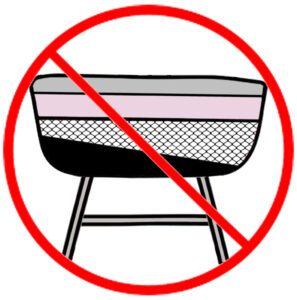 Some bassinets hold an inclined insert with an inclination range of 10 to 30 degrees designed to raise the baby's head and upper torso.
Many believe placing the baby in an inclined position can prevent certain conditions such as reflux, spilling, or congestion, but I'm afraid that's not right. An inclined sleeping surface can even worsen your baby's acid reflux.
Sleeping at an incline is not safe for your baby and is not recommended!
The U. S. Consumer Product Safety Commission has advised against incline bassinet inserts. Instead, they've found that bassinets with an incline of 10 degrees or less, with flat and rigid surfaces, are much safer for baby sleep.
Frilly and Fabric Canopies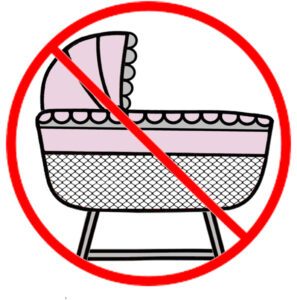 As I mentioned above, ruffled curtains or fabric canopies that drape over the bassinet pose a safety hazard for your baby.