Last Updated on January 23, 2023 by Ines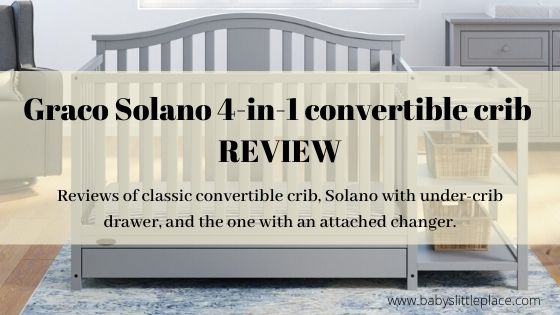 Graco Solano, a versatile 4-in-1 convertible crib
The Graco Solano is one of the most versatile cribs. It is available in three different versions, where you can choose between a standard 4-in-1 convertible crib and two modified models that adapt to today's modern living even more.
Versions of Graco Solano convertible crib:
a regular 4-in-1 convertible crib
a 4-in-1 convertible crib with under-crib storage drawer
a combo crib: 4-in-1 convertible crib with an attached changing table and under-crib drawer
Our Graco Solano 4-in-1 convertible crib review covers all three! Because it is the foundation for both upgrades, we've reviewed features of the regular Graco Solano 4-in-1 convertible crib first. Then we also checked both added features, an under-crib drawer, and the changer.
The Graco Solano 4-in-1 convertible crib has an appealing modern look and a sleek, minimalist design. Together with an affordable price and high functionality, it has soon become extremely popular, and it's one of the best-selling convertible cribs on the market.
I think the space-saving framework is surely one of the most significant factors for its popularity. Graco has soon recognized what modern parents need, a functional crib that doesn't take up much space and storage space for all baby belongings.
Therefore, they soon added two of Solano's modifications (drawer and changer) that were both well accepted by parents. Now, they are just as, if not more, popular than the original Graco Solano 4-in-1 convertible crib.
---
Quick review of Graco Solano crib:

PROS:
it grows with your child
a three-positioned adjustable mattress support base
it has a JPMA certification
meets and exceeds all safety standard
great value for the price
a large under-crib drawer*
a changer with spacious shelves**
changer converts into a nightstand**
the changing pad is included in the price**
CONS:
We don't see a point to choose a classic Graco Solano convertible crib over the one with added under-crib drawer. That's why is the first one rated less.
changer doesn't have shelves**
*ONLY Graco Solano 4-in-1 convertible crib with drawer and Graco Solano combo crib
**ONLY Graco Solano combo crib
---
Graco Solano is a product from Storkcraft, that's why I want to mention a similar crib, which you might be interested in. The Storkcraft-Graco partnership is one of the best on the market. They provide families with affordable, safe, innovative, and quality baby furniture. Because of all this, it's not a surprise that some of their cribs are very similar.
The Storkcraft Steveston combo crib is almost the same as the combo version of Graco Solano. If you like the Solano with changer and drawer, you might like Stevenson too.
We've also made a comparison chart between those two cribs. You can find it in our Storkcraft Steveston 4-in-1 convertible crib and changer review.
---
Graco Solano 4-in-1 convertible crib (and changer with drawer) Review
Crib's Specifications:
Assembled dimensions: 72.1″ long x 29.5″ width x 41.7″ high
Assembled weight: 73.63 lbs
Available finishes: Espresso, Gray & Whitey
Compatible crib mattress size: standard size crib mattress
The size of a changing table: 28″L x 17″W x 30″H
Changing pad: included 1″ water-resistant pad
A fitting changing pad: 27″L x 16″W x 1″H
Graco Solano 4-in-1 convertible crib review
The Graco Solano 4-in-1 convertible crib's features are the same on all three models:
Convertibility review
Graco Solano is a 4-in-1 convertible crib, which can transit into a toddler bed, daybed, and full-sized adult bed. With a few additional, but cost-efficient purchases, it can be the only bed you will ever need for your child.
Graco recommends the first conversion into a toddler bed when your child suppresses the height of 35 inches. Of course, this is not a limit where you have to convert it, but most parents do, as it allows the child to enter the bed independently.
Anyway, the conversions are not complicated and time-consuming!

A TODDLER BED:
All you have to do is removing the crib's front rail and setting the toddler safety guardrail on the bed. A safety guardrail for a Graco Solano is optional, which means you can use it without a toddler rail too. But if you don't feel comfortable leaving your child without it, you will have to pay around $50 for the rail.
THE DAYBED:
Like on any other convertible crib on the market, you don't have to make any additional purchases for this conversion. The transition into a daybed is done depending on the bed your child is using at the time.
If the child is still sleeping in the crib, you need to remove the crib's front rail and place the mattress into the lower position. For the conversion from a toddler bed, you have to remove the safety rail if your child had it, and lower the mattress support.
A FULL-SIZED ADULT BED:
Graco Solano can convert into a full-sized bed with headboard and footboard. But you will have to spend a little more for this conversion. Graco's full-size metal bed frame will cost you around $100, and, of course, you will need a suitable mattress too.
Safety
Graco's cribs are made by Storkcraft, which is one of the leading nursery furniture manufacturers. They give the most emphasis on the product's safety. Storkcraft's cribs go through rigorous testing to meet all government safety standards, and the same applies to Graco's.
Graco Solano 4-in-1 convertible meets and exceeds all applicable ASTM (American Society for Testing and Materials) and CPSC (Consumer Product Safety Commission) safety standards.
It is a sturdy crib, which stands firmly in place. Graco Solano is lead and phthalate safe and finished with non-toxic paint. It is a stationary crib, without drop-sides, which are banned since 2011.
Graco Solano 4-in-1 convertible crib is also JMPA (Juvenile Products Manufacturers Association) certified. This certification ensures it doesn't pollute your indoor air, as it doesn't contain toxic chemicals or toxic paint.
What crib mattress fits into Graco Solano convertible cribs?
The Solano has adjustable mattress support. You can set in into three different heights, starting with the highest for a newborn. But, don't forget to gradually lower it down with your baby's growth!
Graco Solano 4-in-1 convertible crib is a standard size crib. The inner measurements of full-size cribs and the dimensions of standard crib mattresses are regulated by the government. So, any new standard-size crib mattress fits into the crib.
Of course, Graco recommends their crib mattress, and I have to say that it's an excellent mattress for a low price. If you want something more, my suggestion is a dual-sided crib mattress that grows with the crib or a Newton Wovenaire baby crib mattress. That's a unique crib mattress, which is 100% washable, but it's also more expensive. If you are interested, you can find out more about it in our Newton Wovenaire crib mattress review.
---
Graco Solano 4-in-1 convertible crib with drawer Review
With the use of otherwise unutilized space under the crib, a new Graco Solano greatly increases your nursery's storage space. By placing a drawer under the mattress's area, the Graco Solano quickly became one of the best convertible cribs with under-crib storage too.
An under-crib storage drawer is an excellent addition to any convertible or combo crib. Solano's storage drawer is spacious, of good quality, and further divided into two equal parts.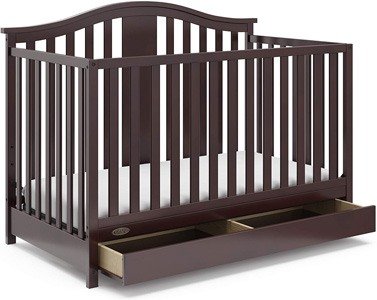 What do we like about the drawer:
It is divided into two equal parts, which allows better transparency over stored items. It's maybe a little cumbersome, but it serves its purpose well.
What could be better:
I don't like that there is no wooden barrier, which would divide mattress support from the drawer underneath. I have noticed this on many similar cribs. With such an arrangement, you can see into the drawer when the mattress is set in the higher positions.
---
Graco Solano 4-in-1 convertible crib and changer with drawer Review
This type of Solano has the most storage space you can imagine. It retains all the good features of a classic convertible crib, a drawer from its upgrade, and has an added changer on the side.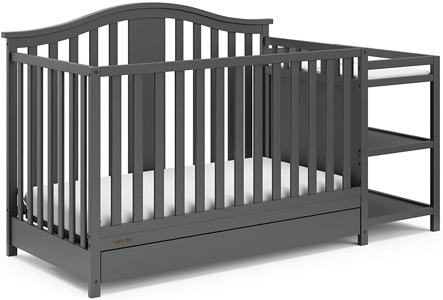 The changing table can be attached only on the right side of the crib, which is not a drawback, as it's the same on almost all combo cribs. The thing that might divert you from the purchase is the lack of drawers. However, some parents think having shelves is even more convenient, and I am one of them. Easy reach shelves enable hassle-free handling while you are changing your baby. That is important!
Overall dimensions are because the attached changer bigger than the other two Solano's types. But this is a space-saving solution anyway. All combo cribs are space-savers as they take up less space than a stand-alone convertible crib and changing table.
Finding a fitted changing pad for a combo crib is sometimes impossible, that's why you will be pleased that you already get one with the Solano. The included changing pad is water-resistant, 1-inch thick, and possesses a safety strap.
Some parents are fine with it, others think it should be thicker. However, I don't see a problem, as you will only change the nappy on it.
If you want a thicker pad, you will have to find such with measurements around 27″ x 17″, or make it by yourself.
---
The verdict
Graco Solano 4-in-1 convertible crib is a great crib, for an affordable price. However, I don't recommend a regular model. Not because it would have a worse quality, but because the other two offer more.
You can get a large under-crib drawer, for only a few extra bucks. You will need it, believe me, sooner or later, we all do.
And for those, who are looking for a combo crib with additional underneath drawer? Yes, if you don't mind that the changer has only shelves, I don't see a reason why wouldn't you opt for this one.
As far as our research, we've found the best price for all three Graco Solano cribs on Amazon.
---