Last updated on June 15th, 2023 at 03:14 pm
We have compiled a list of the best nursery chairs for 2023, ensuring you and your baby have a comfy spot for cuddling, soothing, or feeding.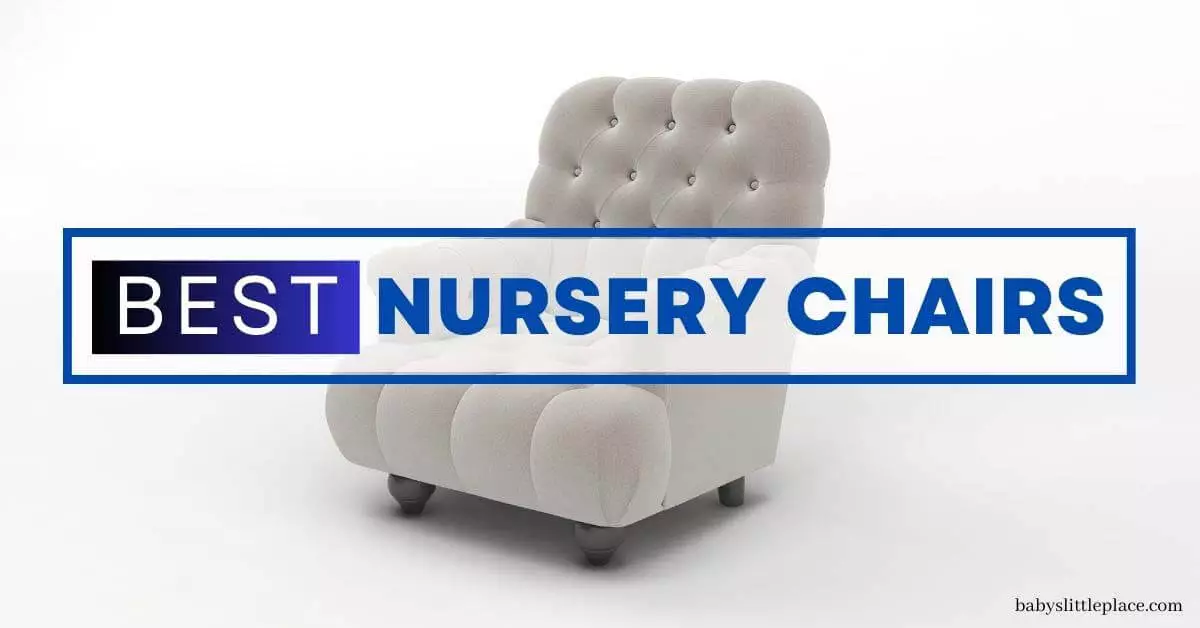 When preparing a room for a baby, expenses can add up quickly, and a nursery chair might not be at the top of your must-have list. However, while a crib, changing table, or drawer are important, you should also consider yourself. So, one of your top priorities should also be finding the best nursery chair for yourself!
There are several reasons to consider buying a glider or rocking chair for the nursery. For instance, a good nursery chair is a comfortable place to soothe your baby, do late-night feedings, read to her/him, and even take a nap while your baby sleeps in the crib.
Top 3 Nursery Chairs:
---
---
→ Skip straight to other top-rated nursery chairs in 2023!
When buying the best nursery chair for your needs, you can choose between two popular types, rockers and gliders. Those chairs differ in their movement. Rocking chairs move in an arc. And gliders glide back and forth along a fixed track. Both types can come with the ottoman, but it usually comes at an additional cost.
Gliders typically provide a smoother ride. Their design also prevents trapping toes underneath them, which can happen with rockers. Some gliders can also swivel and recline, which further increases their comfort. But on the other hand, rocking chairs typically take up less space. They are more nostalgic, reminding us of our childhood or grandparents.
So, to find the best nursery chair for your family, consider the chair's type and other factors described below.
What to consider when buying a nursery chair?
Nursery chairs are available in different styles, designs, sizes, and prices. You can opt for one that costs less than 200 dollars or a luxury nursery chair that costs thousands of dollars. There are also ottomans, reclining and swivel features, etc. I understand that it can be easy to become lost.
To make your search for the perfect nursery chair easier, you can narrow down your options by thinking about the following factors:
Factors to consider when buying a nursery chair:
1. Comfort:
You'll spend a lot of time sitting in the nursery chair while feeding, rocking, or soothing your baby, so comfort is crucial. Thus, when buying a nursery chair, look for plush cushioning, adequate back support, and enough space to sit and move around comfortably. Consider the chair's dimensions and whether it suits your body size and shape.
2. Rocking or Gliding Motion:
Nursery chairs come with rocking or gliding features that can help soothe your baby to sleep. Check that the chair moves smoothly and quietly without squeaking or jolting. Also, test the motion to see if it suits your preferences.
3. Upholstery:
Opt for durable and easy-to-clean upholstery, as nursery chairs are prone to spills, spit-ups, and accidents. Stain-resistant fabrics or removable/washable covers can make maintenance easier. Consider materials like microfiber, polyester, or leather, depending on your needs.
4. Safety Features:
When choosing a nursery chair, make sure it has a solid and secure frame without any loose parts or sharp edges that could be dangerous for your baby. Be sure to select a nursery chair that meets all required safety standards.
5. Adjustable Features:
These can enhance your comfort and allow you to find the most comfortable position.
6. Added Features:
When choosing a nursery glider or rocking chair, consider your comfort needs and the features that would be most helpful for you. Many nursery chairs have added features that can enhance your experience, so think about what would be valuable to you.
7. Aesthetics:
Consider the nursery chair's design and how well it fits the overall nursery decor. Look for a style that appeals to you and complements the room's theme or color scheme.
8. Price:
Determine your budget and look for nursery chairs within that range. Remember that nursery chairs are an investment, and it's worth spending a little more for a high-quality, long-lasting chair that will provide comfort and support for you and your baby.
The price ranges for nursery chairs can vary depending on the brand, quality, materials used, features, and design.
9. Reviews and Recommendations:
Read customer reviews and seek recommendations, like our list of the best nursery chairs below. We carefully reviewed numerous nursery chairs, including rockers, gliders, recliners, and swivel gliders. Of course, we've also considered parents' opinions and feedback to compile the list of top-rated nursery chairs below, where everyone can find the best glider or rocker for their needs.
Best Nursery Chairs: Top-Rated Gliders and Rockers
1. Best Nursery Chair Overall:
Babyletto Kiwi Electronic Power Recliner and Swivel Glider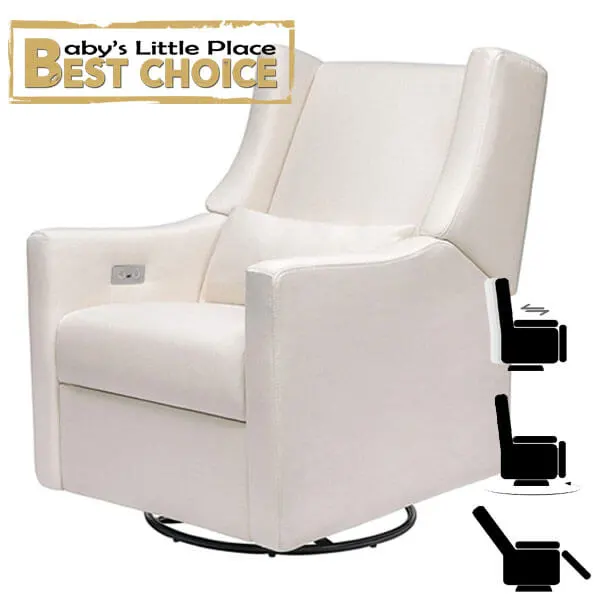 Babyletto Kiwi Electronic Nursery Chair with USB port
Specifications:
Why we love it:
First up on our list of the best nursery chairs is a modern Babyletto Kiwi. Yes, it does come with a higher price point, but it has excellent quality, durability, and advanced features. Thus I think it is worth your consideration.
If you have ever tried to close a manual recliner, you have probably figured out it can be quite challenging. Now imagine you are holding a sleeping baby and trying to do it as smoothly as possible. With the Babyletto Kiwi's automated reclining function, this is possible.
The Babyletto Kiwi glider has an electronic reclining mechanism that works smoothly with the push of a button. It silently and seamlessly leans back without a jolt. I also like that it reclines far back, so if you sleep in the chair, it feels like you're truly resting.
Another element we like about this glider is its elegant wingback design. Not only does it add a touch of beauty to the chair, but the curved sides also provide exceptional comfort for resting your head.
The Babyletto Kiwi also glides back and forth smoothly and swivels up to 270 degrees. You'll also like its eco-friendly, stain-resistant, water-repellent, and durable fabric.
But here's the real game-changer: this glider is equipped with a convenient built-in USB port, allowing you to charge your electronic devices effortlessly while bonding with your little one.
We think the Babyletto Kiwi Electronic Power Recliner and Swivel Glider is worth the cost. We highly recommend it if it fits within your budget. However, there's no need to worry if the price exceeds your budget. You can explore numerous other high-quality alternatives at a more affordable price below.
---
2. Runner-Up:
Evolur Raleigh Nursery Swivel Glider and Recliner
Evolur Raleigh Nursery Swivel Glider and Recliner
Specifications:
Why we love it:
The Evolur Raleigh Glider ranks at the top of our list due to its numerous features and excellent quality, all offered at a reasonable price.
The Evolur Raleigh glides, swivels 360 degrees, and recline to multiple positions. It transforms into a recliner by simply leaning back against the chair. And to release the footrest, all you need to do is pull on the side lever conveniently located above the storage pocket.
One notable feature is its sturdy metal base, which ensures stability during all the motions. However, as with any other manual recliner, you'll have to use a bit of force to get the chair to recline or put the footrest back in. The only way to avoid this is to purchase an electrical recliner, like the Babyletto Kiwi above.
I also like that you can rock or glide easily with your feet on the floor, which is especially beneficial for shorter moms. But due to its high backrest, taller parents can use it comfortably too, which is great.
The chair is constructed with an easy-to-clean polyester fabric and filled with foam that provides comfortable support. It also comes in various colors, allowing you to find the perfect match for your nursery.
We recommend the Evolur Raleigh Glider to anyone looking for a reliable and comfortable glider for a reasonable price.
---
3. Best Budget-Friendly Nursery Chair:
Storkcraft Premium Hoop Glider and Ottoman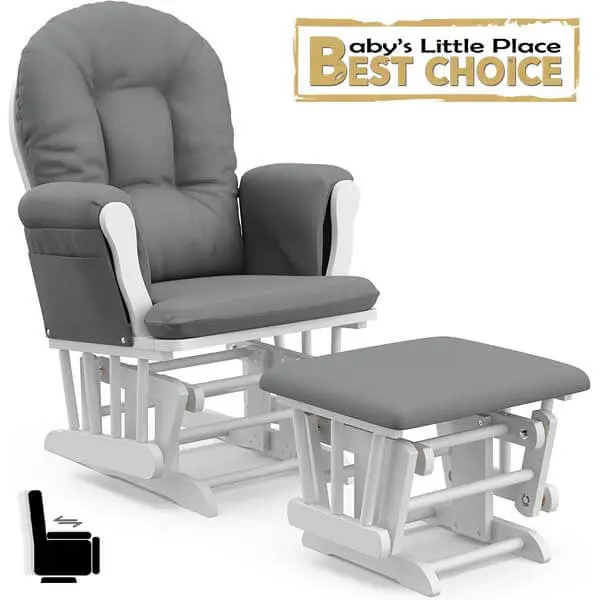 Storkcraft Premium Hoop Glider and Ottoman
Specifications:
Why we love it:
Consider this traditional glider if you're searching for an affordable nursery chair. Traditional gliders resemble the standard rocking chairs and have more exposed wood parts, while they still provide the basic functionality of modern gliders.
When choosing a glider to soothe your baby, finding one that provides a smooth and gentle motion is crucial. With its fluid movement, the Storkcraft Premium Hoop Glider delivers precisely that.
Keep in mind that this nursery chair doesn't recline or swivel. However, considering its price, it offers a lot. It includes storage pockets on both sides of the armrest and an ottoman that also glides with the chair.
The Storkcraft Premium Hoop Glider is available for just over $200, but it's often discounted, so you might even get it for under $200.
We find the glider very comfortable thanks to its ample padding in the seat, armrests, and ottoman. The cushions themselves are crafted from polyester, making them effortless to clean. And parents with smaller nurseries love its compact design that doesn't take up much space.
With a choice of 21 different colors, it offers the largest variety among all the best nursery chairs on this list. Anyone can find the perfect match for its nursery decor.
The Storkcraft Premium Hoop is a durable glider that promises many years of sitting and use.
---
4. Best Nursery Glider with Ottoman:
DaVinci Olive Swivel Glider with Ottoman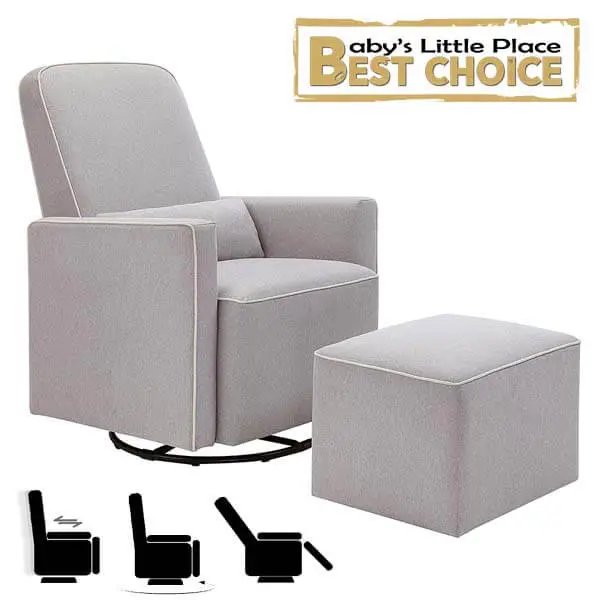 DaVinci Olive Swivel Glider with Ottoman
Specifications:
Why we love it:
Most parents look for a glider that is affordable yet functional and appealing. If you are one of them, the DaVinci Olive Swivel Glider with Ottoman is one of your best options.
This nursery chair is sleek enough to fit a small room, yet it has a comfortable seating space and a high backrest that also works well for taller parents. It is a modern glider with clean and simple lines that are perfect for any modern nursery.
The Olive chair stands on a sturdy base that glides forward and backward and swivels 360 degrees. However, it's important to note that the Olive chair does not recline. If you want a reclining option, choosing the DaVinci Piper Recliner and Swivel Glider would be more suitable. The Piper gliding chair is our recommended affordable nursery reclining chair, and it shares many similarities with the Olive glider.
The DaVinci Olive gliding chair also includes a lumbar pillow and a cozy ottoman to rest your legs and relax while feeding or soothing the baby. However, the ottoman does not glide. Some parents appreciate this feature, while others do not. Therefore, if you want a gliding ottoman, consider an alternative option, such as the Storkcraft Premium Hoop Glider and Ottoman.
---
5. Best Nursery Swivel Glider:
Babyletto Madison Swivel Glider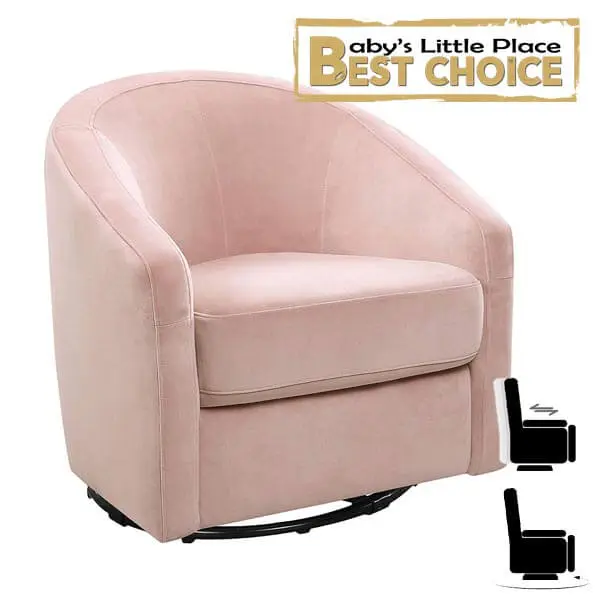 Babyletto Madison Swivel Glider
Specifications:
Why we love it:
This Babyletto swivel glider has become a favorite among parents for a good reason. It offers a combination of rocking, gliding, and rotating motions while maintaining an appealing aesthetic and providing exceptional comfort.
At first glance, the Babyletto Madison swivel glider may not seem like the most comfortable nursery chair, but it actually is. The chair has a spacious seat and a gently rounded back, providing ample support. Additionally, the metal swivel mechanism allows for a full 360° rotation and gliding, adding to the chair's comfort and versatility.
The Babyletto Madison is made with good-quality materials. It is a versatile chair that you can use beyond nursery years in any room in your home. Moreover, its 29-inch width makes it possible to fit in smaller rooms without compromising on quality.
You have the option to choose from eco-performance fabric, velvet, or boucle fabric, all of which are water-resistant and stain-resistant.
---
6. Best nursery rocking chair:
Unovivy Nursery Rocking Chair