Last updated on January 23rd, 2023 at 04:09 pm
Our Guava Family Lotus travel crib review gives insights into Lotus's performance, ease of use, safety, quality, and more. I am confident that it provides all information you need to know before the purchase! However, if you think we've missed something, you can ask us in the comments at the end of this Lotus travel crib review.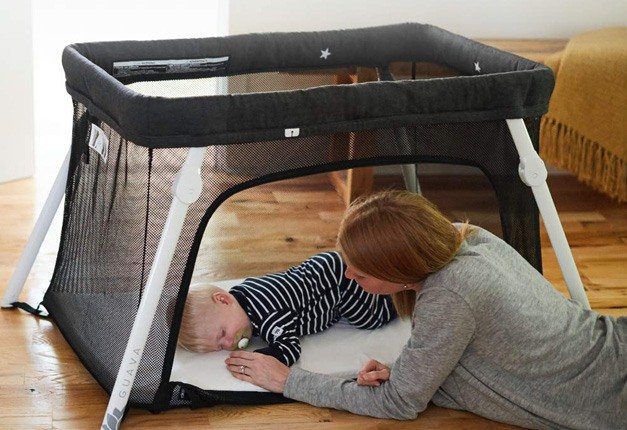 Lotus Travel Crib Review
Baby's Little Place travel crib Reviews
Traveling with a baby can be a little intimidating. However, with proper planning and focusing on things that make your journey more comfortable, it's a fabulous and unforgettable experience!
A lightweight travel crib such as the Guava Family Lotus travel crib can significantly improve your travel experience with the baby! Providing a comfortable and familiar sleeping environment makes nights away calmer and more relaxed!
Furthermore, the journey to your final destination must be as smooth as possible. With all those baby stuff … your hands are probably always full. So, having a lightweight travel crib that packs into a backpack is a blessing.
---
Lotus travel crib review at a glance:
Let's start with the pros and cons we had found during our Guava Family Lotus travel crib review: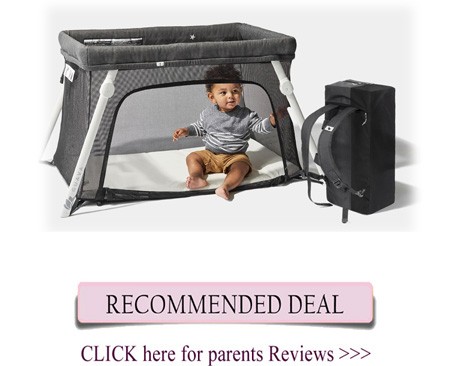 THE GOOD:
lightweight
a backpack instead of a classic travel bag
a multipurpose Pack 'N Play
setting up is easy and fast
a unique side door
good airflow through the crib
Lotus travel crib meets and exceeds all required safety standards
eco-friendly materials
the included mattress is better than an average Pack 'N Play mattress
optional bassinet
available accessories, like Lotus Playard Fun Shade or mosquito net
THE BAD:
Some parents reported problems with the insertion of Velcro strips through the slits. They've claimed that strips didn't stay in place when they tried to secure the Playard's mattress. I have to say that we didn't notice such problems.
However, we had minor difficulties with placing the folded crib back into the backpack. The backpack could be a bit more spacious, but I do not consider this a major problem, after all, it must be as small as possible. All I want to say is, this could take you an extra minute or two, but that is it.
---
What makes the Lotus Everywhere crib different from similar travel cribs?
It is one of the lightest travel cribs on the market.
It folds up small into a convenient backpack.
A Lotus travel crib has a unique feature, a zippered side door for easy access to the baby.
It can convert into a newborn bassinet, but you will have to purchase a bassinet conversion kit.
You can buy a Lotus Playard Fun Shade, designed to fit perfectly on the Lotus travel crib. It can darken the sleeping area for naptime, be a shade on the beach, or convert a crib into the fort for your toddler. The Lotus Fun Shade is machine washable, constructed out of 100% quick dry polyester, and provides the maximum UV protection from the sun.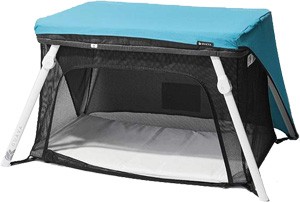 ---
Guava Family Lotus travel crib vs. BabyBjorn travel crib Light
BabyBjorn travel crib Light is a lightweight travel crib, which is very popular among parents and at the top for several years. But with its ultra-light construction, quality, and added features, the Guava Family Lotus soon has become one of its biggest rivals.
Although there are cheaper travel cribs, are these two for sure of the highest quality and most durable travel cribs on the market.
They are very similar yet different. Many parents hesitate between them, but in my opinion, you really can't go wrong by choosing either one.
Lotus and BabyBjorn are highly-rated products that exceed all required safety standards. The Babybjorn is might a little easier to use, but the Lotus has unique features, such as zippered side door, backpack, etc.
Lotus travel crib vs. Baby Bjorn travel crib
| | | |
| --- | --- | --- |
| | Guava Family Lotus travel crib | BabyBjorn travel crib Light |
| assembled crib dimensions | 45″ L x 32″ W x 25″ H | 44″ L x 32″ W x 24 "H |
| travel bag | 23″ L x 11″ H x 7″W | 23,5″ L x 19″ H x 5,5 W |
| portability | | |
| setting up | | |
| access to the baby | | |
| travel mattress | | |
| comfort when used with a newborn | | |
| PRICE | Best PRICE | Best PRICE |
Comparison chart: Lotus vs. Babybjorn travel crib
---
Guava Family Lotus travel crib review breakdown
We have evaluated the most important features you should look for when choosing a travel crib:
portability
ease of use
travel mattresses 
design
safety
Lotus' portability Review
Lotus has excellent portability! It folds into one of the smallest packages on the market, and I also appreciate that it doesn't weigh a lot. With only 13lbs, it can be easily carried around by women too.
We didn't notice any difficulty in folding the crib into the provided carrying bag. I think this is extremely important! The inability to stuff the crib back into the carrying bag can soon become very frustrating and nerve-wracking.
The Lotus travel crib packs into a backpack instead of an ordinary carrying bag. Actually, it can be carried as a carry-on bag or as a convenient backpack. I appreciate that it allows me to have my hands free for my baby and other luggage.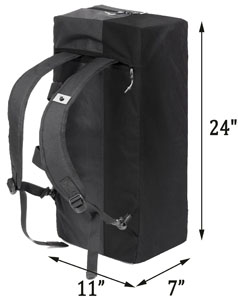 The Guava Family Lotus travel crib a perfect choice for traveling by car, bus, train, or plane. It is appropriate either for camping or staying in the hotel. Of course, it's also a perfect choice for naptimes at home or sleepovers in a grandparent's house.
---
Ease of use
Well, setting up the Lotus travel crib does take more than claimed 15 seconds. There are Velcro straps for securing the travel mattress into the crib. It does take a little effort to adjust them well. But, with practice, the process is not complicated or time-consuming at all. Velcro straps are a common feature on travel cribs, and the process is the same on all of them.

We've also had minor problems with folding the crib at first, but we became better and better. It is surprisingly easy when you get used to it!
 Lotus's side door Review
The zippered side door is a unique and convenient feature, which is usable from newborn to toddler age.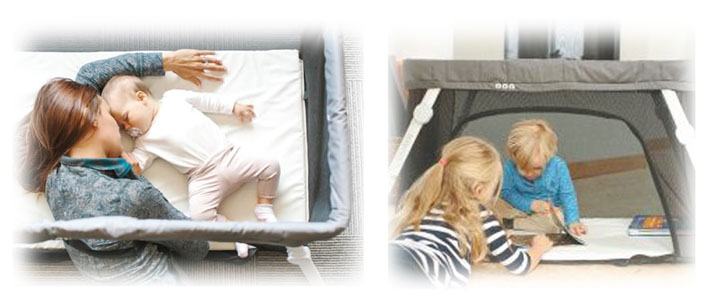 Lightweight travel cribs usually don't have bassinets for newborns. Because of the convenience, is their mattress not lifted but lies on the floor. And placing a sleeping baby into the crib from the side is more comfortable than leaning over the rail to the bottom mattress. If you want, you can even lay down with a baby and cuddle her to sleep.
The side door also represents many playing opportunities for toddlers. It gives them a free way in and out of the crib, which makes them so happy. Cover the crib with a blanket and make a little toddler house, etc.
However, it is impossible to keep an eye on a toddler 24/7, so knowing that you can securely zip the Playard while he is playing also helps.
---
Travel mattress Review
Guava Family Lotus crib has a standard 1″ thick travel crib mattress made of flame-retardant-free polyurethane foam.
Don't use a standard, thicker mattress in any travel crib! Travel cribs are surrounded by mesh fabric, so the sides are not as hard as those on wooden cribs. The baby could roll down from the thicker mattress and become trapped between the mesh and mattress. That could lead to potential injuries or even suffocation.
Because of that, travel mattresses such as this one are not as comfortable as classic crib mattresses. But they are safe, which is the most important. 
Lotus travel crib mattress:
Its travel mattress has suppressed all safety tests, and it's comfortable enough for sleep on holidays, occasional sleepovers, or afternoon naps.
The thing that causes concerns among some parents is the position of the mattress. The Lotus travel crib mattress rests on the floor. Such design contributes to the stability of the sleeping area and makes the sleeping surface even. Such construction is a standard for all lightweight travel cribs!
Anyway, babies tend to sleep well in the crib, and we do not think it is too cold for them.
If you have cold floors, you can place the crib on a blanket or carpet. Unlike other lightweight travel cribs, you can even opt for a Guava Family Lotus bassinet.* 
*More information about the bassinet is at the end of the Lotus crib review.
---
Lotus travel crib's design
The Lotus crib has a smaller footprint than classic Pack 'N Plays, which are bigger and weigh more. 
Comparing the Lotus and other lightweight travel cribs shows it's pretty spacious and appropriate for an older toddler as well. 
Guava Family also nailed it by added a zippered door on the side. It is a thoughtfully designed portable Playard, which is suitable for sleep or play.
The frame is surrounded by breathable and transparent mesh, which has several benefits. Babies can breathe normally, even if they squeeze their faces close to the side. You can see your baby from any angle of the room, and the baby doesn't feel trapped in the crib.
The only thing I miss is the lack of color selection. It is available only in one color, but that is typical for lightweight travel cribs.
---
Safety Review
Guava Family Lotus is a safe travel crib that meets and exceeds all required safety standards.
Lotus is also the only Pack 'N Play on the market with GREENGUARD Gold safety certification, which ensures that it meets some of the World's most rigorous and comprehensive standards for low emissions of volatile organic compounds (VOCs) into indoor air.
The Lotus travel crib meets all required flammability standards and does not contain toxic materials. The crib is sturdy, doesn't wobble, and your toddler can't tip it over easily.
---
Lotus's bassinet
You can buy a conversion kit, which transforms the Lotus into a newborn bassinet. It is a versatile free-standing bassinet for use at home or during travel. It is durable, stable, and easy to set up.
The bassinet uses the same frame as the crib, allowing you to convert it back and forth. Having both a travel crib and travel bassinet is a vast benefit for the Lotus.
The crib's backpack can't carry the crib and the bassinet at the same time. It holds either the Lotus Everywhere Crib or Lotus Bassinet separately. However, you don't need both at once, so I think that's not a problem.
---
Guava Family Lotus travel crib specifications
Measurements and Weight:
assembled crib dimensions: 45″ L x 31″ W x 25,5″ H
collapsed dimensions: 23″ L x 7″ W x 11″ H
included mattress: 42″ L x 24″ W x 1″ H
weight (including backpack): 13lbs
available colors: dark grey with white legs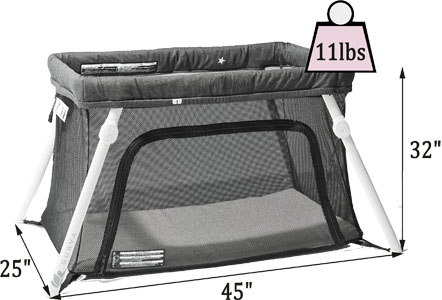 How long can your child use the Lotus Everywhere crib?
The Lotus Everywhere Crib is good for newborn to 3+. It has 42″ long mattress, which is longer than the standard Pack 'N Play. A child that outgrows the Pack 'N Play is still comfortable in the Lotus travel crib.
Because the mattress is supported by the ground, Lotus Everywhere Crib doesn't have a weight limit. A child of any weight can use the Guava Family Lotus crib.
---
Frequently asked questions about Guava Family Lotus travel crib
How do you clean the Guava Family Lotus crib?
The Lotus crib has hidden zippers for removing the fabric from the aluminum frame.
The fabric is machine-washable. Toss it in the washer and wash it in hot water, using only a gentle, bleach-free detergent. Let it air dry. Do not tumble dry or iron!
Can I replace the Guava Family travel mattress with a thicker one?
Federal Safety Standards for travel cribs limit the mattress's thickness to 1″.
Manufacturers are not legally allowed to provide travel cribs with a thicker mattress. A thicker mattress in a crib surrounded by mesh increases the risk of injuries and suffocation. If the baby rolls from it, she may become entrapped between the mattress's edge and the crib's side.
I do not recommend using a third-party mattress, in any travel crib or Pack 'N Play, of any brand.
Is Guava Family Lotus durable enough to survive being checked with luggage?
Yes, it is! Parents reported they took it onto numerous plane trips without any problems or damages.
Both, Guava Family Lotus crib and the Lotus Bassinet are also designed to fit within the carry-on allowance of most US airlines. But to be sure, it is better to check directly with your airline to find out about their carry-on allowances.
Does zipping the Lotus' side wakes up a sleeping baby?
The zipper can be closed without noise, but you have to do it slowly. But it also depends on the nature of your baby's sleep.
---
Is Lotus travel crib worth your money?
Guava Family Lotus travel crib is an ultra-portable crib designed for multiple uses. The carrying bag, which doubles as a convenient backpack and a lightweight of the whole unit, makes it perfect for all kinds of travel.
Of course, that doesn't mean it is not a suitable choice for everyday use at home. It is a nice Playard and a comfortable napping station for your child. But I do not recommend it as a primary crib for your child.
The results of our Guava Family Lotus travel crib review are excellent. So yes, I recommend Lotus Everywhere crib, especially if they travel a lot! And yes, I think it is worth your money.
---
---