Last updated on January 23rd, 2023 at 12:32 pm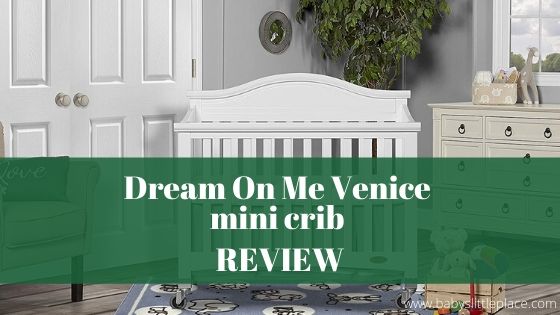 Dream On Me Venice portable mini crib with arched design
Dream On Me Venice is a mini portable crib, which can also fold down for storage. I have decided on its review because it is a little different from other mini portable cribs on the market. And I hope our review will help you in your decision with the purchase.
The Dream On Me Venice doesn't have special features, but it has everything you should expect on such a model. The crib stands on wheels, and it can also fold down. That is actually perfect! Why? Portable cribs must stand on wheels, wherein the folding mechanism is a bonus! In terms of portability, Dream On Me Venice, therefore, offers more than some other models.
Quick review of Dream On Me Venice portable mini crib: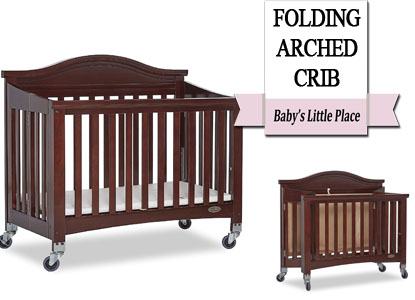 PROS:
ball-shaped headboard
folding mechanism
wheels with locking mechanism
better than bassinet
a compact crib
included mattress pad
adjustable mattress support
meets all safety standards
CONS:
bigger weight
although not too expensive, it is one of the more costly portable mini cribs
Dream On Me Venice portable mini crib is great choice:
for small spaces
for those who like arched cribs
for moving from one room to another
for urban, modern families
for grandparent's home
as a more long-term solution than a standard bassinet
for co-sleeping in parents room
---
So, what's different about the Dream On Me Venice mini crib?
Its design! It has an arched design, which is more common for full-size cribs. Arched design is rare on mini cribs, let alone on portable models.
Portable cribs are usually rectangular, with the same height on all four sides. Manufacturers stick to the principle 'less is more' when designing portable cribs. Such models are expected to be as space-efficient, as it's possible. Of course, that is the correct path, but a few exceptions, like the Venice, adds to the versatility, which is excellent.
Because of such design, Dream On Me Venice weights little more. To be exact, the crib weighs 46,5 pounds. It is more than other mini portable cribs we have already reviewed, but I don't think it should raise the concerns.
For example, Dream' On Me second mini portable crib weighs only 32 pounds. But on the other hand, the Babyletto Origami, which is one of the most desirable and best-rated mini portable cribs, weighs almost the same.
And as far as Venice's dimensions … they are not too big and do not compromise crib's portability.
---
Dream On Me Venice Folding Portable Crib Review
We have reviewed the important features that a crib of this type should have. Then we compared our findings with the results of other mini portable crib reviews, such as Delta Children mini portable crib, or DaVinci Dylan mini portable crib.
The Dream On Me Venice crib is made of renewable Newzeland pine wood. You can not expect it folds up as small as travel cribs, and it is also not as light as travel cribs, but you can fold it into pretty small spaces, and it is lighter than other mini crib types.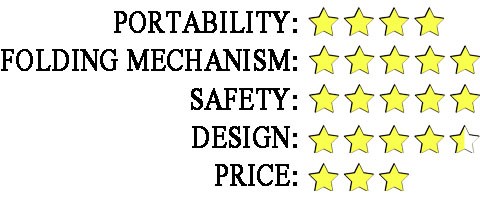 Crib's portability & folding mechanism
Dream On Me Venice stands on hooded wheels, with a reliable locking mechanism. Locked wheels turn the crib into a steady, sturdy, and safe sleeping place for your baby.
Wheels are also removable, but I would leave them on the crib. I don't see a reason why not. As I said, the locking mechanism transforms the crib into a stationary model. And if I want, I can easily move the crib around my house. You can push it around even when it's collapsed, which is very handy as it's heavier from other portable mini cribs.
Although it's an arched crib, Dream On Me Venice poses an ergonomic design and fits through standard room doors. As such, you can easily move it from room to room, without folding it down.
One of the features you have to pay attention to is also how easy is folding and setting up. And as far as from our research, the folding mechanism works as it should.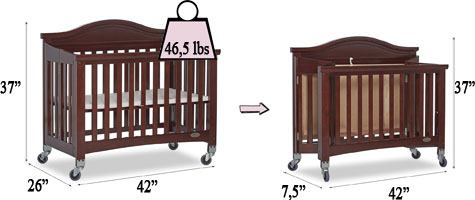 Safety review
Dream On Me Venice is a stable crib, with a reliable locking mechanism. It doesn't have drop-sides, which are banned since 2011.
The crib meets all applicable federal safety standards. It meets ASTM (American Society for Testing and Materials) and CPSC (Consumer Product Safety Commission) safety standards!
The crib is also eco-friendly, and lead and phthalate safe.
Design
If you like arched cribs, this is the crib for you. Because of a beautiful ball-shaped backside, Dream On Me Venice looks really nice when it is placed near the wall.
The crib is available in three non-toxic finishes, Espresso, Storm Gray, and White. It could have a wider color collection, however, existing colors are a classic choice that fits in with almost any furniture.
The Dream On Me Venice has an urban and modern style, which is in combination with a space-saving design perfect for small spaces.
Price
The Dream On Me Venice mini crib is not the most expensive mini crib on the market, but it does cost more than an average mini portable crib.
---
Dream On Me Venice mini crib mattress information
The mattress lays on a carb II compliant MDF mattress board, which folds into the crib when the crib is collapsed. To accommodate your growing child, Venice posses three-level mattress support. Start with the highest position for a newborn, and gradually lower it down.
Dream On Me Venice has an included 1″ mattress pad. Without a doubt, this's better than nothing. But for everyday sleep, rather purchase a thicker mattress.
Choose a snug-fit baby crib mattress, which is not too thick. I suggest you look into Dream On Me portable foam mattress, which is a perfect fit and costs only $30.
---
Frequently asked questions
How long can my child use this mini crib?
The crib has a weight limit, which is 50 pounds.
Can I use it instead of bassinet?
Yes, of course! It is a better alternative to a standard bassinet. Mini cribs are more compact and a more long-term solution.
Is it possible to take the front railing off and use it as a co-sleeper, without a fence between me and my baby?
No! You shouldn't do that on any crib, of any brand. You would compromise the crib's safety!
---
Is a Dream On Me Venice a good mini portable crib that is worth your money?
If you are on the market for an arched baby crib, but you don't have space for a full-size crib, Dream On Me Venice is certainly worth your attention.
It is a charming mini crib, which is very compact for a folding crib on wheels. And if you don't need the portability? Remove the wheels, and you will transform the Venice into a stationary crib that stands firmly in a place.
So far from our research, we've found the best price on Amazon!
Dream On Me Venice Folding Portable Crib
---