Cheap Mini Crib – Delta Children Portable Mini Crib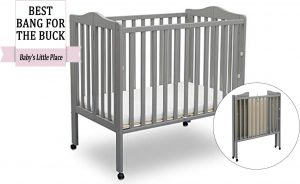 Quality and cheap mini crib
Delta Children Portable Mini Crib Review
This cheap mini crib is a better alternative as the bassinet. Not only it's much more comfortable for your baby the crib actually costs less than most of the bassinets. Delta Children portable mini crib will also last longer than a bassinet. And what the portability for this crib mean? It means that you can easily transport, store or even travel with the crib.
RELATED READING: Babyletto Origami mini crib Review
Delta Children mini crib is a good choice for:
small apartments and urban living
for a first bed next to parents in the bedroom
for a secondary crib in grandma's or caregivers house
for traveling on shorter distance
THE GOOD:
it doesn't occupy a lot of space
a good folding mechanism
cheap mini crib
well built and versatile
it has casters for easy moving around the house
you get a 1,5″ mattress beside the crib
you can adjust the mattress into two heights
available in several different colors
a better choice as bassinets
THE BAD:
it can scratch easily
your baby will outgrow it sooner as a full-size crib
no locking mechanism on wheels
Delta Children mini crib SPECIFICATIONS
Measurements and Weight:
assembled crib dimensions:

 39″ L x 25″ D x 37.75″ H

collapsed dimensions:

 40″ L x 6.5″ D x 37,75″ H

weight:

32 lbs
available colors: cherry, dark chocolate, grey, natural & Bianca white
Child size restrictions:
from birth through 35 inches
set the mattress base to the lowest level, when your baby begins to sit or stand
stop using Delta Children portable mini crib if your child is able to climb out before he reaches 35 inches
Mattress information:
basic 1,5″ mattress included
two position mattress height adjustment
you can use any mini crib mattress in the crib
the crib has solid mattress support
You must be aware that the included mattress is very thin. If you need a crib only for occasional use, it should be fine. But if you intend to use it frequently, I will suggest buying a better mattress.
Nevertheless, the included mattress does have some advantages. First, you get the mattress for free. And second, because the mattress is thin, you can store it right in the folded crib.
In our Review, Delta Children portable mini crib got following ratings
We compared Delta Children mini crib to other portable mini cribs, not to the all available mini cribs. For instance, Babyletto Origami is a crib of the same type, so we compared Delta Children with Origami. We have checked the advantages and disadvantages of the Delta Children mini crib compared to Origami and evaluated them.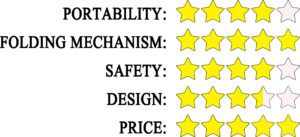 ALSO: Babyletto Origami mini portable crib
Frequently asked questions
1. Does the size of the sleeping surface compare to a traditional pack and play?
The overall area is about the same, but the Delta crib, because of its more rectangular design, allows for a more substantial mattress.
2. Does one of the sides come down?
No, and that is how it should be! Since 2011 it's forbidden to sell dropping side cribs as they are dangerous to your child.
3. What is the spacing of the crib slats?
Cribs slats are 2″ apart, so less than prescribed maximum distance (2 3/8 inches).
4. Is this crib easy to assemble?
Yes, just follow the provided instructions.
5. Is paint on the crib non-toxic?
Yes, Delta Children uses only non-toxic finishes, which are safe, and meet all Federal and State regulations.
6. Is this portable enough to check in as luggage on a plane?
Although it is a good portable crib, I would not recommend that.
---
Delta Children portable crib is so unbelievably cheap mini crib. I had to check up twice if I saw the right price. It is a safe and actually really cute mini crib.
Basically, you get everything you need with one purchase, a crib and a mattress. Did I mention how very cheap the whole package is?
RELATED ARTICLES:
Hello!
I am the founder of Baby's Little Place. I'm a mom to the one-year-old daughter and I know how overwhelming could be when you are looking things and tips for a new baby, especially if you are a first-time parent. That's why I set up this site…because I want to do something I am passionate about, as well as I want to help new parents and parents to be.
I hope you enjoyed reading my article! If you have any question or comment, please leave them down below. I will be happy discuss it with you!
Have a wonderful day!
---
---