Last Updated on September 3, 2020 by Ines
Dream On Me full-size portable crib Review
There is not a lot of full-size portable cribs on the market. Actually, in my opinion, there are only two quality full-size portable models, this one, and Babyletto Maki, which is even convertible. But that doesn't mean the Babyletto is better than Dream On Me! The results of our Dream On Me full-size folding crib review are excellent. Not only, that this's a very good portable full-size crib, but it also costs less than the Maki!
Yes, Dram On Me is a portable crib, which folds up nicely. But that doesn't mean you can travel with it. The portability of wooden cribs on wheels or those who can also fold-up is limited to your home. And I am not talking just about full-size folding cribs, as the same goes for mini models too. You will easily fold it down and set it back, or move from room to room, but for traveling use a travel crib, because it's a lot easier.
Dream On Me full-size folding crib has wheels with a reliable locking mechanism. Because of its minimalist design also fits through door frames, so you can move it around the house nicely, without even folding it.
PROS:
it is a safe crib – it meets all required safety standards
good value for money
patented folding system
wheels with locking mechanism
two levels adjustable mattress height
decent color choice
classic design
when folded, doesn't take a lot of space
CONS:
if you are a petite mom, check if the crib is not too high for you (Some really short moms had reported minor problems with placing the sleeping baby into the crib, when the mattress was on the lowest position. )
Dream On Me folding crib is a good choice for:
everyday use
a secondary crib, for grandma's house, caregivers, daycare or guests with babies
for co-sleeping
READ ASLO: Best rated portable cribs
---
Dream On Me full-size portable crib specifications
Measurements and Weight:
assembled crib dimensions: 54″ L x 31″ W x 46 "H
collapsed dimensions: 54″ L x 6″ W x 46″ H
weight: 46lbs
available colors: black, cherry, espresso, natural, white and French white

Child size restrictions:
When your child is able to pull to standing position, set the mattress base to the lowest level, and remove the objects that could serve as steps for climbing out.
Stop using Dream On me full-size folding crib when your child is able to climb out or reaches the height of 35 inches.
Mattress information:
Although you can use any full-size crib mattress, of course, Dream On Me recommend using their mattress instead. And the Dream On Me mattress is actually really good. If you consider that you won't pay much for it, it's even better.
The mattress is firm and does not sag. It has air-flow pockets that keep mattresses fresh. It is also hypo-allergenic, with a waterproof cover.
Dream On Me mattress meets all safety requirements, so it is a safe choice for your baby. It is also GREENGUARD Gold Certified for a healthy indoor environment for your baby
The mattress is lightweight and flame retardant. It is phthalates and lead-free and carries a 10-year limited warranty against manufacturer's defects and materials.
Dream On Me full-size mattress Specifications:
size: 52″ lenght x 27″38 width
thickness: 5"
weight: 12 pounds
---
Results of our Dream On Me portable crib Review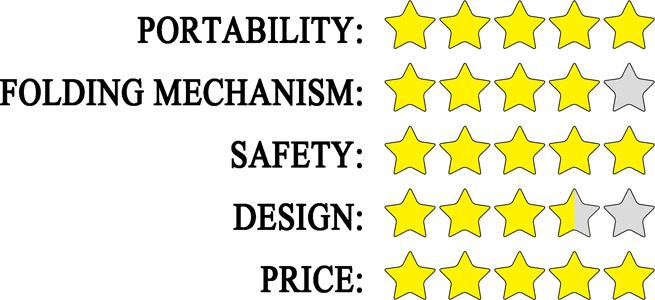 How we came up with ratings?
As this is a wooden crib, we shouldn't expect it will fold up as small as travel cribs. Also, it weighs more than those cribs. So we compare it to other cribs of the same type, not to the all portable cribs.
We had researched and evaluated the following things:
For the portability we have checked:
if wheels run smoothly
does it fit through standard room doors
how easy it is to move the crib around
Dream On Me has a patented folding system, so when you don't need it, you can simply fold it flat, and store it until another use.
What did we take into consideration?
whether it is easy to fold the crib
how fast can you collapse and set it up again
how much space does the folded crib occupy
In order to determine if the crib is safe, we checked the following parameters:
how sturdy is the crib
if the crib stand steady when the wheels are locked
does the crib meet all the required safety standards
if there are any safety issues
Dream On Me full-size folding crib went through rigorous testing to ensure it meets all applicable ASTM (American Society for Testing and Materials), JPMA (Juvenile Products Manufacturers Association) and CPSC (Consumer Product Safety Commission) standards.
We have evaluated:
if the bed is available in a sufficient quantity of different colors
are there any visible holes
overall design
We took into consideration the following things:
Does the crib's value meet the price?
we compared the price with other cribs of the same type
Parents' Reviews
It was very easy to assemble and is a good looking crib. I love it because it can be folded and moved to different locations throughout the house if needed. I was worried that it wouldn't be sturdy enough but was pleasantly surprised to see that it is very sturdy.
Donna
Overall, it looks great but it is too high for 5'2″ person trying to reach for their baby when the mattress is in the lowest position. I had to buy a stool to stand on, to be able to properly lift my child.
Penny
I love the crib. It is sturdier than our last "regular" crib.
Heather
Easy to assemble! Great for a Grandma and Grandpa's house. Will fold and store if you do not want to keep it up all the time. Full size but not a huge piece of furniture.
Kathleen
---
RELATED ARTICLES: