We're here to assist you in maximizing your savings on nursery furniture with the best Black Friday deals in 2023!
Get ready for incredible Black Friday deals on nursery furniture in 2023! While Black Friday officially lands on November 24th, leading baby furniture brands like Babyletto, Graco, DaVinci Baby, Storkcraft, Sprout, Evolur, and more are likely to roll out their offers ahead of time.
Stay updated by bookmarking our page, Baby's Little Place, ensuring you don't miss out on the pre-sale buzz. And mark your calendar for November 24th as we unveil this year's hottest Black Friday baby furniture deals!
You can jump on 2023 Black Friday deals on:
Furnishing a nursery is fun and exciting, but it can quickly become stressful and overwhelming. You have to think about thousands of things, from the nursery theme to the proper baby bed, enough storage space, room decoration, and more. A fully furnished nursery can cost several thousand dollars, so taking advantage of Black Friday deals can be a big saver!
Everything seems important, but a safe baby bed is all you really need for the baby's well-being. However, other pieces of nursery furniture are a massive bonus for you!
A roomy storage unit helps organize all the baby's stuff. A changing table provides a safe and raised changing space. And last but not least, a comfortable nursery chair! It is a lifesaver for long sleepless nights!
We will help you find the best Black Friday nursery furniture deals by tracking sales on baby cribs, crib mattresses, nursery gliders, rockers, and more.
Black Friday Baby Furniture Deals in 2023
Black Friday deals on nursery furniture are finally here!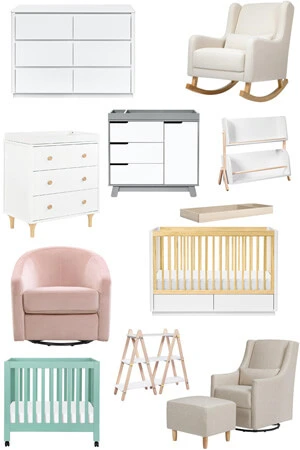 Deals on Nursery Furniture Sets
Black Friday offers fantastic deals on nursery furniture sets that'll make your space Pinterest-worthy!
We've found sets that not only look great together but also offer quality and practicality. Think cribs that transform as your baby grows, cute dressers with plenty of storage, and cozy chairs perfect for those late-night cuddles.
Black Friday Deals on Baby Cribs
Black Friday Deals on Crib Mattresses
Black Friday Deals on Drawer Dressers
Black Friday deals on Changing Tables
Best Black Friday Deals on Nursery Chairs
---
Make the most out of Black Friday baby furniture sales!
Here are some tips to optimize your Black Friday shopping experience:
1. Do your research before Black Friday
Avoid waiting until the last day. Research everything about nursery furniture before Black Friday. This way, you'll know precisely what you're looking for and won't waste time reading all the specifications.
2. Consider where you'll shop on Black Friday
Will you buy online or prefer local baby furniture stores? Buying online grants access to a broader nursery furniture market and increases your chances of securing higher discounts. However, seeing furniture in person has advantages. It gives you a better idea of how your nursery will look and allows you to notice details that might be missed in pictures.
My advice for snagging the best Black Friday deal on baby furniture is to conduct prior research. If possible, check your preferred nursery furniture in a local store, then find the best online deal. If your local store offers the best Black Friday baby furniture sales, be there early on that day!
3. Set and stick to your budget
Black Friday deals are tempting, but most of us have limited funds. Items like cribs, gliders, rockers, dressers, and changers are high-ticket nursery items, so prioritize them over nursery decorations, sheets, or toys.
4. Resist impulse purchases
Stick to your list and buy what you need. Note down essentials, things that would be nice to have, and what you don't need. Focus on high-ticket items you genuinely need first.
Look for the initial "web-only" Black Friday deals and sign up for retailers' newsletters. You might access early "web-only" discounts, as many online Black Friday deals will be available on Thanksgiving day. Retailers' notifications will help you decide whether buying online or in a local furniture store is better.
5. Bookmark our site and revisit it on Black Friday
We'll regularly update our site with the best Black Friday nursery furniture deals.
6. Prioritize high-ticket items
Deals on high-ticket items maximize your savings and tend to sell out quickly. Expect stiff competition for these items on Black Friday as many parents will focus on them.
7. Avoid shopping with friends on Black Friday
Don't spend your time searching the Black Friday deals for your friend because you might miss yours.
8. Skip buying toys on Black Friday
Toys will be on sale throughout the whole of December, so in our opinion, there is no need to search Blac Friday toy sales.
9. Don't base nursery furniture purchases solely on price
Considering the amount of time spent in the nursery, stick to your plan and invest in baby furniture that suits your needs and preferences.
---
What do you need for the best nursery you can imagine?
Creating the ultimate nursery requires a careful selection of essentials, with the crib and mattress topping the list for safety and comfort.
Key Considerations for Choosing the Ideal Crib

Available Space: Assess your nursery's dimensions. Determine if a full-size or mini crib suits the available space. While a full-size crib accommodates longer use, don't disregard the benefits of a mini crib—equipped with similar safety features, it offers prolonged usability compared to a bassinet and enhanced stability.
Crib Features: Consider the functionality you desire:

Do you prefer a stationary crib or one you can move around?
Are you looking for a crib that grows with your child?
Additional features like under-crib storage or an attached changing table might be on your checklist.
If a sturdy, immobile crib aligns with your needs, a convertible crib or a classic full-size crib fits the bill. Convertible cribs, with their versatility, are a popular choice, offering various configurations for prolonged use.
Understanding Convertible Cribs:
Convertible cribs, available in mini or full-size variants, often transition into adult beds, providing extended utility. However, the number in the crib's name signifies the potential conversions, not necessarily included accessories. Parents should carefully review what's included in the package to avoid additional expenses later.
A tip: Look out for Black Friday deals that might include conversion kits in the package, offering better value for money. Babyletto stands out by including a toddler safety rail, a rare inclusion among crib brands.
Types of Convertible Cribs:
2-in-1: Crib + one larger bed
3-in-1: Crib + two larger beds
4-in-1: Crib + three larger beds
There are also models with added features, such as under-crib drawers or attached changing tables that provide extra functionality.
For those seeking portability, cribs on wheels, especially those with folding mechanisms, offer convenience. They facilitate easy movement around the house and space-saving storage, ideal for occasional use.
Exceptional models like Babyletto Maki or DaVinci Jenny Lind combine full-size, folding, and convertible features, presenting unique options in the market.
For the best deals, keep an eye out for Black Friday specials, where you might find discounts or bundled offers on these essential nursery items.
Choosing the right crib mattress is extremely important!

1. The size of the crib mattress:
I think we all know you need a small mattress for a mini crib and a standard-size crib mattress for a full-size crib. But do all mini crib mattresses fit in all mini cribs? And do all standard-size crib mattresses fit into all full-size cribs?
They should! The sizes of crib mattresses and cribs are regulated by the government, so all should fit. But it won't hurt if you compare the size of a crib mattress with the inner dimensions of your crib!
You can even make a home fitting test. Place two fingers between the crib mattress' edge and the crib's frame. There shouldn't be more than two-finger space there!
2. Do you want a 100% organic, "green", "Eco", … crib mattress?
I am sure you want a non-toxic crib mattress for your baby. In general, all crib mattresses on the market meet or even exceed required safety standards. They are certified as safe for your baby! But regards the natural materials, there are differences among them.
I will not go into detail in this article, but if you are interested, you can find more information in this article: Are organic crib mattresses really % organic?
3. Foam or innerspring crib mattress?
As long as you pick a safety model, both are OK! The difference is in weight and price. In general, foam mattresses are lighter and cheaper than innerspring models.
Because of their hardness, some think coil mattresses are a better choice, but that is not entirely true. With normal use, a quality foam mattress will hold up just as an innerspring model.
Foam crib mattresses:
Better foam models are made from denser foam of better quality. Those models are heavier but still slightly lighter than innerspring mattresses.
Most foam crib mattresses have a polyurethane core surrounded by a waterproof cover.
Innerspring crib mattresses:
These models have a core made of coils covered with foam, padding, and fabric. When choosing an innerspring crib mattress, you must concentrate on the number of coils and their thickness.
The number of coils can range between 80 to 280, whereas a model with 135 or more coils is a safe and quality choice.
You can find the coils' thickness under the name "coil gauge". The best innerspring crib mattresses have a coil gauge of less than 15,5.
Nursery Rocker or Glider
What to look for when choosing a nursery rocker or glider?
Comfort: A nursery chair must adapt nicely to your body, providing sufficient support, especially for the spine and neck, to help you relax.
Perfect for breastfeeding: Consider your preferred breastfeeding position. Would you prefer to sit, or would it be helpful if the chair also accommodates a lying position?
Armrests: As your baby becomes heavier, ensure your chair has comfortable armrests to support your elbow and the weight of your baby.
Safety: Like all mom and baby products, your nursery chair must meet required safety standards and undergo careful testing.
Easy to use: Getting into and out of the nursing chair should be effortless. You wouldn't want to disturb your sleeping baby while struggling to get out of the chair.
Easy to clean: When choosing the material, consider that the recliner will get dirty. Ideal materials for a nursery chair include leather or microfiber, allowing stains to be wiped off easily with a cloth.
Long-term usability: Choose a model that you can use outside the nursery as well. Why limit its use?
---