Last Updated on January 6, 2022 by Ines
We will help you score the best Black Friday deals on nursery furniture in 2022!
In 2022, Black Friday falls on November 25th. But numerous big-name baby furniture brands, like Babyletto, Graco, DaVinci Baby, Storkcraft, Sprou, Evolur, etc., will probably launch their deals sooner.
Therefore I suggest you bookmark this page and visit it several times in the month before the big sale. And of course, come back on November 25th and find this year's best Black Friday baby furniture deals!
You can jump on 2022 Black Friday deals on:
Furnishing a nursery is a fun and exciting job, but it can quickly become stressful and overwhelming. There are thousands of baby furniture pieces with numerous features. You have to choose wisely, focus on safety and usability, find the design you like, etc.
Every nursery needs a safe crib and storage space for baby belongings. However, other pieces can be helpful as well. For example, a changing table will provide a safe changing space and additional storage. And you will love a nursery glider!
Unfortunately, furnishing a dream nursery is not cheap, but sales like the one on Black Friday can help you save some much-needed money.
To help you find the best offers, we'll be tracking sales of baby cribs, crib mattresses, nursery gliders, rockers, etc., through Black Friday.
Will Black Friday nursery furniture deals start any sooner?
Yes, we'll be expecting nursery furniture deals to start ramping up a week to even a month in advance.
That means deals on nursery furniture will start creeping up around early November, and in most cases, last until the end of the weekend after Black Friday.
Feel free to bookmark our page and revisit. We'll be updating it with the most recent deals, more information on what to expect, and finally, with the very latest Black Friday nursery furniture deals in 2022.
The best Black Friday baby furniture deals in 2022
Black Friday 2022 is not here yet. Until then, you can check up on some of the last year's Black Friday nursery furniture deals:
Best Black Friday deals on Baby Cribs
Delta Children Ava 3-in-1 Convertible Crib
TYPE: 3-in-1 convertible crib
MATERIAL: renewable, sustainable New Zealand pinewood
CONVERSIONS: converts from a crib to a toddler bed and daybed
TODDLER BED SAFETY RAIL: it is compatible with the Delta Children toddler bed safety guardrail (#0080), which is not included
MATTRESS: takes any standard size crib or toddler bed mattress
ADJUSTABLE MATTRESS SUPPORT: 3 levels
SAFETY: JPMA certified to meet or exceed all safety standards set by the CPSC & ASTM, GREENGUARD Gold certified, non-toxic finish, lead, and phthalate safe
ASSEMBLED WEIGHT: 72 lbs
ASSEMBLED DIMENSIONS: 55,5″L x 31,25″D x 36″H
OTHER DETAILS: angled feet and two-tone finish for a modern look
Find other Black Friday deals on Baby Cribs here:
Black Friday deals on Crib Mattresses
Newton Wovenaire Crib Mattress
The Newton Wovenaire is one of our favorite baby crib mattresses. It is the only crib mattress that is 100% breathable and 100% washable. Yes, you can wash even the mattress's core! After all, 90% of the mattress's core is air!
Check up more interesting facts about this crib mattress on Newton's site:
standard size crib mattress or mini crib mattress
right firmness for babies and comfort for toddlers
Find other Black Friday deals on Crib Mattresses here:
Black Friday deals on Changing Tables and Drawer Dressers
Black Friday deals on Newport Cottages cribs and drawer dressers in Project Nursery:
Use BF2022 at checkout for 20% off!
Best Black Friday deals on Nursery Chairs
Find other Black Friday deals on Gliders and Rockers here:
---
Buying on Amazon?
Subscription to Amazon Prime will help you catch the best baby furniture deals on Black Friday!
Current nursery deals on Amazon
With a subscription to Amazon Prime, you will gain an advantage over "regular" customers. It is a paid subscription, but you can get a 30-day free trial by clicking on the provided link. 
Amazon Prime gives you special, early deals on days like Black Friday, Cyber Monday, and Prime day. But that is not all! You gain lots of everyday benefits too.
You get access to services that are not accessible to the typical Amazon customer. For example, you get free delivery, Prime Early Access Deals, or free streaming music and video.
What is the cost of Amazon Prime?
You will pay $119/year for an annual Prime membership, or $59/year if you are a student.
Monthly Prime membership costs $12.99 per month. And monthly Prime Student membership costs $6.49 per month.
By clicking on the provided link, you can get a 30-day free trial!
---
Make the most out of Black Friday baby furniture sales!
Here are a few tips to make the most of your Black Friday shopping!
1. Do the research before Black Friday!
Don't wait until the last day, but research everything about nursery furniture before Black Friday. You will know what are you looking for, what are your family needs, and most of all, you won't waste your time reading all the specifications.
2. Think about where will you shop on Black Friday!
Will you buy online or do you prefer your local baby furniture stores. Buying online will give you access to the broader nursery furniture market, and boost your chances to get higher discounts.
But seeing furniture in person has its advantages as well. It gives you a better idea of how will your nursery look like, you might notice details that you didn't see in pictures, etc.
My advice for getting the best Black Friday deal on baby furniture is the prior research. If you have a chance, check up how your preferred nursery furniture looks like in your local store, then find the best deal online. If your local store offers the best Black Friday baby furniture sales, be there early on that day!
3. Set your budget, and stick to it!
Black Friday deals are tempting, but most of us have limited funds. Nursery furniture like cribs, gliders, rockers, dressers and changers are high-ticket nursery items, so focus on them more than on nursery decoration, sheats, or toys.
4. Resist the impulse purchase!
Stick to your list and buy things you need! Write down what you need, what would be nice to have, and what you don't need. Focus on high-ticket items you really need first.
Look for the first "web-only" Black Friday deals and sign up for retailers' newsletter.
You might get an early "web-only" discount, as many online Black Friday deals will be already available on Thanksgiving day.
Retailers' notifications will help you decide if it's better to buy online or in a local furniture store.
5. Bookmark our site and check up Black Friday baby furniture deals here!
We will regularly update our site with the best Black Friday nursery furniture deals.
6. Shop high-ticket items first!
As high-ticket item deals maximize your savings, they will be the first to sell out. Lots of parents will concentrate on those items on Black Friday, so expect a big competition for them.
7. Do not shop with your friend on Black Friday!
Don't spend your time searching the Black Friday deals for your friend, because you might miss yours.
8. Don't buy toys on Black Friday!
Toys will be on sale throughout the whole of December, so in our opinion, there is no need to search Blac Friday toy sales.
9. Don't buy nursery furniture based only on the price!
You will spend a lot of time in the nursery. Stick to the plan, and buy baby furniture you like and suits your needs.
---
What you need for the best nursery you can imagine?
First, and most important is a safe crib and fitted crib mattress. There are tones of different cribs on the market, so which one to choose?
How to choose the best crib for your nursery?
1. The size of the nursery:
Determinate the available space for your crib. Do you have enough space for a full-size crib or do you need a mini crib?
If your nursery is big enough, we recommend choosing a full-size crib, because your baby can use it longer. Of course, the mini crib is not a bad decision at all! Mini cribs have the same features as full-size cribs, they are as safe as bigger sisters, and can even grow with your child. Because your baby can use a mini crib longer than a bassinet, and because it is more stable, it is also a better alternative to a bassinet.
2. Your preferred crib's feature:
I want a sturdy, stationary crib that will stay in the same place all the time!
In that case, you need a convertible crib or a classic full-size crib. Because convertible cribs are so convenient, we don't see a point in choosing a model without possible conversions. It seems that retailers agree with us, as it is hard to find a classic crib with no additional features.
Convertible cribs
Convertible cribs are available in a mini or full-size versions. Especially, full-size cribs can transit even to the adult bed.
Convertible cribs are marked with numbers, where the number in the name tells you how many possible conversions a particular model has. In most cases, you won't get conversion kits at the price!
That is the most common confusion among parents. They see a higher number in the crib's name, and an affordable price tag, so they conclude they will get a great deal for their money. Only later, they realize they need to buy additional parts for their crib, which are sometimes not cheap at all.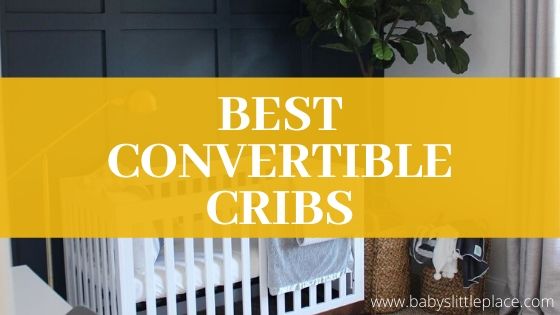 Read what is included in the price!
There may be exceptions on days like Black Friday where the conversion kit is included in the price. If there is such a bargain on Black Friday, we will surely add it to our list of the best Black Friday deals on baby cribs!
Amongst cribs we have reviewed so far, only Babyletto includes toddler safety rail in the package! And you have to buy a convertible kit for all cribs that transit into adult beds.
Convertible crib models:
Convertible crib with additional features:
---
I want a crib on wheels with or without a folding mechanism.

Caster wheels are very convenient if you intend to move the crib around the house. There are more mini cribs with that feature, but you can get a full-size model on wheels as well.
Lots of cribs on wheels feature a folding mechanism. That is a very convenient feature for those who don't use the crib all the time, like grandmom's house. The ability to fold the crib small, quick, and easy saves a lot of space!
Of course, there are a few unique models in this group as well. For instance, Babyletto Maki is a full-size folding crib on wheels, that is also convertible. DaVinci Jenny Lind is a beautiful full-size convertible crib on wheels, etc.
The Best Black Friday deals on Baby Cribs
---
Choosing the right crib mattress is extremely important!
The size of the crib mattress
I think we all know you need a small mattress for a mini crib and a standard-size crib mattress for a full-size crib. But, do all mini crib mattresses fit in all mini cribs? And, do all standard-size crib mattresses fit into all full-size cribs?
They should! Sizes of crib mattresses and cribs are regulated by the government, so all should fit. But it won't hurt if you compare the size of a crib mattress with the inner dimensions of your crib!
You can even make a home fitting test. Place two fingers between the crib mattress' edge and the crib's frame. There shouldn't be more than two-finger space there!
Do you want a 100% organic, "green", "Eco", … crib mattress?
I am sure you want a non-toxic crib mattress for your baby. In general, all crib mattresses on the market meet or even exceed required safety standards. They are certified as safe for your baby! But regards the natural materials, there are differences amongst them.
I will not go into detail in this article, but if you are interested, you can find more information in this article: Are organic crib mattresses really % organic?
Foam or innerspring crib mattress?
As long as you pick a safety model, both are OK! The difference is in weight and price. In general, foam mattresses are lighter and cheaper than innerspring models.
Some think coil mattresses are because of their hardness a better choice, but that is not entirely true. With normal use, a quality foam mattress will hold up just as an innerspring model.
Foam crib mattresses:
Better foam models are made from the denser foam of better quality. Those models are heavier but still slightly lighter than innerspring mattresses.
Most foam crib mattresses have a polyurethane core surrounded by a waterproof cover.
Innerspring crib mattresses:
These models have a core made of coils covered with foam, padding, and fabric. When choosing an innerspring crib mattress, you must concentrate on the number of coils and their thickness.
The number of coils can range between 80 to 280, whereas a model with 135 and more coils is a safe and quality choice.
You can find the coils' thickness under the name "coil gauge". The best innerspring crib mattresses have a coil gauge of less than 15,5.
The Best Black Friday deals on Crib Mattresses
---
Nursery rocker or glider
What to look for when choosing a nursery rocker or glider?
1. Comfortability:
A nursery chair must adapt nicely to your body. It must provide sufficient support to your body, especially to the spine and neck. Only this way it will help you relax.
2. Perfect for breastfeeding:
Think about what is your preferred breastfeeding position. Do you rather sit, or it would be helpful that the chair ensures a lying position too.
3. Armrest:
Baby in your lap becomes heavier and heavier, so your chair must have a comfortable armrest, to support your elbow and the weight of your baby.
4. Safety:
Same as all mom's and babies' products, your nursey chair must be safe too! It must be carefully tested and meet all required safety standards!
5. Easy use:
Getting into the nursing chair must be easy. Even more important, getting out must be hassle-free! You don't want to disturb your sleeping baby while you are struggling to get out of the chair!
6. Easy cleaning:
When choosing the material, keep in mind that the recliner will get dirty. The ideal choice for a nursery chair is leather or microfiber, as all stains can be wiped off with a cloth only.
7. Long usability:
Choose the model that you can use outside the nursery too. Why won't you use it longer?
The Best Black Friday deals on Nursery Gliders and Rockers