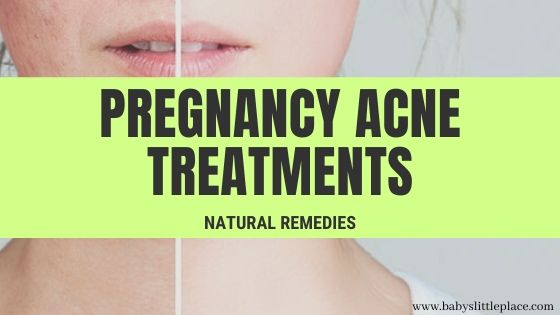 What is the best acne treatment while pregnant?
The old saying that pregnant women have better skin, unfortunately, doesn't hold water. Yes, some pregnant women do not have skin problems, but they are in a minority. Unhealthy skin is not appealing, so others want to get rid of them as soon as possible. Fortunately, there are many natural remedies for acne that pregnant women can safely use.
Dealing with them in a natural way is, of course, the best choice for a pregnant woman. We have gathered all possible natural remedies and best pregnancy acne treatments to help you heal your skin and regain your pregnancy glow.
What causes acne during pregnancy?
Acne during pregnancy occurs because of hormonal changes that are responsible for many other discomforts during pregnancy too.
The increase in a hormone called androgen causes the glands to produce more sebum — an oily, waxy substance. On the other hand, an elevated estrogen level tightens your glands. Tightened sebaceous glands and more sebum quickly clog your glands, causing inflammation and acne during pregnancy.
Safe acne treatment during pregnancy
It is estimated that acne affects about 85% of women. I can assure you that the outbreak of acne in pregnancy, is a completely natural and non-dangerous phenomenon. But it is annoying, I know.
Facts about acne during pregnancy:
Acne occurs most intensively in the first trimester of pregnancy.
Acne during pregnancy affects women who have already been tackled with acne skin more often.
You should avoid the pharmacological treatment of acne during pregnancy. But in rare cases, this is not possible. In case of severe and long-lasting problems, you need to visit a dermatologist who will prescribe more effective means. An ointment against pregnancy acne or other medicines and lotions that you can safely use during pregnancy might be prescribed by professionals.
There are various means to reduce acne, but as a pregnant woman, you should look for natural remedies that don't contain harmful substances that could hurt you or your unborn child.
For clean skin, you need clean pores! To destroy bacteria and reduced skin fatigue, clean your skin thoroughly, but gently. Use mild cleansing agents, and scrub masks that remove dead cells and open pores. Or even better, use only water if it is possible!
---
Natural pregnancy acne remedies
Treating pregnancy acne with Lemon
First, and the best aid for your pregnancy acne is fruit. Lemon is a natural enemy to your acne! First of all, lemon acid destroys germs. Lemon essential oils shrink the tissue, stimulate cell renewal, and thus heal the skin. In addition, the substances in the lemon cleanse the skin and renew the acidic protective layer.
Baby's Little Place tip: Squeeze the lemon in a jar. Soak a clean cotton pad into the lemon juice and gently rub the affected spots with lemon juice several times a day.
---
Oatmeal pregnancy acne treatment
Oat flakes contain a valuable vitamin B1 that stimulates the blood circulation of the skin and its renewal.
Baby's Little Place tip: Mix three spoons of oatmeal with a half cup of green tea to form a lubricating mixture. Add three to five drops of lavender oil, which also works antibacterial. Apply on face and leave for 20 minutes. Gently remove the natural face mask with a cosmetic pad soaked in warm water.
---
Apple cider vinegar
Apple vinegar is antibacterial and will help you get better skin sooner. Apple cider vinegar has many other positive effects on the body. It helps us lose weight, regulates blood sugar, prevents cancer, it prevents colds, etc. But that's the way it works if we ingest it, so don't forget about apple vinegar after birth too.
For acne treatment during pregnancy, you need to apply it to your skin.
How to use apple vinegar for skincare?
Pour vinegar in a small jar and add water at a ratio of 1: 1. Soak the cotton pad in the solution and apply it on the affected areas. Wait for ten minutes then apply a natural face cream that doesn't contain alcohol. Repeat the procedure once a day, preferably in the evening because of the unpleasant smell of vinegar.
---
Get rid of pregnancy acne with Grapes
Grapes contain phenols and secondary plant substances that help to calm the skin inflammation.
Baby's Little Place tip: Squeeze ten grape berries and mix them with a spoon of oatmeal or whole-grain flour. Apply to the affected spots and leave it for 15 minutes. Gently remove it with a cosmetic pad soaked in warm water.
---
Cucumbers for skin hydration
Cucumbers contain ascorbic acid, which relieves skin irritation and swelling. Cucumbers are composed mainly of water, which also moistens the skin.
Baby's Little Place: You can make an excellent face mask from cucumbers and yogurt. Yogurt acts antifungal and antibacterial. In addition to acne, yogurt also successfully removes scars and age spots.
You need half a cucumber and one teaspoon of plain yogurt. Peel the cucumber, mashed it, and mix it with yogurt. Apply the mixture on the face, neck, and décolleté. Leave the mask for 15 minutes.
---
Baking soda
It does help, but be careful with baking soda. As it dries the oil on your skin, it is not widely recommended by healthcare professionals. It can irritate the skin and remove important protective oils. Use it only as a spot treatment for breakouts!
Baking soda is because of its ability to dry out the skin and promote healing popular in the fight against other skin conditions, such as psoriasis too.
---
You can also use the steam bath
Add essential oil or tea to the hot water, then tilt the head over the steam, and close your eyes. For a better effect, you can place a dry towel over your head so that the steam will not leak.
Do not use the steam bath too often, as the vapor may also damage the skin if it is not used in modest and reasonable intervals.
---
Skincare tips to avoid acne during pregnancy
Do NOT overdo with washing your face:
Wash your face only with a mild skin cleanser, or even better only with warm water. Do not scrub it! Use your hands or a soft cotton pad, and wash your face in circular motions, only with gentle pressure. It is enough to do this twice a day. Do not overdo with constant cleaning.
Natural cosmetics:
Use cream without chemicals and look for anti-allergic cosmetics for your face. That will reduce the risk of allergy, which also accelerates the formation of acne. There are a lot of products that successfully help you against acne, but it is extremely important to choose those that do not contain parabens.
Parabens mimic the function of estrogen and essential oils that cause even greasier skin. It is recommended to use only water-soluble cosmetics and mineral powders.
Stay hydrated:
Drink enough water to avoid dehydration and keep your skin hydrated. Don't drink too much coffee and avoid carbonated beverages!
Eat healthy food:
Eat fresh fruits and vegetables, and avoid greasy and hard-to-digest foods and sweets, especially chocolates. Also, avoid refined sugars and processed foods.
Leave your acne alone:
Do not squeeze or scratch the acne, even those that are not on the face, as a bacterial infection can occur.
Take proper care of your skin:
Don't touch your face with unwashed hands, because you can introduce bacteria. If you have oily hair, wash it regularly and try to keep it off your face.
Use oil-free make-up products and make sure to wash off your makeup before going to bed.
Reduce stress:
Try to live as calmly as possible. Avoid stressful situations that also affect pimple formation. Try yoga or Pilates for pregnant women, to relax in an emotional and physical way.
Relay and takes as many rests as you can during the day. Take short walks and spend as much time in the fresh air.
---