Last updated on January 23rd, 2023 at 12:30 pm
A charming mini crib with various features joined in a space-efficient design. That is DaVinci Dylan, a folding, portable, and convertible (3-in-1) mini crib. I was wondering if a mini crib needs so many features at all? Well … yes and no. Read the DaVinci Dylan mini crib review below and let me know what you think.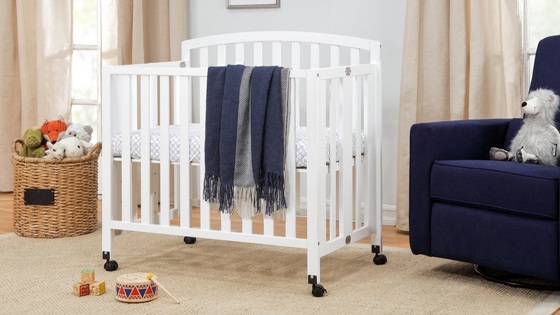 DaVinci Dylan Folding Portable 3-in-1 Mini Crib and Twin Bed
Baby's Little Place Reviews
The DaVinci Dylan is one of the newest mini cribs on the market. I have to say the DaVinci really went out of its way to design this small crib. Constructors have thought of everything!
First of all, this is a mini crib, therefore, it should offer as much comfortable sleeping space as possible, while it doesn't take up much space in the room. Check!
Second, most parents who opt for a mini crib have space issues. They are usually looking for a crib that can be easily moved around the home. DaVinci Dylan is a portable mini crib, which can even fold away when it is not in use. Check!
And third, sometimes parents regret not being able to use their favorite mini crib longer. DaVinci solved this with the added convertibility to the Dylan crib. The ability to transit into bigger beds is unique for mini portable cribs on wheels! DaVinci Dylan can grow with your child!
DaVinci Dylan mini crib Review
So, does a mini crib need all these features? Yes and no! It depends on what you are looking for. Most parents who want a mini crib decide on a portable model that stands on wheels. Furthermore, among mini cribs on wheels, those with folding mechanisms for easy storage sell better.
My personal opinion is that those who decide on a portable crib should look for smoothly gliding wheels and a quality folding mechanism. Convertibility, however, should only be taken as a great additional value, which adds versatility to the portable crib. Parents seem to agree. The DaVinci Dylan is becoming more and more popular, and it is certainly not neglectable that those who already have the crib provided mostly positive reviews.
To see if the crib lived up to its excellent reviews, we've made our own too. We've reviewed DaVinci Dylan Folding Portable 3-in-1 Mini Crib's various features, safety, quality, and mattress support.
Pros and cons we've found: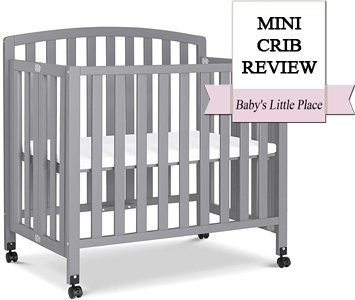 PROS:
removable wheels
locking casters
the ability to fold away
it can grow with your child
minimalistic modern design
adjustable mattress positions
durable
included waterproof pad
it exceeds all safety standards
affordable price
CONS:
lack of different finishes
---
Space-Saving Properties
DaVinci Dylan's frame is sleek and minimalist, allowing the crib's small footprint. Cribs with bulky frames, thicker slats, and curves only take up more space in the room, while their sleeping area remains the same. That is contrary to the fundamental space-saving purpose of the mini crib.
I have to stress out that such a framework in no way compromises the safety of the crib. Its slats are strong and meet all safety standards. The DaVinci Dylan is a very durable mini crib!
Yes, it has a little arch on the back, but that does not increase its footprint. Overall, it is a very space-efficient crib, perfect for urban living. The DaVinci Dylan portable mini crib is an excellent alternative for smaller apartments and small spaces, such as tiny nurseries or nursery nooks. It is also a perfect choice for co-sleeping in the parents' bedroom or to store at the grandparents' house.
DaVinci Dylan Mini Crib Dimensions:
Overall Size: 41″ High (38.58" hight of the front rail) x 40.25" Long x 25.25" Wide
Weight: 36.75 lbs
---
DaVinci Dylan's Portability Review
DaVinci Dylan stands on removable caster wheels, meaning you can use it as a portable or stationary crib. These are ordinary plastic furniture wheels, but they are durable and of high quality. They glide nicely and contain a reliable locking mechanism, which holds the crib in place when the baby is in it.
This is a lightweight crib, which fits through a standard doorway. You can freely move it from one room to another or move it aside to clean hard-to-reach areas under the crib.
The folding mechanism is a must-to feature for those who do not use the crib all the time or intend to travel with it. The crib folds with all the parts folding into itself and can be stored away in a small space.
The only downside is that you have to unscrew and remove the baseboard before the fold. Meaning you will have to unscrew four screws, which takes a little extra time.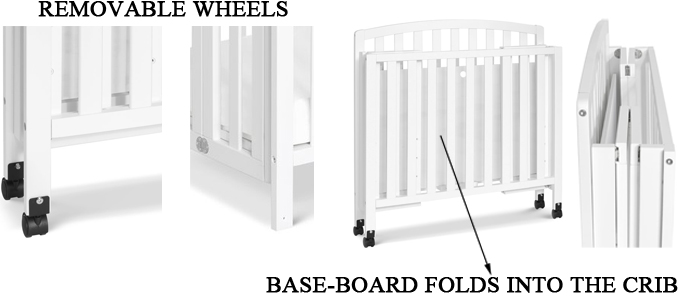 ---
DaVinci Dylan Mini Crib's Convertibility Review
The concept of combining convertibility with portability is quite unique, especially for mini cribs. There are a few full-size models, such as Babyletto Maki, a full-size portable folding and convertible crib, or the DaVinci Jenny Lind, a convertible crib on wheels, but that's it.
Anyway, the DaVinci Dylan is classified as a 3-in-1 convertible mini crib, where the first two conversions are a crib with or without wheels. Without wheels, it is a stationary mini crib that, by installing the rolling feet, turns into a portable model.
DaVinci Dylan 3-in-1 mini crib does not convert into a daybed or toddler bed!
In my opinion, converting a mini crib into a mini toddler bed or mini daybed is not very useful anyway. The length of those beds is the same as the crib's length, so toddlers outgrow it really fast.
The DaVinci Dylan is usable as a crib until your child begins to climb or reaches 35 inches, therefore, as long as any other mini crib. Then it is time for the conversion into a twin bed, but you will have to buy a twin-size bed conversion kit and a mattress.

---
Safety
DaVinci Dylan folding portable 3-in-1 mini crib went through rigorous testing, to exceeds all applicable ASTM International and U.S. CPSC safety standards.
The crib is lead/phthalate safe and finished in a non-toxic multi-step painting process.
DaVinci's cribs are also GREENGUARD Gold certified, meaning they do not pollute indoor air. Cribs are tested for over 10,000 chemicals and pass the most stringent emission standards to create a healthier environment for your baby to sleep, play, and grow.
However, meeting the government safety standard doesn't make any crib absolutely safe for your baby. It depends mostly on you! You have to choose the right crib mattress, assemble the crib correctly, and use it the right way!
---
DaVinci Dylan's crib mattress informations
DaVinci Dylan has adjustable mattress support, which you can set into four different heights. The mattress sits on a TSCA compliant MDF base board that can fold into the collapsed crib.
Height from the floor to the top of the mattress support base:
the lowest setting: 10.25″
the 3rd setting: 13.25″
the 2nd highest setting: 16.25″
the highest setting: 19.25″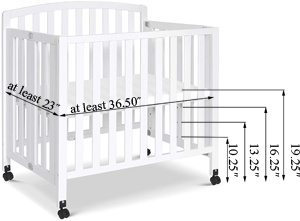 You will get a basic 1″ waterproof mattress pad included with the purchase. For everyday use, I recommend you chose a thicker one, but be sure to choose one that fits snugly!
Interior dimensions of the DaVinci Dylan Folding Portable 3-in-1 mini crib: 37.5″ long x 23.75″ wide 
A right-fitting baby crib mattress for the DaVinci Dylan mini crib must be at least 36.5 inches long by 23 inches wide and not more than 5 inches thick.
While this crib fits any standard size mini crib mattress, for the best fit, DaVinci recommends their mini crib mattresses.
DaVinci Mini Crib Mattress:
You can choose between two models, Deluxe Coile and Complete Slumber mini crib mattress. These are firm crib mattresses that fit snuggly into the DaVinci Dylan mini crib. 
Both of them are GREENGUARD gold certified, hypoallergenic, and 100% non-toxic. They are surrounded by a waterproof cover, which is tear-resistant and doesn't make crinkly noise when the baby moves.
The difference between them is in the core's structure. 
DaVinci Deluxe is a coil baby crib mattress, which is made of 50 coils and weighs 8 lbs.
DaVinci Complete Slumber is a foam crib mattress made of lightweight polyester fibers and weighs only 4 lbs.
---
The Verdict
I love it! The DaVinci Dylan mini crib offers everything. From the portability to convertibility and the ability to fold away without disassembly. And the best part? You get all these features for an affordable price!
The only thing that could be better is a broader choice of different finishes. You can opt only for a white or gray DaVinci Dylan mini crib. They could add at least a few more traditional crib colors like Natural Wood or Ebony Black.
Either way, features like high quality and safety are much more important. The crib is durable and built to withstand even the most active babies and toddlers and last through your child's teen years. In my opinion, is the DaVinci Dylan Folding Portable 3-in-1 mini crib certainly worth your consideration!
---