Last updated on January 23rd, 2023 at 12:09 pm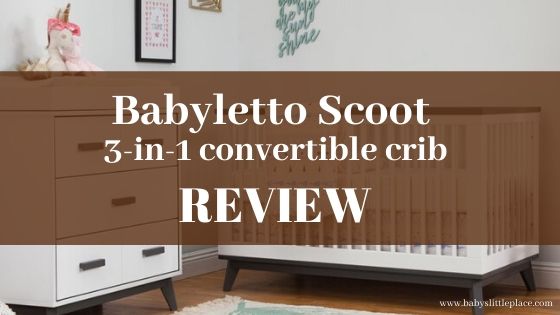 Babyletto Scoot, a perfect choice for a mid-century modern nursery
Do you like the mid-century modern style? Well, probably you do, otherwise, you wouldn't read this Babyletto Scoot 3-in-1 convertible crib review. I have to say you have good taste! That is one of the most beautiful styles for the nursery, in my opinion too! It brings warmth to the nursery while not giving up on the modern!
Mid-century modern design was beginning to capture its popularity around 2005 and remains one of the most popular styles to this day. It's attractive, versatile, and suitable for small spaces. Its shapes are classic and match with everything.
As a fan of modern design, I immediately noticed the beautiful Babyletto Scoot's look. But as much as I love its look, if the crib is not safe and functional, it is useless for me.
Babyletto Scoot 3-in-1 convertible crib has many positive parent reviews on the internet, but I wanted to see for myself too.
---
Quick Babyletto Scoot review: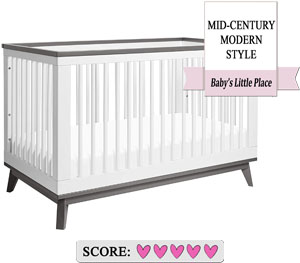 PROS:
grows with your child
toddler safety guardrail is included
the option of the fourth conversion
beautiful design
modern look
GREENGUARD Gold Certified
non-toxic finish, available in multiple colors
4 level adjustable mattress support
sturdy crib
CONS:
few possible scratches or visible teething marks can occur over time*
*Let's be honest, this eventually happens on all cribs, regardless if you have paid $100 or $1000 for the crib.
---
The Babyletto Scoot's design
Babyletto remained true to itself when designing the Scoot. Like all their cribs, it's simple and elegant!
Scoot possesses a modern and functional design, without needles bulky sides, or curves and arches on the back. The crib is open on all four sides, so it looks beautiful either placed beside the wall or as a centerpiece of the nursery.
It is a standard, full-size baby crib, with a sturdy design. The crib doesn't wobble even after conversions.
Babyletto Scoot has four equally high stationary sides, without a drop-side mechanism. There were too many injuries and even a few tragic deaths because of such a mechanism. That's why it is selling drop-side cribs forbidden since 2011!
Whichever crib you will choose, it shouldn't have drop sides! It is just not worth the risk!
Scoot is made of solid New Zealand pine wood, coated with a child-safe non-toxic finish in a variety of colors. Its horizontal lines pair with its angular feet, to create a retro-inspired, charming vibe for the nursery. With such design and a variety of different colors, I am sure you won't have problems matching it with any nursery furniture.
But, if you want to pair it with Babyletto's furniture, I think the Scoot 3-drawer changer dresser with removable changing tray and Madison swivel glider are a great combination.
Specifications:
Manufacturer: Babyletto
Model: Scoot
Type: 3-in-1 convertible crib
Style: modern mid-century style
Material: natural New Zealand pine wood
Assembled dimensions: 54″L x 30,3″D x 35″H
Assembled weight: 59,67 lbs
Color: white / walnut, white / washed natural, white, and white / slate
---
Babyletto Scoot 3-in-1 convertible crib review breakdown

Scoot's convertibility review
Babyletto Scoot will be with you for many years to come. It is a 3-in-1 convertible crib that converts from crib to toddler bed to daybed as your child grows.
TODDLER BED:
Babyletto Scoot's toddler bed has a safety guardrail for an added security. The conversion is easy and shouldn't take you too much time. Remove the crib's front rail, set the mattress into the lowest position, and install the toddler safety guardrail. That's it!
I am glad that a safety guardrail comes with the crib. That is not a common practice in the baby crib market!
When buying a convertible crib, are parents often mislead, thinking they will get everything for the crib's conversions in the package. After all additional purchases, it turns out their convertible crib is much more expensive than the thought.
Numbers tell you how many possible conversions a particular model has, not what is included in the package! But not with Babyletto! You get everything the name promise with the crib!
Because of that, the price of Babyletto Scoot 3-in-1 convertible crib may seem higher, while there is actually no significant differences.
Another plus of included safety guardrail is the convenience. If you purchase a crib mattress that grows with the Scoot, you don't have to worry about your child's sleeping arrangement for many years.
DAYBED:
You can remove the safety guardrail and transform the Scoot into a daybed when you are sure your child won't fall out of bed anymore.
But that is not all!
JUNIOR BED:
Yes, Babyletto Scoot has one more conversion. I am impressed by the fact that Babyletto didn't put a 4-in-1 tag on the Scoot. They did the same with their best-selling Hudson crib, and parents love it.
Same as many baby crib manufacturers, Babyletto could name Scoot a 4-in-1 convertible crib, but they didn't. They don't want to mislead their customers, which we appreciate!
With the additional purchase of a Junior bed conversion kit, you can convert the Scoot into a junior bed. Of course, you will have to buy a suitable mattress too. So, yes, this conversion will cost you, but it is nice to know you have that option.
Convertible: yes
Number of conversions: 3 (4, with Junior Bed Conversion Kit)
Conversion types: crib, toddler bed, and daybed
Weight Capacity: toddler/daybed = 50lb
How long can your child use the Scoot crib?
Stop using Scoot as a crib when your child begins to climb or reaches 35 inches. It is time to transform the crib into a toddler bed and later to a daybed, which he can use until his 50 lbs.
---
Safety Review
Babyletto Scoot meets and even exceeds all applicable ASTM International and U.S. CPSC safety standards.
Babyletto Scott is made with non-toxic, sustainable materials. It has a GREENGUARD Gold certificate, which ensures it doesn't pollute your indoor air.
The crib is finished in the non-toxic multi-step painting process, without lead, phthalate, and other toxic chemicals.
It doesn't have drop sides!
It is a sturdy crib, which doesn't wobble after conversions.
---
Right mattress for the Scoot crib
It has four-level mattress support. The highest setting is suitable for newborns and very convenient for parents. Reaching over the front rail and placing your sleeping baby into the crib was never easier. Of course, you have to gradually lower it down along with your baby's growth.
Babyletto Scoot is a standard size crib. The inner measurements of standard size cribs and crib mattresses are regulated by the government. As such, any new standard size crib mattress should fit into it!
U.S. regulations define:
a standard size crib is a baby crib with the following measurements: 52 3⁄8 ± 5⁄8 inches in length by 28 ± 5⁄8 inches in width
a standard crib mattress is a baby crib mattress with the following measurements: at least 27 1/4 inches by 51 5/8 inches and no more than 6 inches thick
Of course, Babyletto recommends using their Babyletto Pure core crib mattress, but you can pick amongst many other full-size baby crib mattresses.
Note: If you want to make sure your crib mattress fits into your selected crib, you can make a simple home fitting test. Place two fingers between the cribs frame and the mattress's edge. There shouldn't be more than two fingers space there.
---
More about Babyletto Scoot 3-in-1 convertible crib
Is Babyletto Scoot suitable for petite moms?
In our opinion, it is!
First of all, it is a low profile crib! That is because of its design, not lower rails! So the safety of the crib is not compromised. Your child won't escape out of the crib sooner either.
And second, because of the minimalist design, reaching over the crib's rail is much easier than on the cribs with bulky design.
SEE ALSO: Best cribs for short moms
What are the differences between Babyletto Scoot, Babyletto Hudson, and Babyletto Lolly?
Regards to their basic features, there are no differences. While Lolly is not compatible with the Junior conversion kit, the other two are. And that is the only difference in their features.
So parents choose amongst them according to their design and price. Hudson is the best-selling Babyletto's crib, Babyletto Lolly is their classic, and the Scoot is the newest and cheapest one amongst them!
Does it have wheels?
No, it doesn't!
Babyletto Scoot 3-in-1 convertible crib is a sturdy, stationary crib. If you want a convertible crib on wheels, you might like Babyletto's Maki, which is not only on wheels but convertible and foldable as well!
Another great convertible crib on wheels, worth of your attention, is Jenny Lind by DaVinci.
Is Babyletto Scoot a portable crib?
No, it isn't! While you can move it a little to vacuum underneath, it is certainly not portable!
If you want a full-size portable crib by Babyletto, the Maki mentioned above, is a really good choice!
Does it have under crib storage?
Babyletto Scoot doesn't have a drawer underneath. There is a little space under the crib, so if you intend to use a crib skirt, you can hide a few baby belongings under the crib.
A cool Babyletto's crib with under crib drawer is Mercer 3-in-1 convertible crib.
Is it hard to assemble the crib?
As long as you follow the provided instructions, the assembling of Babyletto Scoot 3-in-1 convertible crib shouldn't be hard. You won't need a lot of tools, and it should not take you a lot of time either.
---
The verdict
It is not a secret that I love Babyletto crib's design. But safety and functionality must be factors behind which you decide on a particular baby crib!
When it comes to my child, safety is my number one priority, and Babyletto Scoot is a safe crib, it even exceeds all required safety standards!
With a mid-century modern design, it fits perfectly with numerous furniture. It grows with your child, and posses adjustable mattress support!
I think Babyletto Scoot 3-in-1 convertible crib has a whole package! After our research, we've found the best price on Amazon.
If there is something you didn't find in the review, you can ask us below in the comments. We will be happy to reply!
---