Last updated on January 23rd, 2023 at 12:07 pm
Dadada Domino is a beautiful, sturdy, and safe crib. But is that enough to justify its high price? Figuring this out was the primary purpose of this Dadada Domino 2-in-1 convertible crib review.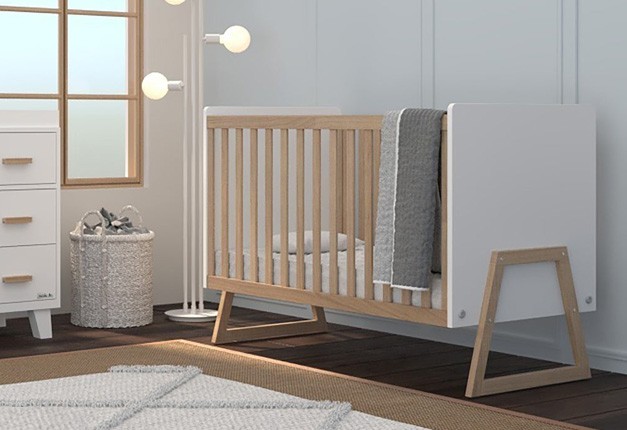 Dadada Domino 2-in-1 convertible crib
I have to admit the Domin's high price surprised me! I understand that it is a unique and highly modern crib. I also understand it is made of hardwood, which adds to manufacturing costs. I am aware it is made in Italy and converts into a unique, highly-modern toddler bed.
However, I can't go beyond the fact that other Dadada cribs, such as Soho or Austin, are similar yet cost less. They are also an Italian product, made of the same material, and even offer one more conversion.
But looking from another perspective … if you put them side by side, the Domino's look does stand out! I also do not miss the lack of its third conversion into a daybed. After all, who would want to convert such an outstanding toddler bed into a daybed?
The quality, safety, and durability of this crib are unquestionable. The Dadada Domino 2-in-1 convertible crib is a super sturdy crib that will last through multiple children.
So, if you are willing to spend a little more, I certainly recommend this crib!
PRODUCT HIGHLIGHTS:
An ultra-modern crib with a unique construction
Durable and highly resilient to dings and scratches
Scandinavian-inspired geometrics to match almost any decor
Baby's Little Place Reviews
If you want a highly unique and contemporary crib, you need to spend more. That is the fact! Any crib with an appearance that stands out from the average is more expensive. However, their higher price doesn't guarantee high budget cribs are of better quality, safer, or more functional! So, finding out whether the crib's features outweigh its higher price was the primary purpose of our Dadada Domino 2-in-1 convertible crib review.
Dadada Domino 2-in-1 convertible crib review
PROS:
trendy and stylish crib
ultra-modern toddler bed
two-tone design
grows with your child
solid beechwood construction
very sturdy, durable, and resilient
baby-safe finish
adjustable mattress support
made in Italy
meet all required safety standards
JPMA, Bureau Veritas, and GreenGuard® GOLD certifications
2-year warranty
CONS:
available only in one two-tone combination
toddler bed conversion kit sold separately
high price
RELATED: Dadada convertible crib reviews
Design and Specifications
A big plus for the durability and quality design, and fewer points for the lack of different finishes.
Dadada Domino 2-in-1 convertible crib specifications:
MANUFACTURER: Dadada Baby
MODEL: Model
TYPE: convertible
STYLE: modern, with Scandinavian-inspired geometrics
MATERIAL: hardwood (Solid beech wood)
COLOR: two-tone (white + natural)
ASSEMBLED DIMENSIONS: 55.30″ L x 29.95″ W x 37″ H
ASSEMBLED WEIGHT: 86 lbs
The Dadada Domino crib has solid beechwood construction and geometric design.
Hardwood cribs are more robust and more durable. Convert it back and forth, and it will stay solid and stable. Unlike softwood cribs, a hardwood crib doesn't get so easily scratched or chipped. It will remain functional and beautiful for the next generation, making it more cost-efficient and Eco-friendly.
I like the uniqueness of Domino's feet. Do not worry about stability. Domino's legs are well-grounded and quality-made!
Feet's design, Scandinavian-inspired geometry, and boxy frame complete a trendy, modern crib that fits many decors. The Dadada Domino is available only in one color combination.
You can purchase a Natural crib with White side panels. Although this combination fits a lot of furniture, a wider color choice allows more combining.
Domino's side panels are closed, which is a nice unique detail but makes the crib less open. The crib remains light and bright due to the white-colored side panels but a bit less airy than open cribs, especially if it stands next to the wall. Consider this if you are living in a hot environment, as it makes the crib a little less airy.
Dadada Domino crib's Convertibility Review
The Dadada Domino is a two-in-one convertible crib, meaning it converts only into one bed.
It converts into a toddler bed with two rails, which is unique, like everything on this crib. That doesn't mean you have to buy two rails separately. They sell them in a bundle, but the price is higher than other Dadada guardrails. More material = higher costs.
I do not miss the conversion into a daybed. Given how my toddler was sleeping, she wouldn't stay on the bed without a rail. But for those who would like to convert their Domino crib without an additional cost, that is a deficit.
Domino crib's convertibility:
Safety Review
The Dadada Domino 2-in-1 convertible crib is a sturdy, stationary crib without dropping sides! It is durable and made of resilient quality beechwood construction. It is finished with non-toxic paint and doesn't contain toxins!
The Dadada Domino meets all required government safety standards and the strictest voluntary standards of the JPMA Institute. It is designed and crafted following Bureau Veritas standards, ensuring its safety, durability, and structural stability. It is also GREENGUARD Gold certified to prove that it doesn't emit chemicals into the air.
Dadada Domino 2-in-1 convertible crib's safety specifications:
MEETS: all required federal safety standards
CERTIFICATIONS: JPMA, Bureau Veritas, GREENGUARD Gold
NON-TOXIC FINISHES: yes
LEAD AND PHTHALATE FREE: yes
CONSTRUCTION: sturdy, durable, hardwood construction, resilent to dings and scretches
DROPPING SIDES: no
What crib mattress fits into the Dadada Domino crib?
The interior dimensions of the Dadada Domino crib are standardized. As such, it can take any standard-size crib mattress on the market.
Any crib mattress used in the Dadada Domino 2-in-1 convertible crib must be at least 27 1/4 inches by 51 5/8 inches with a thickness not exceeding 6 inches.
You can choose any standard-size crib mattress on the market. But if you buy the Domino crib on Newtonbaby.com, you will get everything in a package: Dadad Domino crib + toddler bed guardrail + Newton Wovenaire crib mattress (a perfect fit). Even better, by deciding on their bundle, you will get a 25% off on any Newton crib mattress you choose!
Update: The Dadada Domino is currently not in stock, so Newton Baby replaced it with another great Dadada model – Soho Convertible Crib.
Crib mattress information:
MATTRESS SUPPORT: wooden slat mattress support
ADJUSTABLE MATTRESS HEIGHT: 3 positions
---
Dadada Domino 2-in-1 convertible crib
Frequently asked questions
---
---