Looking for gift ideas to make your baby's first Christmas extra special? You are at the right place! This is our new list of the best baby's first Christmas gifts in 2023.
Best Gift Ideas for Baby's 1st Christmas
Baby's Little Place's Favourite Baby Products
From a personalized Christmas ornament to cute baby outfits and colorful toys, any of these are good choices for a baby's first Christmas gift.
Best Baby's First Christmas Gifts
We've found the goods that will delight newborns and babies this holiday season. Check up on our favorite Christmas stocking stuffers for babies in 2023 and find the one that suits your little bundle of joy the most.
Gift Ideas for Developmental and Sensory toys
Both developmental and sensory toys can be good Christmas gifts for babies.
Sensory toys can help stimulate babies' senses and provide them with new and exciting experiences. They help babies develop cognitive and physical skills by exploring and interacting with the toy.
Developmental toys are designed to help them develop specific skills, such as hand-eye coordination, fine motor skills, and cognitive skills. These toys provide babies with new challenges and opportunities to learn and grow, thus helping them reach important developmental milestones.
Choosing a sensory or developmental toy appropriate for the baby's age and developmental stage is important. For example, a newborn baby may enjoy a soft, plush toy that they can touch and feel, while an older baby may enjoy a toy that makes noise or has bright colors to look at.
Stacking Toy:
Simple in appearance but very beneficial for development, staking toys are one of the better choices for a baby's first Christmas gift. These toys keep babies busy and teach them various essential skills, including balance, coordination, and cognitive skills.
QUOKKA Montessori Toys for Babies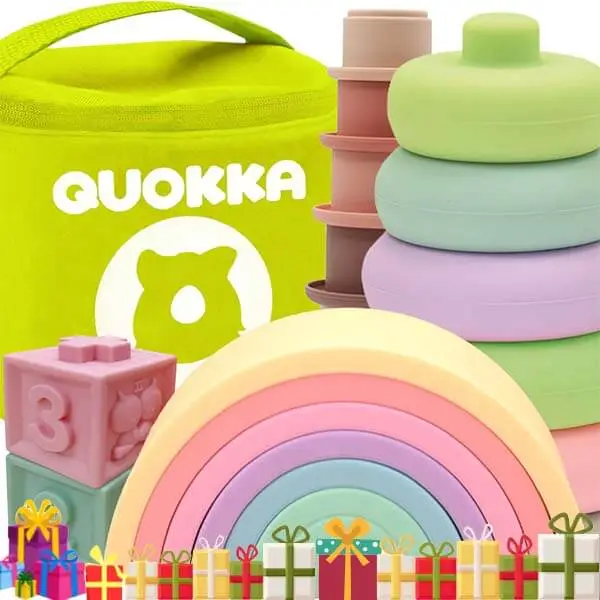 Activity cube:
This multi-dimensional toy is one of the top toy choices for babies and is excellent for gift-giving. It offers a nearly endless amount of play choices and occupies children for hours.
Not only that, but the activity cube also stimulates the baby's brain. It develops color, pattern, and shape recognition and promotes fine motor skills, hand-eye coordination, and problem-solving abilities.
VTech Sort and Discovery Activity Cube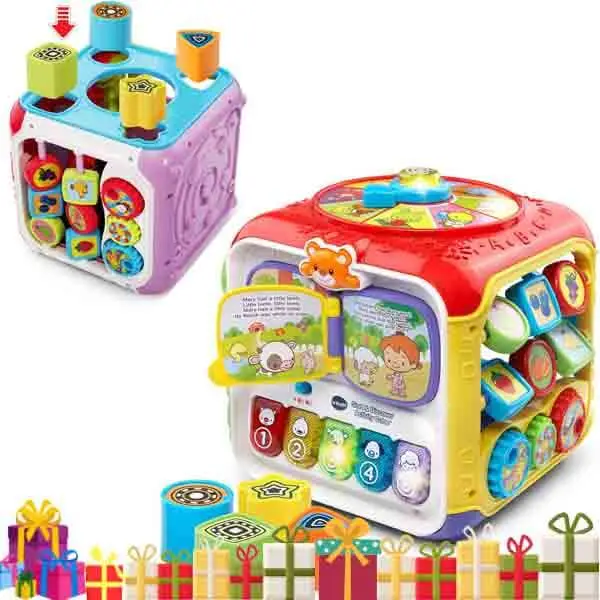 Interactive Baby Book:
Reading brings countless developmental benefits to the baby, so introducing her to books as soon as possible is highly recommended. However, keeping a baby's interest in words alone is difficult. Thus, interactive books also use colorful pictures, different textures, lights, sounds, rhymes, etc., stimulating the baby's senses and engaging their imagination.
VTech Musical Rhymes Book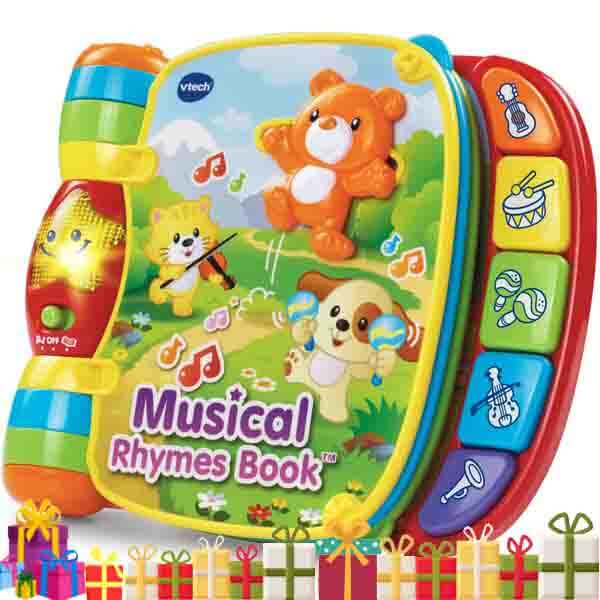 Ages: 6 months to 3 years of age
Security Blanket:
A security blanket (also called loveys, blankies, woobies, etc.) makes babies feel safe and emotionally supported. It is a perfect Christmas gift for young babies and newborns. A cute, plushy gift that lasts well into toddlerhood.
Eunikroko Moose Baby Animal Security Blanket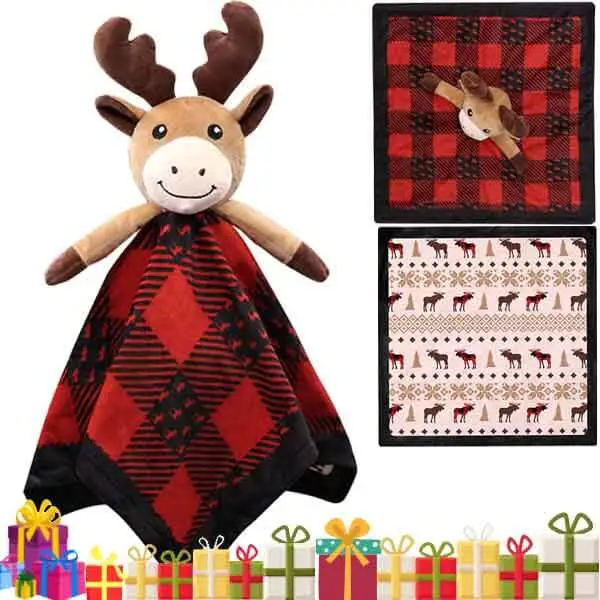 Soft Plush Toy:
Babies and toddlers love their stuffed animals and plush toys. These toys are their playtime companions and give babies a lot of fun and joy. Not only that, but stuffed animals also offer comfort and help develop sensory, emotional, and social skills.
Jellycat Blossom Bunny Stuffed Animal
Baby Sleep Aid:
There is a wide range of different toys, gadgets, and other sleep aids that help babies drift off to sleep. But our favorites are cuddly toys that incorporate soothing heartbeats and emit a reassuring glow. A decent night's sleep is the dream of most parents of young babies, so this Christmas gift will make parents happy too!
Ewan Deluxe the Dream Sheep Sleep Soother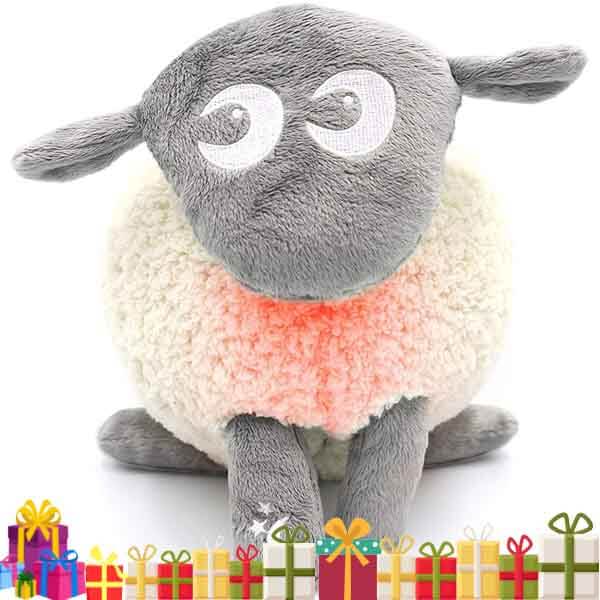 Rattles:
Rattles provide a great source of stimulation to keep babies engaged and entertained for quite some time. Even better, playing with rattles has several benefits for the baby's development!
iPlay, iLearn 10pcs Baby Rattles Toys Set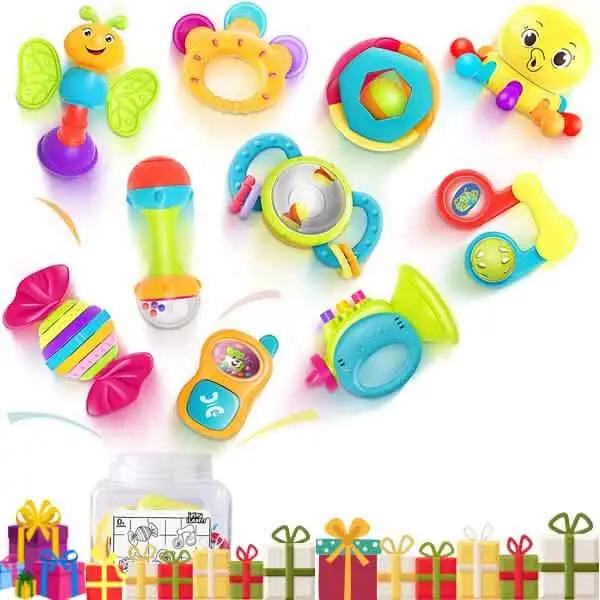 Best Christmas-themed gift sets for babies
A set of baby toys, comforters, clothes, etc., packaged in a cute Christmas-themed gift set, is a perfect option for those who want to give several small, thematically related gifts suitable for the baby.
Check out which Christmas gift sets are the best stocking stuffers this year.
KIDS PREFERRED Rudolph The Red-Nosed Reindeer Set
Holiday-themed gift set includes the following:
Stuffed animal
Rattle
Soft Book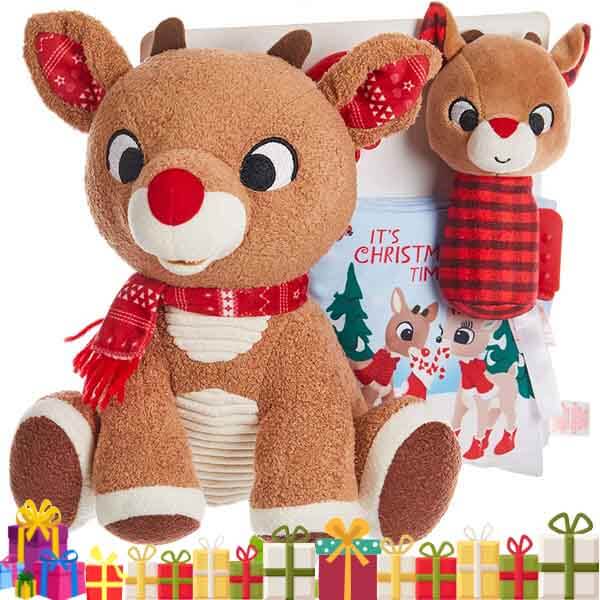 Promise Babe Christmas Set – 3 options
Holiday-themed gift set includes the following:
Hand-made crochet toy
wooden rattle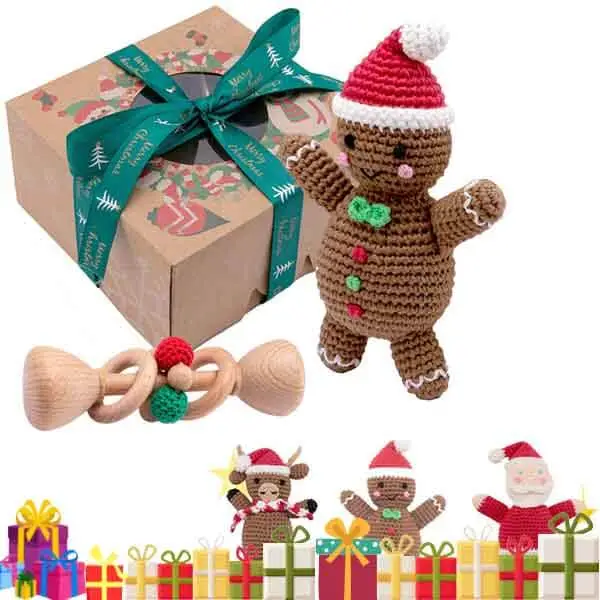 Best Personalized 1st. Christmas Gifts
There are many different options for personalized Christmas gifts for babies. Some ideas could include the following:
A personalized Christmas ornament
A personalized baby blanket, quilt, baby bib, or clothing item
A personalized stuffed animal or plush toy
A personalized baby photo album or picture frame
A personalized baby book or storybook
Personalized gifts can be customized with the baby's name, initial, or birth date. You can also consider practical gifts for the baby's parents, such as a personalized diaper bag or a set of baby feeding bottles.
Personalized Christmas Ornament:
Why wouldn't you give a lasting memory of the baby's first Christmas? A Christmas tree ornament with the baby's name is a sentimental keepsake for the baby and their family.
2023 Baby's First Christmas Ornament by MadeByArtly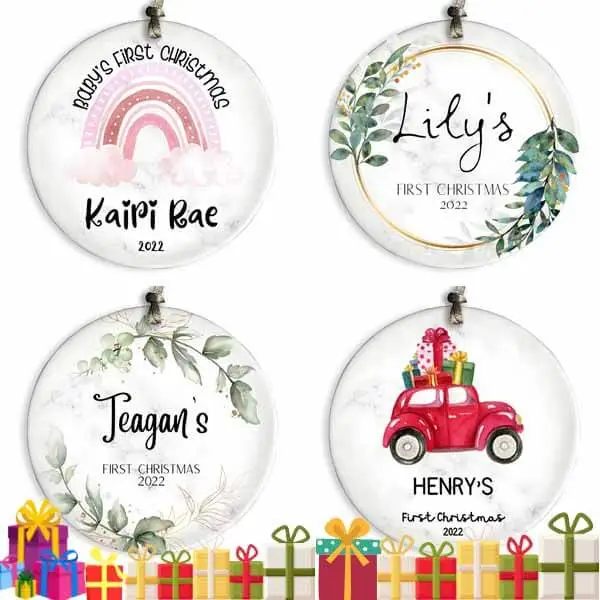 Personalized Book:
A personalized book is a type of book that is specially tailored to an individual. This can include their names, interests, and other details that make the book unique to them.
A personalized book is a fun and thoughtful way to celebrate a special occasion, like the baby's first Christmas. It makes a great keepsake for the baby and her family.
My First Christmas – Personalized Children's Story
Ages: 0 months to 6 years
Best Active toys for the baby's first Christmas
Active toys are toys that encourage babies to move and be physically active. These toys can help babies develop their gross motor skills, such as crawling, walking, and running, and promote physical activity and exercise, which is vital for their overall health and development.
Baby Activity Center:
This Christmas gift provides a safe and stimulating activity for a baby to enjoy while developing their leg muscles and coordination.
Fisher-Price Jumperoo Baby Activity Center
Ages: for a baby who can hold head upright unassisted (between 4 – 6 months) +
Animal Rockers for Babies:
Who wouldn't like a rocker? An animal-shaped rocker is a cute and fun Christmas gift that most babies love to use for many years to come.
And it is not meant just for fun. An animal rocker provides a safe and stimulating activity for a baby to enjoy while developing balance and coordination.
Nattou Rocking Animal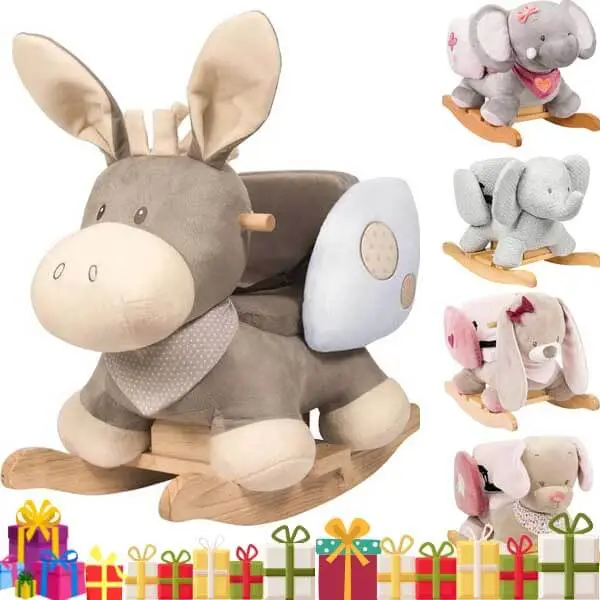 Indoor Active Play Structure:
A carefully selected indoor active block structure that is age-appropriate for a baby's developmental level can make a great first Christmas gift…..
Factory Direct Partners SoftScape Toddler Playtime Corner Climber
Activity Play Mat:
Baby activity mats are designed for babies to lie on and explore with their senses. They often have bright colors, patterns, and textures, as well as built-in toys and features that can help to engage and stimulate a baby's developing senses and motor skills.
Thus an activity mat can be a great gift for a new parent or a newborn and young baby.
When choosing a baby activity mat as a gift, it is important to consider the recipient's needs and preferences. Some factors to consider include the baby's age range, the size of the mat, and any special features or themes that may interest the baby or the parents.
Bellababy Tummy Time Mat, 4-in-1 Baby Gym