Last updated on January 23rd, 2023 at 12:27 pm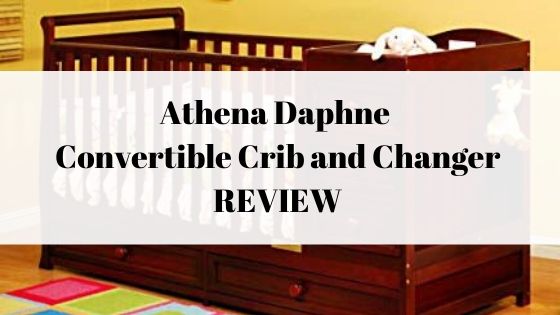 Athena Daphne, a combo crib with under crib storage drawer
Athena Daphne is a combo crib, which means it is a crib and a changing station at once. Its versatile build creates the perfect baby station with lots of storage space. Five drawers, along with a space-saving design, offers a unique combination, which is very convenient for a space-conscious family.
If you are short of space, but you want everything, from the crib to the changing table and storage drawers, Athena Daphne is certainly worthy of your consideration. But, before you decide, I would like to represent our Athena Daphne convertible crib and changer review's findings. I want to point out a few things considering its price-functionality ratio that bothers me.
Athena Daphne offers a lot, it is also a quality crib, but I can't get rid of the feeling that you could get a little more for the money you are paying.
---
Athena Daphne convertible crib and changer's quick review: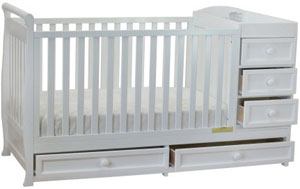 PROS:
it grows with your child
a durable crib
easy-care finish
space-saving design
drawers glide smoothly
detachable changer converts into a nightstand
CONS:
high price
the changing pad is sold separately
you have to buy a youth bed conversion kit
non-adjustable mattress support
Bottom line:
I can't say this is a bad crib, but comparing to other combo cribs with under crib storage drawer, it could offer more.
For instance, Storkcraft Steveston is around $150 cheaper but offers more than the Daphne. It possesses a changer and a large under-crib storage drawer. Stevenson's changing table includes a water-resistant changing pad, you can adjust its mattress support, and the crib even converts into more beds as the Daphne. However, Storkcraft Steveston's changer doesn't have drawers, only two larger shelves.
But still, if the drawers in the changing table are important to you, you can also look into the Graco Remi combo crib, which has the same number of drawers as the Athena Daphne convertible crib with changer. Graco Remi is not a lot cheaper than the Daphne, but it offers more features, like adjustable mattress support, more conversions, etc.
Specifications:
Assembled dimensions: 72″ L x 29″ D x 45″ H
Assembled weight: 118 lbs
Color: White & Cherry
---
Review's breakdown
Athena Daphne's convertibility review
Athena Daphne is a convertible crib, which grows with your child through their youth. The company stated it's a 2-in-1 convertible crib that transits into a youth bed. That's true, but the crib's front rail can be removed, wherein the crib also converts into a daybed, just as any other convertible crib.
All convertible cribs transit into daybeds. That's because this is the cheapest conversion for you, as well as for the company. All you have to do is removing the front rail and setting the mattress into the lowest position. You don't need to purchase any additional parts and/or a mattress.
Anyway, what I'm trying to say is, the Athena Daphne is, in my opinion, a 3-in-1, not a 2-in-1 convertible crib. That's, of course, better! Daphne's mattress is already set on the bottom, so its daybed looks like any other daybed on the market.
Athena Daphne's youth bed:
In the last conversion, the Athena Daphne converts into a youth bed. Unfortunately, you have to purchase the youth bed conversion set. Because that's not uncommon, and it is the same for all conversion cribs, we didn't rate the Daphne with fewer points!
What is excellent about this conversion is a detachable changing table. It converts into a matchy three drawer stand-alone nightstand next to the youth bed.
Oh, don't forget you need a youth bed mattress as well. The mattress dimensions for Athena Daphne youth bed are 68″ by 27,5″.
---
Changing table review
Athena's changing table is one of the best and highest quality changers on the market. It comes equipped with three drawers and two unit shelves. Drawers are spacious and run smoothly on metal glides.
The only down point is the absence of a changing pad. Most combo cribs come with one, which is very practical. Changing tables on combo cribs are smaller than standard changers. As such, they require a changing pad with unique measurements, which is sometimes hard to find.
Athena's Daphne changing table is attached on the right side of the crib and can be in later years detached and used as a nightstand.
The changer can be connected only on the right side of the crib!
The size of a changing table: 28″L x 17″W x 29″H
A fitting changing pad: 27,5″L x 15,5″W x 1″H
---
Under crib storage drawer
Athena Daphne's advantage is, without a doubt, an under crib storage. As an organizing freak, I love its two drivers under the crib. Most combo cribs possess one large drawer, but I think the divided option is better.
First of all, handling two drawers is much more comfortable, as dragging out a one large, heavy drawer. Of course, the fact that Daphne's drawers run on metal glides also helps! An second, things are better organized in such an arrangement.
Something that is not taken for granted on such cribs is also plywood, which separating Daphne's mattress support from the drawers below. Having such a barrier prevents dust accumulation in drawers, which is excellent!
---
Safety
Athena Daphne convertible crib and changer is a safe crib, which meets and exceeds the US federal safety regulations. The crib is lead and phthalate safe and finished with a non-toxic finish.
Athena Daphne is also JPMA (Juvenile Products Manufacturers Association) certified, which means it has been tested by an independent facility and met the guidelines set by the standards developer.
The crib is sturdy and doesn't possess a dropping side. Because there were too many injuries and even tragic deaths, are drop-side cribs banned since 2011!
---
Crib Mattress Information
Athena Daphne doesn't have adjustable mattress support. This is a really big drawback to this crib! I would expect at least two mattress heights from such an expensive crib. Adjusting the mattress into a higher level for a newborn is very convenient. Bending so low back and forth is not an easy job, especially if you are a short mom.
The inner dimensions of standard size cribs, such as Athena Daphne, are regulated by the government. That is helpful, as they also control the standard size crib mattresses' dimensions. Because of this, any standard size crib mattress fits into the Daphne.
U.S. regulations define:
a standard size crib is a baby crib with the following measurements: 52 3⁄8 ± 5⁄8 inches in length by 28 ± 5⁄8 inches in width
a standard crib mattress is a baby crib mattress with the following measurements: at least 27 1/4 inches by 51 5/8 inches and no more than 6 inches thick
I think the Newton Wovenaire baby crib mattress is one of the best options you can choose, but cheaper crib mattresses, such as Milliard's crib mattresses are also a perfectly safe and quality choice.
RELATED: Baby crib mattress buying guide
---
The verdict
Athena Daphne convertible crib and changer is a quality and safe crib! It is the crib with the most storage drawers you can get. Drawers are also quality made and glide smoothly.
I don't have any complaints about its quality, but for the price you are paying, I was expecting a little more! To successfully compete with other cribs of the same type, they should add at least an adjustable mattress support and a fitted changing pad.
---