Perfect for urban rides and outdoor adventures, these are the best baby strollers in 2023.
Our favorite baby strollers provide comfort and convenience, ensuring a cozy ride for your baby while effortlessly accommodating your belongings.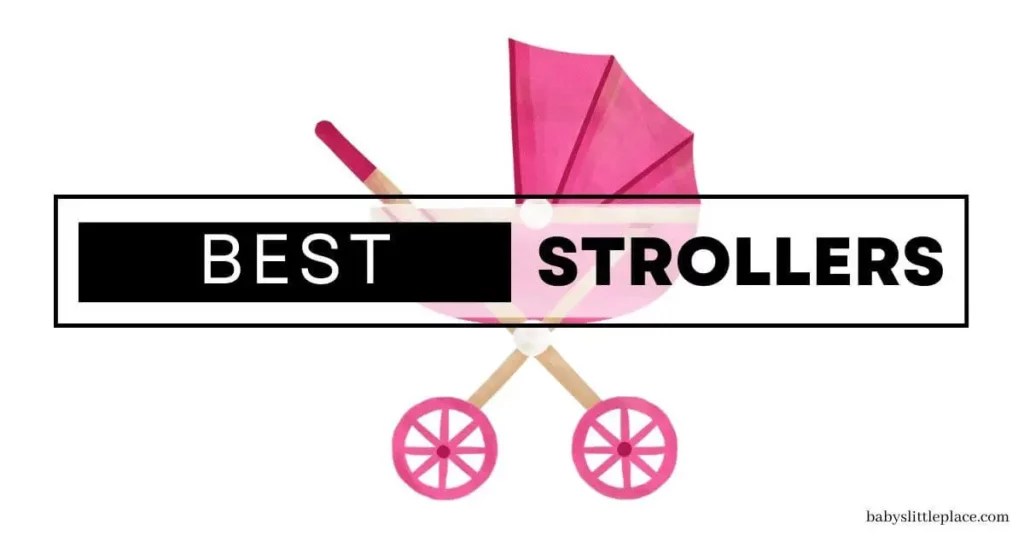 I completely understand it can be challenging to choose a stroller. There are so many things to consider and countless options that the search for the best can soon become overwhelming.
To help you, we reviewed and picked the best baby strollers in several categories. This will spare you hours of research and reassure you that you made the right decision.
Top 3 baby strollers:
---
---
→ Skip straight to other top-rated baby strollers in 2023!
A baby stroller is a must-have piece of baby gear. It gives you free hands when walking, jogging, or running errands with your baby.
The best baby strollers on our lists are models of all types. Thus everyone can find one for themselves. But what they have in common is high quality, a sturdy frame, and safe add-ons, such as harnesses, lockable brakes, protective canopies, etc.
When conducting this list, we strived to find the best stroller of each type. These baby strollers have the best quality, functionality, and safety combination for a reasonable price.
When buying a baby stroller, I recommend investing in a high-quality one. Of course, you don't have to buy the most expensive one! However, spending a little more on a reliable stroller can prove cost-effective in the long run by eliminating the need for additional purchases. Quality strollers are durable and built to last, accommodating your child's growth for several years of use.
So, from lightweight and jogging strollers to double and luxury models, we've got you covered by bringing you the list of the best baby strollers in 2023.
---
Types of baby strollers
There are various types of baby strollers available to suit different lifestyles and needs.
Traditional or Full-Size Stroller: This is a large, versatile stroller that comes in multiple versions (convertible, travel system, etc.). It typically features a sturdy frame, a comfortable seat, and various additional features.
Convertible Stroller: This is a modular stroller that grows with your child. It is usually a full-size option with interchangeable components, such as seats, bassinets, or car seat adapters.
Lightweight Umbrella Stroller: A lightweight, portable umbrella stroller is convenient and popular for travel or quick errands. It is smaller and folds compactly but is usually less sturdy than full-size strollers. Also, it is not an appropriate choice for newborns.
Jogging Stroller: This type is made for runners, joggers, and active parents who like off-road adventures. It has three wheels that are typically air-filled for better shock absorption and smoother off-road adventures.
Travel System: This type combines a full-size stroller and an infant car seat. It allows easy transitioning between the car and the stroller.
Double Stroller: This is an ideal option for families with twins or children of different ages. It features two seats arranged side by side or in tandem.
Car Seat to Stroller: This can be a hybrid (a car seat with integrated wheels that hides under it when it is in the car) or a small stroller frame with a car seat.
It's important to note that many strollers can fall into multiple categories, offering a combination of features such as convertibility, reversible seating option, travel system functionality, etc.
Which is the best type of baby stroller?
There is no better or worse type of baby stroller. What is the best option for someone may be useless for another one.
Thus, you must find the stroller that best suits your needs! To determine the best type of baby stroller for your needs, you have to consider various factors, including your specific needs, lifestyle, and preferences. Other things you have to consider are safety, your child's age, additional features, intended usage (e.g., everyday strolling, jogging, travel), and your budget.
You can learn more about choosing the right baby stroller in our Baby Stroller Buying Guide.
---
Best Baby Strollers of 2023
1. Best Baby Stroller Overall:
UPPAbaby Vista V2 Stroller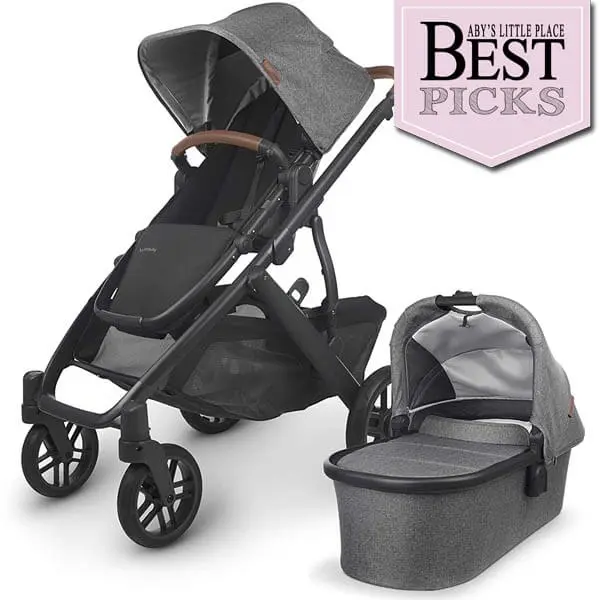 Why we love it:
The Uppababy Vista V2 is a premium stroller that, unfortunately, comes at a premium price.
The Uppababy Vista V2 baby stroller is durable, made of high-quality materials, comfortable for your child, and highly versatile.
We particularly like its adaptability and high-quality features. So, whether you're a first-time parent, have a newborn, or have a growing family, this stroller has you covered.
The Uppababy Vista V2 comes with an included bassinet that you can use for your newborn. And as your baby grows, you can easily switch to the toddler seat, which can face forward or backward. Its toddler seat is one the most spacious ones we've seen.
You can also add a Rumble Seat for a second child or attach a PiggyBack Ride Along board for older siblings who want to stand and ride along. This means you can safely transport three kids together on this single stroller, which is truly impressive.
The Uppababy Vista V2 is compatible with certain infant car seats to create a travel system, but you will have to buy one.
Other features we like about this baby stroller are its one-step fold and the ability to stand on its own when folded. There is also an extendable canopy, an extra-large storage basket, a convenient adjustable handlebar, and a no-rethread harness, which makes adjusting the straps as your baby grows much easier.
We highly recommend the Uppababy Vista V2 baby stroller if you can afford it.
---
2. Runner-Up:
Graco Modes Pramette Travel System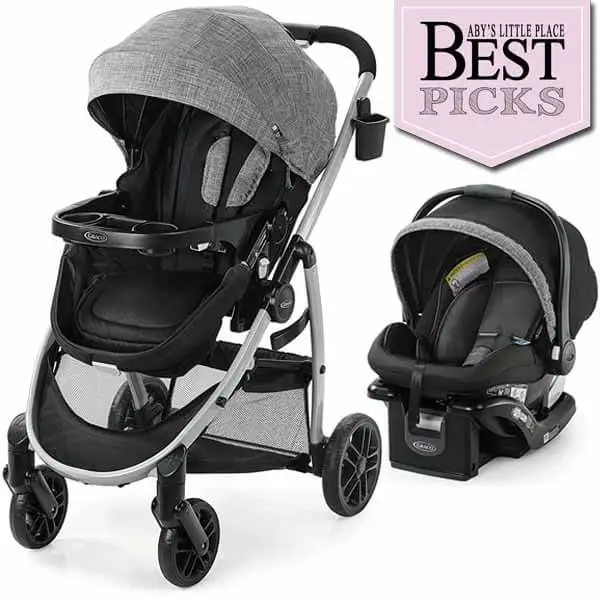 Graco Modes Pramette Travel System
Why we love it:
The Graco Modes Pramette Travel System is a good choice for those seeking a durable baby stroller that accommodates newborns to toddlers and comes with top-notch features for a reasonable price.
This all-in-one system serves as a stroller, car seat, and car seat base. It also converts into a bassinet; thus, it is called a Pramette.
This baby stroller is easy to maneuver and fold, ensuring a smooth experience. With its large wheels base, the Graco Modes Pramette Travel System handles various terrains quite well. While it may not rival jogging strollers, it surpasses most travel systems.
I like how easily you can collapse it with a simple one-hand movement. It's also not excessive or bulky and fits comfortably into the trunk of most vehicles.
However, it only folds when the wheels are locked, and the seat faces outwards. So, if you intend to use it facing backward and need to collapse it frequently, this one may not be the most suitable option for you.
There is also a phone, a cup holder, and a large under-seat storage basket for added convenience.
Your baby will enjoy a comfortable seat equipped with a secure multi-point harness, a roomy tray, and a canopy featuring a "peek-a-boo" window.
The Graco Modes Pramette Travel System includes the SnugRide 35 Infant Car Seat, so we have to take a closer look at it too:
It is rigorously tested to be safe for your newborn.
It is lightweight and easily transitions from the car to the stroller.
It comes with a universal Graco base, which means you won't need a new one if you get a different Graco car seat.
---
3. Best Budget-Friendly Baby Stroller:
Baby Trend EZ Ride 35 Travel System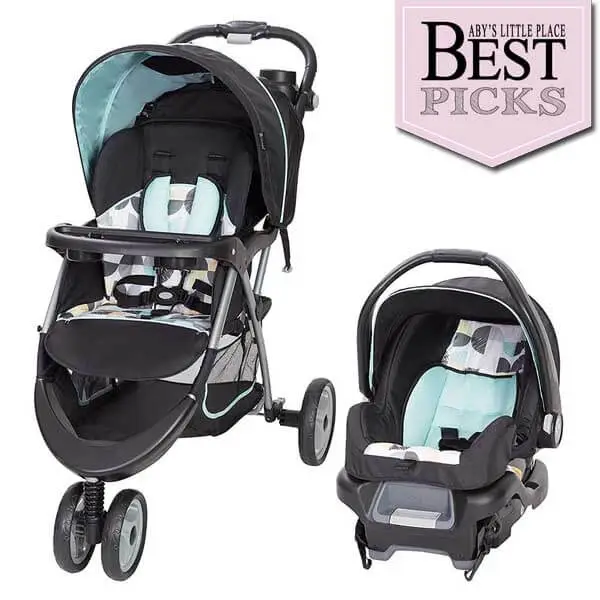 Baby Trend EZ Ride 35 Travel System
Why we love it:
The Baby Trend EZ Ride 35 Travel System is the top choice for new parents seeking an affordable yet quality and reliable baby stroller.
The Baby Trend travel system combines the EZ Ride Stroller with the new Ally 35 Infant Car Seat.
Given its affordable price, we are genuinely impressed with this stroller. It is highly maneuverable, thanks to its quality wheels that glide smoothly. I especially like how easily you can fold the stroller with one hand, allowing you to multitask.
One of the key highlights of this stroller is its convenience for parents. It features a parent tray with two deep cup holders, a phone holder, and a section with a lid to store smaller essentials like keys. Moreover, it has an adjustable handle to accommodate parents of varying heights and a spacious storage basket underneath.
It has a padded seat with multiple recline positions and an adjustable canopy for your baby's comfort. And a five-point safety harness for her safety.
The included Ally 35 Infant Car Seat is quality made and carefully tested to be safe for the baby. It comes with a base that can be installed in the car using either Latch clips or a seat belt.
One of the standout features is how effortlessly the car seat clicks into place, whether using it in the car or attaching it to the stroller. You'll also appreciate the convenience of clipping the car seat onto the stroller without needing the base, allowing you to leave it securely fastened in the car.
By deciding on this option, you'll get a combination of safety, comfort, and convenience for a very reasonable price.
---
4. Best Car Seat to Stroller Hybrid:
Doona Infant Car Seat to Stroller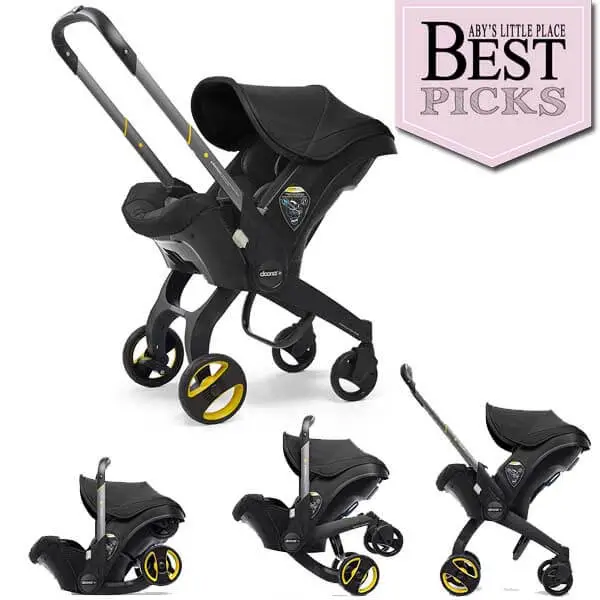 Doona Infant Car Seat to Stroller
Why we love it:
If you are constantly on the go, switching between car rides and walking, the Doona Infant Car Seat to Stroller is worth your consideration.
The Doona's hybrid nature combines a stroller, car seat, and travel system. Basically, it is a car seat with a fully integrated travel system.
The Doona transforms from a stroller to a car seat and back in one single motion. Just press one button, and its wheels fold in for car rides or back out for strolling. I am even more impressed that you can do it easily with a baby in the seat.
However, it's essential to consider a few aspects. Unlike traditional strollers, the Doona lacks a storage basket, and its seat sits relatively low to the ground. Furthermore, the Doona Infant Car Seat to Stroller's lifespan is relatively short. Once the baby reaches 35 pounds or 32 inches (typically around 1 year old), they will outgrow the car seat, requiring you to invest in both a new car seat and a new stroller.
But despite these limitations, the convenience of transitioning from car to sidewalk is a major plus for many parents. After all, it offers ultimate portability and space-saving benefits, which modern parents need.
Additionally, it can be effortlessly maneuvered with just one hand, making it a convenient choice for rideshares, public transit, or air travel, especially during the early months of your baby's life.
---
5. Best Lightweight Umbrella Stroller:
Summer Infant 3Dlite Convenience Stroller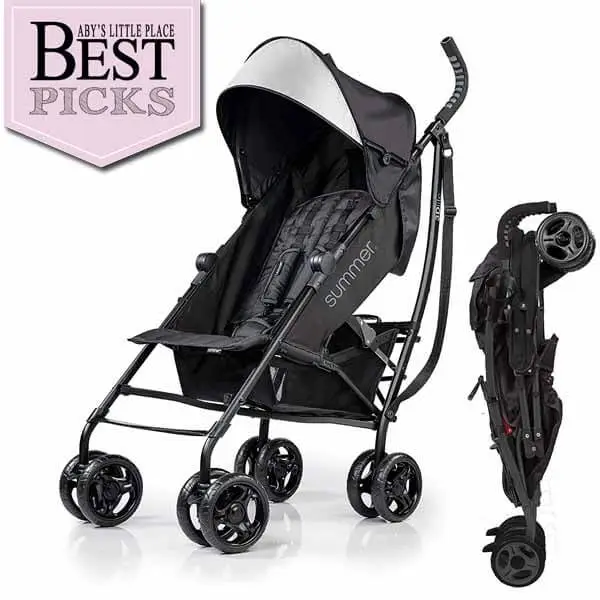 Summer Infant 3Dlite Convenience Stroller
Why we love it:
The Summer Infant 3Dlite Convenience Stroller is the best option for those who need a lightweight, easy-to-handle stroller. It is an excellent choice for busy families seeking a reliable, compact stroller for an affordable price.
Despite weighing just 13 pounds, this umbrella stroller offers quite a lot of features that cater to your baby's comfort and needs.
One of the standout qualities of the Summer Infant 3Dlite is its ability to provide a comfortable seating experience for your little one. Unlike many umbrella strollers, it offers four different reclining positions, ensuring that your baby can sit and nap comfortably. It also incorporates anti-shock front wheels and lockable rear wheels, providing a smooth and stable ride even on slightly bumpy terrain.
While the Summer Infant 3Dlite prioritizes portability and simplicity, it may not offer the extensive features of larger strollers. For example, its seat cannot recline completely flat, and the small plastic wheels are unsuitable for challenging terrain.
However, there comes a point when a lightweight and straightforward stroller becomes a must, especially for toddlers.
The 3Dlite is light and folds quickly and compactly, allowing easy storage in smaller spaces or car trunks. Moreover, it has a carry strap that makes transporting the 3Dlite a breeze. When your little one insists on walking, and you need to hold their hand, simply sling the stroller over your shoulder.
However, this stroller is not intended for newborns. Also, avoid placing heavy items on the handlebars. The stroller is very lightweight and may trip over when the child is not in it.
---
6. Best Jogging Baby Stoller:
BOB Gear Revolution Flex 3.0 Jogging Stroller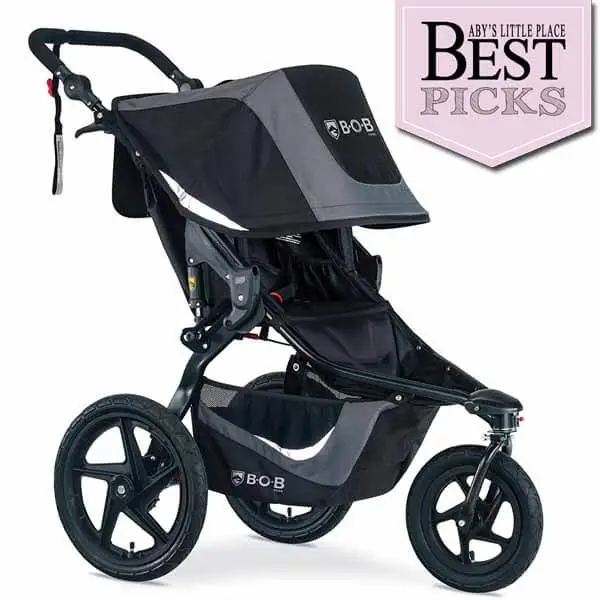 BOB Gear Revolution Flex 3.0 Jogging Stroller
Why we love it:
We think the Bob Gear Revo Flex 3.0 Jogger is the best stroller for joggers and those who like outdoor activities.
The Bob Gear Revo Flex 3.0 Jogging Stroller has exceptional maneuverability, which was achieved with a well-thought-out stroller design.
Its lightweight but sturdy aluminum frame, larger, air-filled wheels, and quality mountain bike-style suspension system ensure stability and a smooth ride on any terrain.
Another thing I want to mention are its additional features. The Bob Gear Revo Flex 3.0 Jogging Stroller has many of them for a jogging stroller. We especially like its adjustable handlebar, spacious undercarriage storage, multiple storage pockets, and an extra-large UPF 50+ canopy with a magnetic "peek-a-boo" window.
As for its folding, you will need both hands to do it, but that didn't bother us. The process is quick and hassle-free, so it should not divert you from the purchase. I like that it comes equipped with a handle, making it effortless to carry around when folded.
But due to its bigger wheels, it does fold larger. Yet, if you need to store it longer, you can remove the wheels, making it more compact and easier to store.
Whether you are a runner or only want to stroll around the neighborhood, this durable Bob Gear Revo Flex 3.0 Jogger might be the one you are looking for.
---
7. Best Travel System Baby Stroller:
Evenflo Pivot Modular Travel System With SafeMax Car Seat
Evenflo Pivot Modular Travel System With SafeMax Car Seat
Why we love it:
The Evenflo Pivot Modular Travel System with SafeMax Car Seat is a versatile and affordable option for parents seeking a reliable combination of a stroller and a car seat.
It is a versatile stroller that grows with your baby from infancy to toddlerhood, adding to its high value for the price.
The Evenflo Pivot Modular Travel System has six seating modes, providing maximum flexibility for your and your baby's comfort. The first four modes are a stroller and a car seat that can face in or out. And the other two are the bassinet facing in or out. It is worth mentioning that the stroller doesn't have a separate bassinet, but its toddler seat easily converts into one. That saves you money and space in your home!
The included SafeMax Infant Car Seat is suitable for babies up to 35 lbs. Its base can stay in the car, so you can seamlessly transfer the car seat from the stroller to the car and back. Mind, you also don't need any extra adapters to attach to the stroller frame, which is great.
The car seat is rigorously tested to exceed all required safety standards, wherein the rear-facing installation and anti-rebound bar add an extra layer of safety.
The storage and transportation are hassle-free. It is lightweight and folds with two levers on the handlebar. Well, you can not fold it with one hand, but folding is still quick and easy. It also folds slim and conveniently stands on its own when folded.
Considering its affordable price, you will get many accessories, like a large storage basket, child tray, parent cup holder, and canopy with a mesh peek-a-boo window.
---
8. Best Double Stroller:
Baby Jogger City Mini GT2 All-Terrain Double Stroller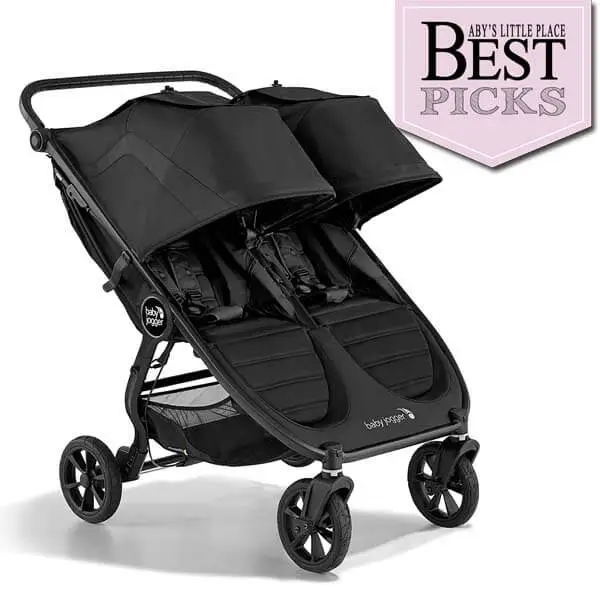 Baby Jogger City Mini GT2 All-Terrain Double Stroller
Why we love it:
The Baby Jogger City Mini GT2 is our top choice for the best double stroller. It is specifically designed to comfortably accommodate two little ones, making it a convenient solution for parents of twins, siblings close in age, or a toddler and an infant.
We selected it because of its quality, durability, and ability to provide a smooth and enjoyable ride for two kids, regardless of terrain. Each seat comes with adjustable calf supports and near-flat reclining positions, ensuring your children can relax during strolls.
Both seats also have a large UV 50+ canopy with a magnetic peekaboo window. This allows you to keep an eye on your children while providing ventilation and maintaining their privacy.
When it comes to maneuverability, the City Mini GT2 truly excels. It features forever-air rubber tires and an excellent all-wheel suspension system that effectively absorbs shocks and bumps.
Another huge benefit of this stroller is that it fits through standard doorways, despite being a double baby stroller. The City Mini GT2 double stroller is straightforward to navigate various environments, from nature to busy city streets to shopping malls.
Furthermore, the Baby Jogger City Mini GT2 double stroller's compact design and one-step fold mechanism simplify transportation and storage, which is essential when dealing with two children.
When you have more kids, there is also never enough storage for all the essentials. However, the City Mini solves this problem with seatback storage pockets and a generously-sized under-seat basket.
---
9. Best Baby Stroller for those who like to Travel:
Babyzen YoYo² Stroller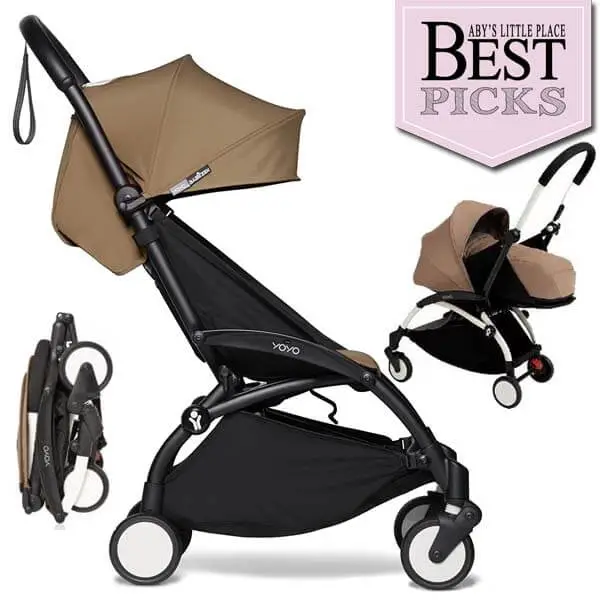 Why we love it:
When it comes to lightweight travel strollers, there's one brand that stands out, the Babyzen Yoyo2 stroller. This stroller has gained huge popularity, especially among city citizens and frequent travelers, who admire its sleek design and convenient features for travel.
With its compact design, you can effortlessly fold and unfold the stroller using just one hand. It's even small enough to fit in the overhead luggage compartment of an airplane.
The stroller boasts a two-position pop-up canopy that shields your baby from the sun, while the four-wheel suspension ensures a smooth ride, minimizing any discomfort from bumps along the road. Weighing approximately 14 pounds, it remains reasonably lightweight, making it manageable to transport.
Although the Yoyo2 excels as a travel stroller, many families have embraced it as their everyday stroller.
The forward-facing seat comfortably accommodates babies from 6 months old to toddlers weighing up to 45 pounds. Babyzen offers a bassinet attachment for newborns that allows you to use the stroller right from birth. Furthermore, the stroller frame can be adapted to accommodate various infant car seats using attachments.
If you opt to use the Babyzen Yoyo2 Stroller as your primary stroller, there are a few aspects to consider. Firstly, the storage space underneath is smaller compared to most full-size strollers, which might pose a challenge if you frequently run errands and need a place to store bags or additional baby essentials. Also, while it is easy to steer with one hand and navigate sidewalks, it is not the best choice for uneven terrains.
---
How to choose the baby stroller?
To choose the best baby stroller, consider your lifestyle and needs first. Look for a durable option that will last for years. Additionally, prioritize your child's comfort and safety. Ultimately, the goal is to find a stroller that balances convenience, functionality, safety, and cost.
Consider all the factors listed below, and I am sure you will find the best baby stroller for your needs:
1. Stroller's Price:
When it comes to stroller shopping, it's essential to determine your budget. Strollers are available in various price brackets, ensuring options for every budget.
So, don't rush into a decision that you might regret later. While strollers can be expensive, cost doesn't have to be a barrier. There are excellent options available in every price range.
Investing in a high-quality stroller can prove cost-effective, especially if you're planning for future children.
2. Where do you plan on using the stroller:
Consider your living environment and planned activities. If you live in the suburbs or enjoy park walks, choose a stroller suitable for such occasions. For urban living, prioritize smaller strollers that are easy to maneuver and fold small. Joggers should seek strollers designed for running, etc.
3. Ease of use and convenience:
Think about available accessories, maneuverability, and ease of cleaning. Consider add-ons that could improve your stroller to meet your particular needs. Easily washable fabrics, especially machine-washable ones, are also a plus.
Look for features that improve your daily routine, such as ample storage space, cupholders, reliable brakes, easy and compact folding, etc.
For instance, opt for a stroller with a one-handed fold if you're often juggling multiple tasks or the one with adjustable handlebars if you or your partner differ in height. Frequent travelers may find value in strollers that can fit in the overhead luggage compartment of an airplane, etc.
4. Durability and Quality:
Investing in a durable and quality stroller has many advantages. A sturdy stroller ensures it will last beyond a single season, providing long-term value for your money.
I recommend choosing a stroller with a sturdy, high-quality frame that withstands daily use. Also, look for fabric that can endure frequent washings without losing quality or color.
Additionally, opt for wheels that are built to handle daily walks and can provide reliable performance for years to come.
5. Family size – Single or. Double Stroller:
If you have one child or plan on spacing your children several years apart, a single stroller is the right one for your needs. However, if you have twins or intend to have siblings close in age, a convertible or double stroller becomes a more practical choice.
If you're a first-time parent with plans to expand your family, it's worth considering combination strollers. These strollers begin as singles but can be expanded to accommodate multiple children using different attachments, providing flexibility and adaptability as your family grows.
6. Choose a Safe Stroller:
Purchase only a stroller that meets all safety requirements set by the Consumer Products Safety Commission (CPSC). While new strollers adhere to these regulations, be careful when dealing with secondhand or imported options.
Look for strollers with 5-point safety harnesses that can easily accommodate a growing child through adjustable restraints. Additionally, pay attention to weight and height capacity. Some strollers can support up to 30 pounds, while others cater to toddlers weighing up to 65 pounds.
Age restrictions also play a crucial role, as certain strollers may not be suitable for newborns who require deep reclining seats or bassinets for adequate neck support.
7. Available Space:
Think about the available space in your home, car trunk, and other areas where you plan to store or transport your stroller.