Last updated on January 23rd, 2023 at 04:45 pm
Dourxi Crib Mattress and Toddler Bed Mattress Review
Dourxi crib mattress and toddler bed mattress is a dual-sided crib mattress, made from natural materials. The mattress is very cheap for an organic baby crib mattress, so I was looking forward to seeing what it can offer. We didn't review such an affordable organic crib mattress before, so I was not sure what to expect.
First of all, the mattress is made in China. For someone, that can raise certain concerns. Is the mattress really organic? Does it have sufficient quality and more? But the mattress is Certi-PUR US, and GREENGUARD Gold certified. It also meets all required safety standards. So, in terms of safety, it should be the same as any crib mattress made in the USA.
Of course, we didn't check just its certifications but reviewed other important features a baby crib mattress should have. I hope you will find all the answers you need in our Dourxi crib mattress and toddler bed mattress review below.
Dourxi Double-Sided Crib Mattress Review At A Glance: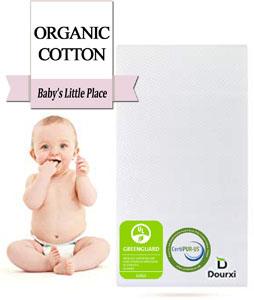 PROS:
it is a 2-in-1 baby crib mattress, with the dual-side sleep system
made of organic cotton
removable cover
breathable
it doesn't make noisy sounds
it doesn't have an odor
affordable price
CONS:
it takes some time to fully expand
the cover is not waterproof, but only water-resistant
---
Dourxi crib and toddler mattress structure and specifications
The mattress is shipped rolled up, compressed, and vacuum-sealed in plastic. To prevent damages during transport is the rolled mattress further packed in a small, lightweight, easy to carry box. The size of the box is 9,2″ x 9,2″ x 32″.
Because it is compressed, you can't use it right away. I recommend you give it at least three days, to fully expand.
After unpacking the mattress, place it on the flat surface. You will get the best and fastest results if you place it in a well ventilated, warm room.
Dourxi's structure:
removable cover
flammability barrier (Rayon cloth)
firmer plant oil-based Eco foam for infants
softer Eco foam for toddlers
Dourxi's specifications:
Mattress size: 52″ long by 27,5″ wide
The thickness of the mattress: 5,5″
Mattress weight: 11,99 pounds
---
Our Dourxi crib and toddler bed mattress review
According to Dourxi, their baby crib mattress should have all the following features. To see if that is the truth, and to see how well the mattress performs, we have reviewed them all!
the mattress is breathable with good heat regulation
it offers sufficient firmness for infants
it offers excellent support, bland with comfort for toddlers
it fits into all standard, full-size cribs
it is made of organic cotton
it is hypoallergenic
it passes all required safety standards
it is waterproof
VENTING and HEAT REGULATION:
A good crib mattress must be breathable for two reasons. First of all, a breathable mattress is much safer for infants because it reduces the risk of suffocation. And second, good breathability regulates the sleep temperature and prevents overheating.
Dourxi crib and toddler bed mattress is made from organic cotton. The foam is lightweight and designed to have a sufficient airflow through the mattress's core.
FIRMNESS and SUPPORT:
When it comes to buying a crib mattress for infants, safety must be a number one consideration. And a safe infant mattress must be extremely firm! Firmness prevents denting into the mattress, and significantly reduces the risk of SIDS (Sudden Infant Death Syndrome).
Dourxi crib mattress and toddler bed mattress is a 2-in-1 mattress, with dual-sided sleeping system That means the mattress has two sides of different firmness:
a firm side for newborns and young babies
softer side for toddlers
You can tell the difference between the infant and toddler side, but I need to be honest, we had seen firmer baby mattresses from Dourxi before. However, the mattress has passed all safety tests, so it should be firm enough.
As far as for the toddler's side, I don't have any considerations. It has a contouring memory foam which offers the right amount of support for the proper toddler's bone and muscle development. Besides that, it is plushier and much softer from the infant side, providing comfortable sleeping space for your toddler.
FITTING IN THE CRIB:
Dourxi crib and toddler bed mattress fits into all standard, full-size cribs. Measurements of the baby crib mattresses and standard, full-size cribs are regulated by the government.
So, if you have a new crib, there shouldn't be any problems. However, if you intend to use a used crib, measure the crib and check if the mattress fits into it perfectly.
To be absolutely sure, you can also make a home fitting test. Place two fingers between the crib's frame and the mattress. If there is a gap, it shouldn't be bigger than two fingers.
Another thing I really like on this mattress is square corners. Mattresses have round or square corners. Square corners proved to be much better because of two reasons:
they fit perfectly into cribs, so there is no gap in the crib's edges
crib's sheets stick on the mattress much better
BOUNCE:
Foam mattresses are less bouncy from innerspring models, and Dourxi crib and toddler bed mattress is not an exception. Because of the sufficient firmness, it has just enough bounce for a comfortable sleep, while still offering strong support.
DURABILITY:
The mattress is durable and should last at least through infancy and toddlerhood of one child.
HYPOALLERGENIC:
Dourxi is an organic baby crib mattress. That means it is made of natural materials that protect your child from allergens, bacteria, and mold. So yes, Dourxi crib and toddler bed mattress is hypoallergenic.
CLEANING:
Cleaning is a breeze, as you can easily wipe it down with a cloth. But the cover is also removable, so if a bigger night accident occurs, you can remove it and wash it in the washing machine.
WATERPROOF:
Dourxi stated that the cover is waterproof, but I don't agree. The cover is water-resistant, not waterproof!
Liquids will stay on the surface, but only for a certain amount of time. After a few hours, liquids will start slowly penetrate into the mattress.
To ensures the waterproof feature, I recommend you buy an additional waterproof pad for the mattress.
WARRANTY:
Dourxi offers a 10 years limited warranty on this mattress.
We've found the best price on Amazon.
---
Dourxi crib mattress's Safety
Dourxi baby crib and toddler mattress have been tested for durability, quality, firmness, and chemicals. The mattress is free from toxins and chemicals!
The foam is CertiPUR-US certificated, which means it doesn't pollute the indoor air. It is also GREENGUARD Gold certified, which means almost the same. The difference is that while GREENGUAR provides security for the whole mattress, CertiPUR certification ensures that only for the mattress' foam.
The mattress is also free of lead and phthalates and meets all federal flammability standards.
THE VERDICT
Dourxi baby crib and toddler mattress has a good value for the price. Yes, some organic crib mattresses might have little more firmness for infants, but Dourxi passed all firmness tests, so everything should be OK.
I don't think you will get a cheaper organic baby crib mattress. Besides that, this is not its only feature that usually adds up to the price.
The mattress is also dual-sided, with all needed certifications, which is great!
---