Last Updated on January 10, 2022 by Ines
The 2022 holiday season is here, and, as we do every year, we are tracking the best newborn baby Black Friday deals for you once again!
Black Friday Newborn Baby Deals of 2022
In 2022, Black Friday falls on November 26th!
Black Friday is well-known for having great sales for parents and parents-to-be. However, I can imagine keeping track of all Black Friday baby deals can be challenging, especially if you are pregnant or have just delivered the baby. So we will help you find the most-worth-it Black Friday deals for newborn essentials in 2022.
But from our experience, many popular baby brands and big retailers start with discounts sooner, some even a month before Black Friday. That is why we will be following and updating deals for the whole month before the big shopping event!
I suggest you bookmark this page and check back from time to time in the month before Black Friday. And of course, come back on November 26th and find this year's best Black Friday newborn baby deals!
Jump on 2022 Black Friday deals on:
Will Black Friday Sales start any sooner?
Yes, we expect deals to start increasing a week to a whole month in advance and, in most cases, last until the end of the weekend after Black Friday.
I suggest you bookmark this page and revisit it to find updates and new early Black Friday offers for newborns and more information on what to expect.
Early Black Friday Newborn Deals You Don't Want to Miss in 2022
Baby Stroller Black Friday Deals:
I can't imagine life without a baby stroller. A quality stroller is a must-have baby item. It provides a comfortable space for your baby and a convenient spot for your things when you are on the go.
Strollers are often one of the most expensive items on a baby registry, so taking advantage of this year's Black Friday baby stroller deals can save you quite a bit of money!
Here are the best baby stroller deals from this year's sale:
Save on Bugaboo Lynx Complete Stroller:
FRAME: aerospace aluminum
WEIGHT: super light (only 20.7 lbs) but very strong & durable
PERFORMANCE:
– MANEUVERING: highly maneuverable with only one hand, allows tight turn, smooth stroll
– SEAT: reversible, with a 3-position recline
– WHEELS: large, puncture-proof wheels & suspension ensure a comfortable ride on any terrain (7" front wheels and – 11.4" rear wheels)
– FOLDING: compact, self-standing fold without having to take off the seat
– SAFETY: adjustable 5-point harness
HANDLEBAR: height-adjustable
CANOPY: UPF 50+ extendable sun canopy, with a peek-a-boo window
UNDERSEAT STORAGE: holds up to 22lbs cargo
RECOMMENDED USE: up to 50 lbs
MORE: compatible with several car seats and Bugaboo wheeled board for conversion into a stroller for two kids
Baby Car Seat Black Friday Deals:
Using a car seat is the best way to protect your newborn when riding in a car. Car seats save lives, so do not hesitate to buy one.
However, there are so many different models that it is tough to find a safe, easy-to-use model at a reasonable price.
​The type of car seat your child needs depends on several things, including his age, size, and developmental needs. But this post focuses on newborns, so we've found the Black Friday deals on car seats for them.
Black Friday Deals on Baby Swings
4moms® mamaRoo®4 Baby Swing | Bluetooth Baby Rocker
The 4moms® mamaRoo®4 is the only infant bouncer that replicates natural parents' motions!
The seat bounces up and down and gently sways from side to side. It features 5-motion and 5-speed options, allowing you to choose from a total of 25 different movement combinations.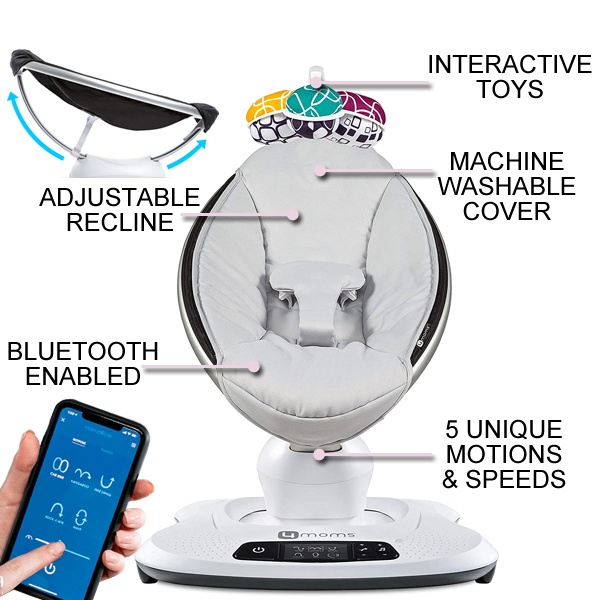 Deals on Sleep-Related Products for Newborns
Cribs
Crib mattresses
Crib sheets
Baby bassinets
Baby nests
Baby monitors
Nightlights
Sleeping bags
Black Friday Deals on Crib Mattresses
Naturepedic organic crib mattresses:
Naturepedic's biggest Sale of the Year Has Arrived!!! The Naturepedic Black Friday sale started on November 10th and will run until December 1st!
Get 20% off and FREE SHIPPING on organic mattresses and accessories for the whole family with code blackfriday20 when used at checkout.
Code blackfriday20 must be entered at checkout to receive 20% off!
Naturepedic organic crib mattresses are 100% organic! These are one of the few crib mattresses with all the needed certifications to meet the organic standards for all components (GOTS, GOLS, GREENGUARD Gold, MADE-SAFE, and Certi-PUR certificate).
Depending on the model, you can choose a crib mattress with 150 or 252 coils innerspring or one with a lightweight wavesupport™ core. Both models feature a perfect firmness for your newborn, plus the side with the medium-firm side for growing toddlers!
---
Newton Wovenaire Crib Mattress:
The Newton Wovenaire is a unique baby crib mattress. It is the only 100% breathable and 100% washable crib mattress on the market. Yes, you can wash even its core, after all, 90% of the mattress's core is air!
Check up more fascinating facts about this crib mattress on Newton's side and get their early 20% Black Friday sale on everything!
---
Other Black Friday crib mattresses deals:
Black Friday Deals on Crib Sheets
A well-fitted crib sheet is the only thing that your baby needs besides a proper mattress in her crib. To keep her warm while sleeping, use infant sleeping sacks and clothing instead of blankets!
Black Friday Deals on Baby Bassinets
A baby bassinet is a bed specifically designed for newborns and younger babies up to about four or five months. Using a bassinet enables having your newborn close to you in a safe sleeping space.
Some bassinets have many extra features, which can add up to their price quite a lot. Therefore, take advantage of Black Friday bassinet deals and save some money!
Baby Nest Black Friday Deals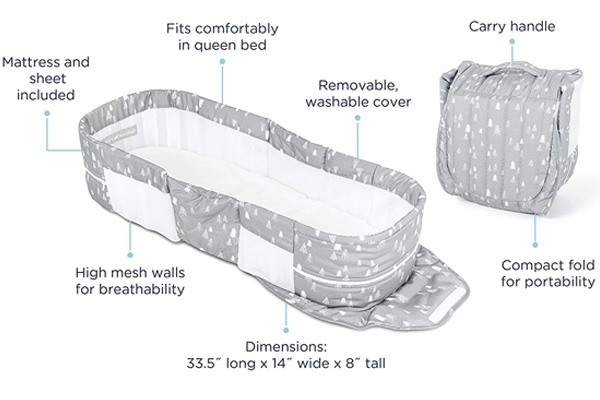 Baby nests, also known as baby pods, in-bed sleepers, or cocoons, are small mattresses surrounded by soft, padded, or solid mesh sides. You can place it on your bed and have your baby close, but still in a separate sleeping place.
However, baby nests with padded sides are only safe if you are awake and supervising the baby! Newborns can not roll over on their own, so they can smother if they somehow press their face to the padded side for a longer time!
For sleeping, rather use baby nests with solid sides mesh sides! You can read more about baby nest safety concerns in our post about in-bed sleepers.
Baby Monitor Black Friday Deals
Black Friday offers numerous baby monitor deals, but for you, we have selected only those with a high price-quality ratio.
---
---
---
Black Friday Deals on Nursery Nightlights
---
---
---
---
Black Friday Deals on Newborn Feeding Supplies
Newborn bottles & bottle sets
Baby bottle sterilizers
Breast pumps
Newborn Baby Bottle Black Friday Deals
Tommee Tippee already offers great deals on their newborn feeding starter sets. By putting together the most vital kit for feeding and soothing newborns, Tommee Tippee sets make life easier for every new parent.
Their feeding sets include essentials for bottle feeding and soothing a newborn baby, including Advanced Anti-Colic bottles with breast-like, slow-flow nipples, newborn pacifiers, and a bottle brush.
In addition, depending on the starter kit you choose, you can also get other feeding essentials at a reduced price. You can choose between compact microwave sterilizer, bottle warmer, medium-flow anti-colic nipples, removable bottle handles, formula dispensers, travel baby bottle warmer, etc.
---
TYPE: ultra wide-neck, breast-like bottle
MATERIAL: 100% safe hygienic silicone
NIPPLE: natural, vented nipple with dual anti-colic vents
FLOW: slow flow nipple (compatible with replacement nipples of all flows)
SIZE: 5oz
---
Dr. Brown's Options+ set includes:
3x 4-ounce Dr. Brown's Options plus bottles
3x 8-ounce Dr. Brown's Options plus bottles
6x level 1 nipple
2x level 2 nipples
2x level 3 nipple
2x storage caps
1x sippy cup
1x bottle brush
1x silicone teether
Deals on Bottle Sterilizing Equipment
A quality baby bottle sterilizer is very convenient and efficient, but most of all, it saves your precious time!
Milk is an easy breeding ground for harmful bacteria. Cause newborns do not have a fully developed immune system yet they are more prone to infections. Thus a quality bottle sterilizer spares you worrying if you clean the bottle thoroughly.
Check up the Black Friday deals on baby bottle sterilizers, and find yourself an efficient helper for every day.
Papablic Baby Bottle Electric Steam Sterilizer and Dryer:
The Papablic is a steam baby bottle sterilizer that works at a higher temperature than your dishwasher. It is a 3-in-1 machine that can sterilize, clean, and dry baby bottles, breast pump pieces, pacifiers, teethers, and plastic toys clean, etc.
It boasts a large capacity container to sterilize up to 11 bottles and keep them safe for over 12 hours.
---
Baby Brezza steam bottle sterilizer:
This bottle sterilizer uses natural steam to sterilize and dry bottles, pump parts, and accessories from any brand.
Black Friday Deals on Breast Pumps
Come with 2 storage bag adapters
4 sucking modes and 9 levels of suction
Pain-free and comfortable
Enables pumping directly in a storage bag
Built-in large capacity battery for wireless use
Large LCD
Fast USB rechargeable
Completely closed system
---
Double electric breast pump
Portable and lightweight for on the go moms
Touchscreen controls
Built-in battery for wireless use
USB rechargeable
Bluetooth connectivity to the MyMedela app
Completely closed system
Hands-free pumping with Easy Expression bustier (sold separately)
---
portable, wireless, wearable, hands-free electric breast pump
quiet & strong suction
2 modes & 9 levels adjustments
USB rechargeable
LCD screen for easy operation
skin-friendly, BPA-free, non-toxic
---
What is the best newborn gear to buy on Black Friday?
Searching among many, more or less, good Black Friday newborn sales can soon become overwhelming, especially for a pregnant woman.
Some of the priciest newborn baby gear goes on sale for Black Friday, but I suggest you focus on items you really need! Numerous deals can quickly overpower rational thinking, leading to ordering a bunch of baby stuff you don't even need.
Those who want to save the most should focus on high-budget newborn things, as there will be the most significant savings. Buying a crib, nursery furniture, stroller, car seat, and similar baby products on Black Friday will definitely save you the most money.
A 10% discount on a newborn bottle certainly saves less money than a 10% discount on a crib. However, if you need a bottle, purchase it on Black Friday anyway. Why not, each dollar counts!
A Black Friday is without a doubt a major win for new and expectant parents looking to save big.
Where is the best place to buy baby things on Black Friday?
Should you buy online or offline?
That depends on many factors and the item you are buying.
Things like baby bottles, baby cameras, nursery nightlights, etc., are best to buy online. You have to be familiar only with their specifications, which you can find online. I do not see a reason why you would crowd in stores, especially in these times.
However, you might want to check baby equipment, such as a stroller or nursery furniture, in person. In this case, the best scenario is stopping in the store and seeing them in person. But avoid crowds, and do that at least a month before Black Friday, and order the item online on a Black Friday.
What do you gain with ordering newborn baby equipment online on a Black Friday?
First of all, you will avoid crowds, which is especially important at this time! Shopping from a comfortable chair, particularly with a pregnant belly, is comfortable and less stressful!
Winter, indoor space, and crowds do not go hand-in-hand with avoiding viruses! Being pregnant and sick is very unpleasant, so it is better to avoid closed areas with lots of people.
Buying baby gear online enables access to a broader range of different Black Friday deals, so you have a better chance of finding the best offer for you.
There is a big chance you will get free delivery and special "web only" newborn baby deals on Black Friday.
Tips to make the most of your Black Friday shopping
1. Research well before Black Friday!
Start planning what you need when at least at the beginning of November, if not even before. Think about all the places where you can buy newborn equipment on Black Friday. Will you buy online or in your local stores?
Also, think about what time in the day is best to buy online or in your local stores. Make a plan to line up your purchases!
Newborn equipment is a "hot stuff" on Black Friday, so be aware you will have plenty of competition from other expecting parents. So, we suggest you start with your online purchasing as soon as possible. Even better, try to find early Black Friday newborn deals. We are tracking them at least a month before, so bookmark our page!
If the item is on sale in your local store, send your husband there. Of course, as soon as possible!
2. Resist the impulse purchase!
Make a plan for what you need, what would be good to have, and what you really do not need! And stick to it!
There are numerous baby products, and parents usually want all of them for their little bundle of joy. I have been there!
The temptation on the Black Friday sale is even bigger! Set your budget!
3. Look for the first "web only" Black Friday newborn deals.
Many online early Black Friday deals will be available up to a month before the big day.
4. Sign up for retail newsletters!
Sign up for early Black Friday alerts of all your favorite baby stores. These notifications will help you catch the early discounts.
5. Shop high-ticket items first!
High-ticket items are usually the first ones to sell out. The stock of strollers, car seats, cribs, nursery gliders, and other furniture is usually smaller than the stock of bottles or toys.
Shop smaller baby belongings later in Black Friday. Since they are on sale more frequent, and the money saved is also much smaller.