Babyletto Lolly Crib Review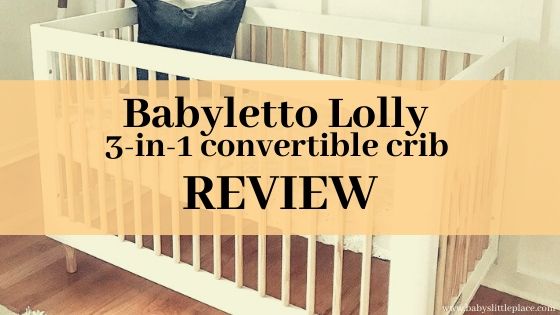 Babyletto Lolly 3-in-1 convertible crib review
Babyletto is a well-established crib manufacturer. It has a wide assortment of different cribs, but its offer of 3-in-1 convertible cribs is by far the most diverse.
Babyletto often includes round spindles in crib's designs. That gives them a modern, sleek European look, with a touch of retro style. And with such an appearance, convertibility, and elegant look, Lolly is one of Babyletto's most famous cribs.
But as you will see in our Babyletto Lolly crib review, the crib is much more than just a beautiful addition to your nursery. The most important feature is its safety. Babyletto Lolly 3-in-1 convertible crib is a safe crib, which meets and even exceeds all required safety standards. If you are interested in more, read our review and check up other features of this crib.
Babyletto Lolly Crib Review at a glance:
PROS:
it grows with your child
natural materials and non-toxic paint
modern design
a toddler safety guardrail is included in the price
adjustable mattress support 
perfect for short moms
safe
a sturdy crib
GREENGUARD Gold certified
CONS:
an initial smell of the paint (it airs out in few days)
it is not the cheapest crib you can buy
Lolly is a perfect crib for short moms
Babyletto Lolly is not a big and bulky crib! It is a low profile crib, but not because of lower rails, but because of the carefully designed minimalist frame. It doesn't have high legs, so the overall height of the crib is lower, which helps short moms while placing their sleeping baby over the rail into the crib.
---
Babyletto Lolly crib Review
Babyletto Lolly 3-in-1 convertible crib is a stylish well build crib, that will probably last for several years. As I already mentioned, Babyletto Lolly's rails are made with rounded spindles. The distance between them is smaller from the prescribed maximum, so your baby's body won't trape between them.
Spindles are on all four sides, which makes it open and airy. Because of such design, Lolly looks excellent either placed next to the wall or as a centerpiece of the nursery
Lolly's is quite similar to Hudson, which is Babyletto's best selling crib. What differs it from Hudson's design, is its contrast styling and playful accents, such as gently curved corners and tapered natural feet
The crib is made from sustainable New Zealand pine wood. All materials and finishes are Eco-friendly. The crib is available in four different color combinations:
black/washed natural
gray/washed natural
white/natural
navy blue/washed natural
Lolly has smaller color selection than most of Babyletto's 3-in-1 convertible cribs, but two tones allow you to combine the crib with more furniture.
If you like Babyletto furniture, the crib pairs with Babyletto Lolly 3 – drawer changer. Babyletto Madison Swivel Glider or Kiwi electronic recliner and swivel glider with USB port are also a beautiful and most important, comfortable addition to the overall look of the modern nursery.
Manufacturer: Babyletto
Model: Lolly
Type: 3-in-1 convertible crib
Style: clean modern design with rounded spindles
Material: natural New Zealand pine wood
Assembled dimensions: 53.625″ L x 30.25″ D x 35.25″ H
Assembled weight: 50 lbs
Color: black/washed natural, gray/washed natural, white/natural, and navy blue/washed natural
Babyletto Lolly's convertibility review
Lolly is a 3-in-1 convertible crib, so it is designed to go through different phases of your child's early years. 3-in-1 convertible cribs transit into two bigger beds. Lolly's conversions are toddler bed and daybed.
I like that you get everything in the package! Getting the toddler guard rail in the package is not the fact for all convertible crib! A big plus for Babyletto and its Lolly crib! 
If you won't decide for a Lolly, carefully read what is included in the price. Numbers in the cribs' names tell you the number of possible conversions, while you have to buy additional parts separately.
Babyletto Lolly's conversions are quick and easy. When your child outgrows the crib, replace the front rail with a toddler safety guardrail. When your child is old enough, you can also remove the guardrail, and convert the crib into a daybed if you want.
Convertible: yes
Number of conversions: 3
Conversion types: crib, toddler bed, daybed
Weight Capacity: toddler/daybed = 50lb
Safety Review
Safety is an important part of any crib review. Babyletto Lolly 3-in-1 convertible crib meets and even exceeds all safety standards. So if you already decided on the Lolly, you can be calm as it covers everything. But if you want another crib, this part of the Babyletto Lolly crib reviews could serve you as a safety guideline. You will know what to look for from a safety perspective when buying a new crib.
First of all, the crib doesn't have drop sides, so it is a safe and sturdy crib. Because of numerous injuries and death, the Consumer Product Safety Commission banned the sale of the cribs with a side that drops down. Don't use a drop-side crib!
The distance between slats must be less than 2 3/8 inches, and that is how it is with Babyletto Lolly 3-in-1 convertible crib.
The crib is finished in non-toxic multi-step staining and painting process, lead and phthalate safe. It is screened for 360 VOCs and over 10,000 chemicals and has the Greenguard gold certificate.
Lolly has passed all safety tests and meets all ASTM (American Society for Testing and Materials) international and US CPSC (Consumer Product Safety Commission) safety standards.
Mattress information
Lolly features four-level mattress support. You can adjust it to the 9″, 11″, 13″ and 15″ high (measured from floor to top of mattress support). For a newborn, you will probably use the highest mattress position, and then gradually lower it down. Just don't forget to lower it down as soon as your baby starts crawling and sitting on her own! 
The crib mattress sits on the metal spring support. You can use any standard size crib mattress, of any brand, but keep in mind that it should be at least 51,625″ x 27,25″ and no more than 6″ thick. As both standards size crib' and crib mattress's measurements are regulated by the government, so there shouldn't be problems with fitting.
… is a baby crib with the following measurements: 52 3⁄8 ± 5⁄8 inches in length by 28 ± 5⁄8 inches in width
… is a baby crib mattress with the following measurements: at least 27 1/4 inches by 51 5/8 inches and no more than 6 inches thick
You can find reviews of numerous baby crib mattresses on our site. Click HERE for crib mattress reviews.
Babyletto recommends using Pure Core non-toxic crib mattress in the Lolly. That is a lightweight, non-toxic mattress, made from the fully recyclable polyester core. 
It contains only the purest ingredients. It is free from polyurethane foam, vinyl, PVC, dyes, phthalates, PFCs, synthetic latex, and off-gassing materials. The mattress is also hypoallergenic, made with water repellent technology, which prevents the liquid from immediate absorption. 
---
Lolly vs. Hudson crib by Babyletto
Both models are pretty popular, and I can see why.
they are a perfect choice for any modern nursery, especially if you don't have a lot of space and still want a standard size crib
because of the space issues, they are a common choice for parents with twins
because of minimalist and sleek design, both cribs are great for short moms as well
as both cribs grow with your child
When comparing the Lolly vs. Hudson, the choice of which one is better is not such an easy decision. There is really not a lot of differences between them. Both cribs are a 3-in-1 convertible model, with almost identical dimensions.
The biggest difference is in the shape of their legs and the color choice, but the specifications are pretty much the same. Oh, and Hudson is $20 cheaper from Lolly.

RELATED ARTICLES:
---
Useful information about Babyletto Lolly 3-in-1 convertible crib
1. How long can your baby use Lolly as a crib?
Stop using Lolly as a crib when your child begins to climb or reaches 35 inches. It is time to transform the crib into a toddler bed and later to a daybed. The child can use the toddler bed and/or daybed until he reaches 50lbs
2. Is the crib portable?
No, it is not! Lolly doesn't stand on wheels, and it doesn't fold up either. It is not a heavy crib, but I would not move it around too much. It is not designed for that, and it can also scratch the floor.
If you want a portable crib on wheels and you love Babyletto, a full-size folding Maki might be perfect for you. There is not a lot of full-size folding cribs on the market, but among them, Babyletto Maki is the best!
RELATED ARTICLES:
3. Under-crib storage:
If you want to use the space efficiently, there is a 5.75 " distance between the floor and the bottom of the rail. You can use that space for smaller storage and organizing boxes. It is not a lot of space, but sometimes any additional space can be useful.
Just to let you know, Babyletto has a crib with under-crib storage as well. Babyletto Mercer is a great 3-in-1 convertible crib with an under-crib drawer.
READ ALSO: Best convertible cribs with under-crib drawer
4. Assembling:
The Babyletto Lolly 3-in-1 convertible crib is relatively easy to assemble. The instructions are clear with pictures, so you shouldn't have any problems. It is best to lay out all the hardware first and find out what is what. After that, the job should be easy. So far, parents didn't report any problems with assembling the crib.
---
What do we like about Babyletto Lolly 3-in-1 convertible crib
Eco-conscious modern design
European style, with rounded spindles and open design
it is a standard size crib, without the bulky frame
it grows with your child
the conversion kit (toddler rail) to transform the crib into a toddler bed is included
metal adjustable mattress support
it is a perfect crib for short moms
Down points and solutions
There were few complaints that the crib mattress didn't fit perfectly. I am not sure why, because cribs and crib mattresses dimensions are regulated by the government.
Babyletto specified exactly what kind of crib mattress fits into the Lolly. A standard size crib mattress, which shouldn't be less than 51,625″ L x 27,25″ D and no more than 6″ thick.
→ Babyletto Pure Core baby crib mattress is a perfect fit!
Another "problem" some parents have mention was the smell of the paint. Those parents who were bothered by the paint smell said it went away after a few days. You will probably buy the crib in advance. So if you notice any smell, it will go away before the baby arrives.
---
Babyletto Lolly crib reviews by parents
 Ratings from 306 parents:

We love our crib! Easy and quick to assemble, quite sturdy, but light-weight and doesn't take up huge amounts of visual space in our small nursery. Our standard crib mattress is a perfect, snug fit and I love that this will grow with our little boy.
Abigail
We are very pleased with this crib. I researched many cribs for some time and this collection has nice clean lines, a modern look, and superb materials. It was easy to construct and the shipping was fast! Highly recommend.
Alexandra
The crib looks great and was quick and easy to assemble. There were one or 2 holes that needed to be cleaned out due to either paint or wood shavings, but everything lined up nicely.
Jon
I searched for weeks reading all the reviews, safety ratings, etc. and I am very happy we found this crib. I ordered online, it arrived early, and my husband was able to put it together in less than an hour. You are not going to find a better looking modern crib at this price point.
Kim
---
THE VERDICT
Babyletto Lolly is a great 3-in-1 convertible crib. People often compare it with the Hudson.
I will be honest, if I need to choose the winner, it is the Hudson. Not because it is better from the Lolly, but just because I like its style a little more. Regards to the safety, functionality, and convertibility those two cribs are the same!
If you like Lolly's design, go for it! I think you won't be disappointed at all!
We found the best price for Babyletto Lolly 3-in-1 convertible crib on Amazon.
---
RELATED ARTICLES:
---
---