Last updated on January 23rd, 2023 at 12:28 pm
An affordable but sturdy, safe, and durable crib … sounds great. But is everything as described? Our Oxford Baby Harper 4-in-1 convertible crib review will give you all the answers you need.
Oxford Baby Harper 4-in-1 convertible crib
The Oxford Baby Harper 4-in-1 convertible crib can not compete with high-budget cribs, but it can and does very well with cribs in its price range! It is a nice-looking crib, with a good value for the price! More importantly, it meets and exceeds all required safety standards and can be the only bed your child will ever need. For the price you are paying, I think it is worth it.
PRODUCT HIGHLIGHTS:
it grows with your child
affordable price
part of a matching Harper nursery collection
3-position mattress height adjustment
Baby's Little Place Reviews
The Oxford Baby Harper 4-in-1 convertible crib is a relatively popular baby crib. It is one of the best-selling convertible cribs of big retailers, such as Walmart, so you can find many online reviews by people who already have it.
Most parents are pleased with the crib, but there are also negative reviews. So, what to believe? Although parents' opinions can be helpful, they can also be misleading. Why?
For example, if there is a negative review due to a missing toddler bed guardrail, it is irrelevant! Why? Because the parent who negatively reviewed Oxford Baby Harper 4-in-1 convertible crib didn't read the description well.
The Oxford Baby clearly stated that this is a convertible crib, but you have to buy a safety rail to convert it into a toddler bed. So, in this case, the Oxford Baby Harper crib shouldn't be rated negatively.
Now let's look at its lower ratings due to the crib's softwood construction which is liable to damage by dings and scratch. Some parents mentioned this issue; however, most didn't rate the crib very low. In the "design and specification section" of this Oxford Baby Harper 4-in-1 convertible crib review, find the reason why.
Baby's Little Place tip: Parent reviews will give you helpful information, but do not consider only the reviews' stars. Read why they've rated it so, and thoroughly think about it.
Oxford Baby Harper 4-in-1 convertible crib review
PROS:
open slat silhouette provides a light and airy design
grows with your child
easy conversions
sturdy
non-toxic finishes
exceed all safety standards set by the CPSC
featuring GreenGuard® GOLD Certification
3-position mattress height adjustment
perfect for short moms
takes any standard size crib mattress
available matching nursery furniture
CONS:
more easily dinged and scratched
few visible slots from bolts
toddler bed safety rail sold separately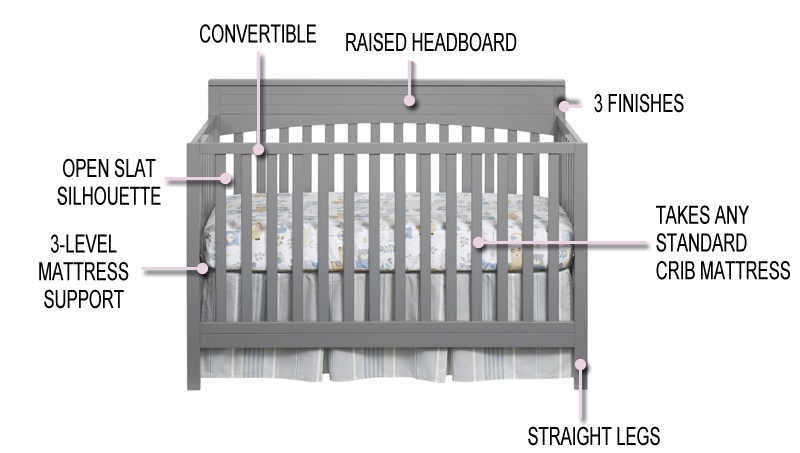 Design and Specifications
The Oxford Baby Harper is a traditional but modern-looking crib. I like its classic open slat silhouette that makes the crib airy and enables seeing your baby from any angle of the room. Streight modern lines with a bit of curved contrast on the headboard are certainly a winning combination.
Weighing just 33 pounds, the Harper ranks among lightweight but sturdy cribs! I like its square feet, which add to its stable construction and prevent wobbling.
Another great thing about this crib is its raised, carefully designed headboard. It has an open silhouette with a closed top, so you can place it next to the wall or in the middle of the room. I think it looks great in both cases.
A raised headboard has another benefit. It provides a better-looking Harper when converted into a full-size bed.
Overall it is a nice-looking crib. Yes, there are some visible holes where the bolts go together, but this is a minor cosmetic issue, and I guess you can find caps to hide them if they bother you.
Oxford Baby Harper crib's specifications: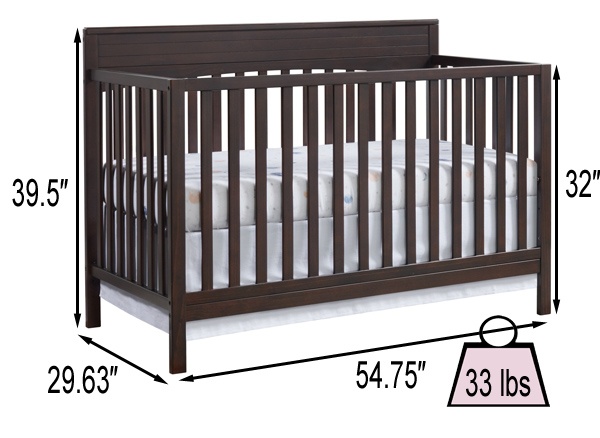 MANUFACTURER: Oxford Baby
MODEL: Harper
TYPE: 4-in-1 convertible crib
STYLE: traditional, modern
MATERIAL: pine wood
COLOR: Brown, Dove Gray, Snow White
ASSEMBLED DIMENSIONS: 54.75″ L x 29.63″ W x 39.50″ H
ASSEMBLED WEIGHT: 33 lbs
FRONT PANEL TOP to FLOR: 32″
Is Oxford Baby Harper 4-in-1 convertible crib suitable for short moms?
Another thing I want to point out is the Oxford Baby Harper's height. The stated height (39.5″) of the crib is the height of the Harper's headboard. The front panel and sides are about 32 inches in height, making the crib suitable for short moms.
Why is a softwood not a dealbreaker?
The Oxford Baby Harper 4-in-1 convertible crib is made of Pine Wood. That is an inexpensive but sturdy wood, a rare but perfect combination for affordable baby cribs.
Softwood does not compromise the safety and sturdiness of a crib! However, it is more easily dinged, nicked, or scratched, and the Oxford Baby Harper crib is not an exception.
However, you can prevent most damages with proper care and caution in assembly. But to avoid it altogether, you will have to decide on a super high-end crib (at least $500 and up) made of hardwoods.
So, since this is common to all low and middle-priced cribs, I wouldn't say it is a dealbreaker!
RELATED: Best convertible cribs in 2023
Oxford Baby Harper convertibility Review
The Oxford Baby Harper 4-in-1 convertible crib adapts and grows with your child from infancy to toddlerhood and into teen years.
It can convert into three beds; Toddler Bed, Daybed, and Full-Size adult bed, but you will get only parts for the conversion into a Daybed with the crib.
Conversion kits for the other two beds are sold separately, meaning you will have to buy a Harper Guard Rail for a toddler bed and a Harper Full Bed Conversion Kit for an adult bed.
Since this is common practice with all crib brands, I do not consider it negatively. Harper's guard rail is also cheaper than most other guard rails on the market. You will get it for only $49.99, making the overall price just about $200.
Although tracking down the Oxford Baby conversion kits is not hard, and they are in stock most of the time, I recommend you buy a toddler bed safety rail now, just in case it becomes unavailable later.
Oxford Baby Harper crib's convertibility:
Harper Collection
This crib is a part of an Oxford Baby Harper collection. You can buy a matching changing table, drawer dresser, or even opt for a Harper combo crib.
The combo crib is a crib with an attached changing table. Such a crib is a perfect choice for those who can't fit a stand-alone crib and changing table in the room.
A combo crib costs more, but you get a convertible crib, changing station, and storage units combined in one piece of space-saving furniture.
The Harper combo crib's conversions are the same as those on the regular Oxford Baby Harper 4-in-1 convertible crib. Its changer stays attached to a toddler bed and daybed and detaches in the last conversion into a full-size bed.
The Harper combo crib has a quality-made changing station, with one shelf, one spacious storage drawer, and a changing area on top. A fitting changing pad is included in the purchase.
Safety Review
The Harper crib undergoes rigorous testing to exceed all Federal Safety Standard! Its meets all applicable safety standards set by the ASTM (American Society for Testing and Materials) and CPSC (Consumer Product Safety Commission).
Crib's finishes are lead-free, formaldehyde-free, and non-toxic.
Their Customer Service, which is very responsive and helpful, reassured me safety is their #1 priority, and I believe them. They even employ a 3rd party laboratory to test finishes to ensure that they are the safest on the market.
The Oxford Baby Harper crib is also GreenGuard® GOLD-certified, meaning it doesn't pollute the indoor air!
Oxford Baby Harper's safety specifications:
MEETS: all applicable ASTM and CPSC standards
CERTIFICATIONS: GreenGuard® GOLD
NON-TOXIC FINISHES: yes
LEAD AND PHTHALATE FREE: yes
CONSTRUCTION: sturdy and strong, doesn't wobble
DROPPING SIDES: no (such sides are banned since 2011!)
As from our research, they follow their promise, which is a big plus for the brand!
Oxford Baby Harper 4-in-1 convertible crib mattress information
It has a strong metal spring support, adjustable to three different heights. That's perfectly enough to adapt to your growing child and helps you to reach your baby more easily. You can start with the highest setting for a newborn and gradually lower it down with the baby's growth.
The mattress height levels are approximately 7″, 11″, and 15″, measured from the floor to the spring frame.
The mattress is not included in the purchase, but you shouldn't have problems finding one. The Harper is a full-size crib whose interior dimensions are standardized to fit any standard-size crib or toddler bed mattress. You have numerous options to choose from, but make sure the chosen mattress is no more than 6″ thick.
Oxford Baby Harper crib mattress information:
MATTRESS SUPPORT: metal spring support
ADJUSTABLE MATTRESS HEIGHT: 3-position mattress height adjustment
---
Oxford Baby Harper 4-in-1 convertible crib
Frequently asked questions
---
---