Last updated on January 23rd, 2023 at 04:44 pm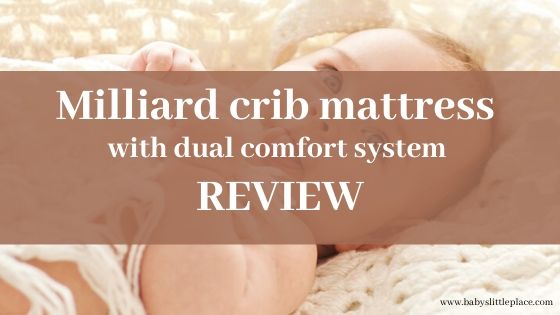 Milliard crib mattress with a flip technology Review
Baby's sleep is essential for her development! That's why it's picking a proper crib mattress, one of the first and most important tasks of young parents!
A crib mattress must be firm and fits snuggly into the crib to be safe for a baby. The Milliard crib mattress with a flip technology meets these requirements! But Milliard is a dual-sided crib mattress, with two different sides. So, there are more features you have to consider, and we've reviewed them all.
Here is a quick overview of our Milliard dual-sided crib review, but you can also find out in-depth information below.
---
Milliard dual-sided crib mattress review at a glance:
PROS:
it grows with your child
a perfect choice for convertible cribs
a perfect fit for standard cribs and toddler beds
a safe choice for newborns
a firm side for infants
comfortable sleeping space for toddlers
maintains a good toddler's body posture
perfect breathability
100% natural cotton cover
waterproof and hypoallergenic
CONS:
higher price
we have noticed a mild smell on the first day when we unpacked the mattress
---
Why is a dual-sided crib mattress an excellent choice?
Most parents decide on a convertible crib, so a crib that grows with their baby. The most common conversions of these cribs are a toddler bed and daybed, which both take up the mattress of the same size as a crib. So, the mattress that grows with the crib is a perfect solution for them.
And a Milliard crib mattress with a flip technology does precisely that. I think such mattresses are an excellent option for those with a convertible crib! Not only, that it offers everything for the baby and toddler, but it is also a cheaper alternative!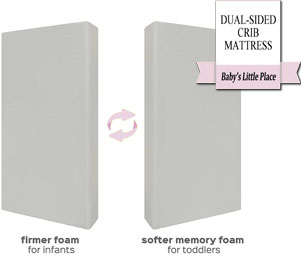 Of course, dual-sided crib mattresses are not growing in size. The trick is in their flip design! While newborns and young babies need a firmer sleeping surface, toddlers prefer a soft and cozy sleeping space, and a dual-sided crib mattress, such as Milliard, offers both! It has a firm side for the baby and a soft side for the toddler!
Milliard crib mattress with flip technology offers the safeness for infants and comfortability for toddlers.
I've done this review because I was curious if the Millard crib mattress with a flip technology really offers everything it promises. Its dual comfort sleeping system must be flawless to make it worth the money! But other features must correspond to my expectations too!
Is a dual-comfort crib mattress, the best Milliard's product?
Although Milliard successfully sells other baby crib mattresses, like Milliard crib mattress and toddler bed mattress, or Milliard memory foam crib mattress, I would personally decide on this one.
Why?
Because it is the only Milliard's baby crib mattress with two different sides. It has the best quality amongst them, and the ability to use it until the transition into an adult bed gives this crib mattress a really good value for the price.
---
Milliard dual-sided crib mattress specifications: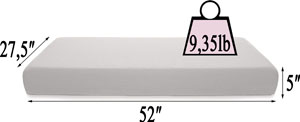 Mattress size: 52″ long by 27,5″ wide
The thickness of the mattress: 5″
Mattress weight: 9,35 pounds
Age and weight limits:
In theory, you can flip the mattress after your child starts to roll over and push up by himself, but I wouldn't do it at least until he stands up. Not because of safety reasons, but because the firmer surface provides better support for your baby.
There are no weight or age limits for this Milliard's baby crib mattress. Your child can use it until he outgrows the toddler bed.
Structure:
washable cotton cover + leak-free waterproof lining
woven, natural non-toxic fire barrier
soft memory foam: older babies and toddlers love the plushness of the memory foam
firmer foam: perfect for newborns and infants
---
Milliard dual-firmness crib mattress review's breakdown
According to Milliard, this baby crib mattress should have all the following features:
quality flip technology
it has the right firmness for babies and toddlers
it fits into all standard size cribs
it has good breathability
it is a durable mattress
it has a quality cover
it is waterproof and hypoallergenic
Flip technology review
Milliard's crib mattress is composed of two different layers, combined into one crib mattress. Those layers differ in firmness, one for the baby, and one for the toddler. When your baby outgrows the crib, convert the crib, and flip the mattress. Now you have a perfect toddler bed for your little one!
The firmness of regular baby mattresses is meant solely for babies or only for toddlers. That doesn't mean your toddler can't sleep on a firm baby crib mattress. A firm sleeping surface is perfectly fine from a safety perspective, but a toddler may be uncomfortable.
That usually happens if the child frequently sleeps on the parent's bed. Of course, he gets used to the softer mattress soon!
While toddlers can sleep on a baby crib mattress perfectly fine, never use a soft mattress for newborns and young babies!
Having two sides of different firmness is a huge benefit for dual-sided mattresses. But that is not enough! Both of them must be quality and safe in all stages!
The infant's side must be as firm as mattresses made only for babies! And the same goes for the other side. It must be safe and provide the same comfort as mattresses that are made exclusively for toddlers.
Milliard dual-comforts crib mattress offers a perfect transition from a crib to a toddler bed. Both layers meet all safety and quality expectations! Each of them can easily compete with the best one-sided crib or toddler mattresses.
While a foam layer on the infant side is extra firm, super supportive, and safe, is the toddler side made from memory foam, which adds the comfort all toddlers want.
Which Milliard's side is the best in a certain period?
The mattress's core is wrapped in the cover, which is waterproof only on one side. Such cover provides sufficient air circulation through the mattress, so that's not bad at all! I'm just not sure why the mattress comes with a toddler's side up. You will need it for the baby first, so it would be logical that a firmer side is facing up first.
Anyway, the flipping is quick and easy, so it is not such a big deal. Remove the cover, flip the mattress with firmer side facing up, and place the cover back on the mattress.
Make sure you always set the crib mattress on the right side!
Some parents are worried they won't distinguish between two sides of the mattress. I don't think you should worry about that!
The infant side is much firmer on the touch. But if you are not sure, unzip the cover and squeeze both sides of the mattress. The side that leaves an indention longer is the memory foam on the toddler side. The side that feels firmer and springs back right away is the infant side.
---
Review of Milliard's features
Firmness and support:
We have done a simple home firmness test, which you can do too. Press on the mattress with one hand and observe what will happen. If it holds firm, and springs back quickly, it is firm enough.
The infant side springs back immediately, while on the toddler side we saw an impression. That is how it should be!
Fitting in the crib:
Milliard is a standard size crib mattress. Measurements of standard size cribs and crib mattresses are set by the government, so all new models must correspond to them.
However, if you have an old crib, make sure the mattress fits into it perfectly. You can make a home fitting test. Place two fingers between the crib' frame and mattress's edge. It shouldn't be more than two fingers space there.
We have tested Milliard crib mattress with a dual firmness sleeping system in Babyletto Hudson and portable full-size Maki, where it fitted perfectly.
Breathability and heat regulation:
It doesn't have venting holes, but that is how it should be, as foam mattresses don't need them. As the foam core provides good ventilation, additional venting holes are needless.
However, for good air circulation and heat regulation, the mattress's cover must be breathable too. As I already said, the cover is waterproof only from one side, so it does provide sufficient ventilation.
Sufficient breathability increases the comfort and provides an excellent heat regulation, so your baby won't sweat during sleeping.
Milliard crib mattress has good breathability, but at this point, I want to mention another baby crib mattress, which is extremely breathable. Newton Wovenaire baby crib mattress is the only 100% breathable crib mattress on the market. If the newborn somehow rolls over, he can breathe right through the mattress!
Comfort:
The infant side is firm and probably doesn't feel comfortable to you. But I can assure you, that your newborn won't miss the soft sleeping surface. Because it decreases the risk of SIDS (Sudden infant death syndrome), that is how it should be!
The toddler's side of the mattress is super comfortable and soft because of the specially designed memory foam. The memory foam is soft, but still with proper support for a perfect posture in your toddler's back and neck.
Bounce:
The Milliard dual comfort crib mattress is not bouncy at all. Your toddler can't use it as a trampoline, like innerspring mattresses. It has just enough bounce for comfortable sleep, and that is how it should be.
Is the Milliard crib mattress with flip technology hypoallergenic?
Milliard's dual-sided mattress is naturally hypoallergenic, antimicrobial and resistant to allergens. It is an ideal choice for children who might suffer from allergies and asthma.
The waterproof cover is non-porous, so it keeps unwanted allergens, bacteria, dust mites, and mold from permeating the mattress.
Durability:
We couldn't test it for a longer period of time, but we had asked numerous parents how well it performed. They claim it is very durable. It doesn't lose shape, sag, or becomes too soft over time.
Is the Milliard crib mattress's cover waterproof?
Yes, it is! And let me tell you that we saw many poorly made waterproof covers during our baby crib mattress reviews. I am happy that this is not the case here!
The cover is manufactured from pure 100% natural cotton. It is multi-functional, with a soft quilted cotton face, and a vinyl-free waterproof backing to protect the mattress against accidents.
The inner side of the cover has an anti-slip layer which keeps it in the place.
If you experience problems placing it back on the mattress, that shouldn't bother you. It's actually great that it fits snugly, as that reduces wrinkles and bouncing during the sleep.
Cleaning
After mild accidents, you can just wipe it with a damp cloth, but you can wash it in the washing machine too. We have tried, and it stayed undamaged and water-resistant.
---
Safety
It meets or even exceeds all required safety standards. It has a CertiPUR-US certificate which ensures all foam has been made without ozone depletes, mercury, lead, and other heavy metals. It tells you that the foam in the mattress is safe and of high quality.
Milliard dual-sided crib mattress is a safe choice for newborns, babies, and toddlers. Just make sure you always use it on the right side!
Natural fiberglass lining inside the mattress's cover also meets all fire safety standards without using chemicals for safety in its purest form.
It also fits perfectly into standard size cribs, toddler beds, and daybeds, so there is no gap between the frame and edge of the mattress. But make a home fitting test if you use an older crib!
---
The verdict
Yes, Milliard crib mattress with a dual firmness sleeping system costs few bucks more than other Milliard's baby crib mattresses. However, it certainly not belongs to the most expensive dual-sided baby crib mattresses on the market.
It can be the only mattress before the transition into an adult bed, so I think it has a really good value for the money you pay.
I think it is worth the money! And not just because of the convertibility, but because it is a quality, safe, comfortable, and durable choice!
Check up the latest Milliard dual-sided crib mattress's price on Amazon!
---