Milliard Memory Foam Crib Mattress Review

Milliard Memory Foam Crib Mattress Review
Milliard memory foam crib mattress is a quality and affordable choice, which cost little more than the most selling Miliard's crib and toddler bed mattress. If you need a mattress for older baby or toddler, you won't find a better model, with such great quality for the same price. But, we do not recommend it for newborns. Although it can be used for them too, we have some concerns, so please read our Milliard memory foam crib mattress review before your final decision.
If you need a crib mattress for a newborn, these are great choices:
THE GOOD:
durability
good support
meets all industry standards
affordable
comfortable crib mattress
removable and machine washable cover
hypoallergenic
fits all regular size cribs
THE BAD:
little too soft for babies under 6 months of age
Milliard memory foam crib mattress is made from a firmer foam base, which is topped with a layer of quality memory foam. Such a structure combines durability, comfort, and support for less sleepless nights. A better night for your baby is a better night for you!
Is Milliard memory foam crib mattress better choice for infants or toddlers?
First of all, this is not a dual-sided crib mattress, so both sides have equal firmness. Milliard's description of this mattress is might a little unclear. Milliard claims it is for babies, so it is fair to expect it is for newborns as well.
Milliard memory foam crib mattress is situated in the middle firmness range. Although infants don't weight a lot, and will probably start dipping into memory foam when they grow older, we recommend this mattress for older babies and especially toddlers.
On Baby's Little Place we always put safety at first, so we would not use Milliard memory foam crib mattress for babies under six months.
But don't get me wrong, the quality of the memory foam is unquestionable. It is just better not to use it for newborns. Toddlers and older babies sleep very well, comfortable and the most important safe on this mattress!
The structure of the Milliard memory foam crib mattress
The mattress is constructed of a firm foam base and topped with a layer of softer high-quality memory foam. The foam is surrounded with a removable waterproof cover.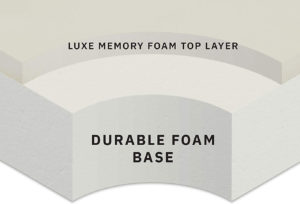 All foam used for this mattress is hypoallergenic, and CertiPUR certified. You can read what CertiPUR certificate means below, in the safety section of our review.
While the naturally hypoallergenic foam resists allergens and bacteria, the waterproof cover prevents entry of dust mites and reduce the risk of building the mold.
The cover is made from bamboo. It is plushy and incredibly soft. It doesn't have a plastic feel, so it doesn't leave an irritating crackly sound when your child is moving.
Our review of other significant Milliard's memory foam crib mattress features
According to Milliard, this baby mattress should have all the following features. To see if that is the truth, and to see how well they perform, we have reviewed them all!
it can be used for babies and toddlers
it has a memory foam with firm support
it fits into all standard size cribs and toddler beds
it has a removable, machine washable cover
it is hypoallergenic and waterproof
it meets or even exceeds all safety standards set by the government
it has a good breathability
it is lightweight
I already wrote about a few things we had reviewed, so let's look at the remaining features:
>>> Parents reviews on Amazon<<<
Safety of Milliard Memory Foam Crib Mattress
Milliard memory foam crib mattress is a safe choice for older babies and toddlers. It meets and even exceed all required safety standards and has a CertiPUR-US certificate.
This certificate ensures the foam's safeness and high quality. Foam has been made without ozone depletes, mercury, lead, and other heavy metals.
Natural fiberglass lining inside the mattress encasement also meet all fire safety standards without using chemicals for safety in its purest form.
The mattress fits perfectly into standard size cribs and toddler beds, so there are no issues as well. Just make sure your crib's measurements meet required safety standards if you use an older crib model. All new cribs do meet them!
The verdict
Milliard memory foam crib mattress is a comfortable and safe choice for infants older than six months. The quality of its foam is excellent. And we love the fact it is made without any harmful substances.
Another great thing about this baby mattress is its cover. Milliard memory foam crib mattress doesn't cost a lot. Many mattresses in the same price range have covers of poor quality, but not this one!
The mattress is durable, with proper support, and fits perfectly into standard size cribs.
We highly recommend it for toddlers and babies older than 6 months!
>> Click here to see the best offer on Amazon. <<<
CRIB MATTRESS REVIEWS:
Foam baby crib mattresses:
Innerspring baby crib mattresses:
Hello!
I am the founder of Baby's Little Place. I'm a mom to the one-year-old daughter and I know how overwhelming could be when you are looking things and tips for a new baby, especially if you are a first-time parent. That's why I set up this site…because I want to do something I am passionate about, as well as I want to help new parents and parents to be.
I hope you enjoyed reading my article! If you have any question or comment, please leave them down below. I will be happy discuss it with you!
Have a wonderful day!
---
---