Last updated on January 23rd, 2023 at 12:35 pm
A newly released mini version of DaVinci Colby convertible crib has soon become extremely popular among those with space issues.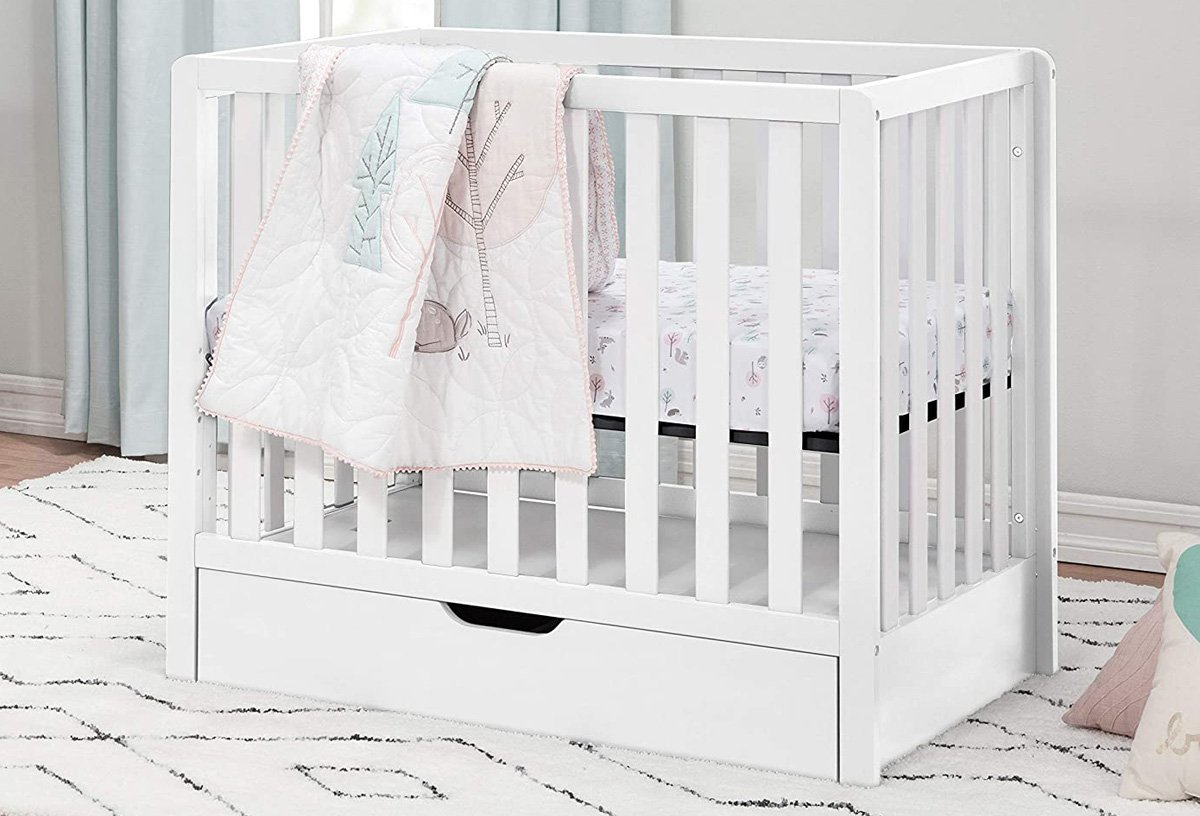 Carter's by DaVinci Colby 4-in-1 Convertible Mini Crib
Baby's Little Place Reviews
Let me tell you a secret. According to parents, this is the #1 crib among newly released cribs. Without a doubt, it is an ultimate solution for those whit space issues. But what about its quality, safety, and durability? You will find out soon, as our Carter's by DaVinci Colby 4-in-1 mini convertible crib review covers everything you need to know before you make the final decision.
What we like & what could be better: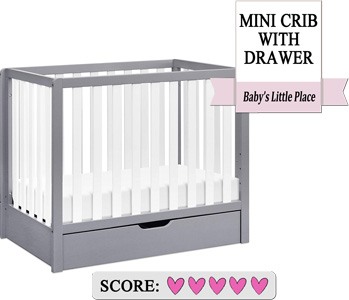 PROS:
a compact mini crib
it grows with your child
optional toddler bed safety guardrail
additional storage space
four-level mattress support
takes up any standard mini crib mattress
small footprint
durable crib
exceeds all safety standards
CONS:
extra costs for a toddler bed safety guardrail
lack of color selection
---
Carter's by DaVinci Colby 4-in-1 convertible mini crib Review
DaVinci Colby 4-in-1 convertible crib is the newest addition to a modern DaVinci's Colby collection. It is a trendy mini baby crib, which combines clean lines, excellent quality, and multi-functional design.
Carter's by DaVinci Colby we are reviewing here is a mini crib, but it's available as a full-size crib too. They are pretty much the same, wherein this one is just a more compact and space-efficient version of a popular standard-sized Colby 4-in-1 convertible crib with a trundle drawer.

Its space-efficient design is a perfect choice for a small nursery, twin nursery, parents' bedroom, or grandparents' house. A mini DaVinci Colby is also a sturdier and more long-term alternative for a baby bassinet, with a storage unit underneath.
As you can see, it is a mini crib with great potential, so let's see how well it performs in reality.
---
Space-saving properties
DaVinci Colby is a mini crib with clean lines and a small footprint. It is 40.6″ long and 25.6″ wide, so it won't take up much space in your home.
I like its minimalist frame, without bulky accessories. The mini crib's main purpose is saving as much space as possible, while still providing enough room for comfortable sleep until the toddler's age. DaVinci Colby does this as much as a mini crib can.
DaVinci Colby is not just a crib for small nurseries, but it is also a perfect alternative for a baby bassinet. Think about it, while it costs the same as quality bassinets, it lasts much longer. Your child can use the Colby until teenage. And a bassinet? Baby bassinets are useful only until the baby's 6 months or even less.
The crib is known as the safest sleeping space for a newborn, it is more stable from the bassinet, and way more stylish than a Pack 'N Play.
And what makes Carter's by DaVinci Colby 4-in-1 convertible mini crib better from similar models?
An under crib trundle drawer, of course. Most parents decide on a mini crib because of space issues, so they find it very handy.
DaVinci Colby uses otherwise unutilized space under the crib, which greatly increases the amount of storage space in a small nursery.
| | |
| --- | --- |
| Assembled Dimensions | 40.6″ x 25.6″ |
| Fron rail's height | 34.6″ |
| Assembled Weight | 54 lbs* |
| Space-saving score | |
*Carter's by DaVinci Colby weights more than most mini cribs, which is expected because of its trundle drawer underneath.
If you need a mini crib for co-sleeping, and you prefer a lighter type, think about a mini portable crib. These cribs are lighter, stand on wheels, and even fold down for storage.
---
DaVinci's Colby trundle drawer review
More and more families live in city centers, where they are limited by space. Therefore, the demand for full-size crib alternatives grows each year.
Manufacturers try to accommodate their crib collections as much as they can, so the mini crib assortment grows year after year. But I do not understand why no one else remembers placing a trundle drawer under the mini crib.
I'm so glad that DaVinci has done it because they did a great job!
If they thought that the space under the mini crib is too small, DaVinci proved them wrong. Yes, Colby's trundle drawer is not as big as those under full-size convertible cribs, but yet spacious enough to store quite a lot of baby's essentials.
Not only that, but it's also divided into two equal parts for a better organization. I found this very useful, and I think you would agree.
What I really like about DaVinci Colby's under-crib drawer is the bord between the drawer and the mattress support. It prevents seeing into the drawer when the mattress is set higher. Not only that, but it also prevents dust accumulation!
The bottom panel on DaVinci Colby mini convertible crib's drawer prevents the drawer's content exposure vs. the crib without the drawer's cover board, where you can see clearly into the drawer.
I have reviewed many standard size cribs with under-crib drawers, where the lack of such cover reduced their overall value. Thumbs up for the DaVinci Colby mini convertible crib's drawer design!
---
A mini crib that grows with your child
Deciding on a convertible crib saves you the hassle of buying multiple beds as your little one grows, not to mention the money you save! Carter's by DaVinci Colby is a well built mini crib, which withstands even the most active babies and toddlers and lasts through your child's teen years.
It is a 4-in-1 convertible crib, which converts into a mini toddler bed, daybed, and twin-size bed. I think Carter's conversions are easy. The provided instructions are easy to follow, and the overall process shouldn't take you a lot of time.
MINI TODDLER BED:
Another great thing I love about the Colby mini crib is the optional toddler bed safety guardrail. Yes, you have to buy it separately, but I can't imagine how my toddler would stay on her bed without it. Most mini convertible cribs don't even convert into a toddler bed, so that's a significant benefit for the DaVinci Colby mini crib.
As far as the trundle drawer under the crib, it stays there until the last conversion into a twin bed, which I also find very useful.
DAYBED & TWIN-SIZE BED:
While conversion into a daybed doesn't need any additional purchases, you will have to spend some extra money on the twin-size bed.
That's the same for all convertible crib that transit into an adult bed, so I can't say it is a DaVinci Colby's disadvantage comparing to other brands. Anyway, the last conversion requires a twin-size conversion kit and a twin-size mattress.
What you need for the DaVinci Colby's conversions:
If you decide on the conversion into a toddler bed, buy DaVinci's mini toddler bed conversion kit with product number #M20399.
For a twin-size bed, you need DaVinci's twin conversion kit with product number M5789.
---
DaVinci Colby 4-in-1 mini convertible crib meets all safety standards!
Not only that the crib meets them, but even exceeds them! DaVinci Colby mini convertible crib is finished in a non-toxic multi-step painting process. It is lead and phthalate safe and exceeds all ASTM International and U.S. CPSC safety standards.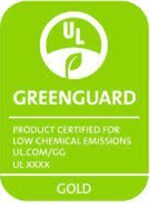 DaVinci is also one of the very few brands that offer GREENGUARD Gold certification. The certification ensures that the Colby mini crib has been tested for over 10,000 chemicals and passes the most stringent emission standards. As such, it contributes to cleaner indoor air and creates a healthier environment for your baby.
---
What size mattress fits into the Carter's by DaVinci Colby 4-in-1 mini convertible crib?
DaVinci Colby is a mini crib. Unlike standard crib's size, are mini crib's dimensions not regulated by the government. Due to these regulations, is any crib, even if only slightly smaller, from a full-size crib classified as a mini crib.
The reason I am telling you this is to let you know that mini cribs come in various sizes. So far, so good. Just pick the size that suits your needs the most, and you are done. Unfortunately, it's not as easy as it looks, because the problem arises in finding a suitable crib mattress.
The most important features of a safe baby crib mattress are a perfect fit and firmness! However, manufacturers cannot cover thousands of different mini crib mattress sizes, so they stick to non-official standards. Most mini crib mattresses fit into mini cribs with inner dimensions around 38″ by 24″.
Nobody wants to buy an expensive custom made mini crib mattress if there are numerous excellent options for an affordable price. So, choosing a mini crib with a proper inner measurement is the best decision you can make.
Luckily, DaVinci took all this into account! Any standard size mini crib mattress fits into DaVinci Colby mini convertible crib, which is great. You even get a 1″ waterproof mattress pad with the crib! Although that's great for occasional sleepovers at the grandparents' house, I do not recommend using it every day.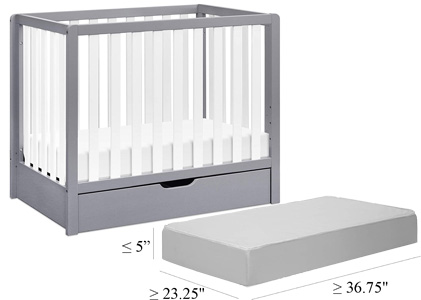 Of course, DaVinci recommends its line of mini crib mattresses. DaVinci's mini crib mattresses are quality, affordable, and a perfect fit. They are certainly worth your consideration, but it is nice to know that you have more options.
If you decide on a mini crib mattress from other manufacturers, pick the one that is at least 36.75″ long by 23.25″ wide and not more than 5″ thick.
Mattress support:
Carter's by Davinci Colby mini convertible crib features four-level mattress support. You can start with the highest setting for a newborn, and gradually lower it as your child grows.
The mattress is placed on an MDF mattress support board. Yes, wooden bars or metal support tend to be better, but the one on the DaVinci Colby is typical for mini cribs, so we didn't give it fewer points in our review.
---
The verdict
If you are facing space issues, is the DaVinci Colby 4-in-1 mini convertible crib one of the best options for you! It is a modern and sturdy mini crib that exceeds all safety standards. Having extra storage space is an excellent addition to any nursery! And the best part? The crib grows with your child!
Carter's by DaVinci Colby 4-in-1 mini convertible crib achieved one of the better results among all the cribs we have reviewed so far! We love it!