The DaVinci Kalani 4-in-1 convertible mini crib promises a great deal for those who like a full-size Kalani but can't fit a big crib into their home. Parents who already have the small Kalani crib deliver mostly positive reviews. To see if it really retained the quality and functionality of a full-size crib, we've made our own DaVinci Kalani 4-in-1 convertible mini crib review too.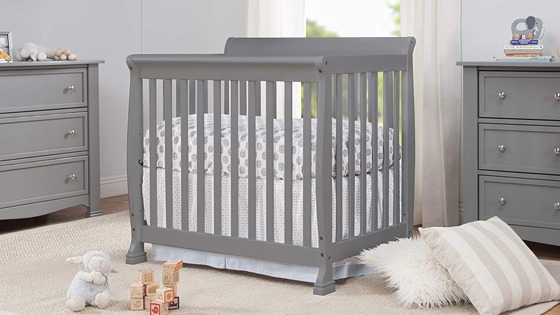 DaVinci Kalani 4-in-1 Convertible Mini Crib
Baby's Little Place Reviews
The DaVinci Kalani has been on the market for quite some time. But, can such a crib still compete with numerous new modern models in 2023? Yes, it can!
Not only that, Kalani's timeless designs and excellent functionality make it one of the best-selling cribs for the last few years. Sometimes traditional overcomes the new and trendy, and the DaVinci Kalani 4-in-1 mini convertible crib is a perfect example.
We've reviewed its space-saving efficiency, convertibility, design, safety, and overall functionality. Of course, we could not avoid comparison with full-size DaVinci Kalani, but we are aware that the purpose of small cribs is space-saving, which cannot be compared to standard-size cribs.
To evaluate this feature and overall functionality, we've compared the DaVinci Kalani 4-in-1 convertible mini crib to other mini cribs on the market.
---
DaVinci Kalani 4-in-1 convertible mini crib at a glance: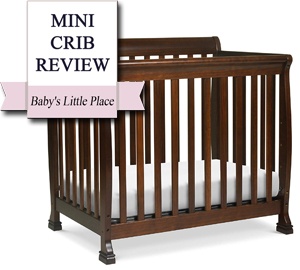 PROS:
grows with your child, from a newborn, throughout toddlers age, and into adolescence
traditional design
decent color selection
durable and sturdy mini crib
adjustable mattress support
included 1″ waterproof mattress pad
good choice for short moms
space-saving crib
CONS:
toddler bed safety guardrail is not included in the price
---
DaVinci Kalani 4-in-1 convertible mini crib review's breakdown
The DaVinci Kalani 4-in-1 convertible mini crib is an elegant crib with a classic and timeless design. Actually, it is an exact copy of a full-size Kalani, just in smaller dimensions. It mirrors its soft, subtle curves, which makes it more luxurious. However, at the expense of these curves, it takes up a little more space than some mini cribs with perfectly straight lines.
The mini crib comes in a flat box, which is about 40,5 inches long, 38 inches wide, and 7 inches in height. Assembly instructions are relatively easy to follow. All you need is a screwdriver and someone to help you. Well, you can do it by yourself, but it will take you more time.
DaVinci Kalani mini crib is available in a decent color selection. You can choose between Chesnut, Ebony, Gray, Espresso, and White. So in all the classic colors, which allows you to match it with a variety of home furniture. Or you can add a finishing touch to your nursery with other Kalani's timeless furniture.
Space-saving properties
The DaVinci Kalani mini convertible crib is an excellent choice for those who are limited by space. It's perfect for urban lofts, small apartments, mini nurseries, nursery nooks, or parents' bedroom. But for those who will use it only occasionally (grandparents, caregivers), I suggest a mini portable crib, which folds down for simple storage when it is not in use.
The inner size of mini cribs is not determined by law, like the internal size of full-size cribs. Meaning any crib, which is slightly smaller than a full-size crib, is a mini model.
What I want to say is … in theory, the mini crib can be almost as big as a full-size model. However, most mini cribs meet the unofficial US standard, which defines mini models as cribs with inner dimensions around 38 ″ (96.52cm) by 24 ″ (60.96cm). 
I recommend you choose a model with such dimensions. First of all, it fulfills their primary purpose, which is saving space. And second, most mine crib mattresses correspond to those measurements, which gives you a much broader selection.
In terms of internal dimensions, the DaVinci Kalani 4-in-1 mini crib fits perfectly into this category. However, as I said before, it does have a curvy frame, so it takes a little more space, compared to mini cribs with a minimalistic, sleek design, such as DaVinci Colby mini crib or Babyletto Gelato 4-in-1 convertible mini crib. I am talking about an inch or two, but sometimes even an inch counts.
DaVinci Kalani 4-in-1 mini crib's Specifications:
Assembled Dimensions: 40.00″ long x 28.75″ wide x 38.25″ high (35,125" hight of the front rail)
Assembled Weight: 37 lbs
Interior Crib Measurements: 37.625″ long x 23.5″ wide
---
Convertibility Review
DaVinci Kalani mini crib is a 4-in-1 convertible model, meaning it can convert into three other beds. The crib converts into a toddler bed, daybed, and twin-size bed.
Keep in mind this is a mini crib, so the toddler bed' and daybed' lengths are also shorter. Because of their shorter length, toddlers outgrow these two conversions pretty fast and are, in my opinion, not very useful. The same applies to any mini convertible crib, so I do not consider it as a disadvantage compared to other small cribs.
Anyway, conversions are easy and shouldn't take you a lot of time. A daybed conversion is included in the price, giving you the option for the transition without additional costs. Remove the front rail and place the mattress into the lowest position, and you have a cute mini Kalani daybed.
The mini Kalani also easily converts to a mini toddler bed and twin-size bed, but you need to purchase a mini toddler conversion kit or twin-size conversion kit.
Given that it's a mini crib, think twice if it is worth buying a toddler bed safety guardrail. Other than that, I do not have any complaints.

Stop using DaVinci Kalani as a crib when your child begins to climb or reaches 35 inches.
Weight capacity for a Twin Bed is 500 lbs.
---
Safety
The DaVinci Kalani is a stable mini crib, which doesn't wobble, and is built to last beyond toddlers' age. The top of DaVinci's priority is children's safety. Their cribs are quality-made and surpass national safety standards.
Of course, all this applies to the DaVinci Kalani 4-in-1 convertible mini crib too. The crib went through rigorous testing to exceed all applicable ASTM International and U.S. CPSC safety standards.
The DaVinci uses only non-toxic finishes, it is lead and phthalate-safe, and it is one of the rare crib brands whose cribs are GREENGUARD Gold certified. Meaning, the crib has been tested for over 10,000 chemicals and exceeds the most stringent emission standards. It does not pollute the indoor air.
Note! A safe crib is only a piece in the puzzle of ensuring a safe sleeping environment. In addition to a safe crib, you have to choose the right crib mattress and understand current baby safe sleep guidelines. For example, crib bumpers are a no-no, co-sleeping is safe only while room sharing, not bed-sharing, etc.
---
DaVinci Kalani mini crib mattress information
You will get an included 1″ waterproof mattress pad, but I recommend you choose a better crib mattress for everyday sleep. It sits on a mattress support board made of TSCA-compliant engineered wood.
The mattress support is adjustable to four different levels. You can start with the highest setting for a newborn and gradually lower it down with your child's growth.
Height from the floor to the mattress support base:
the lowest setting: 7″
the highest setting: 15,75″
The DaVinci Kalani mini crib takes a mini crib mattress, which is at least 36.75″ long by 23.25″ wide and not more than 5″ thick. Such dimensions allow most mini crib mattresses to fit in the Kalani mini crib, but of course, DaVinci recommends their mini mattress.
DaVinci mini crib mattress:
DaVinci makes two mini crib mattresses. Both are suitable for the Kalani mini convertible crib.
Deluxe Coile and Complete Slumber mini crib mattresses are firm, GREENGUARD gold certified, hypoallergenic, 100% non-toxic, and surrounded by a waterproof cover. The cover is quality-made, tear-resistant, and doesn't leave crinkly noises.
The difference between them is in their cores:
DaVinci Deluxe: a coil baby crib mattress, made of 50 coils and weighs 8 lbs
DaVinci Complete Slumber: a foam crib mattress made of lightweight polyester fibers, which weighs only 4 lbs.
You can't go wrong choosing either of them. Both are a proper choice, so it is more of your personal preferences, rather than a quality-based choice.
---
The Verdict
Should you buy the DaVinci Kalani 4-in-1 convertible mini crib?
Yes! If you are having space issues and you want a mini convertible crib, the DaVinci Kalani is one of the best choices in 2023.
I would consider other options if the mini crib will only be used occasionally (grandparents, other caregivers) or for very tiny apartments. In such a case, a mini portable model that can fold away might be a better choice.
Other than that, I do not see any reason why you shouldn't buy it. The crib is quality, safe, and durable. It is a perfect choice for small nurseries and nursery nooks. It can grow with your baby and may last way beyond a toddler's age. And the crib's price? I think it is reasonable!
DaVinci Kalani 4-in-1 convertible mini crib
---