Last updated on January 23rd, 2023 at 04:27 pm
We've researched and compiled a list of the best bassinet sheets in 2023. They are handpicked by our team and parents to make your search for the best one much easier.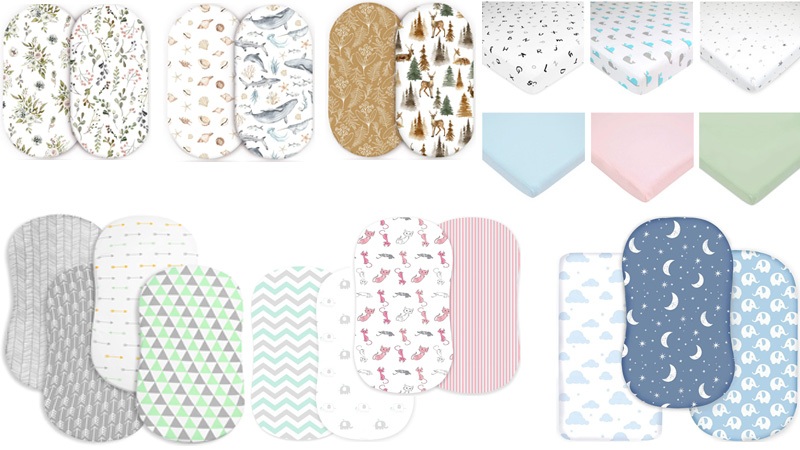 Our favorite Bassinet Sheets
Baby's Little Place Top Picks
When having a baby, everything revolves around sleep. Although it may not seem that important, choosing the right sheet for your bassinet improves the baby's sleep!
The best bassinet sheet is the one that contributes to a safe and comfortable sleeping environment. This is certainly something that every parent wants for their child.
An inappropriate bassinet sheet disturbs the baby's sleep, resulting in many sleepless nights. Not to mention it can be dangerous for your baby. Thus it makes sense to give a little extra thought when selecting a proper bassinet sheet!
The best bassinet sheets on our list are comfortable and of good quality, significantly contributing to better sleep. However, be very careful when choosing the shape and size of the sheet.
Unfortunately, not all bassinet sheets fit all bassinets! We've tried to find the best sheets that fit most bassinets on the market, but do not forget to check their dimensions before purchasing!
Bassinet sheets are the only bedding you need for your baby bassinet!
At a Glance: Top 3 Bassinet Sheets
Cambria Baby 100% Organic Cotton Bassinet Sheet
A pack of three ultra soft and durable bassinet sheets made of 100% organic cotton. Stretchable to fit almost all bassinet mattresses (oval, rectangular, hourglass).
TILLYOU Jersey Knit Bassinet Sheet
A pack of two inexpensive polyester bassinet sheets. The polyester is woven into a high-quality jersey knit and is safe for the baby. Fit almost all bassinet mattresses (oval, rectangular, hourglass).
Ely's & Co. Patent Pending Waterproof Bassinet Sheet
A pack of two waterproof bassinet sheets. These sheets double as a mattress protector, meaning they make for an easy clean-up. No need for an extra mattress protector! These sheets consist of two layers (soft cotton + waterproof lining) and fit on almost all bassinet mattresses.
How to choose the best bassinet sheet?
Bassinet sheets must provide a comfortable and safe surface for your baby. But we shouldn't forget they are also the first line of mattress protection.
They come in various sizes, shapes, materials, colors, and patterns, so I am sure everyone can find one that meets both safety and beauty requirements.
When buying bassinet sheets, prioritize comfort and safety
Other features to consider when buying bassinet sheets
Best Bassinet Sheets in 2023
Here's a list of the best bassinet sheets you can find online. Buy more than one, preferably three or more, so you don't end up in a situation where you don't have a replacement.
Best 100% Organic Bassinet Sheet:
Cambria Baby 100% Organic Cotton Bassinet Sheet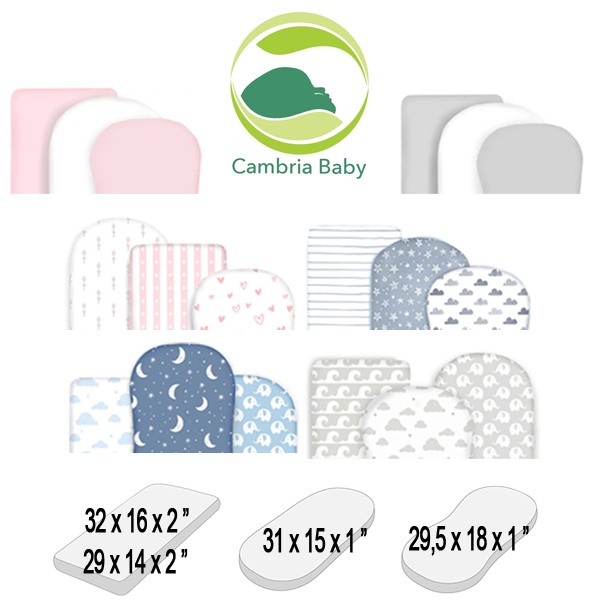 Best Bamboo Bassinet Sheet:
Newcastle Classics Bamboo Bassinet Sheet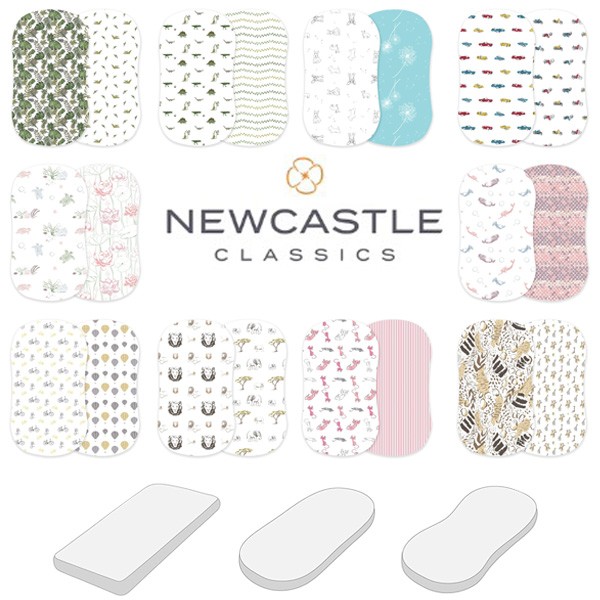 Best Budget-Friendly Bassinet Sheet:
TILLYOU Jersey Knit Bassinet Sheet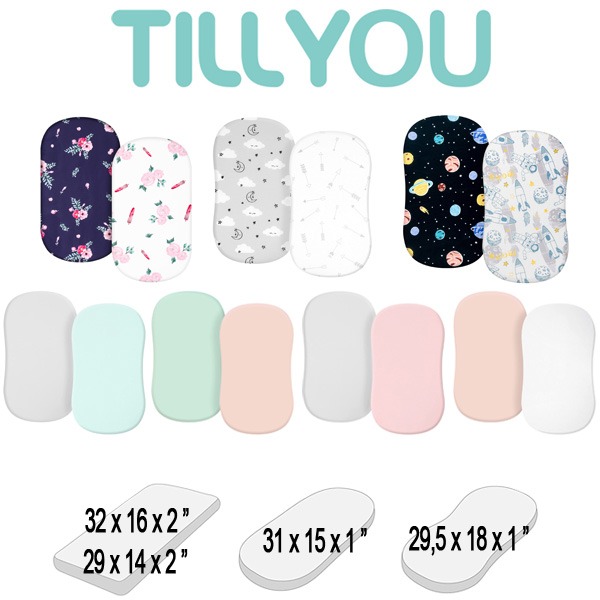 Best Waterproof Bassinet Sheet:
Ely's & Co. Patent Pending Waterproof Bassinet Sheet
Best 4 Pack:
BaeBae Goods Premium Bassinet Sheets
Best Bundle Buy:
Lilly Belly Organic Bassinet Sheets & Waterproof Mattress Protector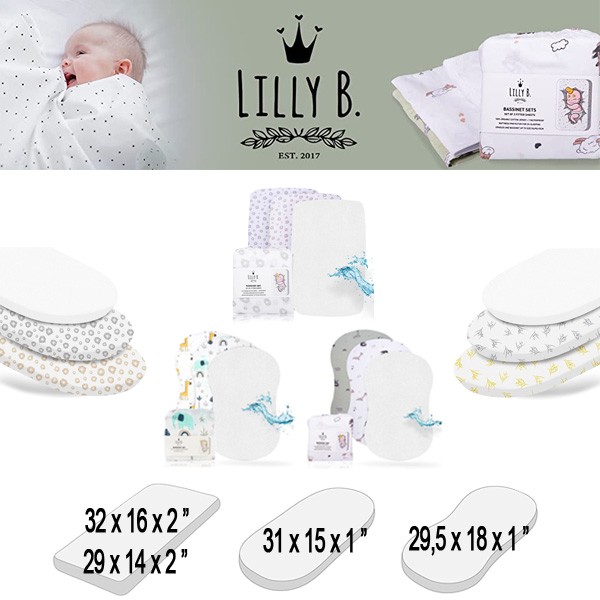 Various Patterns to choose from:
GRSSDER Stretchy Ultra Soft Fitted Bassinet Sheet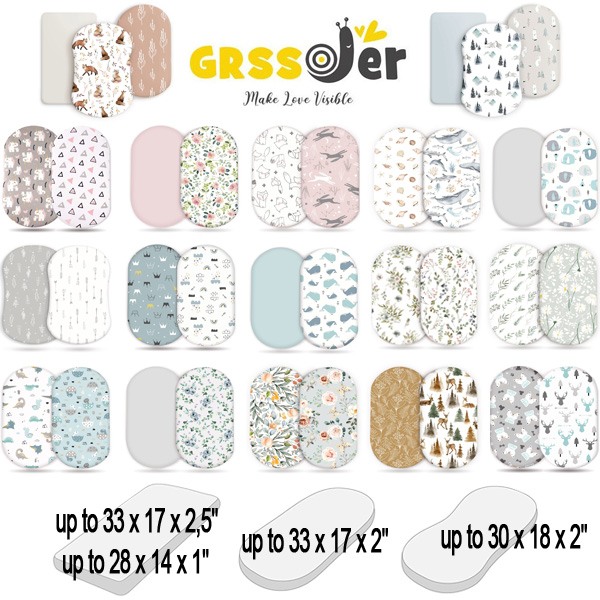 Best Vintage Design:
Pobibaby Premium Bassinet Sheets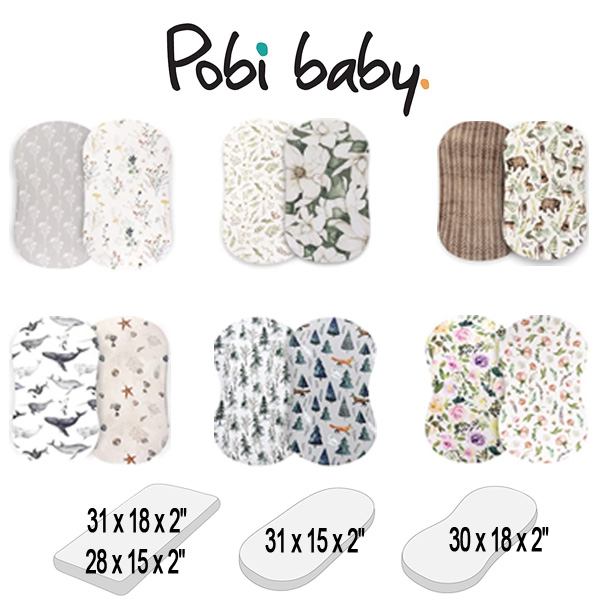 Affordable Sheets for Rectangular Bassinet Mattress:
American Baby Company Fitted Bassinet Sheet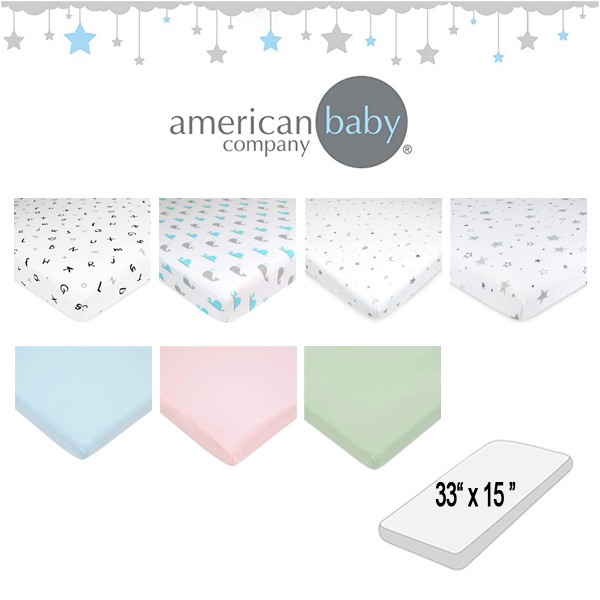 Best Bassinet Sheet for Oval Mattress:
Cuddly Cubs Bassinet Sheets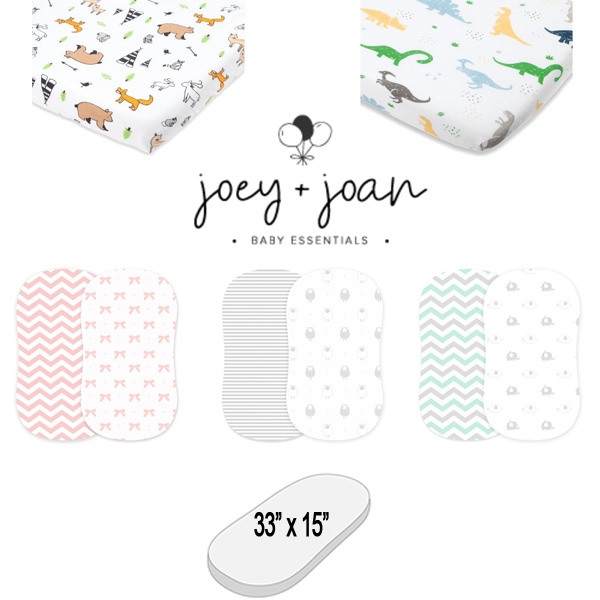 Best Polyester Bassinet Sheet:
BROLEX Stretch Fitted Bassinet Sheet
Other Tips for choosing the best bassinet sheet
How much do bassinet sheets cost?
Bassinet sheets range in price based on their brand, material, thread count, waterproof ability, and more. I would say most of them cost between $5 and $50.
Inexpensive sheets cost between 5 and 15 dollars. They are usually made of polyester or cotton with a lower thread count. Most likely, they are not waterproof and also wear out faster. However, they have an elastic bottom and are safe for the bassinet if the correct size is used.
Mid-range bassinet sheets cost between 14 and 28 dollars. These sheets are usually flannel or made of cotton with a higher thread count. Many of them are waterproof and, of course, fully elasticized.
Expensive bassinet sheets cost between 28 and 50 dollars. They are made of bamboo and high-quality cotton, usually organic. Most of them are waterproof with reinforced elastic bottom.
How many bassinet sheets do you need?
Parents' most common mistake about their bassinet is not having extra sheets. 
Sooner or later, you will have to deal with a spit-up, spill, or leaky diaper. Probably it will happen in the middle of the night. You will want to provide a clean bassinet as soon as possible; otherwise, no one in your house will sleep again that night.
You need more than one bassinet sheet! As per our experience, the ideal number of bassinet sheets is three or more.
One is not enough, and with two, you don't want to end up in a situation where the first is still being washed or dried while the second is already dirty.
How often should you change the bassinet's sheets?
That depends on the baby. Some newborns spit up more often, others drolling more frequently, etc. So it depends on the individual.
You must keep your baby's sleeping area clean, dry, and fresh. Sometimes you will need to change the sheets more than once a day. Other times it may not be necessary until several days later.
Are bassinet sheets safe for the baby?
A bassinet sheet is safe for the baby! But only if you choose the one with the correct dimensions. A bassinet sheet must fit snuggly to the mattress and shouldn't loosen overnight.
A tight-fitting bassinet sheet is the only bedding classified as safe for the bassinet!
Other tips for safe sleep in a baby bassinet:
Always put the baby to sleep on her back in the bassinet.
Do not place anything else in your bassinet. In the bassinet, do not use blankets, pillows, sleep positioners, plush toys, etc.
Newer, place your bassinet near hanging cables, strings, etc.
The safest place for the bassinet is next to your bed.