Last updated on January 23rd, 2023 at 06:04 pm
Check baby monitors' best Black Friday deals in 2023 and save big.
Baby monitors have come a long way in the past few years. From simple audio monitors to video models and WiFi connectivity. It's never been easier to have eyes on your baby 24/7!
You have numerous options, which can be pretty different from each other. And yes, there is a big difference in their price too. So, Black Friday deals on baby monitors can save you anywhere from a few dollars to $100 or more.
Top 3 Early Black Friday deals on baby monitors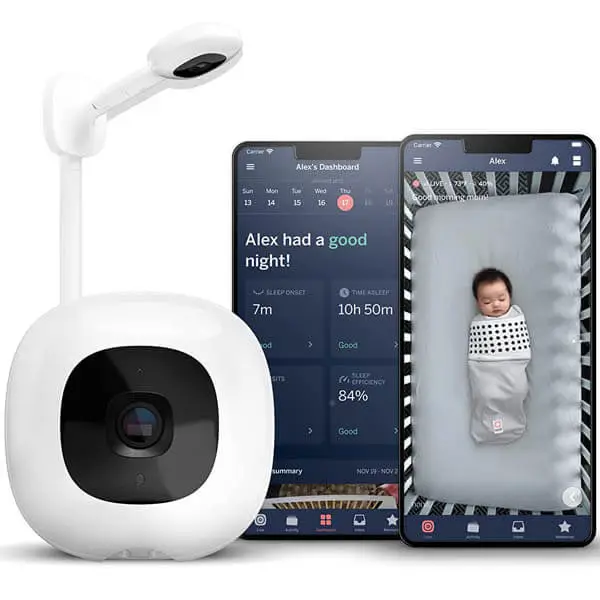 Coupon code: BIGSALE
Jump on 2023 Black Friday deals on:
Take advantage of Black Friday baby monitor sales and save some money!
Best Black Friday Deals on Video Baby Monitors
Save 50% on the Febfoxs Baby Monitor Security Camera
RECEIVER: smartphone
WiFi: Yes
CONTROLLED VIA APP: Yes
TALKBACK FUNCTION: Yes
CAMERA PAN: Yes, 360° horizontal & 90° vertical rotation range to create a complete 360°coverage
ZOOM: Yes, digital zoom
RANGE: smartphone – unlimited
NIGHT VISION: Yes, infrared night vision tech
POWER SOURCE: power adapter for camera
INSTALLATION: wall-mounted | table-placed | ceiling-mounted
ADDED FEATURES: manual record | motion detection record | scheduled record | alarm record | cloud storage & SD card
Save 20% on the Babysense HD 2-Camera Monitor + Night Light and Sound
RECEIVER: video monitor with a 5-inch 720P high-definition color screen | split-screen function to watch two children side by side simultaneously
WiFi: No
CONTROLLED VIA APP: /
TALKBACK FUNCTION: Yes
CAMERA PAN: yes, remote pan, 360 degrees room view and tilt
ZOOM: yes, up to 4x
RANGE: 960ft range in open space
NIGHT VISION: Yes, auto IR night vision
POWER SOURCE: a large 4000mAh rechargeable battery that lasts for 20hrs in ECO mode and 12hrs in regular mode
INSTALLATION:  table-placed | placed on any flat surface
ADDED FEATURES: preloaded white noise and lullabies that can be operated remotely | dimmable night light | 2 cameras | temperature alerts | hack-proof (no Wi-Fi, internet, or apps required)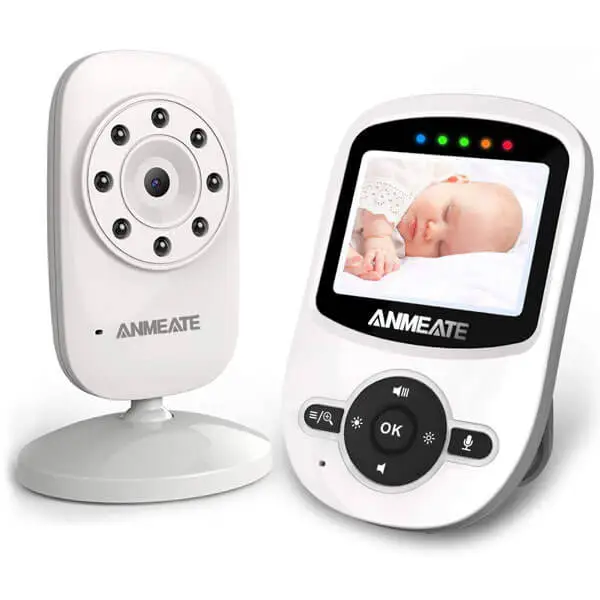 Save 39% on ANMEATE Video Baby Monitor with Digital Camera
RECEIVER: video monitor features a 2.4-inch LCD with a resolution of 320×240
WiFi: No
CONTROLLED VIA APP: /
TALKBACK FUNCTION: Yes
CAMERA PAN: manual pan (360 degrees) & tilt (60 degrees) + with digital image pan/tilt option
ZOOM: 2x digital zoom
RANGE: 480ft (to max 960ft transmission range on open space)
NIGHT VISION: Yes, 8 infrared LED lights for night vision
POWER SOURCE: power adapter for camera | rechargeable 950mAh Li-ion battery that lasts 8 hours in eco mode
INSTALLATION: table-placed | wall-mounted | any flat surface
ADDED FEATURES: automatic night vision and temperature monitoring | 4 soothing lullaby songs | voice activation | alarm & timer setting | no WiFi & Apps needed | multi-camera expandability (up to four cameras)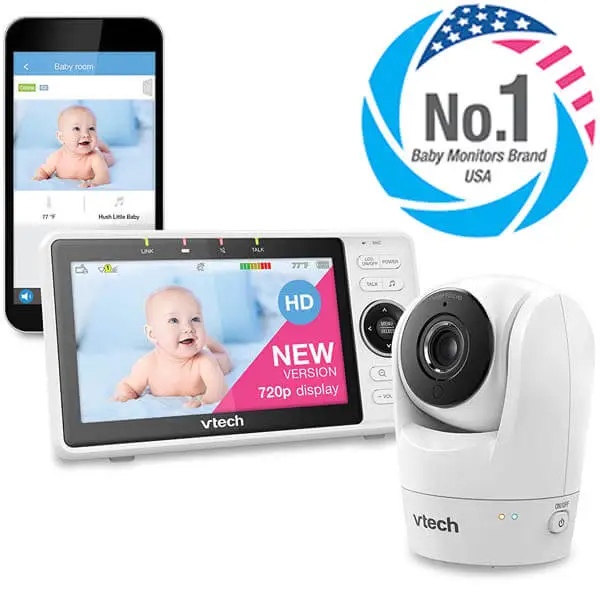 Save 11% on VTech Upgraded WiFi Baby Monitor
RECEIVER: handheld video monitor with a 5-inch 720p display or smartphone
WiFi: Yes, when you use it on a smartphone | WiFi or App are not required for the parent unit
CONTROLLED VIA APP: Yes, free MyVTech App that works with Android and iOS devices
TALKBACK FUNCTION: Yes
CAMERA PAN: yes, fully remote pan and tilt (360 degrees field of view), 120-degree wide-angle lens
ZOOM: 4x local + 10x digital zoom
RANGE: parent unit – up to 1000 ft (line of sight, no obstruction) | smartphone – unlimited
NIGHT VISION: Yes
POWER SOURCE: power adapter for camera | 1 Lithium Metal rechargeable battery for parents unit (included)
INSTALLATION: table-placed | any flat surfaces | wall-mountable with the bracket provided
ADDED FEATURES: motion and temperature alerts to both the parent unit and your mobile device | lullabies and soothing sounds | built-in wide-angle lens 
Best Black Friday Deals on Smart Baby Monitors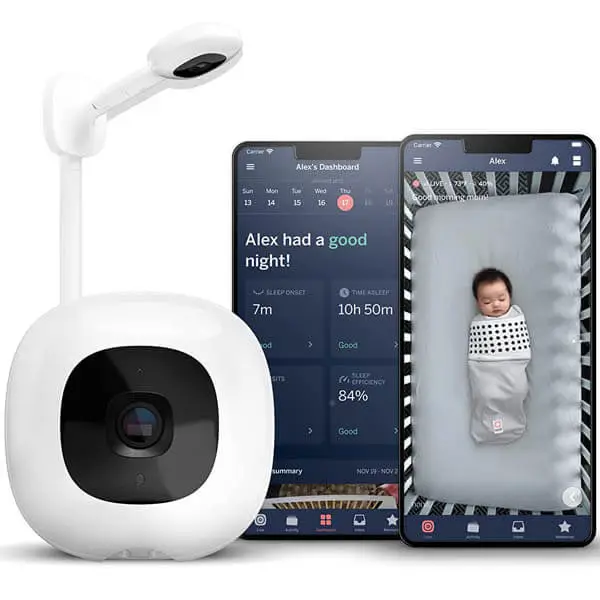 Save $100 on the Nanit Pro Smart Baby Monitor & Wall Mount
RECEIVER: smartphone | crystal-clear 1080p HD video quality, day or night
WiFi: Yes
CONTROLLED VIA APP: Yes | the App supports the Split Screen feature, allowing users to view two cameras on one screen
TALKBACK FUNCTION: Yes
NIGHT VISION: Yes
CAMERA PAN: not available to pan the room
ZOOM: yes, digital
RANGE: unlimited when connected to WiFi 
POWER SOURCE: powered by a standard USB Type-A connector and includes a power adapter to plug into your wall
INSTALLATION: wall-mounted | floor stand | table stand
ADDED FEATURES: tracking and analyzing the baby's sleep patterns to send expert tips to improve sleep quality | sensor-free breathing monitoring | auto-capturing changes and growth for Watch Them Grow timelapse videos | humidity and temperature alerts | adjustable nightlight | white noise and soothing sounds | night vision
Lollipop Smart Baby Camera
RECEIVER: smartphone
WiFi: Yes
CONTROLLED VIA APP: Yes
TALKBACK FUNCTION: Yes
NIGHT VISION: Yes
CAMERA PAN: not available to pan the room
ZOOM: yes, digital
RANGE: unlimited when connected to WiFi
POWER SOURCE: electrical outlet, powered by a standard USB Type-A connector, and include a power adapter that plugs into the wall
INSTALLATION: bed fixed – wraps onto the crib's rail | free-standing on any flat surface | wall-mountable
ADDED FEATURES: crying detection | breathing monitor without any extra sensor needed | sleep tracking | crossing detection (set a border inside the camera view to track movements in your baby's crib) | video recording | lullabies, sounds to play | smart sensor to track temperature and humidity

Best Black Friday Deals on Audio Baby Monitors
VTech DM111 Audio Baby Monitor
RECEIVER: parent unit with the belt clip can be attached to your pocket or shirt
TALKBACK FUNCTION: Yes
RANGE: up to 1,000 feet
VOLUME CONTROL: yes
POWER SOURCE: parent unit includes a built-in rechargeable battery that supports up to 8 hours of portable operation
INSTALLATION: free-standing on any flat surface
ADDED FEATURES: easy set-up plug & play | set of five LED lights on the parent unit indicates the level of sound in your baby's room
More Black Friday Baby Deals: