Last Updated on September 3, 2020 by Ines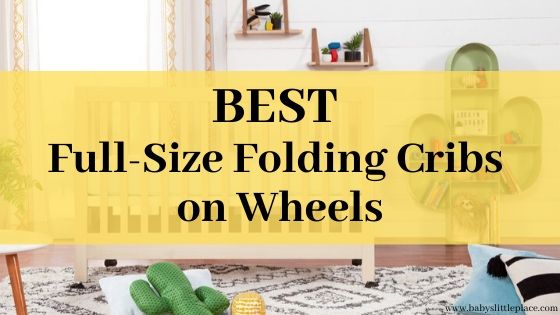 Best Full-Size Portable Folding Cribs in 2020
Best full-size folding cribs on wheels need little more than just a quality folding mechanism and smooth-gliding caster wheels. Of course, these two features have to be flawless, but the best full-size models offer additional features, which contributes to the overall crib's usability even more.
A full-size folding baby crib is a suitable choice for everyone. But those who live in smaller homes and parents who want to use it in different rooms will appreciate its rolling feet and folding mechanism even more.
First of all, a full-size portable crib has a sleek minimalist design, which gives it the ability to fit through all standard room doorways. As such, you can move it from room to room without folding it down, let alone disassembling!
The best affordable full-size folding crib:
Dream On Me full-size folding crib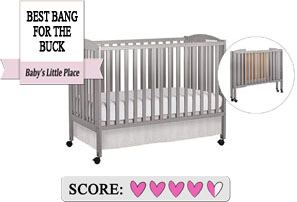 Why we love it:
because of its great value for money
Dream On Me is a full-size crib, which doesn't occupy a lot of space
it has a patented folding system and folds down small
caster wheels run smoothly and possess a reliable locking mechanism
two levels adjustable mattress height
decent color choice
classic design that fits with most furniture
it meets all required safety standards
it takes all standard size crib mattresses
affordable price
Because of its minimalist design, a full-size folding crib also doesn't take up a lot of space. Its small footprint allows many parents to opt for a full-size crib over the mini model. Although there are lots of excellent mini portable cribs, a full-size crib last longer, so it's more money efficient.
And second, you can easily fold it down and set it back. The ability to fold down without disassembly and store it into small spaces is another reason why such cribs are so popular among modern parents living in small urban homes. Due to this feature, it is also a perfect choice for grandparents' or caregivers' homes. They can just store it away until another use.
The best full-size portable crib:
Babyletto Maki full-size folding crib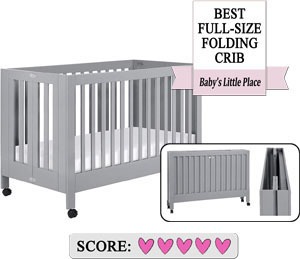 Why we love it:
it folds down for easy storage, stands on caster wheels, and even grows with your baby
modern design
standard size crib with a small footprint
great folding mechanism
caster wheels are removable, so you can use it as a stationary crib too
it converts into a toddler bed and daybed
a toddler bed safety guardrail is included in the price
two-level adjustable mattress support
it meets and exceeds all safety standards
GREENGUARD Gold certified
Facts about full-size portable folding cribs on wheels:
Their inner dimensions are standardized, so any new standard size crib mattress fits into any new full-size folding crib.
You can easily fold and store them without any disassembly.
They stand on wheels.
They belong to a broad group of portable cribs, which also includes mini portable cribs, travel cribs, and Pack 'N Plays.
Is a folding full-size baby crib suitable for every day?
Of course, it is! Full-size folding baby cribs are perfectly suitable for everyday use.
If you are on the search for a full-size crib on wheels, and you don't need a folding feature, you have another option, a baby crib on wheels that doesn't fold up. Such cribs, are also classified as portable. And the best one amongst them is the DaVinci Jenny Lind, which is also convertible and grows with your child.
If you want, you can jump on the reviews of the best models:
Babyletto Maki vs. Dream On Me full-size folding crib
CRIB

Babyletto Maki

Dream On Me

STANDARD SIZE
(assembled dimensions)
YES
(53.6″L x 29.4″W x 37.25″H)
YES
(54″ L x 31″ W x 46 "H)
COLLAPSED DIMENSIONS
53.6" L x 8.5" W x 35" H
54″ L x 6″ W x 46″ H
FOLDING

✓

✓

WHEELS WITH LOCKING MECHANISM

✓

✓

FITTED MATTRESS
standard size
standard size
ADJUSTABLE MATTRESS SUPPORT

✓


2 levels

✓


2 levels
CONVERTIBLE

✓

X

Is convertible kit included?

✓

X

LATEST PRICE

PRICE

PRICE
---
Full-size folding cribs' safety
Full-size portable cribs are lighter from other cribs and stand on wheels. Because of that, it's normal that they can't be as sturdy as baby cribs with heavy, bulky frames. 
However, they are sturdy enough, especially the best full-size folding crib we've listed here. With a strong folding mechanism and lockable wheels, they stand firmly in place and are almost as sturdy as other stationary cribs. 
Don't forget to lock the wheels when your baby sleeps in it!
Full-size portable cribs meet and exceed all required safety standards. They are made of safe materials, finished with non-toxic paint, and rigorously tested to be safe for your baby!
---
Best full-size folding cribs in 2020

EDITOR'S CHOICE:
Babyletto Maki foldable crib on wheels
It is not a secret that I love Babyletto cribs, and Maki is one of their best models. Babyletto cribs have a beautiful, sophisticated design.
Clean lines, without a bulky design, this is something for me! But if the crib is not safe and functional, it could be the most beautiful piece of furniture in the World, and I would not buy it!
Babyletto Maik is our winner because it's a multifunctional, quality, and safe baby crib! Not only, that it's portable, but it's also convertible. And because it is so durable, you can use it more than just for one child.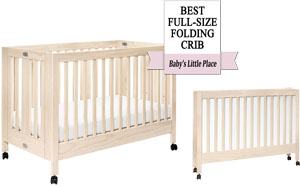 Maki's Description and Specifications
Maki is a full-size version of a popular Babyletto Origami mini crib. It has clean, geometric lines, with slats all around the crib. The crib is made from sustainable New Zealand pine wood and meets and even exceeds all ASTM International and US CPSC Safety Standards.
Babyletto uses only non-toxic finishes. The Babyletto Maki portable crib is available in four different colors: black, white, gray, and ash. As you can see, you won't get the Maki in a classic wooden color. That is a small disadvantage, but in my opinion, Babyletto deliberately chose only those colors, as they fit perfectly with its modern design.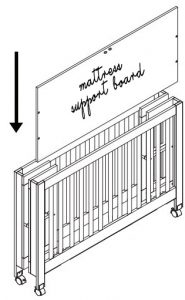 Manufacturer:

Babyletto
Model: Maki

Type:

full-size portable folding crib on wheels

Style:

modern sophisticated design

Material:

natural New Zealand pine wood

Color:

black, white, gray and ash

Assembled dimensions:

53.625″L x 29.375″W x 37.25″H

Assembled weight:

62 lb
Stop using Babyletto Maki as a crib when your child begins to climb or reaches 35 inches. Why did I say as a crib? Read below how Maki can offer you much more than you think.
Babyletto Maki, a full-size portable and convertible crib
Babyletto Maki stands on quality wheels. They glide smoothly and posses a locking mechanism that keeps the crib in place. It has a foldable frame and folds down small for a full-size portable crib. Because of that, you can store it in a relatively small space.
But that is not all! Babyletto Maki stands on removable wheels. By removing the wheels, together with its all-wood slat construction, Maki suddenly becomes a sturdy, stationary crib.
And still, that is not everything Babyletto Maki can offer to you and your baby. It's also convertible. By replacing the front rail with a safety guardrail, it becomes an excellent bed for your toddler. And another cool thing, everything for the conversion is included in the price.
Convertible:

yes

Number of conversions:

2

Conversion types:

crib & toddler bed

Mattress Information
Babyletto Maki is a crib with a solid mattress support, which is made from the Carb II Compliant MDF board.
Babyletto Maki is a foldable crib, but you can adjust the mattress height on two levels anyway. So, start with the highest position for a newborn and lower it down while your baby grows.
It is a full-size baby crib, with a standardize inner dimensions, so it takes any standard full-size crib mattress, which is no more than 6″ thick. As the Maki grows with your child, I recommend you take a look into a dual-sided crib mattress, such as Dourxi, which is a perfect choice for convertible cribs.
But if you want to go with the Babyletto, they recommend using their PureCore non-toxic mattress for the Maki crib.
THE VERDICT
If you need a full-size portable crib, you won't find a better model from the Babyletto Maki. I think the only one who can compete with the Maki at least a little is the Dream On Me full-size portable crib.
If you are on the budget or need a traditional-looking crib in classic tones, then buy a Dream On Me baby crib, otherwise, pick the Babyletto Maki. You won't be disappointed!
---
AN AFFORDABLE CHOICE:
Dream On Me full-size folding crib on wheels
Dream On Me is more of a traditional-looking crib. It is available in all classic finishes, such as Cherry, Espresso, Natural, etc. Together with a simple design and affordable price, it's a perfect choice for grandma's home, caregivers, daycare, or guests with babies.
Of course, it's a suitable choice for everyday crib too! It doesn't have a bulky design, so it fits through standard room doorways. You can move it around your home easily, without even folding it down.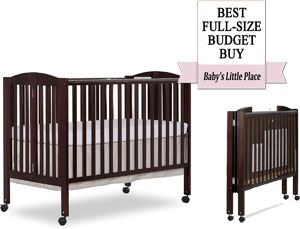 Description and specifications
Dream On Me is a simple full-size folding crib. But lets its affordable price and simple design doesn't live you thinking it's not a quality portable crib, because it is!
It's safe and thoroughly tested to ensure it meets all applicable ASTM, JPMA, and CPSC standards. It doesn't possess drop-sides, which are dangerous and banned since 2011!
It has a minimalist frame and slats on all four sides. Its open design enables a good airflow through the crib and helps to prevent the baby's overheating. This design also allows you to see your baby from any angle of the room, which is especially hand for portable models. These cribs are designed to move around your home. So it is handy that you can place it in the middle of the room, or with either side against the wall.
The color choice is with six non-toxic finishes broader from the Babyletto's Maki.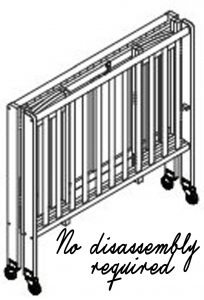 Manufacturer: Dream On Me
Model: strange, it doesn't have a name, they call it only a folding full-size convenience crib
Type: full-size portable folding crib on wheels
Style: traditional design
Material: pine wood
Color: black, cherry, espresso, natural, white and French white
Assembled dimensions: 54″L x 31″W x 46″H
Assembled weight: 46 lb
Stop using Dream On Me full-size portable folding crib when your child begins to climb or reaches 35 inches.
What Can You Expect From The Crib?
Dream On Me full-size portable crib has a patented folding system. Folding and setting back is simple and not time-consuming at all! It folds down small, so you can store it into small spaces, where it will wait until another use. Of course, disassembly is not needed!
Its rolling feet works perfectly. It has a locking, heavy-duty, commercial size wheels, which keeps the crib in place when a baby sleeps in it.
Mattress Information
Dream On Me has solid mattress support, with two adjustable levels. As it is a full-size crib, you can use any standard full-size mattress in it, but Dream On Me recommends using a Spring crib and toddler bed mattress.
The conclusion
Dream On Me is, without a doubt, besides Babyletto Maki, the best full-size portable crib! It has all the required features to be portable, but it can't transform into a bigger bed like Babyletto Maki.
It is a perfect choice for traditional homes. With a broader color choice than Babyletto's, you can match it with almost any furniture.
Yes, it can't offer as much as the Maki, but because of that, it is around 100$ cheaper than Babyletto. It is a perfect and affordable solution for everyday use, or as a secondary crib in grandparents' homes.
---
READ ALSO: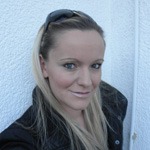 Hello!
I am the founder of Baby's Little Place. I'm a mom to the one-year-old daughter and I know how overwhelming could be when you are looking at things and tips for a new baby, especially if you are a first-time parent. That's why I set up this site…because I want to do something I am passionate about, as well as I want to help new parents and parents to be.

I hope you enjoyed reading my article! If you have any questions or comments, please leave them down below. I will be happy to discuss it with you!