Last updated on January 23rd, 2023 at 04:16 pm
The first part of the Baby Bassinet Buying Guide explains the basics: What is a bassinet? What is the purpose of a bassinet? Where should you place your bassinet?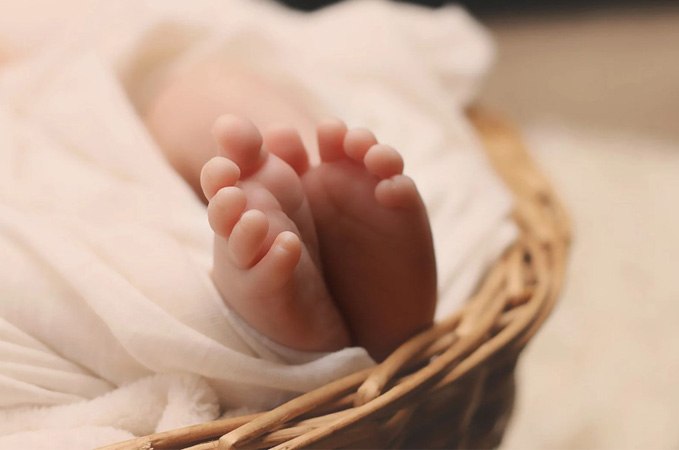 → PART 1 ←
Baby Bassinet Buying Guide
What is a bassinet?
A bassinet (also called bassinette) is a compact oval or rectangular bed designed for babies from birth to about four months.
Some bassinets have a wooden or wicker frame covered with padding on the inside. Others have a metal or plastic frame structure surrounded by breathable mesh.
Bassinets are well known for their raised sleeping area, which is very helpful in lying the baby down. They are an excellent option for mothers after C-sections!
You can choose between several types of bassinets. Some are suitable for co-sleeping, while others are better for traveling. Many bassinets come with wheels, making them easy to move from room to room. There are models with canopies that can be attached to one end to block the light. Some even have storage shelves underneath…..
Because babies outgrow bassinets relatively fast, many parents feel they don't need them. Well, they're actually right. You don't need a baby bassinet to follow the safe sleep recommendations. Your newborn can start sleeping in a crib or Pack 'n Play from day one.
But baby bassinets can significantly improve your and your baby's comfort, so they are worth your consideration.
TIP: Some bassinets can be used for a bit longer. These are so-called bedside sleeper bassinets. This type of baby bassinet is generally bigger and recommended for babies up to 6 months. Some can be used even longer, up to about a year.
KoolaBaby Bedside Sleeper Bassinet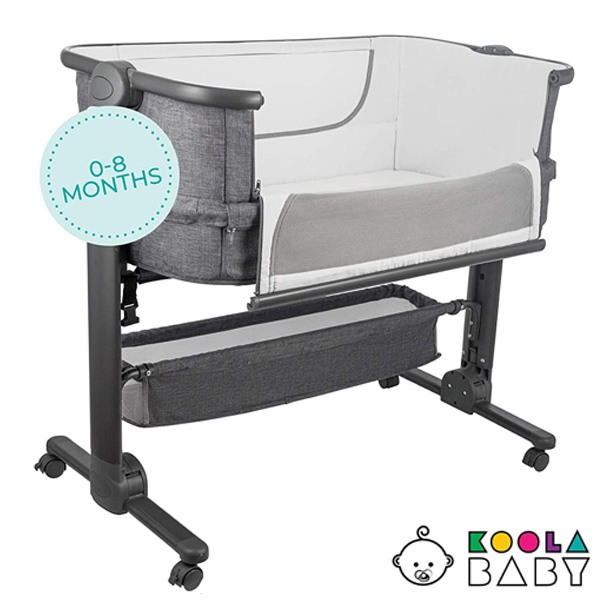 Baby Bassinets 101
---
Choosing between different types
When buying a baby bassinet, many are unaware of the variety of options they have. You can choose from bassinets made of wood to smart bassinets that soothe infants with a range of automatic activated motions and sounds. I think anybody can find the one that best suits their family's lifestyle.
Types of baby bassinets:
Traditional baby bassinet
Co-sleeper or. Bedside sleeper bassinet
Travel bassinet
Smart bassinet
Cradle or. Rocking bassinet
Moses basket
Wooden baby bassinet
You can find a detailed description of each bassinet type in the 5th part of the baby bassinet guide.
Baby bassinets are considered safe for infants!
The American Academy of Pediatrics classifies bassinets, cribs, and Pack 'n Plays as the safest place for your baby to sleep. However, any of these are only safe if used correctly!
A safe bassinet is stable, has a firm and flat mattress covered with a fitted sheet, and is used in compliance with other recommendations for safe baby sleep.
Bassinets are probably the most versatile group of baby beds. 
First, their shape and size are not defined by law, meaning they can be virtually any size and shape. Still, most bassinets are oval and roughly the same size, making it easier to find a suitable mattress, cover, or sheet.
Second, baby bassinets have solid or soft sides made of mesh or cloth. The most popular are those with soft sides covered by mesh. Such bassinets are breathable and much lighter, making them more mobile, which is one of the expected features of a good baby bassinet.
Third, baby bassinets are available in various colors, patterns, and decor. Some come with ruffled designs and canopies, others with storage beneath them.
And last but not least, over the years, bassinets have been getting more and more additional features, such as sounds, lights, cry-activated response, auto-movements, and more.
What is the purpose of the bassinet?
The main purpose of the bassinet is to make the first days with your little bundle of joy as easy and comfortable as possible for both of you.
1. Having your baby next to you:
Baby bassinets bring the baby's sleeping area next to the mother without placing the baby in the adult's bed. Sleeping in the same room but not in the same bed is recommended for the first six months!
2. Baby bassinet raises the sleeping are:
The bassinet's base raises the sleeping area to the average adult's waistline. That's very helpful in lying the baby down. Especially mothers with C-sections will appreciate it. Many cannot lean over the side of the crib to lay their baby down and pick her up, so the bassinet becomes a better option.
3. Mobility:
Another bassinet's purpose is easy mobility. Baby bassinets are generally light and easy to carry around. This is very convenient for two reasons:
Bassinets are generally not heavy, so most are relatively easy to carry around your home. Thus you can have your baby close while you have other things to do.
It is excellent for traveling with your baby. A familiar place to sleep calms your baby and gives you more rest.
Where should you place your bassinet?
The American Academy of Pediatrics (AAP) recommends sleeping in the same room but not in the same bed. Practicing such a way of co-sleeping is much safer than having the baby in your bed. Sleeping in the parents' bed heightening the risk of Sudden Infant Death Syndrome (SIDS)!
So, place your baby bassinet in your room, close to your bed. That is not only the safest way but also has other benefits.
If you are nearby, you can quickly respond to the baby's cry and soothe or feed her before she fully wakes up. You won't have to get up and walk to the other room to check up on her. To sum up, a bassinet in the parents' bedroom contributes to more and better sleep.
Summary – What is a baby bassinet?
A bassinet is a smaller oval or rectangular bed designed for babies in the first months of life. It is an excellent option for co-sleeping, traveling, or having your hands free while your baby lies in a safe place. 
A bassinet has a raised sleeping area, which is very helpful in lying the baby down. That is a traditional bassinet, but you can choose between bassinets with many added features for convenience.
The only downside of a baby bassinet is that it doesn't last long. So, anyone deciding on a bassinet should remember that he will have to move the baby from the bassinet to a crib or Pack' n Play relatively soon.