Last updated on January 23rd, 2023 at 11:41 am
Learn everything about different types of baby cribs.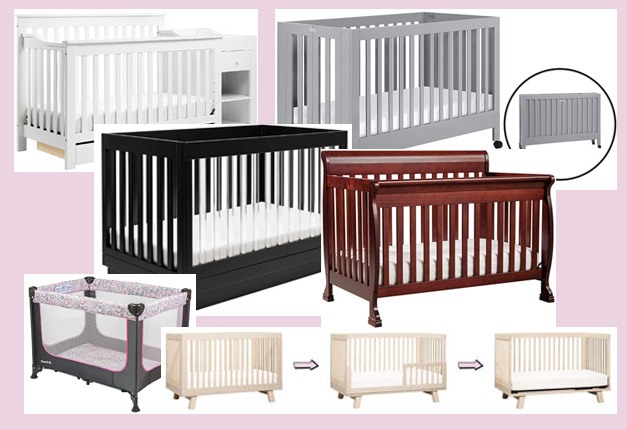 Types of Baby Cribs
---
convertible cribs, portable cribs, combo cribs, travel cribs, Pack 'N Plays, oval cribs, cribs on wheels, mini and full-size cribs
When you start looking for a new crib, you soon realize that you have to consider much more than just its appearance.
Do you want a crib that grows with the baby or the one that you can move around your home? What material should you choose? Does it fit into your home? And this is far from everything you have to consider before purchasing a crib.
The juvenile furniture market has adapted to various family needs very well, and cribs are no exception. As a consequence, you can pick amongst numerous different crib types, brands, and models.
That is actually great because it allows parents to get the crib that best suits their needs and home. But it can be a little confusing as well!
Choosing the one amongst so many different types of baby cribs is not as easy as it might sounds. But, by knowing all crib types and the benefits of their features, you will easily choose the right one for your needs.
Note! No matter what type of crib you choose, it has to meet all required safety standards! Everything further, however, depends entirely on each individual.
---
Different types of baby cribs
To help you with your decision, we've made a table with all available crib types. Here is only their short description, but you can find more details about each crib type in the second half of this article.
I've also added links to the best models in individual crib types, which I hope, will help you even more.
| CRIB TYPE | DESCRIPTION | BEST MODELS |
| --- | --- | --- |
| Regular crib | A regular crib is a traditional non-convertible crib, without additional features. | / |
| Convertible crib | This type of crib grows with your baby, from newborn to toddler age. Some of them even convert into adult beds. | Best convertible cribs |
| Combo crib | A combo crib is a convertible crib with an attached changing table. | Best combo cribs |
| Crib with under-crib drawer | It is a baby crib with a large drawer underneath the mattress area. This crib type is also convertible or convertible with an attached changer (combo crib with under-crib drawer). | Best cribs with under-crib drawer |
| Portable crib | A portable crib is a crib that stands on wheels. Depending on the model, it may also fold down for easy storage. | Best portable cribs |
| Pack 'N Play | A Pack 'N Play is a crib with a plastic or aluminum frame surrounded by mesh. | Best Pack 'N Plays |
| Travel crib | A travel crib is a lightweight crib that you can take wherever you go. It is usually smaller than a Pack 'N Play and folds down very small. | Best travel cribs |
Table: Different crib types
---
Size of the crib
Based on the available space, you can decide on a full-size (standard) or mini crib.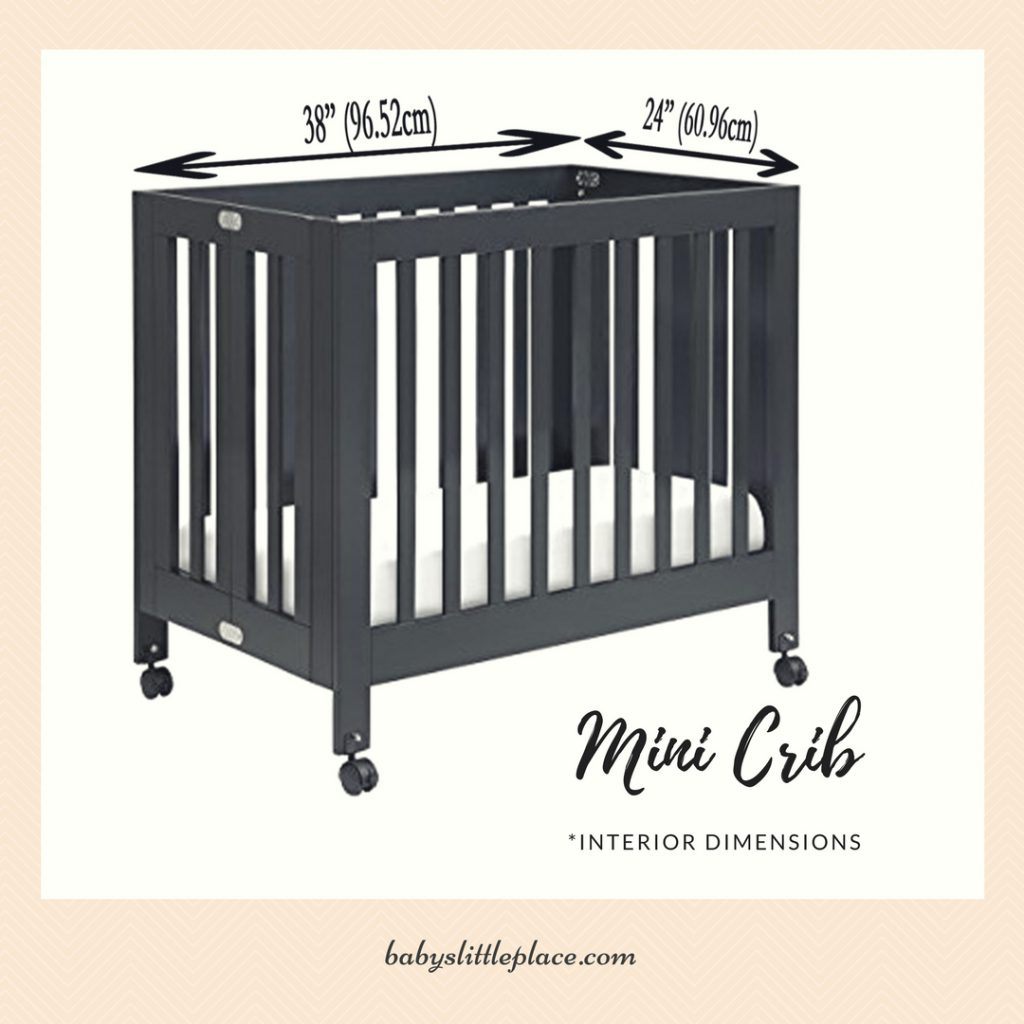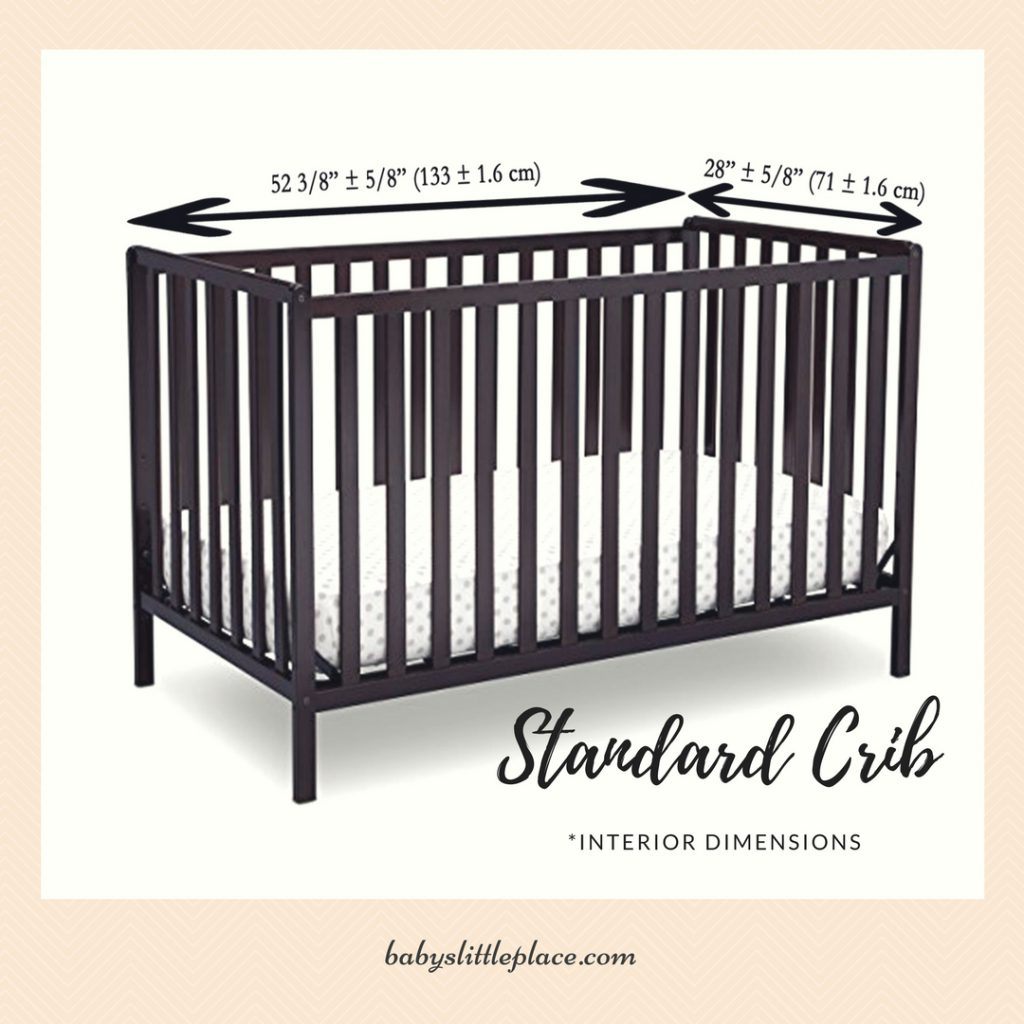 The internal dimensions of full-size cribs are standardized, meaning that any standard-size crib mattress fits perfectly into any full-size crib. On the contrary, the mini crib's interior dimensions are not regulated by the government! That could be a problem when buying a mini crib mattress.
A full-size crib is a standard-size crib with internal dimensions 52 3⁄8 ± 5⁄8 inches in length by 28 ± 5⁄8 inches in width.
Any crib that is smaller from the measurements given above is considered a mini crib. Fortunately, most mini cribs are about 38″ long and 24″ wide. These are the measurements of most mini crib mattresses.
You can learn more about proper crib mattresses in our Baby crib mattress buying guide HERE.
Full-size crib vs. Mini crib
If you have enough space and have no other special requirements, choosing a full-size crib is, of course, a better decision. Your baby can use it longer and have more space to sleep.
Although you can decide on a convertible mini crib, you have to remember that it converts into a mini toddler and/or mini daybed. But most of the mini cribs convert into a twin-size bed, which is as long as any similar bed.
A mini crib can offer the same features as a full-size model, just in smaller dimensions! While it has a smaller footprint than full-size cribs, is the height of both models about the same. So, even though mini cribs are smaller, babies can't climb out of them any sooner. 
Yes, quality mini cribs are comfortable, but only for the first year. They are also as safe and sturdy as their bigger sisters. But still, they are smaller, so children outgrow them sooner.
When to choose a mini crib?
Mini cribs are popular among those who are facing space issues. I am not surprised at all! If you live in a tiny apartment, deciding on a mini crib will save you much-needed space for other baby belongings.
Choosing a mini crib ower a Pack 'N Play is a better and more appealing decision. A mini portable crib is also a common choice for grandparents' home. It doesn't occupy a lot of space, and they can fold it away when it is not in use.
A mini crib is also a better and more long-term alternative to a newborn bassinet. Room sharing, without bed-sharing, is the safest co-sleeping choice!
A mini crib is also a good choice if you have twins. Two mini instead of two full-size cribs will save a lot of space in the nursery.
And last but not least, a mini crib is cheaper than a full-size crib: smaller crib ↔ smaller costs.
RELATED: Best mini cribs of this year
---
Crib shape

1. rectangular cribs
2. oval cribs
Most cribs are rectangular, but you can opt for an oval model as well. Although round cribs are unique and considered stylish and modern, I would not decide on it. Not because I wouldn't like them, but because of practicality. 
In my opinion, a rectangular crib is much more practical, and no oval crib has yet convinced me otherwise. Here are few things you have to consider before you decide on a round crib:
While a crib with straight sides fits into almost any room, that is not the case with an oval model. An oval crib does look gorgeous, but only in a spacious nursery, where it can shine in all of its glory.
Oval cribs cost a lot of money.
A round crib needs an oval mattress. Such mattresses are rare, leaving you not a lot of options to choose from. They are also more expensive!
Sheets for oval cribs also cost more than regular ones.
If you think about an oval crib, I recommend you pick one of those two:
---
Different types of baby cribs

Now, let's look into each crib type a little more into detail. As we already know, crib types differ based on their features.
regular, non-convertible cribs
convertible cribs
cribs with an attached changing table
cribs with under-crib drawers
portable cribs
Pack 'N Plays
Travel cribs
Non-convertible baby crib
This is a traditional first bed for your baby, which is available in both sizes. It doesn't convert, offer storage space, or stand on rolling feet. It is just a crib, which is usable until the baby's 18-24 months. 
It is a sturdy and comfortable crib with four stationary fixed sides. Because of the lack of additional features, it is usually lighter than other crib types. Because of the same reason, it is also the cheapest type of crib.
However, these cribs are rare, as parents usually want more from the crib and do not buy them anymore.
Why would you decide on this crib type?
If you plan to have another baby soon, and you constantly need at least one crib at hand.
If you do not need any of the features described above.
---
Convertible Crib
A convertible crib is the most popular crib type!
A convertible crib is a crib that grows with the child. Depending on the model you choose, it can convert into one or several different beds.
A convertible crib may convert into a toddler bed, daybed, twin bed, full-size adult bed, or even a queen bed.
Convertible cribs are available in both sizes, of all materials (wood, acryl, and metal), and in various finishes and combinations.
Because of their versatility and additional features, they generally cost more than non-convertible cribs. However, you don't have to buy beds over and over again, so a convertible crib can save you quite a bit of money in the long run. After all, some models can even be a lifetime bed for your child.
You will need additional parts for the conversion into a toddler bed and a full-size bed. Some convertible cribs come with a toddler bed safety guardrail, but most of the time, you will have to purchase it separately. But for the full-size bed, the conversion kit is never included.
If you already know you will convert your crib, I recommend buying a conversion kit with the crib.
Convertible cribs are divided into three groups:
2-in-1 convertible crib: This convertible crib type can transform from a crib to one bed. That's usually a toddler or daybed, but some models can convert directly into a full-size bed as well.
3-in-1 convertible crib: This convertible crib type can transform from a crib to two beds. Types of beds differ from model to model. Some 3-in-1 convertible cribs transform into a toddler bed and daybed, others into a daybed and twin-size bed, etc. 
4-in-1 convertible crib: This convertible crib type can transform from a crib to three beds. It converts all the way to an adult bed, so it can be the only bed your child will ever need.
---
Combo crib
The combo crib is a convertible crib that incorporates other pieces of furniture into its design. It has an attached changing table with lots of storage space. This type of crib is available in mini or full-size. 
That gives it an added functionality and creates more space in the smaller nursery. A combo crib's footprint is smaller than the combined footprint of a separate standing crib and changer!
Combo cribs have different names:
combo crib
combination crib
multipurpose crib
multifunctional crib
convertible crib with changer
All combo cribs are convertible. If your preferred model converts into a full-size bed, check if the changing table also converts into a matching nightstand.
Combo crib is a money and space-saving solution for smaller rooms and nurseries!
---
Crib with under-crib drawer
These are convertible cribs and combo cribs with an added drawer under the mattress's area. The drawer is often further divided into two equal parts, which enables a better organization.
This crib type uses otherwise unutilized space under the crib. It gives you a lot of much-needed storage space, which is definitely better than dust accumulation under the crib.
Most cribs with under-crib drawers are of standard dimensions, but we have found a mini version as well.
---
Portable crib
All cribs standing on wheels are considered portable. It is a broad group of cribs that can vary from one to another quite a lot. Cribs on wheels can have many added features, like convertibility or the ability to fold down without disassembly.
Portable cribs are available in both sizes, wherein the group of mini portable cribs is by far the biggest.
Actually, most mini cribs belong to this type of crib. That is because of the convenience. Most of those who opt for a mini crib are short of space. So they need a mini crib that you can move around their home and fold down if it is not in use.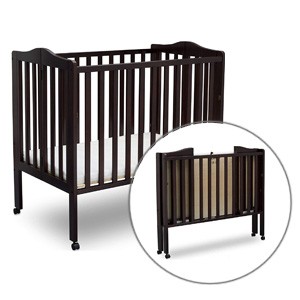 RELATED: Best mini portable cribs
But there are also quality full-size cribs on wheels. Like mini portable cribs, some full-size models also fold down for storage. Some of them, however, are even convertible and can grow together with a child.
RELATED: Best full-size portable cribs
---
Pack 'N Play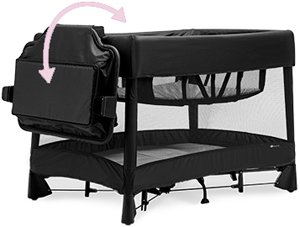 Many parents consider a Pack 'N Play as a necessary piece of baby equipment. It is usable for traveling, a safe place to play, great for naptime or sleepover in grandparents' home, etc.
A Pack 'N Play is made of an aluminum or plastic frame and surrounded by breathable mesh. It is lighter from cribs and a bit heavier from travel cribs.
Most Pack 'N Plays can fold down into a convenient carrying bag. Setting up and collapsing is also easy and fast.
Pack 'N Plays can come with numerous accessories, such as newborn rockers and bouncers, storage units, toy arches, crib mobiles, musical boxes, etc.
Pack 'N Play is very handy, but do not use it as a primary crib for your baby. Not because Pack 'N Plays wouldn't be safe, because they are.
However, if you want to keep it safe for your baby, you should never use a regular crib mattress in a Pack 'N Play. A crib mattress is too thick for a Pack 'N Play! The Pack 'N Play mattress is perfect for sleepovers, naptimes, play, etc. but, I do not think it is comfortable enough for everyday sleep.
---
Travel cribs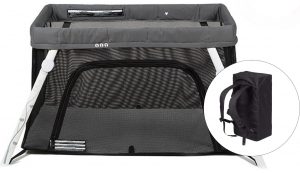 This is the lightest crib type, meant mainly for traveling, but some can be usable as a Playard too.
Travel cribs are very light, can easily set up or collapse, and pack into a handy carrying bag, suitcase or backpack.
The travel crib mattress is placed on the floor, thus ensuring their stability and safety.
---
How To Choose The Right Crib Type?
Follow these simple steps, and in the end, you should know what type of crib is the best for your needs.
Available space for the crib:
If you are on tight with space, measure the area for the crib. Determine if you have enough room for a full-size crib, or you might have to buy a mini model.
Even though their internal dimensions are set by law, the footprints of full-size cribs are not the same. That is because of their frameworks. Some are bulky others are sleek and minimalistic. Sometimes, even an inch counts.
The budget for the crib:
Set yourself a price limit you are willing to pay for a crib. With all the different crib types and models, you can quickly get carried away.
Remember, there is a lot of gorgeous baby cribs for a reasonable price! Also, do not forget you need a crib mattress that will also add to the overall costs.
RELATED:
Crib's features:
Ask yourself what do you expect from the crib. 
Do you want a stationary or portable crib on wheels?
If you are short, a low-profile crib might be a good solution for you.
How long you intend to use the crib? Should it grow with your child?
If you decide on a convertible crib, think about its conversions (toddler bed, daybed, full-size bed). How many do you need?
If you decide on a crib on wheels, would you like that also folds down for easy storage?
Do you need a crib for traveling or a Pack 'N Play?
If you want a crib and a changing table, but you do not have enough space for both units, take a look into combo cribs.
You can decide on an additional drawer underneath the crib.
---
I hope I've helped you decide on the right crib type, reduced your stress, and make your crib buying experience more pleasant and fun.