Last Updated on January 23, 2023 by Ines
We were investigating what sunscreens are safe in pregnancy. It is common knowledge certain foods are better to avoid during pregnancy. But what about products that pregnant women apply to their skin? Yes, skin products like sunscreens may affect the baby in the womb too! So, let's make your summer carefree by helping you find the best pregnancy-safe sunscreen for summer 2023!
Best sunscreens for expecting mothers:
Pregnant women should choose only dermatologically tested sunscreens that contain natural mineral ingredients. Baby skincare products are also a good choice! If they are safe for the baby, they are also safe in pregnancy.
So, pregnancy-safe sunscreen ingredients should be your priority! However, do not forget about circumstances that may also affect your choice.
For instance, pregnant women have a sharper sense of smell, particularly in the first trimester. They usually don't like strong odors. Therefore, the best sunscreens for pregnant women don't contain added fragrances, or they have only a mild, less intense smell of their natural ingredients.
Other conditions that might affect your choice are oily or dry skin, acne-prone skin, frequency of use, etc.
Top 3 Sunscreens in Pregnancy:
---
How to know what sunscreen is safe in pregnancy?
First of all, moms-to-be can enjoy the sun, but moderation is key! While wearing protective clothing and avoiding overexposure surely helps, sunscreens remain one of the most efficient forms of sun protection during pregnancy.
But not all of them are safe! You have to choose a mineral sunscreen when you are pregnant!
What to look for:
Choose physical blockers (mineral sunscreens) over chemical sunscreens if you are pregnant! 100% mineral sunscreens are quality, natural, and most importantly, safe for a pregnant woman!
Check the ingredients label thoroughly. Look for zinc oxide and titanium dioxide rather than chemicals like oxybenzone. While oxybenzone does help to filter UV light, it is not safe, and it shouldn't be used when you're pregnant.
Pregnant women usually do not like strong smells, so choose a fragrance-free sunscreen.
Use broad-spectrum formulas, which block both UVA and UVB rays.
Pregnant women should use sunscreen that has a sun protection factor (SPF) of at least 30.
---
Best pregnancy-safe sunscreens in 2023
Best Overall:
Thinkbaby Natural Sunscreen
---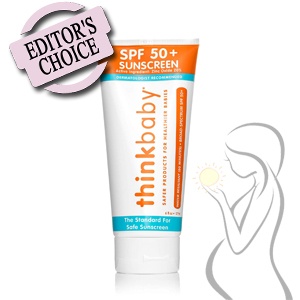 Why we love it:
The Thinkbaby is in the first line of SPF for babies, but it is a winner for pregnancy, too. And it is one of the top choices for pregnancy-safe sunscreens for a reason!
First of all, this non-aerosol sunscreen is without unpleasant chemical scents, which might be perfect for those with morning sickness. However, although the Thinkbaby do not use fragrance, it has a gentle papaya scent based on the essential oils. It is very light and just used to mask the smell of zinc oxide.
Second, it offers a gentle but highly efficient defense against the sun's rays. It is perfect for sensitive skin and suitable for daily use. Furthermore, the Thinkbaby sunscreen is also water-resistant, easy to apply, and offers instant protection.
But, most importantly, it's free from PABA, parabens, phthalates, BPA, oxybenzone, avobenzone, petroleum, gluten, dairy, or any other toxic chemicals.
Thus it is a solid pregnancy-safe sunscreen pick, which is also environmental and reef-friendly, meaning it doesn't contain any UV-blocking chemicals that studies have shown can cause coral bleaching.
Best Everday Fragrance-Free choice:
MDSolarSciences Mineral Creme
---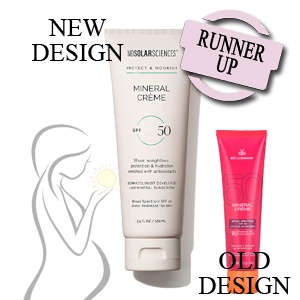 Why we love it:
Especially in the first trimester, you might be super sensitive to smells. In such a case, choosing an unscented sunscreen might be the best choice for you!
I highly recommend you take a look at the MDSolarSciences Mineral sunscreen. It could be easily the best pregnancy-safe sunscreen overall! I love it and think it is worth the money! Actually, the only reason it's not our favorite choice is its price, which is slightly higher than the Thinkbaby sunscreen on the top.
The MDSolarSciences sunscreen has everything a pregnant woman wants!
Besides being safe and unscented, it is also very lightweight and non-irritating for sensitive pregnancy skin. The cream is made with 100% natural ingredients and rich in antioxidants, which is one more thing I like about it! You can safely use it every day, and I am sure you will love it!
The next thing I like is its texture. First of all, the MDSolarSciences sunscreen is appropriate for the body and face! Second, it works with multiple skin tones and doesn't leave visible layers on your skin. And third, it blends in fast!
We have all tried sunscreens that take forever to rub in or mineral formulas that leave a white cast behind. On the contrary, this one blends in quickly, leaving a matte finish that makes it perfect to wear both under or over make-up.
Best for the Beach:
BLUE LIZARD Sensitive Mineral Sunscreen
---
Why we love it:
The Blue Lizard is an Australian mineral sunscreen that provides head-to-toe sun protection. And who doesn't know more about sun protection than Australians?
The brand has a strong tradition and has been trusted by dermatological for over 20 years.
The Blue Lizard sunscreen has a Smart Bottle Technology, meaning the cream's cap turns blue in the harmful UV rays. Well, we suggest applying sunscreen whenever you are out in the sun anyway. But it is a cool feature, which shows you how intense the UV rays are in any given situation.
Other than that, this is a sensitive sunscreen that doesn't contain skin-irritating chemical ingredients, parabens, and fragrances. Perfect for sensitive pregnancy skin!
The Blue Lizard uses a mineral formula with zinc oxide and titanium Dioxide that act like thousands of tiny mirrors that reflect UV rays and protect your skin from their harmful effects.
The only thing you have to consider when buying the Blue Lizard sunscreen is that it is a little harder to blend it in. The sun cream does its job flawless, but for a face, you might think about special face creams, which are safe in pregnancy.
Best Blendable:
Supergoop! PLAY Everyday Lotion
---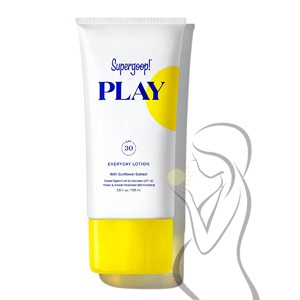 Why we love it:
The Supergoop's sunscreen is very versatile and perfect for rushing mamas. But be aware that this is not a mineral, but a chemical sunscreen. Nevertheless, it is considered safe and does not contain harmful chemicals, such as oxybenzone or octinoxate!
On the contrary, it is rich in antioxidant ingredients like sunflower and rosemary leaf extracts that nourish and protect pregnancy skin.
It is appropriate for all skin types and suitable for the body and face. The lotion is not sticky and does not leave a "white-cast" on your skin. So, the fact that it doesn't have the characteristic thick texture of mineral sunscreens may be the turning point in your decision.
Another thing I like about Supergoop's sunscreen is its fast absorption.
The Supergoop's sunscreen is easy to apply and perfect for those days when you are rushing and want something light on your skin.
The Supergoop! PLAY Everyday lotion has a refreshing scent. I would describe it as a light floral smell with a hint of a "normal sunscreen" scent. Personally, I don't perceive it as notable that it could be uncomfortable for a pregnant woman.
Best Budget Buy:
Neutrogena Sheer Zinc Oxide Dry-Touch Sunscreen Lotion
---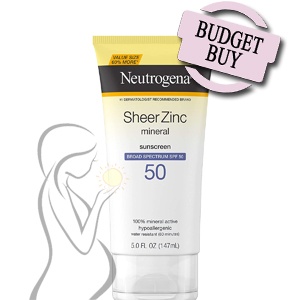 Why we love it:
I consider the Neutrogena Sheer Zinc Oxide Dry-Touch Sunscreen Lotion as the best choice among affordable drug-store sunscreens.
It is an oil-free and dyes-free lotion that is easy to spread on the skin, absorbs quickly, and feels ultra-light … especially for a mineral sunscreen. You will love its non-shiny, matte finish!
I like that it is made with 100% naturally sourced active mineral ingredients. There are also no added fragrances, parabens, phthalates, or harsh chemicals, making it an ideal choice for those with allergies and sensitive skin.
Although the Neutrogena sunscreen doesn't cost a lot, it offers the same sun protection as high-budget sunscreens. It provides broad-spectrum mineral protection against harmful UVA and UVB rays while still being gentle enough for sensitive skin.
The Neutrogena Sheer Zinc sunscreen is also water-resistant, suitable for everyday use, and non-comedogenic, therefore, it won't clog pores on acne-prone pregnancy skin.
We think that the Neutrogena Sheer Zinc Oxide Dry-Touch Sunscreen Lotion is the best budget-friendly sunscreen, which is safe for pregnant women.
Best in Stick:
Thinkbaby Sunscreen Stick
---
Why we love it:
Another winning sunscreen from Thinkbaby. As for the cream's ingredients, they are basically the same as those in our best-rated Thinkbaby sunscreen above.
However, these two sunscreens differ in the sun protection factor (SPF) and application to the skin. This one has a lower SPF, but 30 is more than enough for complete sun protection!
And most importantly, this one is in a stick. Sunscreen sticks are ideal for their practical use during everyday chores outside. They allow you to swipe on a layer of UV protection without dealing with the greasy mess of lotion sunscreens.
Sticks are very useful for application on the exposed body parts (hands, lips, ears, and nose) when you have to go out for more than two hours. But for whole-body sun protection, I would preferably use liquid sunscreen.
While covering only certain parts is faster with sunscreen in the stick, the coverage of the whole body faster with a more spreadable liquid formula.
Best in Spray:
Babo Botanicals Sheer Spray Sunscreen
---
Why we love it:
By now, you probably aware that lots of zinc-based sunscreens can be tricky to blend in. But thanks to the spray formula is way less messy.
Applying sunscreen in a spray is quick and easy! And most importantly, it eliminates the time you'd otherwise be spending rubbing in a messy, white, and creamy substance. For sure, this is the best choice for a fast full-body application.
But to be efficient, you have to apply it correctly! Spray sunscreen is an aerosol product. Thus the wind can move bits of the spray away from the body, and not enough sunscreen gets on the skin. Because of this, you have to use a lot of the product, especially if it is windy outside.
To avoid this, you could apply it inside, but better not. It can coat furniture, make your floor surfaces slippery, and most importantly, inhaling spray sunscreen is not healthy.
For the best sunscreen in spry, we have chosen the fast-absorbing Babo Botanicals Sheer Zinc.
Pregnant women with sensitive skin will benefit from this hypoallergenic spray sunscreen. It is a reef-friendly, fragrance-free, vegan product made with 100% non-nano zinc. Furthermore, the Babo Botanicals spry sunscreen also contains plant extracts, which reduce inflammation and soothe skin.
Best for Dry Skin:
Reef Repair Moisturizing Sunscreen
---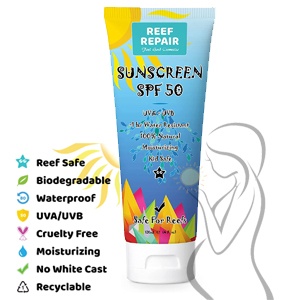 Why we love it:
Mineral sunscreens can dry out your skin, especially if it is already dry. If this is happening to you, make sure you pick a moisturizing sunscreen or apply your regular sunscreen over the moisturizer.
By using sunscreen, which is moisturizing enough, you won't need a separate moisturizer, which is way more convenient.
So if your skin in pregnancy is dry, the Reef Repair sunscreen might be the best choice for you. Not only is this reef-safe option free of bad-for-marine-life ingredients like oxybenzone and octinoxate, but it is also safe, nourishing, and hydrating.
This organic, 100% natural sunscreen is a perfect combination of sun protection and moisturization for dry, sensitive, or damaged skin during pregnancy. It protects your skin from premature aging, wrinkles, and DNA damage.
Although moisturizing, it is ultra-clear. The sunscreen is non-sticky, non-oily, water-based sunscreen. It does not leave a sticky or greasy feeling on your skin, which is perfect!
I also like how easy it spreads over the skin. You can apply it with almost no rubbing, and it doesn't leave a white cast on the skin!
Fast Absorbing:
La Roche-Posay Anthelios Melt-In Sunscreen
---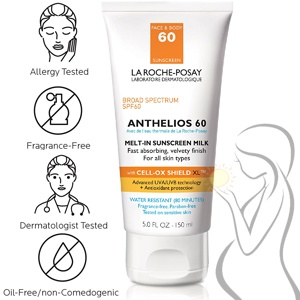 Why we love it:
A fast-absorbing sunscreen is perfect for those who do not want to rub it in for ages. It is also an excellent choice for those with sensitive skin. Moreover, if the cream is also oil-free, it is a perfect combination for pregnant women with extra oily skin prone to annoying breakouts.
Several sunscreens on our list are oil-free and fast-absorbing, however, I would like to highlight this one here.
La Roche-Posay Anthelios is a multi-award-winning sunscreen. It has a velvety texture that leaves skin hydrated and smooth. You'll love it because it absorbs so effortlessly and doesn't make you feel greasy.
I have extra-sensitive skin, and I have to say that all the products from La Roche Posay that I have tried so far have suited me very well. And their Anthelios Melt-In sunscreen lotion is not an exception! It is excellent!
I like that it is suitable for the body and face! The La Roche-Posay Anthelious is also rich in antioxidants that protect your skin from free radicals caused by UV rays.
---
Best Pregnancy Safe Facial Sunscreens
People with non-sensitive skin can use regular body sunscreen on the face too. The sun-protective ingredients of body and facial sunscreens are typically the same.
However, facial sunscreens are more gentle and easier to rub into the face, so they are more appropriate for pregnant women's sensitive skin.
Facial sunscreens are typical non-comedogenic, so they do not clog pores. They contain various smoothing ingredients and help you fight against oily skin and acne. Facial sunscreens also retain skin moisture and prevent dry skin. Some are perfect for applying under, others over makeup, etc.
Here are our favorite facial sunscreens that are safe in pregnancy!
Best overall:
Supergoop! Face Sunscreen for All Skin Types
---
Why we love it:
Although regular sunscreens can be used on the face, choosing a special face cream like Supergoop is a much better decision. Face sunscreen not only protects your face from harmful UV rays but also contains ingredients that are important in facial care.
I like Supergoop because you can apply it under the makeup or use sunscreen only for a natural, non-shiny look.
The Supergoop sunscreen is unscented and oil-free, so it doesn't cause unwanted shine on your face. It is the world's first 100% invisible and weightless face sunscreen. And which is also very important, it absorbs really quickly, leaving a velvety, makeup-gripping finish. You do not want a sticky facial sunscreen that leaves a "white-cast" on your face!
All of the above is great for skin protection and your good look. But that is not all the Supergoop face sunscreen has to offer. It is also packed with antioxidants, which further improve and nursing your skin.
This sunscreen contains powerful ingredients like soothing frankincense, hydrating meadowfoam, and red algae that protect against blue light emitted by electronic devices.
Best for acne-prone skin:
EltaMD UV Clear Facial Sunscreen
---
Why we love it:
Many pregnant women have oily skin, which along with pregnancy hormones, often causes acne breakouts. If you are one of them, the EltaMD UV Clear sunscreen might be the best choice for you.
The EltaMD is a trusted and dermatological recommended professional sunscreen brand. Yes, that adds to its price, but I think it is worth it!
Their UV Clear facial sunscreen is safe to use in pregnancy and well-known for being gentle and non-irritating, perfect for hormonal, irritated pregnancy skin.
It like its calming effect that quickly soothes the skin, its non-greasy silky texture, and the fact that it is available in a tinted and untinted formula. Furthermore, the EltaMD UV Clear facial sunscreen is also fragrance-free, oil-free, and paraben-free! It is a mineral-based product that doesn't contain harmful chemicals and is suitable for everyday use.
The cream, however, offers more than just protection for acne-prone skin. It is also very beneficial for those with rosacea and discoloration.
Best tinted face sunscreen:
CeraVe Tinted Sunscreen with SPF 30
---
Why we love it:
The CeraVe Tinted sunscreen is perfect for pregnant women who want instant and even skin tone with sun protection at once.
Using this face sunscreen is very convenient. First of all, it can be worn alone or under makeup as a tinted primer. And secondly, because of its universal tint, you won't have to choose a matching tone! The cream blends seamlessly into all skin tones, which is amazing!
And the best part? The CeraVe Tinted sunscreen is a quality product for a reasonable price. It offers so much more than sun protection and a healthy glow!
It is 100% mineral sunscreen that doesn't leave the white-cast on your face. It is non-comedogenic, fragrance-free, oil-free, and chemical-free! And above all, it contains hyaluronic acid and essential ceramides that help restore the skin's natural barrier and moisturize the skin.
Best sun-protection make-up:
Supergoop! Invincible Setting Powder
---
Why we love it:
This is not a sunscreen but a setting powder with an added sun protection. It is available in three different tones, which is perfectly enough to adjust across all skin tones.
Whether you wear it on its own or over makeup, it is suitable and safe for everyday use.
Particularly, if you are using makeup every day, the Supergoop! Invincible Setting Powder should be your companion. It protects your face from harmful UV rays while mattifying the skin and gives it a flawless finish.
This setting powder is made for sensitive skin, and due to its 100% zinc oxide formula safe during pregnancy!
Other added ingredients are ceramides, olive glycerides, and coated silica spheres. Ceramides are lipids found naturally in the skin. They are great for retaining moisture and protecting your skin from environmental damages. Olive glycerides provide emollient while nursing, moisturizing, and protecting the skin. And last but not least, coated silica spheres diffuse light and diminish the appearance of pores, giving your face a soft matty finish.
---
What sunscreen is safe during pregnancy?
Due to different active ingredients, we divide sunscreens into two types:
Physical blockers (also known as mineral sunscreens) are safe in pregnancy!
Chemical sunscreens are not recommended during pregnancy!
Choose a Mineral Sunscreen when Pregnant
Mineral sunscreens contain physical blockers like zinc oxide or titanium dioxide. These active mineral ingredients stay on the skin's surface and deflect harmful UV rays away.
As physical blockers never enter through the skin into the bloodstream, they have no adverse effects on a pregnant woman or baby.
This type of sunscreen is the one that is safe during pregnancy!
Do NOT use Chemical Sunscreens when Pregnant
On the contrary to mineral products, chemical sunscreens create a chemical reaction that turns UV rays into heat. These sunscreens contain carbon-based compounds, such as oxybenzone, octinoxate, avobenzone, or octisalate. These chemicals may absorb into the bloodstream, which can impact the fetus. It poses a potential risk for the development problems, such as hypertension, type 2 diabetes, low birth weight, etc.
---
Safe sunbathing in pregnancy
The sun is the best source of vitamin D, which is essential for absorbing numerous minerals and other nutrients into the body. For pregnant women, however, vitamin D is important primarily because of its vital role in calcium absorption.
Pregnant women shouldn't hide from the sun, but they should follow few rules:
moderation is the key
any exaggeration with sun exposure during pregnancy is unnecessary
always use sunscreen
Skin protection is important before, during, and after pregnancy! Prolonged exposure to UV radiation can cause changes in the immune system, damage the skin, affect eye health, or cause skin cancer.
Pregnancy alone does not increase the risk. However, excessive sun exposure should be avoided by pregnant women with sensitive skin and women in whom pregnancy has caused characteristic skin changes (linea nigra, nevi, etc.).
Women with the following characteristics and symptoms are at greater risk:
• Light skin
• Red and blonde hair
• With blue, gray, or green eyes
• Women with irritated skin
• Those who have herpes
UV rays may influence the folic acid content
Prolonged sun exposure can reduce the levels of folic acid in the body. Folic acid is essential for the healthy development of the fetus. Additional doses of folic acid during pregnancy prevent neural tube defects (spina bifida) and maintain healthy brain development.
Excessive sun exposure without using proper sunscreen, especially during the first twelve weeks of pregnancy, can cause neurological damage to the unborn baby!
Sunbathing and hyperthermia
Excessive sun exposure may cause body overheating, which could have dangerous consequences for a pregnant woman. Heatstroke, fetal hyperthermia, dehydration, blood pressure fluctuations, heat cramps, and stress are just some of them. As you can see, it can seriously affect the course of pregnancy and the health of the fetus!
Excessive sun exposure is not recommended for anyone, but pregnant women are due to skin changes and more difficult body temperature regulation at greater risk.
UV rays affect the functioning of the already stressed pregnant woman's immune system, so her body temperature rises sooner. Furthermore, the fetus can not yet regulate body temperature, and fetal hyperthermia can cause lifelong neurological damage.
---
Takeaway
Do not hide in the house during pregnancy! Go outside and enjoy the sun, as it is good for you! But follow the general recommendations, do not expose yourself to the sun between eleven and four o'clock, use pregnancy-safe mineral sunscreen, UV-protection clothing, or just simply enjoy the shade of pine or palm trees.
---