Protecting your skin from the sun is essential! But if you're pregnant, you may wonder whether using sunscreen is safe for you and your baby. Since some traditional sunscreens contain components harmful to the fetus, this is a valid question to ask. To help you avoid any potential danger, we've gathered a list of the best pregnancy-safe sunscreens for 2023.
Whether you need facial or body sunscreen, the products we've picked are free from toxic ingredients and safe during pregnancy. Keep reading to discover our top picks for safe sun protection during pregnancy.
Top-Rated Pregnancy-Safe Sunscreens
Baby's Little Place Top-Rated Products
Experts agree that sunscreen is necessary to protect your skin from burns, premature aging, and skin cancer. However, pregnant women should be careful about which sunscreens they use as some chemical ingredients in everyday sunscreen can harm the baby's development.
The good news is that there are pregnancy-safe sunscreen options available. These are mineral sunscreens that provide a physical block from the sun.
Top 3 Pregnancy-Safe Sunscreens
Editor's Choice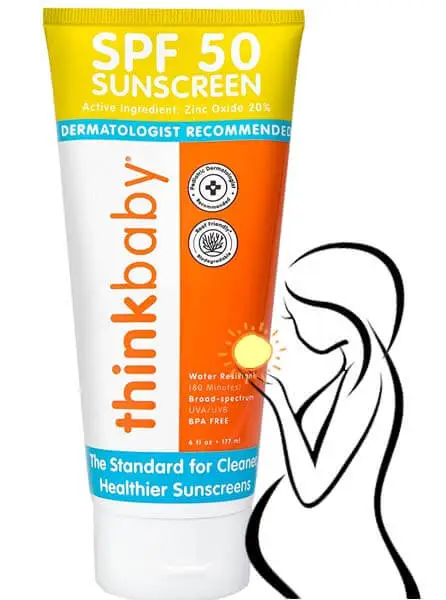 Best All-In-One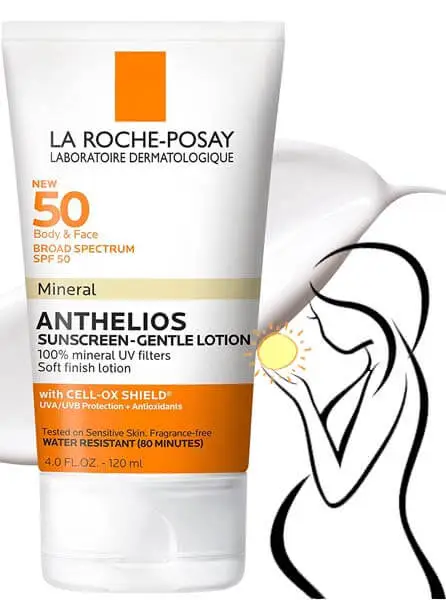 Best for Face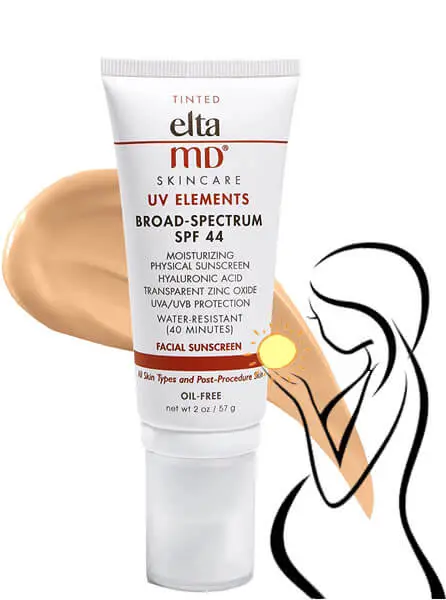 Note!
Hormonal changes during pregnancy can make the skin more sensitive, including its reaction to sunlight. They can also cause increased skin pigmentation, such as melasma, which can get even darker in the sun.
Thus, if you are pregnant, use sunscreen daily, regardless of the temperature outside or the appearance of the sun, and reapply it frequently when spending time outdoors.
Other measurements you can take along using pregnancy-safe sunscreen are:
Try to seek shade between 10 a.m. and 2 p.m. when the sun's rays are strongest.
Cover as much skin as possible and wear wide-brimmed heat.
Wear sunglasses with UV protection.
What to consider when buying a Pregnancy-Safe Sunscreen?
1. Sun Protection:
Look for a sunscreen with a minimum SPF of 30 to ensure sufficient shielding from the sun's hazardous radiation. Opting for a broad-spectrum sunscreen that defends against both UVA and UVB rays is also important.
2. Ingredients:
Pregnant women should choose dermatologically tested sunscreens made with natural mineral ingredients, such as zinc oxide or titanium dioxide.
Those can be regular sunscreens; just make sure they are free from questionable ingredients, like oxybenzone or avobenzone.
3. Fragrance-free:
While sunscreen's ingredients should be your number one priority, don't forget about particular circumstances that may also affect your choice during pregnancy.
For instance, pregnant women have a sharper sense of smell and don't like strong odors, particularly in the first trimester. If you are one of them, the best sunscreen for you is one without added fragrances that don't have an intense smell.
4. Skin Type and Sensitivity: 
By choosing a sunscreen adapted to your skin type, you can avoid inconveniences such as dry or oily skin. So, pick an "oil-free" or "non-comedogenic" sunscreen if you have oily or acne-prone skin. Such sunscreen will help to prevent clogging your pores.
On the contrary, pick a sunscreen that contains moisturizing ingredients, such as glycerin or hyaluronic acid, if you have dry skin.
During pregnancy, it is also good to consider a sunscreen labeled "hypoallergenic" to avoid irritation or allergic reactions. They contain soothing ingredients like aloe and niacinamide.
5. Water Resistance: 
If you're planning to swim or sweat, consider buying a water-resistant sunscreen that can remain effective for longer, even when exposed to moisture. While no sunscreen can be completely waterproof, some can withstand exposure to water better than others. Look for sunscreens labeled explicitly as water-resistant on the bottle.
6. Application:
You can choose from three types of applications: lotion, stick, or spray. All are acceptable during pregnancy, but lotion sunscreens ensure the most even application. In contrast, spray or stick sunscreens can lead to uneven coating and increase the risk of sunburn. Thus apply them carefully to ensure proper coverage.
7. Brand Reputation:
Consider buying a reputable brand known for making safe and effective sunscreens.
---
Best pregnancy-safe sunscreens in 2023
Protecting your skin from harmful UV rays is essential during pregnancy, but with so many sunscreen options on the market, it can be overwhelming to determine which ones are safe to use. So, I hope our recommendations on the best pregnancy-safe sunscreens help you find the one suitable for your needs.
1. Best Overall Pregnancy-Safe Sunscreen: 
Why we love it:
The Thinkbaby sunscreen is widely popular for protecting babies' delicate skin. However, many do not know it is also one of the best choices for pregnant women.
This natural sunblock offers highly effective protection that stays on your skin when swimming or sweating. We like its gentle formula, which is perfect for daily use during pregnancy when your skin is more sensitive.
Second, we like how easily it blends into the skin. Note that this is a mineral sunscreen, so we compared it to other mineral sunscreens.*
The Thinkbaby sunscreen is free from any harmful chemicals! Its active ingredients are Zinc Oxide and Hyaluronic acid, which are both safe to use during pregnancy.
Pregnant women also appreciate that the Thinkbaby sunscreen doesn't have unpleasant chemical scents. However, it does have a mild papaya scent. How if it seals as unscented sunscreen? Unscented sunscreens are free from added fragrances and chemicals, while they may include essential oils, like papaya, to gently mask the scent of zinc oxide. The smell of Thinkbaby sunscreen is very light and hardly noticeable!
Last but not least, we love that the Thinkbaby sunblock is also safe for the environment. It is natural, vegan, and non-toxic. Meaning it is free of nanoparticles that have been shown to damage coral reefs.
* You can not compare any sunscreen on the list to chemical sunscreens that usually do not leave white marks as they absorb into the skin. Such chemical sunscreens are not safe during pregnancy! On the contrary, the best pregnancy-safe sunscreens are mineral, meaning they use physical blockers, also known as mineral blockers, to protect the skin. As blockers stay on the skin, they usually blend a little bit harder.
---
2. Best Sheer Pregnancy-Safe Sunscreen: 
Why we love it:
If you're looking for a sheer sunscreen that is both safe and effective, look no further than MDSolarSciences Mineral Moisture Defense SPF 50 Sunscreen. This non-whitening lotion is the ultimate mineral broad-spectrum protection that will keep your skin safe from the sun's harmful rays while providing much-needed hydration.
If you want an easy-to-spread sunscreen, I highly recommend using this one. Especially pregnant women with deeper skin tones will appreciate how well this mineral-based sunscreen blends in sheer without leaving white residue everywhere.
I particularly like the natural, moisturized look of the skin after the application. The sunscreen is not heavy or greasy and gives your skin a smoothed-over effect.
Another great feature of this sunscreen is a blend of ingredients that helps to lock in moisture and restore the skin's natural moisture barrier. All are considered safe during pregnancy, making this sunscreen an ideal choice for pregnant women with dry skin who may be experiencing increased sensitivity or dryness during pregnancy.
Moreover, this sunscreen is vegan and cruelty-free, making it safe for all skin types and the environment. It is also reef-safe and free from gluten, parabens, and fragrance.
Overall, MDSolarSciences Mineral Moisture Defense SPF 50 Sunscreen is an excellent choice for pregnant women who are looking for a sheer, moisturizing, and safe sunscreen. Plus, it is eco-friendly packaging and cruelty-free status make it a responsible choice for the environment and animals.
---
3. The best All-in-One Sunscreen Solution for Face and Body: 
Why we love it:
You should pick the La Roche-Posay Anthelios Mineral Sunscreen if you need a high-quality sunscreen that is safe for use on both the face and body.
This sunscreen is an excellent choice for pregnant women who have skin problems. Its non-comedogenic formula ensures that it won't clog pores or lead to breakouts. I also appreciate its gentle lotion texture, so you can easily apply and blend it with the skin. Even better, it doesn't leave any greasy or sticky residue, which is crucial for pregnant women with extra sensitive and irritated skin.
The La Roche-Posay Anthelios mineral sunscreen is water-resistant, providing long-lasting protection for active pregnant women. Its broad-spectrum SPF 50 protection ensures UVA and UVB rays are effectively blocked, protecting the skin from sunburn and premature aging. It also works very well against pigmentation, which is even more pronounced due to hormonal changes during pregnancy.
We choose the La Roche-Posay Anthelios mineral sunscreen as the best all-in-one sunscreen for pregnant women due to its numerous features that most pregnant women want. It's a face and body sunscreen with broad-spectrum protection that they can use daily.
And last but not least, besides its positive effects on the skin, it is also fragrance-free, which many appreciate during pregnancy due to morning sickness.
---
4. Best Sunscreen for the Whole Family, including Expectant Moms:
Why we love it:
The Blue Lizard is an Australian mineral sunscreen that provides head-to-toe sun protection. And who doesn't know more about sun protection than Australians?
The brand has a strong tradition and has been recommended by dermatologists for over 20 years.
Blue Lizard sunscreens have very interesting and unique packaging. Their bottles and tube caps include a special dye in the plastic that is sensitive to UV light. Thus the packaging change color when exposed to UV rays, reminding users to apply sunscreen and reapply after two hours.
This special dye does not impact the composition of the sunscreen, ensuring that it remains safe and effective for use during pregnancy. It is only a cool feature that shows you how intense UV rays are in any situation.
This mineral sunscreen acts like thousands of tiny mirrors reflecting UV rays and protecting your skin from harmful effects. It is gentle on sensitive skin and contains no skin-irritating ingredients, such as parabens, fragrances, and phthalates. It is also non-comedogenic so it won't clog your pores.
Of course, it stays on the skin when swimming and does not harm coral reefs and marine life! I like that you are protecting yourself and the environment!
With its gentle formula, water-resistant feature, and reef-safe formulation, the Blue Lizard sunscreen is a top pick for anyone looking for a high-quality mineral-based sunscreen for the whole family.
---
5. Best Pregnancy-Safe Sunscreen in Stick:
Why we love it:
Another Thinkbaby's winning sunscreen formula that is perfect for babies and expecting mothers. When it comes to its ingredients, they are almost identical to those found in our top-rated pregnancy-safe sunscreen, the Thinkbaby SPF 50+ Baby Sunscreen.
However, these two sunscreens have two key differences: their sun protection factor (SPF) and the way how you apply them on the skin. This one has a lower sun protection factor, but 30 is still more than enough for complete sun protection!
Moreover, this sunscreen comes in a convenient stick form, making it ideal for everyday outdoor activities. It allows you to swipe on a layer of UV protection without dealing with the greasy mess of lotion sunscreens.
Sticks are handy for application on the exposed body parts (hands, lips, ears, and nose) when you have to go out for more than two hours. But for whole-body sun protection, I would rather use liquid sunscreen. It is just more convenient.
We think the Thinkbaby sunscreen stick is an excellent option for busy pregnant women looking for a quick and easy way to protect their most exposed body parts from the sun.
---
6. Best Pregnancy-Safe Sunscreen in Spray:
Why we love it:
By now, you've probably realized that lots of zinc-based sunscreens can be tricky to blend in. However, thanks to the spray formula, it can be way less messy.
Applying sunscreen in a spray is quick and easy! And most importantly, it eliminates the time you'd otherwise spend rubbing in a messy, white, and creamy substance. For sure, this is the best choice for a fast full-body application.
But, even though the spray sunscreen seems to be the ideal choice, you have to pay attention to certain things. Most importantly, you must apply it correctly to be fully efficient!
Spray sunscreens are aerosol products. Thus the wind can move bits of the spray away from the body, and not enough sunscreen gets on the skin. Because of this, you must use a lot of the product, especially if it is windy outside!
To avoid this, you could apply it inside, but better not. It can coat furniture, make your floor surfaces slippery, and above all, inhaling spray sunscreen is not healthy.
Anyway, for the best pregnancy-safe sunscreen spray, we've chosen the Babo Botanicals Sheer Zinc spray. It is a vegan product that is water-resistant and reef-friendly.
The Babo Botanicals Sheer Zinc spray sunscreen is fast-absorbing, hypoallergenic, and fragrance-free. Furthermore, it contains plant extracts, which reduce inflammation and soothe skin. We can say it has all the features that can benefit pregnant women.
---
7. Best Budget-Friendly Pregnancy-Safe Sunscreen: 
Why we love it:
If you spend a lot of time outdoors and need a sunscreen that provides adequate protection without breaking the bank, the Australian Gold Botanical SPF 50 mineral sunscreen is worth your consideration.
The first thing I like about this sunscreen is that it is not heavy or greasy. I'm not too fond of the sticky feeling on the skin, so no-oily sunscreens with a matte finish are my go-to products. I also like how smoothly it blends into the skin and doesn't leave a white cast, despite being a mineral sunscreen.
As someone with sensitive skin, I appreciate its natural ingredients, like eucalyptus and red algae, which provide antioxidant benefits and nourish the skin.
As for its efficiency, we don't have any complaints either. The Australian Gold Botanical SPF 50 mineral sunscreen offers broad-spectrum protection against UVA and UVB rays, it's water-resistant for up to 80 minutes, and you can easily use it daily during pregnancy.
The only thing that might divert you from purchasing is its citrus scent. The scent is very light, pleasant, and refreshing. However, if you are struggling with morning sickness and currently don't like citruses, I suggest choosing one of the other pregnancy-safe sunscreens from our list.
Overall, I love the Australian Gold Botanical SPF 50 Mineral Sunscreen Lotion because it provides effective protection, contains natural ingredients, and is budget-friendly. I recommend trying this one.
---
8. A Safe Choice for Pregnant Women:
Why we love it:
The Reef Repair sunscreen is another safe choice for you during pregnancy. Not only is it reef-safe, but it's also nourishing, hydrating, and perfect for dry, sensitive, or damaged skin during pregnancy.
One of the things I love about this organic, 100% natural sunscreen is how moisturizing it is. It's a perfect combination of sun protection and moisturization, so you won't need a separate moisturizer, which is way more convenient. Plus, it's clear, non-sticky, and non-oily, making it perfect for everyday use.
Reef Repair sunscreen offers broad-spectrum mineral-based protection from UVA/UVB rays with a high SPF of 50 and is waterproof for up to 80 minutes.
What sets Reef Repair apart from other sunscreens is its commitment to coral reef safety. It's 100% Oxybenzone-free, Octinoxate-free, and completely chemical-free, making it safe for marine and aquatic life, including delicate coral reefs.
The Reef Repair sunscreen contains added ingredients like red raspberry seed and coconut oil for extra sun care protection. It protects your skin from premature aging, wrinkles, and DNA damage. Daily application is now fun and easy!
In conclusion, Reef Repair sunscreen is safe and nourishing for pregnant women. If you try it, I'm sure you won't be disappointed!
---
Best Pregnancy-Safe Sunscreens for the Face
The sun-protective ingredients of body and facial sunscreens are typically the same. Therefore body sunscreen offers good sun protection for your face. But body sunscreens do not contain additional ingredients needed for more sensitive facial skin.
The skin on the face is more sensitive, prone to acne, it can be dry or oily, etc. And regular body sunscreens do not address those issues, so they are not the best choice for sensitive facial skin, especially during pregnancy.
So, although, in theory, those with non-sensitive skin could use body sunscreen to protect their face, that is generally not recommended, especially not for everyday use.
Facial sunscreens contain additional ingredients, making them more appropriate for gentle facial skin. They are more delicate and easier to rub into the face. Facial sunscreens are usually non-comedogenic, so they do not clog pores. They contain various smoothing ingredients and help to fight against oily skin and acne. Facial sunscreens also retain skin moisture and prevent dry skin. Some are perfect for applying under, others over makeup, etc.
Your face is the most exposed part of the body, so choose a quality facial sunscreen that is safe during pregnancy and apply it regularly.
Here are the best pregnancy-safe sunscreens for the face in 2023.
1. Best Pregnancy-Safe Sunscreen for the Face: 
Why we love it:
After trying many different options, I can confidently say that the EltaMD UV Elements facial sunscreen is the best pregnancy-safe sunscreen for the face.
With zinc oxide and titanium dioxide as its active ingredients, this product provides safe but sure sun protection without any harmful chemicals.
What I love about the EltaMD UV Elements facial sunscreen is that it is oil-free, fragrance-free, gluten-free, and paraben-free. It is also gentle on sensitive skin, making it ideal for women who have undergone any facial procedures or are currently experiencing pregnancy-related changes in their skin.
Moreover, EltaMD UV Elements facial sunscreen is a tinted moisturizer that enhances most skin tones. Its universal tint gives a light wash of color that evens out skin tone and gives a more youthful appearance. Plus, it works well under makeup, making it a perfect substitute for a primer.
Overall, EltaMD UV Elements facial sunscreen is an excellent pregnancy-safe option for women looking for a gentle, mineral-based sunscreen to include in their daily skincare routine. It is also water-resistant for up to 40 minutes, so that you can use it on the beach too.
---
2. Best Affordable Pregnancy-Safe Sunscreen for the Face: 
Why we love it:
The CeraVe Tinted sunscreen is perfect for pregnant women who want instant and even skin tone with sun protection at once.
Using this face sunscreen is very convenient. First of all, it can be worn alone or under makeup as a tinted primer. And secondly, because of its universal tint, you won't have to choose a matching tone! The cream blends seamlessly into all skin tones, which is amazing!
And the best part? The CeraVe Tinted sunscreen is a quality product for a reasonable price. It offers so much more than sun protection and a healthy glow!
It is 100% mineral sunscreen that doesn't leave a white cast on your face. It is non-comedogenic, fragrance-free, oil-free, and chemical-free! And above all, it contains hyaluronic acid and essential ceramides that help restore the skin's natural barrier and moisturize the skin.
---
3. Best Sun-Protection Makeup for Pregnant Women: 
Why we love it:
I can see why the Supergoop! (Re)setting 100% Mineral Powder has become a staple in the makeup routine of so many pregnant women.
I love how well it reduces shine and keeps your skin looking fresh throughout the day while providing SPF 35 protection in a 100% mineral, non-nano formula.
I also like its versatility. The Supergoop! (Re)setting 100% Mineral Powder works for all skin types, even sensitive skin, and comes in various shades, including a translucent powder. You can easily find the perfect match for your skin tone.
The Supergoop's formula contains skin-loving ingredients such as ceramides and olive glycerides. These ingredients help to seal in moisture and reduce the appearance of pores. They create a soft-focus finish, making the skin look smooth and flawless. And all of them are safe to use during pregnancy.
Oh, another thing I like about it is its mess-free design. The twist-lock brush dispenses a precise amount of powder, and the flow can be turned off after application to prevent spills or messes. You can easily carry it in the bag for touch-ups.
---
How to know what sunscreen is safe during pregnancy?
While wearing protective clothing and avoiding overexposure surely helps, sunscreens remain one of the most efficient forms of sun protection during pregnancy.
But not all sunscreens are safe during pregnancy! There are two types of sunscreen (mineral and chemical sunscreen), where only the mineral type is safe for pregnant women and their babies.
Sunscreen types:
Physical blockers (also known as mineral sunscreens) are safe in pregnancy!
Chemical sunscreens are not recommended during pregnancy!
You have to choose mineral sunscreen when you are pregnant!
What to look for:
Choose physical blockers (mineral sunscreens) over chemical sunscreens if you are pregnant! 100% mineral sunscreens are quality, natural, and most importantly, safe for a pregnant woman!
Check the ingredients label thoroughly. Look for zinc oxide and titanium dioxide rather than chemicals like oxybenzone. While oxybenzone does help to filter UV light, it is not safe, and it shouldn't be used when you're pregnant.
Pregnant women usually do not like strong smells, so choose a fragrance-free sunscreen.
Use broad-spectrum formulas, which block both UVA and UVB rays.
Pregnant women should use sunscreen that has a sun protection factor (SPF) of at least 30.
Physical Blockers are the Best Pregnancy-Safe Sunscreens
Mineral sunscreens contain physical blockers like zinc oxide or titanium dioxide. These active mineral ingredients stay on the skin's surface and deflect harmful UV rays away.
As physical blockers never enter through the skin into the bloodstream, they have no adverse effects on a pregnant woman or baby.
This type of sunscreen is the one that is safe during pregnancy!
Do NOT use Chemical Sunscreens when Pregnant
Contrary to mineral products, chemical sunscreens create a chemical reaction that turns UV rays into heat. They contain carbon-based compounds, such as oxybenzone, octinoxate, avobenzone, or octisalate. These chemicals may absorb into the bloodstream, which can impact the fetus and poses a risk for developmental problems, thus, it is better to avoid them.
---
Safe sunbathing during pregnancy
The sun is the best source of vitamin D, which is essential for absorbing numerous minerals and other nutrients into the body. For pregnant women, however, vitamin D is important primarily because of its vital role in calcium absorption.
RELATED: How To Safely Enjoy Sunbathing While Pregnant?
Pregnant women shouldn't hide from the sun, but they should follow few rules:
moderation is the key
any exaggeration with sun exposure during pregnancy is unnecessary
always use sunscreen
Skin protection is important before, during, and after pregnancy! Prolonged exposure to UV radiation can cause changes in the immune system, damage the skin, affect eye health, or cause skin cancer. 
Pregnancy alone does not increase the risk. However, excessive sun exposure should be avoided by pregnant women with sensitive skin and women in whom pregnancy has caused characteristic skin changes (linea nigra, nevi, etc.).
Women with the following characteristics and symptoms are at greater risk:
• Light skin
• Red and blonde hair
• With blue, gray, or green eyes
• Women with irritated skin
• Those who have herpes
UV rays may influence the folic acid content
Prolonged sun exposure can reduce the levels of folic acid in the body. Folic acid is essential for the healthy development of the fetus. Additional doses of folic acid during pregnancy prevent neural tube defects (spina bifida) and maintain healthy brain development.
Excessive sun exposure without using proper sunscreen, especially during the first twelve weeks of pregnancy, can cause neurological damage to the unborn baby!
Sunbathing and hyperthermia
Excessive sun exposure may cause body overheating, which could have dangerous consequences for a pregnant woman. Heatstroke, fetal hyperthermia, dehydration, blood pressure fluctuations, heat cramps, and stress are just some of them. As you can see, it can seriously affect the course of pregnancy and the health of the fetus!
Excessive sun exposure is not recommended for anyone, but pregnant women are, due to skin changes and more difficult body temperature regulation, at greater risk.
UV rays affect the functioning of the already stressed pregnant woman's immune system, so her body temperature rises sooner. Furthermore, the fetus can not yet regulate body temperature, and fetal hyperthermia can cause lifelong neurological damage.
---
Takeaway
Do not hide in the house during pregnancy! Go outside and enjoy the sun, as it is good for you! However, don't forget to follow the general recommendations for safe sun exposure during pregnancy, and do not expose yourself to the sun between eleven and four o'clock. Always use pregnancy-safe mineral sunscreen or UV-protection clothing, or simply enjoy the shade of pine or palm trees.
---