Last updated on January 23rd, 2023 at 12:06 pm
We've written the Dadada Soho 3-in-1 convertible crib review based on our comprehensive research and actual experiences of parents who already have this trendy Italian crib.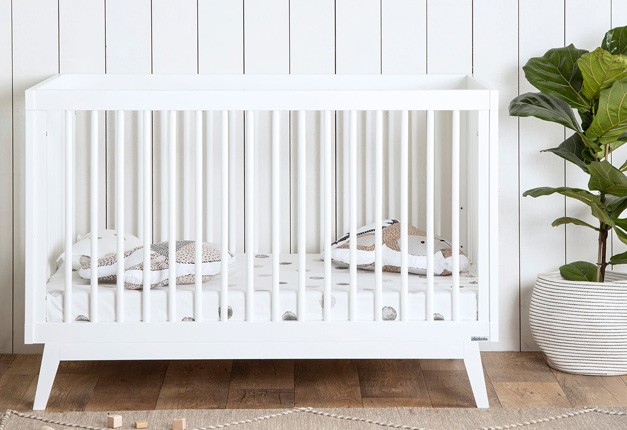 Dadada Soho 3-in-1 convertible crib
The Dadada Soho 3-in-1 convertible crib is a super stylish, solid, and sturdy hardwood crib. We recommend it to those who like modern style and want their crib to last through all of their children.
PRODUCT HIGHLIGHTS:
It adapts to your growing child
Hardwood crib, highly resilient to dings and scratches
Quality-crafted details and unique feet
Baby's Little Place Reviews
The Dadada Soho catches the eye by is its beautiful, modern frame with sleek, minimalist lines. Its appearance certainly makes an impression and is hard to overlook!
But what truly makes the Dadada Soho 3-in-1 convertible crib stand out from the average is the Italian craftsmanship, extensive testing for its safety, and high-quality materials used for this crib.
Due to Dadad's relatively new presence in the market, you may not have heard much about this crib yet. However, I am sure you won't forget about it after reading the whole Dadada Soho 3-in-1 convertible crib review!
Dadada Soho 3-in-1 convertible crib review
PROS:
grows with your baby
trendy crib with hardwood construction
extremely durable
sturdy
constructed in Italy
adjustable mattress support
takes any standard size crib mattress
meet all required safety standards
featuring JPMA, Bureau Veritas, and GreenGuard® GOLD certifications
2-year warranty
CONS:
higher price
toddler bed guardrail is not included in the price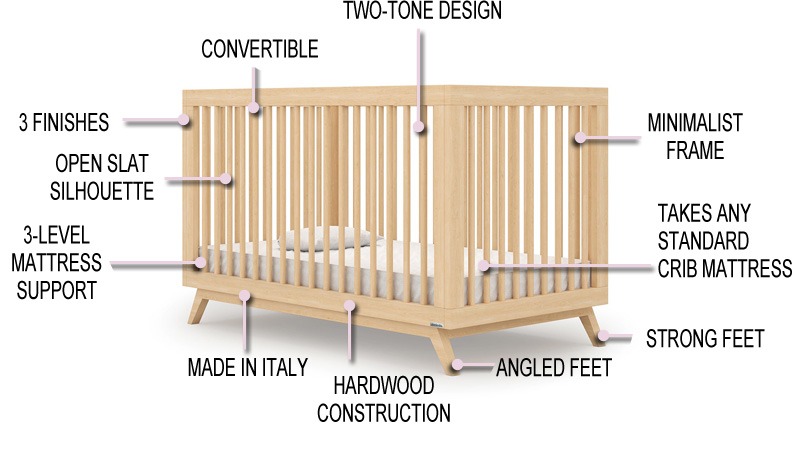 Shop in a bundle and save 25% on an excellent crib mattress: Dadada Soho 3-in-1 convertible crib + Newton crib mattress
Design and Specifications
All Dadada cribs are made in Italy, which is unique and refreshing in the cribs field. Their cribs are made of hardwood and obtain numerous certifications to prove Dadada's commitment to using only the best and safest materials!
Being made of hardwood differs the Dadada Soho crib from most cribs made of softwood, but ads to its price. However, I think it is worth it!
Firstly, hardwood is much more resilient to dings and scratches. Secondly, your baby can not chew it so easily as softwood cribs. And last but not least, hardwood is more robust so that you can convert it back and forth without fear of damage. The Dadada Soho crib will have no problem lasting for many years to come!
Soho crib's specifications:
MANUFACTURER: DaDaDa Baby
MODEL: Soho
TYPE: convertible
STYLE: Scandinavian design with mid-century modern lines
MATERIAL: solid beech wood
COLOR: White/Natural, Natural, White
ASSEMBLED DIMENSIONS: 53.50"L x 29.95"W x 36.7"H
ASSEMBLED WEIGHT: 60 lbs
The Dadada Soho is a full-size crib with a minimalist frame, giving your baby ample space to sleep while it doesn't occupy as much space as big, bulky cribs.
Despite its blocky appearance, it doesn't look dull or robust. That is where clever Italian design and a sense of beauty come into play.
They have combined different elements in one crib. However, the crib doesn't look cluttered, but quite the opposite. Its elements intertwine beautifully, allowing the DaDaDa Soho 3-in-1 convertible crib to fit virtually any decor.
It has orthogonal but soft lines for a modern look, unique inclined legs for a stylish mid-century touch, and soft spindles for those who like Scandinavian design. It is also open and airy, just as it should be for a perfect contemporary crib!
The crib is available only in three colors (white, natural, and two-tone white/natural), but I do not see the need for more of them.
RELATED: Dadada convertible cribs
Dadada Soho 3-in-1 Convertibility Review
This crib nicely accommodates your growing baby from newborn through baby and toddler age.
Before you even start with the conversions, you can help yourself with its adjustable mattress support. Start with the highest level for a newborn, and lower it down when your baby starts pushing up.
It has three different mattress heights, enough to adapt to growing newborns and young babies.
When your baby outgrows the crib, you can start with the conversions. Soho is a three-in-one convertible crib, meaning it converts into two more beds, a toddler bed, and a daybed.
Unfortunately, you need a conversion kit, which adds $80 to the already higher Soho price. That is common for all crib brands, with a few pleasant exceptions, such as Babyletto.
The Babyletto Hudson 3-in-1 convertible crib is actually a great cheaper alternative to the Soho crib. While these two cribs are very similar in appearance and functionality, Babylett costs $100 less than the Dadada Soho convertible crib. Do not forget there is also an included toddler bed safety rail.
But … Yes, there is always a but. The Babyletto Hudson is a softwood crib that is less resilient to dings and scratches.
Soho crib's convertibility:
Safety Review
The DaDaDa Baby is committed to using only the best, safest materials and finishes, which they back up with numerous certifications. 
The Dadada Soho is GREENGUARD Gold certified, proving the product has low or non-existent chemical emissions that foster a healthy indoor environment. 
It has a JPMA certificate to ensure the crib meets the strictest voluntary standards of the JPMA Institute. 
The Soho crib is also designed and crafted following Bureau Veritas standards to ensure safety, durability, and structural stability.
Furthermore, Dadada employs safety specialists who monitor the entire manufacturing process in Italy. Their cribs also undergo rigorous testing to meet all required government safety standards.
Dadada Soho 3-in-1 convertible crib is durable and robust, made of resilient quality beechwood construction. It is finished with non-toxic paint and doesn't contain toxins, like lead and phthalates.
Dadada Soho 3-in-1 convertible crib's safety specifications:
MEETS: all applicable safety standards
CERTIFICATIONS: JPMA, Bureau Veritas, GREENGUARD and GREENGUARD GOLD certifications
NON-TOXIC FINISHES: yes
LEAD AND PHTHALATE FREE: yes
CONSTRUCTION: sturdy, very resilent to dings and scretches
DROPPING SIDES: no
Best crib mattress for the Dadada Soho convertible crib
Dadada Soho is a full-size crib whose interior dimensions are regulated to fit any standard-size crib mattress on the market.
Baby's Little Place Tip: If you want an excellent crib mattress, we suggest you take a look at the Newton Wovenaire crib mattress. Furthermore, Newton and Dadada recognized each other's high potential, so they made an excellent collaboration. If you buy a Dadada Soho 3-in-1 convertible crib on NewtonBaby.com, you will get a 25% discount on any Newton's crib mattress!

Shop Now and Save 25% on a NewtonBaby crib mattress.
If you are not sure if the Wovenaire crib mattress is what you are looking for, you can read our detailed Newton crib mattress review to help you decide.
Anyhow, as I already wrote above, you can choose any standard-size crib mattresses. A crib mattress used in Dadada Baby Soho 3-in-1 convertible crib must be at least 27 1/4 inches by 51 5/8 inches with a thickness not exceeding 6 inches.
Crib mattress information:
MATTRESS SUPPORT: wooden slats
ADJUSTABLE MATTRESS HEIGHT: yes, 3
---
The Soho convertible crib has an adjustable wooden slat mattress support with three height options. That allows the mattress to be higher in the crib for a newborn, which is very helpful when putting a sleeping newborn in the crib.
I like how the mattress support attaches to the crib's frame. It is very strong and reliable!
Dadada Soho 3-in-1 convertible crib
Frequently asked questions
---
---
What do you think of Dadada Soho 3-in-1 convertible crib? Please share your thoughts with us below!