Last updated on January 23rd, 2023 at 12:06 pm
We've been getting a lot of questions about Dadada Baby cribs lately. Being relatively new to the scene, much remains unknown about them. I hope our Dadada Baby crib review answers all your questions and helps you decide which one is the best for your needs.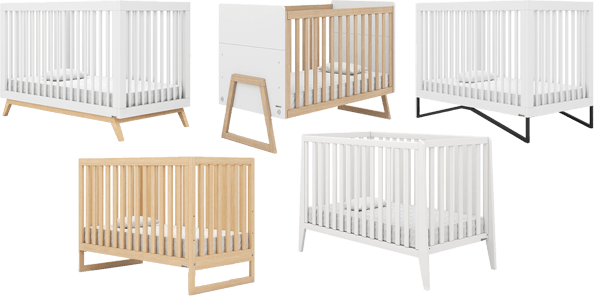 Dadada Baby – Modern convertible cribs from Italy!
Soho, Austin, Kenton, Boston, and Domino
Yes, I wrote I want to help you decide which model you want, not whether to buy a Dadada Baby crib or not. Why? Because I am sure, you will want one of their cribs after reading this review.
The Dadada Baby cribs are an excellent choice for modern parents that do not compromise on quality, functionality, and safety, and are willing to pay a little more for it!
PRODUCT HIGHLIGHTS:
Made of hardwood, that is much more resilient to dings and scratches than softwood
Modern design, with quality-crafted details
Constructed in Italy
Grows with your child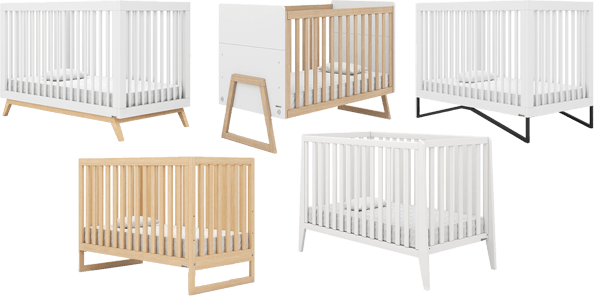 Baby's Little Place Reviews
Many parents would love to have one of the Dadada Baby cribs in their home. They like their modern appearance, hardwood structure, and the fact that they are made in Italy.
However, due to the lack of online reviews, parents are often unsure if these cribs are really as good as they look. So we've decided to take a closer look at the Dadada Baby brand and their cribs, and I can say that they fulfilled our expectations!
I don't want you to overlook their high potential, so read our detailed Dadada Baby crib review and see for yourself!
Dadada Baby crib review
We've been present in this niche for quite a few years, so I can say we have a pretty good picture of current trends. And Dadada baby cribs certainly are trendy in 2023!
Their assortment includes six beautiful baby cribs:
Dadada Baby Austin 3-in-1 convertible crib
Dadada Baby Kenton 3-in-1 convertible crib
Dadada Baby Boston 3-in-1 convertible crib
Dadada Baby Chelsea crib

Parents are mainly looking for convertible cribs, so I will focus only on the first five cribs in this review!
Popular modern cribs!
Lately, more and more stores are starting to sell Dadada baby cribs. I guess they've started to recognize the Dadada cribs' high potential. Furthermore, Dadada Baby cribs are chosen mainly by well-known retailers (e.g., Project Nursery, Newton Baby, Modern Nursery) who sell high-quality, safe, and modern baby products, which also speaks for itself.
Especially Newton Baby's offer seems very interesting to me. Newton Baby is actually one of the leading crib mattress manufacturers. Their unique crib mattresses are the only 100% washable and 100% breathable crib mattresses on the market. I highly recommend you take a closer look at their crib mattresses!
Anyway, Newton Baby and Dadada Baby collaborate to sell their cribs and mattresses in a bundle. You can pair any Newton crib mattress with Dadada Baby cribs, which is very convenient.
Newton Baby Offer
If you buy Newton's crib mattress in a Dadada Baby crib bundle, you can save 25% on their mattress!
You can choose between three best-selling Dadada convertible cribs, Soho, Austin, and Domino, and add the Newton Baby crib mattress you want!
We've contacted Newton Baby and got you additional free shipping, free returns, and a 100-night home trial on their crib mattresses.

Now, here is a detailed breakdown of Dadada convertible cribs' features and benefits:
PROS:
grows with your child
hardwood construction
very durable
sturdy
different modern designs
adjustable mattress support
made in Italy
meet all required safety standards
meet the strictest voluntary standards of the JPMA Institute
featuring Bureau Veritas and GreenGuard® GOLD Certifications
2-year warranty
Design and Specifications
All Dadada Baby cribs are made of quality hardwood (beechwood). Hardwood cribs are considerably more resilient to dings and scratches and more durable than softwood cribs.
The only downside is hardwoods' higher price, but I think it is worth it! By being hardwood, they can be reused multiple times, making them more cost-effective and Eco-friendly.
If you find Dadada Baby cribs too expensive, you can look at cheaper alternatives such as Babyletto Hudson 3-in-1 convertible crib or Delta Children Tribeca 4-in-1 convertible crib. Although softwood, these are high-quality, highly functional, sturdy, and durable cribs!
Dadada Baby cribs' specifications:
[smartslider3 slider="2″]
You will get a modern crib with more of a blocky appearance by deciding on this brand. So, if you like curves, high headboards, or arched back panels, then the Dadada baby cribs are probably not the best choice for you.
An open silhouette with simple, straight, and sleek lines is typical for Dadada's convertible cribs. Yet, that doesn't mean all their cribs are the same!
Dadada Baby Cribs' Convertibility Review
Most Dadada Baby convertible cribs convert into a toddler bed and daybed. The exception is a Domino crib, which only turns into a toddler bed.
Dadada Baby cribs' convertibility:
[smartslider3 slider="4″]
NUMBER OF CONVERSIONS: 3, except the Domino with only 2 conversions
CONVERSION TYPES: crib, toddler bed, daybed (Domino; crib + toddler bed)
TOODLER BED SAFETY RAIL: yes, optional
Should you choose the Dadada Baby 2-in-1 or 3-in-1 convertible crib?
Given how my toddler was sleeping, she would definitely roll out from her bed without a safety rail. Thus we did not even turn our crib into a daybed.
That doesn't mean your child won't sleep safely in a daybed, but it is a common problem and an aspect to think about.
So, in my opinion, when choosing between a 3-in-1 and 2-in-1 convertible crib, a 2-in-1 model is worth your consideration too.
The Dadada's Domino converts into a beautiful, modern, unique toddler bed with two guardrails. One on each side of the bed. Other models convert into a more traditional toddler bed with a crib's rail on one side and a toddler guardrail on another.
Dadada cribs are easy to convert. Due to their sturdiness and hardwood constructions, you can convert them back and forth multiple times. These are really durable cribs!
Therefore, the choice between 2-in-1 and 3-in-1 models is primarily tied to the style you like best and, of course, the cribs' price.
The Dadada Domino is $100 more expensive than the Soho or Austin 3-in-1 convertible crib and costs $200 more than the Boston. Furthermore, when writing this review, the Dadada guardrail for Soho, Boston, Austin, and Kenton cost $ 79.90, while you would have to spend $119 for the Domino's rail. That is a minor disappointment.
Safety Review
DaDaDa Baby employs safety specialists who accompany the entire manufacturing process in Italy and carefully monitor their production lines.
All Dadada cribs are uncompromisingly controlled and meet all required government safety standards and the strictest voluntary standards of the JPMA Institute. Their cribs are designed and crafted following Bureau Veritas standards to ensure safety, durability, and structural stability. They are also GREENGUARD Gold certified to prove that they do not emit chemicals.
Dadada cribs are durable, made of resilient quality beechwood construction. Cribs are finished with non-toxic paint and don't contain toxins!
Safety specifications:
MEETS: all applicable federal standards
CERTIFICATIONS: JPMA, Bureau Veritas, GREENGUARD Gold
NON-TOXIC FINISHES: yes
LEAD AND PHTHALATE FREE: yes
CONSTRUCTION: sturdy hardwood construction
DROPPING SIDES: no
Best crib mattress for the Dadada Baby convertible cribs
Dadada sells only full-size cribs. The interior dimensions of full-size cribs are regulated to fit any standard-size crib mattress on the market.
If you want to be extra sure, you can check the crib mattress dimensions before your purchase. Any crib mattress used in Dadada Baby convertible cribs must be at least 27 1/4 inches by 51 5/8 inches with a thickness not exceeding 6 inches.
As I already wrote above, I would think about Newton's offer: a convertible crib + Wowenaire crib mattress. The downside is that their bundle includes only the Austin, Soho, and Domino convertible cribs. Unfortunately, you cannot get this offer if you want a Kenton or Boston convertible crib.
Update: Newton Baby has changed their offer and substituted the Domino crib with the Kenton model.
Regardless of which Dadada's crib you choose and where you buy it, you can choose between numerous standard-size crib mattresses, so that shouldn't be a problem. Our Crib mattress buying guide and List of the best crib mattresses in 2023 can help you with your purchase.
Crib mattress information:
MATTRESS SUPPORT: wooden slat mattress support
ADJUSTABLE MATTRESS HEIGHT: yes, 3
Dadada's convertible cribs are equipped with an adjustable mattress support base with three different height options. That allows the mattress to be higher in the crib for a newborn, but do not forget to lower it down with your child's growth!
The process is easy due to the clever way of the attachment. I really like how the mattress support attaches to the crib's frame. I think it is the most reliable we have seen so far! It's also great that you don't have to disassemble the crib's frame when you want to drop it down.
Dadada's cribs have a wooden slat mattress support. The choice of wooden mattress support surprised me a bit, but it is in line with the Dadada vision.
Due to its sturdiness, most crib manufacturers choose a metal crib mattress support. However, they use softwood for their cribs, not durable hardwood like the Dadada. Hardwood mattress support is the same or even more durable than metal one!
Dadada Baby convertible cribs
Frequently asked questions
---
Few words about Dadada Baby NONconvertible Chelsea crib:
The Chelsea crib is all about style and modernity rather than function and convertibility.
Due to its non-convertible design, I won't write about this crib in this review. Nevertheless, this is a beautiful, sturdy, safe crib. So, if you do not intend to convert your crib, I do not see why you wouldn't decide on the Chelsea crib anyway.
---
---