Last updated on January 23rd, 2023 at 11:52 am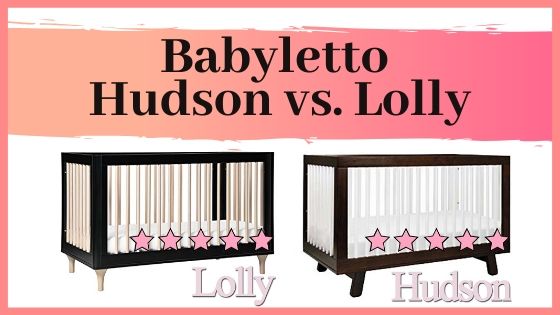 Babyletto Hudson vs. Lolly 3-in-1 convertible crib
Babyletto is a well-established baby crib manufacturer, whose cribs are among the best-selling cribs for the last few years. It offers a wide selection of different cribs, from mini cribs to full-size convertible, portable, metal, and even acrylic cribs.
Among all models, its selection of different 3-in-1 convertible crib is the biggest. Hudson is actually Babyletto's best-selling crib! It is a very good crib that grows with your child. But Lolly doesn't lag much, in fact, it is almost the same as Hudson. That confuses many parents, as they want the best crib for their baby, but don't know which one to choose.
Although we already wrote a lot about Babyletto's cribs and reviewed a lot of them, we wanted to compare Babyletto Hudson vs. Lolly in a separate article. I hope this will reduce the confusion about the differences between Hudson and Lolly once and for all.
First of all, here are the links to both reviews:
Comparison chart: Babyletto Hudson vs. Lolly
| | | |
| --- | --- | --- |
| Babyletto | Hudson 3-in-1 convertible crib | Lolly 3-in-1 convertible crib |
| | | |
| Number of conversions | 3 (+1) | 3 |
| Conversion types | crib, toddler bed, and daybed (+ junior bed) | crib, toddler bed, and daybed |
| Assembled dimensions | 53.625″L x 29.625″D x 34.875″H | 53.625″ L x 30.25″ D x 35.25″ H |
| Assembled weight | 54 lbs | 50 lbs |
| Adjustable Mattress Height | yes, 4 positions | yes, 4 positions |
| Available finishes | 8 | 4 |
| Style | robust | gently curved |
| Latest Price | Price on AMAZON | Price on AMAZON |
What are the differences between Babyletto Hudson and Lolly?
There is not a lot of differences amongst those two cribs. Both are 3-in-1 convertible cribs. That means you can convert both of them into two bigger beds. And surprise, surprise, conversions are the same! Hudson and Lolly crib transit into a toddler bed and daybed while your baby grows.
As it is typical for Babyletto, both cribs have a toddler safety guardrail included in the price. That saves you the hassle of finding the right safety guardrail for your toddler bed.
Other brands sell toddler safety guardrails separately, so prices of their cribs often look lower at first glance.
So, is there any difference regards convertibility?
Yes, it is! If you want, you can buy a Junior bed conversion kit for the Hudson. That allows you to convert it even into a fourth bed.
The junior bed conversion kit is available in different colors and compatible only with Hudson and Scoot, which is another great Babyletto's convertible crib.
Besides that, and the $20 difference in price, there is only a slight difference in their design, and that's it!
Hudson's vs. Lolly's design
Hudson and Lolly pose a modern design, with round spindles on all four sides. That gives them an open layout, which enables you to see the baby from any corner of the room. Because of that, both look great, either placed beside the wall or in the center of the nursery.
With more angular corners and feet, Hudson is a little more robust than Lolly. On the contrary, Babyletto Lolly has tapered natural feet and gently curved corners. Lolly is also 4 pounds lighter from the Hudson. So, Lolly might look less sturdy from Hudson at first glance. But it is not the truth, as both cribs are sturdy and don't wobble at all.
The last difference is in their color selection. Hudson's range of on-trend colors is more versatile from the Lolly's.
---
Which one is better, the Hudson or the Lolly convertible crib?
As you can see, Hudson's and Lolly's features are almost the same. First of all, they are both safe cribs. Also, both are standard, full-size cribs, where the difference in the external dimension is negligible.
You will pick amongst them, regards to their look. Which one do you like more?
As one of them must be a winner, we have chosen the Hudson! Why? Because we like its look more than Lolly's, as it is available in more colors, and if you want, you can also convert it into a junior bed. Hey, it is even $20 cheaper than Lolly.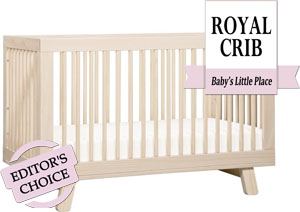 ---
Hudson's and Lolly's crib mattress information
As I already wrote, both cribs are standard size cribs, which means all standard size crib mattresses fit into both of them. Measurements of full-size baby cribs and crib mattresses are regulated by the government!
U.S. regulations define:
a standard size crib is a baby crib with the following measurements: 52 3⁄8 ± 5⁄8 inches in length by 28 ± 5⁄8 inches in width
a standard crib mattress is a baby crib mattress with the following measurements: at least 27 1/4 inches by 51 5/8 inches and no more than 6 inches thick
Babyletto makes its own mattresses too. We like its Pure Core baby crib mattress with a hybrid waterproof cover the most. If you want, you can read our Babyletto Pure Core crib mattress review, or explore amongst other crib mattresses at the market.
Compatible Mattress Size: standard
Mattress Included: no
Recommended mattress: Pure Core non-toxic crib mattress
Adjustable Mattress Height: yes, 4 positions
---
Safety of Babyletto's cribs
Babyletto Hudson and Lolly meet and even exceed all required ASTM International and U.S. CPSC safety standards.
Both are stationary cribs without any moving parts. Because of numerous injuries and even tragic deaths, CPSC banned the sale of drop-side cribs in 2011.
Babyletto Hudson and Lolly have Eco-Conscious design. They are made with solid New Zealand pine wood, which is one of the most sustainable and renewable woods available.
Both cribs have a GREENGUARD Gold certificate. So they are screened for over 10,000 chemicals and VOCs known to pollute indoor air.
Babyletto uses only non-toxic finishes for their cribs. Lolly and Hudson are also lead and phthalate safe!
---
THE VERDICT
As I already reveal, our winner is the Hudson. But with the Babyletto Lolly 3-in-1 convertible crib, you won't get a worse crib. The quality is the same! So if you like Lolly's design, go for it, you won't regret it.
And what do you gain by choosing a Hudson 3-in-1 convertible crib? Your color selection is more versatile, and you can convert it into a Junior bed if you want.