Last updated on January 23rd, 2023 at 12:13 pm
Babyletto Maki full-size folding crib Review
I love Babyletto's cribs, and so do many parents! Babyletto offers various convertible cribs, but to satisfy different needs, you can choose between a few unique models as well. And one of them is a Babyletto Maki, which is a full-size folding crib.
What is unique on the Maki? While there is a lot of mini foldable models, there is a shortage of good full-size folding cribs. When we were making our list of the best full-size folding cribs, we had found only two models worth your attention! A Babyletto Maki and Dream On Me full-size folding crib.
Maki is definitely not on that list just because I like Babyletto cribs. It is also not the best, just because of its excellent folding mechanism. As you will see in our Babyletto Maki full-size folding crib review, it is a lot more than just an ordinary folding crib.
Babyletto Maki full-size folding crib Review at a glance:
PROS:
modern design
portable
standard size crib
good folding mechanism
removable caster wheels
it grows with your child
adjustable mattress support
it meets all safety standards
GREENGUARD Gold certified
---
Why would I choose a standard, full-size folding crib?
because your child can use it longer than a mini folding crib
cause you need a crib that doesn't take up too much space when it is not in use
as you can easily move it around the house
because some of them, like Babyletto Maki, offers convertibility with an additional folding mechanism
Full-size folding cribs are not only an excellent choice for your home but a perfect solution for secondary sleeping space or sleepovers at Grandma's as well.
---
Babyletto Maki full-size folding crib review's breakdown
Babyletto Maki is a full-size version of the popular Origami. Many parents love Origami, so they wish it could be used longer. That's why Babyletto decided to make its bigger version in the shape of Maki. As this is a full-size crib, they had a chance to add even more features to the crib. And they had done that very well!
Maki's design
I love Maki's sleek modern look, with clean, geometric lines. Clean lines are typical for Babyletto, but with the Maki, such design also has an additional purpose.
Maki is not a regular folding crib, but a portable model as well. Because the crib stands on the caster wheels, you can move it from room to room without even folding it down. If Maki's frame would be big and bulky, it could not fit through room doors. Here comes the minimalist design into play, as it allows Maki to fit through many room doors!
Another great thing on this crib is its all-wood slated design. With slats on all four sides, Babyletto Maki features a beautiful open layout.
The benefits of open design:
open design allows better airflow through the crib
you can see your baby from any angle of the room
the crib looks nice placed either in the center of the nursery or beside the wall
The slat strength is 135 lbs, and the distance between them is smaller than the prescribed maximum! Everything is how it should be!
Manufacturer: Babyletto
Model: Maki
Type: full-size portable folding crib on wheels
Style: modern sophisticated design
Material: natural New Zealand pine wood
Color: white, gray and washed natural
Assembled dimensions: 53.625″L x 29.375″W x 37.25″H
Assembled weight: 62 lbs
---
Folding mechanism review
Maki has a foldable frame, with solid mattress support, made from the Carb II Compliant MDF board.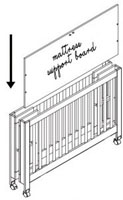 When folded, its measurements are approximately 53″ long, 29″ width, and 8" heigh. Of course, it depends on the available space under your bed, but the folded Babyletto Maki does fit under many standard size queen beds.
The crib folds very easily. You should know that a mattress doesn't fold up in the crib, but everything else folds up together. Folding steps include removing the baseboard from the crib's frame, sliding it down on the back panel, and folding up altogether.
---
Portability review
Babyletto Maki stands on caster wheels. Well, wheels are optional, as there is no need to place them on the crib if you don't want to. Because caster wheels are optional, you can use Maki as a steady or portable crib. Another great feature of this crib!
Caster wheels are included in the price, therefore, you can mount or remove them from the crib as desired.
If you decide to use Maki without wheels, you will get a sturdy crib that stands steady on the place and doesn't wobble at all.
On the contrary, you can transform the crib into a great portable model. Babyletto Maki's caster wheels have a good and reliable locking mechanism. When wheels are locked down, the crib stays in the place. But don't forget to lock them down when your baby is in the crib! Wheels also glide smoothly, and we didn't notice that they would leave any marks on the floor.
---
Review of Maki's convertibility
Babyletto Maki is not an ordinary full-size folding crib! Caster wheels are not the only feature that makes this model special. Maki is also convertible! Isn't that great?

During our research, and after numerous crib reviews, we had found only one more good convertible crib on wheels so far. It is DaVinci Jenny Lind 3-in-1 convertible crib. But, while Jenny Lind is a full-size crib, it doesn't fold up!
Back to the Maki … When your child outgrows the crib, you can convert it into a beautiful toddler bed, with or without wheels.
A toddler safety guardrail is the same as with all Babyletto convertible cribs included in the price.
Conversion is simple and hassle-free. All you have to do is removing the crib's front rail, place the mattress support into the lowest setting, and place a toddler safety guardrail on the front side.
Your child can use Maki as crib until he or she begins to climb or reaches 35 inches. The weight limit for a toddler bed is 50 lbs.
Convertible: yes
Number of conversions: 2
Conversion types: crib & toddler bed
---
What mattress fits into the Babyletto Maki full-size folding crib?
Maki is a full-size crib, so any standard size crib mattress fits into the crib. Of course, Babyletto recommends using one of their baby crib mattresses. Our best choice is its Pure Core non-toxic crib mattress. It is available with different covers, but we recommend picking the hybrid waterproof cover.
But as I say, any full-size crib mattress fits into the crib!
Babyletto Maki features two-level mattress support, which is great for a foldable crib. The mattress support is solid, made from MDF board.
RELATED: Crib mattress reviews of other brands
---
Safety
Although I am writing about safety on the endo of our Babyletto Maki full-size folding crib review, it is our number one priority.
If Babyletto Maki wouldn't be safe, I don't think I would even bother to write about all its features.
Beautiful appearance and many useful features should never exceed the safety of a particular baby product!
Babyletto Maki meets and even exceeds all required ASTM International and US CPSC safety standards! It is made with sustainable New Zealand pine wood, lead and phthalate safe, and finished with non-toxic paint.
Babyletto Maki is also GREENGUARD Gold Certified, which proves it doesn't pollute your indoor air, and that it is screened for 360 VOCs and over 10,000 chemicals.
---
THE VERDICT
If you want a full-size folding crib, Babyletto Maki is definitely worth your attention. Not only that, in our opinion, it is the best full-size folding crib on the market right now!
Babyletto Maki is a safe crib, with all the features and even more, you can expect from a folding crib. And don't forget that it grows with your child too!
Because it is not the cheapest option on the market, you might think other brands are better solutions. But compared to other folding cribs, Maki offers the most. It is not only bigger from mini cribs, but because it is convertible, you can use it longer than other full-size folding cribs too.
---
As I already wrote in the review, only two full-size folding cribs can follow the Babyletto Maki.
Dream On Me full-size folding crib is a cheaper solution, but it doesn't have such sophisticated design as Maki. It does have caster wheels, but they are not removable, and the crib is also not convertible!
Another model is DaVinci Jenny Lind. A great crib, don't get me wrong. It is convertible, and on wheels, but it doesn't fold up! You have to buy a toddler safety guardrail for Jenny Lind separately too!