Babyletto Origami Mini Crib Review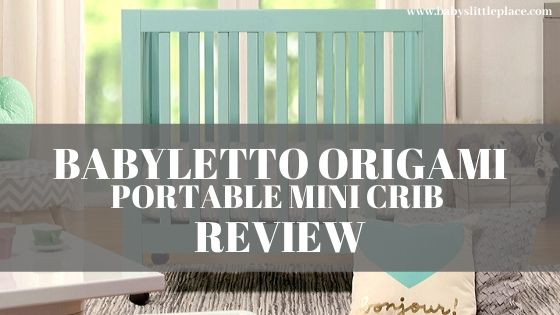 Babyletto Origami Portable Mini Crib Review
Babyletto Origami is a perfect mini crib for modern families. Due to today's lifestyle, more and more young families live in cities, in the apartments and urban lofts, where they are limited by space. Therefore, the demand for mini cribs is increasing year by year. Although Origami is not the cheapest mini crib, it is one of the most desirable, and I can see why. The results of our Babyletto Origami mini crib review showed that it isn't just beautiful, but also made of high-quality materials, sturdy, and reliable.
As Babyletto Origami stands on wheels, it's classified as a portable mini crib. The portability of wooden cribs refers mainly to the moving around the house, but Babyletto Origami also folds down quite small. As such, it does fit into spacious car trunks. In theory, you can take it with you on shorter trips, but it is clear that this is not a travel crib.
With its minimalist design, Babyletto Origami fits really well into modern homes of young families. Babyletto also offers Origami in many different colors, including unique tones, such as Lagoon or Petal Pink. Isn't that cool?
PROS:
a safe sleeping environment for your baby
easy movement throughout the home
a good folding mechanism
modern design
available in unique colors
durable and lightweight
collapsible for easy storage and transport
four locking casters
doesn't take a lot of space
adjustable mattress support: 2 levels
a better alternative for bassinets
CONS:
higher price
your baby will outgrow it sooner as a full-size crib
Babyletto Origami Mini Crib is a good choice for:
urban living
smaller apartments and smaller rooms
as a secondary crib for grandparent's, daycare or caregiver's house
as an alternative for bassinets
as the first crib in parents bedroom
---
Our Babyletto's Origami Mini crib Review Results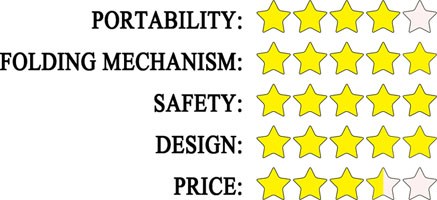 How we evaluated Babyletto Origami mini crib in our Review:
We have compared Origami to other cribs of the same type, not to the all portable cribs, as that wouldn't have sense. For instance, Origami is a foldable mini crib made from wood. It is sturdy and compact, but we shouldn't expect it will fold up as small as travel cribs. So we need to evaluate how well it folds up in comparison with other foldable mini cribs.
What did we take into consideration?
do casters run smoothly
does the crib fit through standard room doors
do locking mechanism on casters keep the crib in place
Babyletto Origami mini crib has a collapsing mechanism for easy storage and transport. Although in theory, you can transport the crib in the car, it does take a lot of car space.
We had checked:
how easy and fast you can collapse the crib
how easy you can set up the crib
how much space does the folded crib occupy
In order to determine if the crib is safe, we checked the following parameters:
if there are any safety issues
how sturdy is the crib
if the crib stand steady when the casters are locked
does the crib meet all the required safety standards
Babyletto Origami mini crib meets all required ASTM (American Society for Testing and Materials) international and US CPSC (Consumer Product Safety Commission) safety standards. The crib is lead and phthalate safe, and Babyletto uses only non-toxic finishes.
For evaluating the design, we had taken into consideration the following things:
if the bed is available in sufficient colors
the look of the whole crib
We compared the price of Babyletto Origami mini crib with other cribs of the same type and evaluated:
if the crib's value meets the price
how many features you get for the price
---
Babyletto Origami mini crib mattress
you can adjust the mattress to two levels
it has a solid mattress support
any mini crib mattress fits into the crib
you should use the mattress up to 5″ thick
Although you get a 1″ mattress at price, we recommend using a thicker mattress in the crib. Babyletto recommends using Babyletto Pure Core mini crib mattress in the Origami crib. That is a lightweight mini crib mattress that fits perfectly into the crib. It is made from non-toxic materials and fully recyclable.
The Pure Core mattress has a multifunctional cover with a soft quilted cotton face and vinyl-free waterproof backing to protect the mattress against accidents. The cover is removable, and you can wash it in the washing machine.
The Babyletto mini-mattress is a safe choice for your baby, but as I mentioned before you can choose any mini crib mattress for the Origami crib.
---
Babyletto Origami portable mini crib
Measurements and Weight:
assembled crib dimensions: 38,625" L x 25,375" W x 36" H
collapsed dimensions: 38,625" L x 7" W x 36" H
weight: 44lbs
available colors: black, gray, lagoon, petal pink, washed natural and white

Child size restrictions:
stop using the crib when your child is able to climb out or reaches 35 inches
usually, it is suitable for newborns up to 18 months, but that depends on how big is your baby
---
Babyletto Origami is a better alternative to bassinets!
Why? Because it is more compact, lasts longer, and way more comfortable as standard bassinets.
Mini cribs are not just the choice of parents who are facing a lack of space. More and more parents decide for them before they move the baby into a standard crib. They can place the mini crib beside their bed and have the infant in the same room.
With such an arrangement, babies start learning to sleep in their own bed right away. But they are still close to their parents. There will be fewer problems with moving into their own room later.
It is also a good choice as a secondary crib, for grandma's house, daycares or caregivers. It is small, it has wheels, and it can fold up quickly and easily.
---
Frequently asked questions about Babyletto Origami
1. How high is the top mattress position?
Measuring from the floor to the platform that holds the mattress it is about 21 1/2″
2. How hard is the assembly?
You should take time, follow the instructions and don't rush. If you follow the provided instruction, the assembly is easy and shouldn't take you more then an hour and a half.
3. Can I assemble the crib without the wheels?
Yes, you can, but the wheels are actually a good feature. While they are locked the crib stands still, and it's little higher than without them.
4. Is it possible to take the front railing off and use it as a co-sleeper?
No! You shouldn't do that, because it won't be safe!
5. Does the crib fit through doorways inside the house?
Yes, it does.
6. Is there any weight limit?
There is a height limit. After your child outgrows 35″ he won't fit into the crib anymore. Before he reaches this hight, he won't be too heavy for the crib.

Hello!
I am the founder of Baby's Little Place. I'm a mom to the one-year-old daughter and I know how overwhelming could be when you are looking at things and tips for a new baby, especially if you are a first-time parent. That's why I set up this site…because I want to do something I am passionate about, as well as I want to help new parents and parents to be.

I hope you enjoyed reading my article! If you have any questions or comments, please leave them down below. I will be happy to discuss it with you!
---
---