Last updated on January 23rd, 2023 at 05:34 pm
Many parents who want to keep their babies close to them at night decide on an in-bed sleeper. In-bed sleepers, such as snuggle nests are, without a doubt, very convenient for the parents. Nighttime feedings are much more comfortable, and they can help their baby sleep without even getting out of bed. But, is snuggle nest safe for sleeping?
Is snuggle nest safe for the baby?
Let me be clear the crib was and stays the safest sleeping place for your baby! However, many parents decide on a snuggle nest anyway.
If you are one of them, pick a snuggle nest with solid sides and as little padding as it's possible. Even better, think about an in-bed sleeper with mesh sides, which provide good air circulation to protect the baby from overheating.
If a newborn presses his face against the nest's mesh side, he can breathe right through it. By preventing suffocation, mesh side baby nests significantly reduce the risk for SIDS (Sudden Infant Death Syndrom).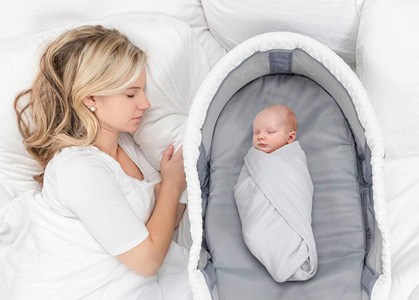 ---
Why is the crib safer than the snuggle nest?
According to the statistics, co-sleeping for the first six months of a baby's life is the safest option for him. However, that applies to room-sharing, not sleeping in the same bed!
In 2016, the American Academy of Pediatrics (AAP) updated their safe sleep environment recommendations, where they stated that room-sharing, without bed-sharing, is the safest for your baby! Baby should sleep in the parents' room, close to their bed, but on a separate surface, such as a crib, portable crib, play yard, or baby bassinet.
Their safety is unlike snuggle nests' safety, regulated by the government. Snuggle nests are not forbidden, but they do not currently have their own federal safety standards.
Cribs are rigorously tested to meet all required safety standards. Only then can they be placed on the market. Together with a proper crib mattress, they provide the safest sleeping space for your baby.
Think about a mini portable crib, which is the perfect solution for room-sharing. With a small footprint, it doesn't occupy a lot of space. The mini portable crib stands on wheels so that you can move it around your home, and most of them also folds down for simple storage.
By using a crib, your baby will get used to his sleeping space right from the start. According to experience, the transition to the nursery is much easier and smoother.
A crib, mini or full-size model, is also a better alternative to Pack 'N Plays and baby bassinets. It is way more stylish than Pack 'N Play and a more long-term solution than a bassinet!
Potential safety risks of using Snuggle Nest or a similar in-bed sleeper
If the in-bed sleeper's sides are not firm and high enough, the nest doesn't protect the baby from parents rolling over.
Some baby nests have potentially dangerous design elements, such as soft padding and other soft surfaces. Cushion material can block the baby's airways if she pushes her face against it.
In-bed sleepers encourage bed-sharing, which is not as safe as room-sharing.
Do not use in-bed sleepers with the incline more than 10 degrees! CPSC (Consumer Products Safety Commission) concluded that a flat surface that does not exceed 10 degrees offers the safest sleep environment for infants. An angle greater than 10 degrees can cause an infant's head to slump down, chin to chest, and compress the airway, which can lead to suffocation.
Benefits of co-sleepers, such as Snuggle Nest or in-bed sleeper SwaddleMe
It is very convenient. Your baby is close to you, which makes nighttime feeding easier, less tiring for the mother, and soothing for the baby.
Using a snuggle nest is much safer than co-sleeping in the same bed, without the barrier between the baby and her parents.
Snuggle nest protects baby from parents rolling over.
Bed-sharing by using an in-bed co-sleeper may help you foster a closer bond with your baby.
---
Our favorite Snuggle Nest:
SwaddleMe by Your Side Sleeper
Why do I think that the SwaddleMe by Your Side Sleeper is the safest option for bed-sharing?
First of all, SwaddleMe by Your Side Sleeper has a sturdy metal frame, which prevents parents from rolling over. 
Second, its sides are made of mesh. A transparent mesh allows an unobstructed view of your sleeping baby, and what is even more important, it lowers the risk of suffocation! It also ensures good airflow and prevents overheating, which is another factor that raises the risk of SIDS (Sudden Infant Death Syndrom).
Another feature that increases the safety of the SwaddleMe by Your Side Sleeper is the lack of an incline sleeping positioner. Yes, you have read it right! It is good that it doesn't have that feature! Some parents miss it, but I actually like it. As I already said, an incline bigger than 10 degrees poses a potential risk for the infant.
A SwaddleMe by Your Side Sleeper includes a mattress pad and fitted sheet. That's great because a baby's sleeping environment shouldn't have any loose sheets or blankets!
If that's not enough, take a look into other SwaddleMe by Your Side Deluxe Sleeper's features:
In the middle of the sleeper's side is a compressible mesh section for your arm to comfortably reach your newborn. 
It includes a portable, clip-on unit with night light, 2-speed vibration, and soothing melodies to help encourage peaceful sleep.
It features a removable and machine washable pad and sheet.
SwaddleMe by Your Side Sleeper also folds compactly for travel.
If you decide on bed-sharing, it's choosing SwaddleMe Deluxe By Your Side Sleeper, certainly one of the safest options on the market. It provides a safe and comfortable environment for bed-sharing with your baby.