Last Updated on November 3, 2020 by Ines
If you have read any of our articles, you already know that we focus mainly on baby cribs and crib mattresses. Our mission is helping parents to establish a safe sleeping environment for their babies, for a reasonable price. And our new goal for 2020 is to find the best deals on baby cribs throughout the whole year.
I can't believe it's already November. So, here is another update of the list, with the best deals on baby cribs in November.
We will try to find the best prices on baby cribs, but not for the sake of safety and quality. We have made numerous crib reviews until today, and we are proud that our "best-of" lists contain only safe and quality baby cribs. So, although we will try to find the most affordable models, don't expect only the cheapest cribs here.
The crib with a suitable crib mattress is one of the first purchases of expectant parents. But there are so many models, and their prices can warry from $100 to more than $1000. That confuse parents, thinking that a cheaper crib is not as good as the expensive model. That is not the truth!
I want the safest baby products with high quality, but I am like most young parents, limited by the budget. I could choose a bassinet, sleeping nest, or Pack' N Play, which are often cheaper than a crib. But I know that a crib is the most rational decision I can make.
Best Deals on Baby Cribs in November 2020
CRIB
KEEP IN MIND
BEST PRICE
Storkcraft Tuscany 4-in-1 convertible crib

– BEST crib DEAL in November
– toddler safety guardrail is included
PRICE
Graco Solano 4-in-1 convertible crib

– safety guardrail is not included, but it costs less than $50
– a specious drawer under the crib
PRICE
Union 3-in-1 convertible crib


– the cheapest convertible crib
– safety guardrail is not included
PRICE
Delta Children Canton 4-in-1 convertible crib


– a toddler safety guardrail is included in the price
PRICE
Graco Benton 4-in-1 convertible crib

– safety guardrail is not included, but it costs less than $50
PRICE
Dream On Me portable crib

– the best price on a full-size portable crib
PRICE
DaVinci Dylan Mini Crib

– it is a MINI crib
– it is portable and convertible
PRICE
Dream On Me Aden 4-in-1 mini convertible crib

– it is a MINI convertible crib
– it doesn't have a toddler safety guardrail
PRICE
If parents don't need the crib with unique features, most of them opt for the convertible crib. That is the right decision! Such crib grows with the child, and in the long term, save even more money.
But the price can sometimes mislead you, thinking you will get the conversion kit with the crib. Unfortunately most of the time you have to buy it separately. So, if you decide on a 4-in-1 convertible crib, that converts into a toddler bed, daybed, and full-size adult bed, you will:

probably have to buy a safety guardrail for a toddler bed
certainly have to purchase a full-size conversion kit for the conversion into an adult bed
What I want to say is, pay attention if the toddler safety guardrail is included in the price!
For example, you are deciding between two convertible cribs. They are both safe, and you really like their look. The first one costs $150, and the second is $200. You didn't notice that you have to buy a toddler safety guardrail for the first one, so you naturally buy that one. Only when you get the crib, you realize you need a safety guardrail, which costs an additional $100. You get the math.
---
How to save the most when buying a crib?
Look at the bigger picture!
To decrease the risks of sleep-related deaths, the American Academy of Pediatrics (AAP) released a new policy statement. According to them, infants should sleep in the same bedroom as their parents, but not in their bed. They cite a baby crib or bassinet, as the safest sleeping place.
Based on the latest evidence, they recommend room sharing at least the first six months and, optimally, for the first year of life.
So, if you decide to follow those guidelines, you have two options, a baby crib or bassinet. Bassinets are smaller and take up less space, but your baby will outgrow it sooner.
Most baby bassinets can be used for the first 4 to max 6 months. Although your baby won't reach the maximum allowed weight by then, she will probably start moving independently at that age. When your baby starts moving, rolling, or sitting, a soft surface of the bassinet is not safe anymore!
Although a bassinet looks a cheaper decision, in the long term, you will save more money if you decide for a crib. Remember, following the AAP recommendations, your baby must be in your room until one year old, but she can use a bassinet only for the first 6 months.
I know that sometimes there is no room for a full-size crib, but you can choose a mini crib. Your baby can use a mini crib longer than a bassinet, and if you opt for a convertible mini crib, such as Dream On Me Aden, it will even grow with your child.
Of course, if you have enough space for a standard size crib, you will save the most. The only thing you have to take into consideration is that some full-size cribs might won't fit through room doors when the time for the transition into nursery comes. That applies mostly to full-size convertible cribs.
Still, if you want to avoid disassembly and reassembly, you can opt for a full-size portable crib like Dream On Me full-size folding crib, DaVinci Jenny Lind, or Babyletto Maki. The best price among these baby cribs has certainly Dream On Me, but the other two are worthy of your attention too. Maybe one of them is for sale at this point?
Unique cribs costs more!
Unique cribs, like oval models, need an oval mattress and proper bedding, which is hard to get, and most of all, it costs a lot. The choice of sheets for standard size cribs is the largest. So, finding the best deals on standard crib mattress and sheets is the easiest.
However, with increasing demand, the supply of mattresses and sheets for mini cribs has improved a lot in recent years too. As a result of the wider assortment, the mini crib mattresses' and sheets' prices also drop.
You will save the most, deciding on a convertible crib!
A mini or full-size convertible crib grows with your child to adulthood. When searching for the best deals on convertible cribs, you shouldn't forget about the prices of their conversion kits.
If you intend to convert the crib into an adult bed, you will have to buy full-size bed rails and suitable mattress for any crib on the market. Check their prices too, before you purchase the crib.
As mentioned earlier, some convertible cribs have a safety guardrail for a toddler bed included in the price others don't. Don't forget to check it up! Also, buy the safety guardrail at the same time as a crib. You might get a discount, and you will have it on hand when the time for the conversion comes.
Few other reasons to buy a safety guardrail for a toddler bed at the same time as a crib are:
sometimes it is not available in all colors of the crib
a proper model might won't be on stock when need it
in the worst case, they might won't sell it anymore
If you start looking for a baby crib at the right time, you have more chances to catch discounts!
Don't wait until the last month of your pregnancy. Start early! Mark your most wanted cribs and check-up regularly if your preferred baby crib is on sale.
There might be special discount days, like Black Friday or Amazon Prime day, during your pregnancy. You can also check up today's deals on Amazon, and you might get lucky there!
Put a crib on Your Baby Registry:
Yes, a crib is a high ticket baby item, but you never know what happens. Maybe your friends and family pool their money together and purchase the crib. If that doesn't happen, you can buy it on your own later. Some stores also offer a percentage of all purchases of registry items, so take advantage of that discount.
Don't forget on a safe crib mattress!
A crib mattress must be firm and fits snuggly into the crib. The same as crib's prices, their prices also vary from less than $100 to $400 or even more.
Don't worry, even those cheaper than $100 can be safe and quality. You will probably find the best deals on crib mattresses amongst Graco's and Delta Children's baby cribs mattresses.
The size of standard size cribs and their mattresses is defined by the law, so any standard size crib mattress fits into any standard size crib.
… is a baby crib with the following measurements: 52 3⁄8 ± 5⁄8 inches in length by 28 ± 5⁄8 inches in width
… is a baby crib mattress with the following measurements: at least 27 1/4 inches by 51 5/8 inches and no more than 6 inches thick
The measurements of mini cribs are not regulated by the government. However, in most cases, their inner dimensions are around 38″ (96,52cm) by 24″ (60,96cm), which is great because most mini crib mattresses correspond to those measurements.
---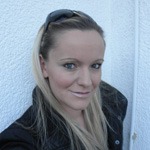 Hello!
I am the founder of Baby's Little Place. I'm a mom to the one-year-old daughter and I know how overwhelming could be when you are looking at things and tips for a new baby, especially if you are a first-time parent. That's why I set up this site…because I want to do something I am passionate about, as well as I want to help new parents and parents to be.

I hope you enjoyed reading my article! If you have any questions or comments, please leave them down below. I will be happy to discuss it with you!