Get set for amazing deals this Black Friday! We've hunted down the best offers for 2023 on Pack 'N Plays. Dive into these exclusive discounts, making this Black Friday your ticket to significant savings on must-have baby gear.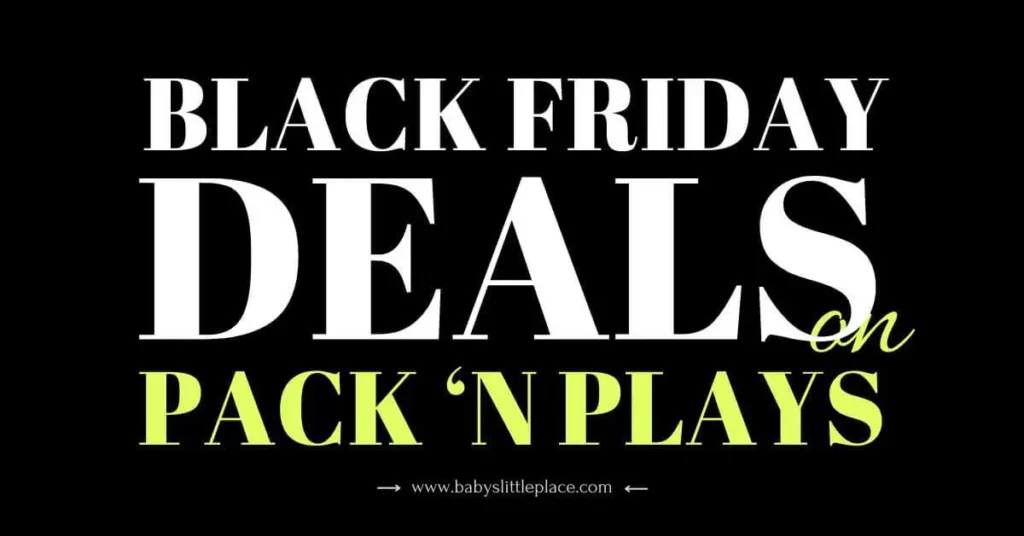 Black Friday falls on November 24th this year, and while the big day hasn't arrived yet, we've already found some fantastic early Black Friday deals on Pack 'N Plays that you won't want to miss.
As parents, sifting through the numerous Pack 'N Play options amidst an avalanche of deals can be overwhelming. Selecting the perfect one is daunting, but worry not! We're here to lend a hand and guide you through this maze of choices.
Top 3 Black Friday Deals on Pack 'N Plays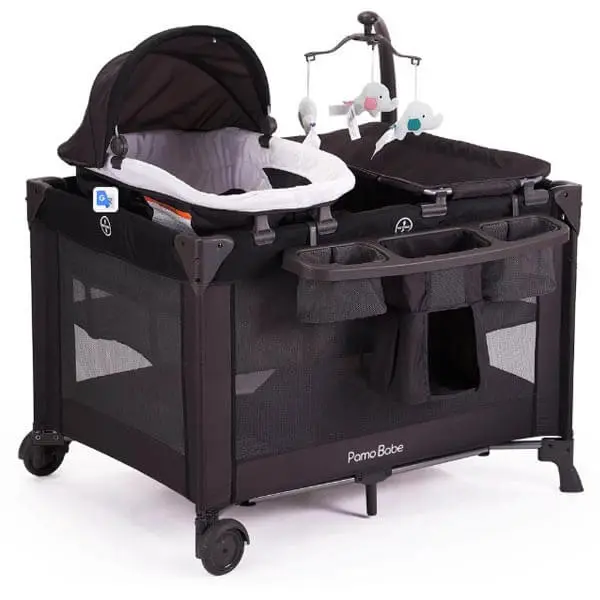 Save 47% on the Pamo Babe Nursery Center Playard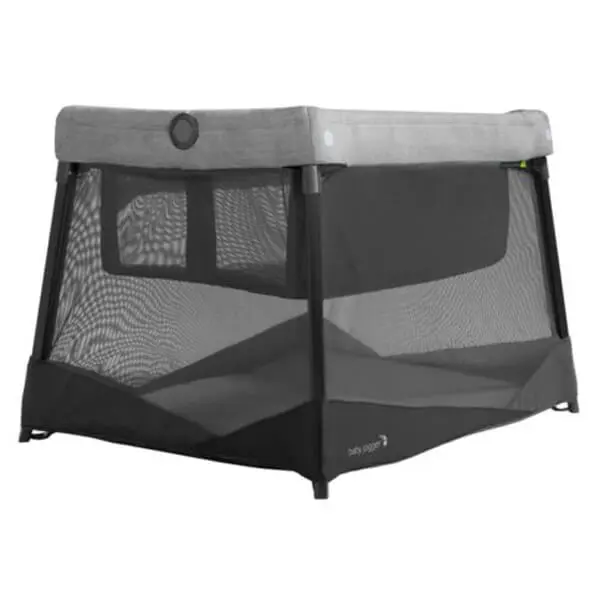 Save 25% on the Baby Jogger City Suite Multi-Level Playard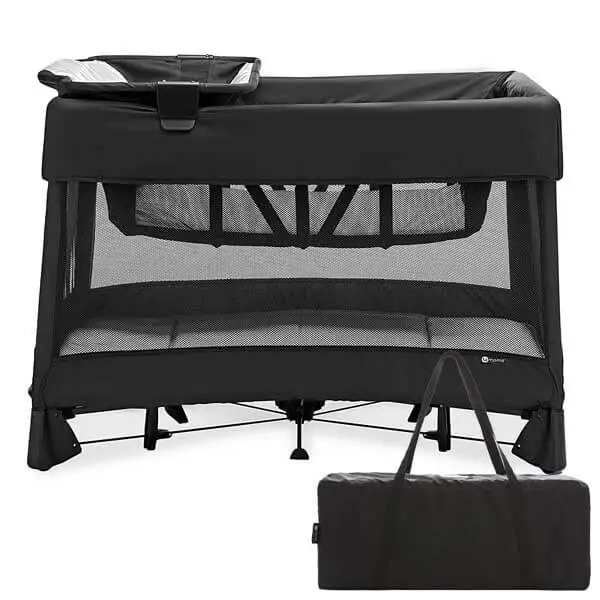 Save 20% on the 4moms Breeze Plus Playard
What about a travel crib?
Ready for a double dose of amazing Black Friday deals? Dive into the world of incredible offers on travel cribs that'll redefine your travel game!
While our blog post covers the top-notch Pack 'N Play deals, we're just getting started. Want to know where to snag the best Black Friday steals on travel cribs? Then click HERE, as these Black Friday travel crib deals are too good to miss.
---
Best Black Friday Pack 'N Play Deals in 2023
Pack 'N Plays (also called Playards or Playpens) are the Swiss Army knives of baby gear, offering a multifaceted solution to a range of parenting needs. Their versatility goes beyond being a mere crib; they effortlessly transform into secure playpens and cozy travel beds, adapting seamlessly to the dynamic routines of both parents and babies.
Pack 'N Plays provide a safe and familiar environment for your little one to nap, play, or rest, whether you're at home or on the move. This adaptability is a game-changer for parents seeking convenience without compromising on their child's safety and comfort.
Investing in a Pack 'N Play on Black Friday isn't merely a purchase; it's a smart investment in your child's safety and your peace of mind. The substantial savings offered during this time allow you to acquire a quality Pack 'N Play that seamlessly integrates into your daily routine, making parenting a smoother and more enjoyable experience.
Baby Trend Retreat Nursery Center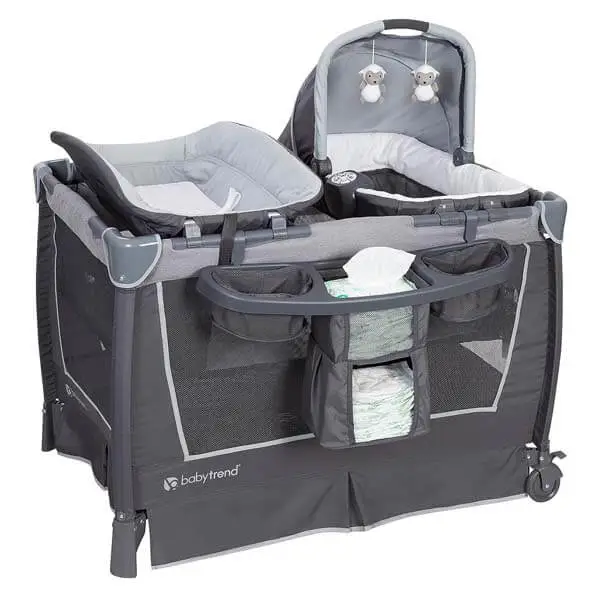 DIMENSIONS (open): 41 x 29.25 x 29 inches
DIMENSIONS (folded): 11 x 11 x 29 inches
WEIGHT: 33.4 lbs
WHEELS: Yes, with brakes
STORAGE BAG: Yes, a convenient travel/storage tote bag
EXTRAS: Removable full bassinet | Changing table | Deluxe parent organizer | Removable Rock-A-Bye Bassinet with canopy and carry handle | 2 toys | Electronic music center with volume control | Nightlight | Vibration

Weight/age/height limit: Maximum Weight Recommendation: 30 kilograms (about 66 pounds)
Baby Jogger City Suite Multi-Level Playard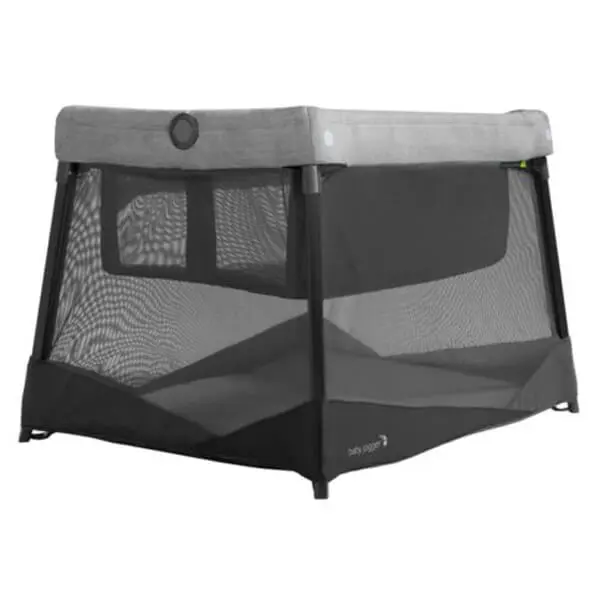 DIMENSIONS (open): 39 x 27.5 x 27 inches
DIMENSIONS (folded): 23 x 7 x 7 inches
WEIGHT: 13.5 lbs 
WHEELS: No
STORAGE BAG: Yes, the included carry bag simplifies storage and travel
EXTRAS: Integrated bassinet and a mattress that fits both the bassinet and playard | Accessories available for purchase separately include waterproof sheets, a parent organizer, and a changing pad
Weight/age/height limit: Bassinet mode: For infants up to 18 lb | Playard mode: For toddlers up to 35 inches tall
Save $67.5 (25%) on the Baby Jogger City Suite Multi-Level Playard
Pamo Babe Unisex Nursery Center Playard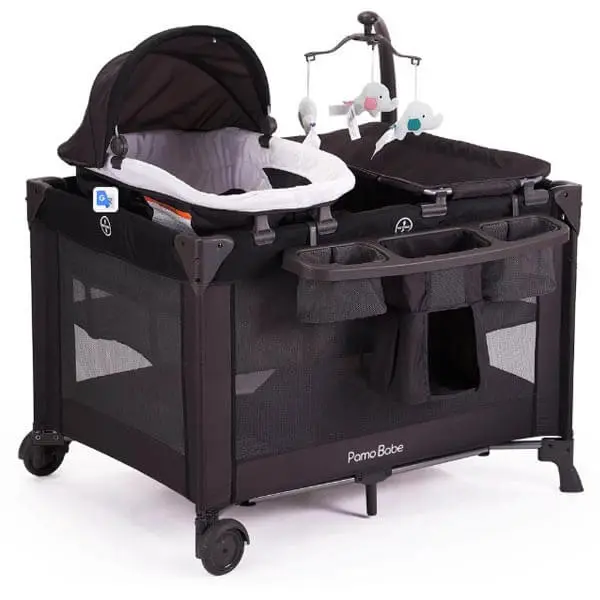 DIMENSIONS (open): 39.4 x 27.6 x 27.6 inches
DIMENSIONS (folded):  28 x 14 x 10.23 inches
WEIGHT: 31 pounds 
WHEELS: Yes, with locking brakes
STORAGE BAG: Yes, a convenient travel tote bag
EXTRAS: Removable full bassinet | Sleep nest |Changing table | Mattress for playard | Diaper organizer | Toys bar with 3 toys | Carry bag
Weight/age/height limit: Birth to 3 years
Save $80.0 (47%) on the Pamo Babe Unisex Nursery Center Playard
4moms Breeze Plus Portable Playard with Removable Bassinet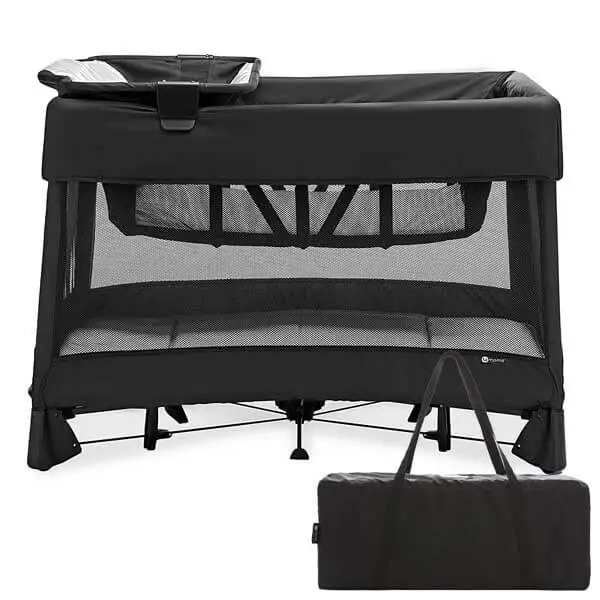 DIMENSIONS (open): 43″L x 30″W x 29″H inches
DIMENSIONS (folded):  12.5 x 12.5 x 33 inches
WEIGHT: Without bassinet and changer: 23 lbs | With bassinet and changer: 28.5 lbs
WHEELS: Yes
STORAGE BAG: Yes, included travel bag for convenient storage
EXTRAS: Removable bassinet | Detachable flip changer, | Water-resistant 2-in-1 mattress
Weight/age/height limit: Bassinet: From birth until 18 lbs | Changer: From birth until 25 lbs | Playard: From birth until 30 lbs
Save 20% on the 4moms Breeze Plus Portable Playard with Removable Bassinet
Maxi-Cosi Swift Play Yard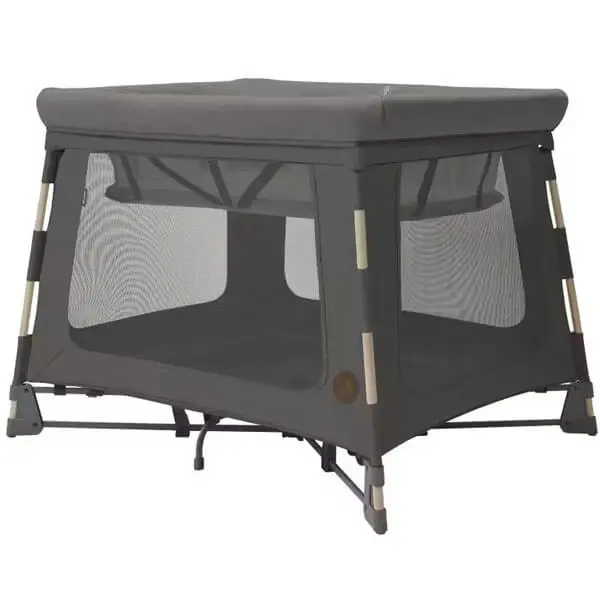 DIMENSIONS (open): 41.5" x 33.5" x 31" inches
DIMENSIONS (folded): 11.25" x 11.25" x 33.5" inches
WEIGHT: 18.5 lbs
WHEELS: Yes
STORAGE BAG: Yes, included carry bag for portability
EXTRAS: Two-stage mattress (smaller for bassinet, larger for playtime) | Elevated to prevent direct contact with the floor | Mesh fabrics for ventilation and visibility
Weight/age/height limit: Designed for newborns up to 3.5 years old | Bassinet mode can be used up to 15 lbs or until the baby begins to push up on hands and knees
---
Black Friday: Prime Time for Pack 'N Play Deals
Black Friday is the ultimate moment to find the best Pack 'N Play discounts. During Black Friday, retailers offer significant discounts on high-quality Pack 'N Plays, making them more affordable than ever.
Moreover, retailers try to grab customers' attention not only by reducing prices but also by offering bundled packages, freebies, and other benefits. So, with some luck, you might also get additional items besides the discount. Isn't that great?
If you're a parent looking for high-quality baby gear at affordable prices, then Black Friday is the perfect opportunity for you. This shopping extravaganza is a goldmine for savvy parents who want to invest in top-notch Pack 'N Plays that ensure safety and savings.
Where is the best place to buy a Playard on Black Friday?
The answer is online. Black Friday is a hectic day, but online shopping offers unparalleled convenience. You can browse through a vast array of options from the comfort of your own home.
Shopping online also means you can easily compare deals side-by-side, ensuring you find the perfect Pack 'n Play for your needs. Not to mention you will avoid long queues and the rush and chaos of in-store shopping.
Trusted online retailers often offer exclusive discounts and additional perks, making digital shopping for Pack 'N Plays even more appealing. With a wide selection of choices at your fingertips, you'll have no problem finding a top-quality Pack 'N Play at an irresistible price.
---
How to Maximizing Your Black Friday Shopping
Plan Ahead: Create a list of items you need, including Pack 'N Plays. Research deals beforehand to identify the best offers and prioritize your purchases.
Set a budget and stick to it.
Compare Prices: Don't settle for the first deal you see. Compare prices across different retailers to ensure you're getting the best possible offer.
Stay Informed: Sign up for newsletters or follow retailers on social media to stay updated on exclusive deals or early access offers.
Read Reviews: Prioritize quality. Check customer reviews and ratings to ensure the Pack 'N Play meets safety standards and lives up to its promises.
Be Ready to Act Fast: Black Friday deals can sell out quickly. Have your payment details ready, and be prepared to make swift decisions when the right deal comes along.
Avoid Impulse Buying: Stick to your list and budget to prevent overspending on items you don't need.
Consider Online vs. In-Store Shopping: Decide whether online or in-store shopping suits your preferences. Online shopping offers convenience, while in-store may provide a hands-on experience.
Check Return Policies: Ensure you're familiar with the return policies of the retailer in case the purchased Pack 'N Play doesn't meet your expectations.
Stay Safe: Whether shopping in-store or online, protect your personal information and avoid scams by purchasing from reputable retailers or official websites.
Black Friday mistakes when buying Pack 'N Plays and other Baby belongings
Prioritize Safety Standards: Always opt for baby items that meet the latest safety standards certified by regulatory bodies. Look for labels indicating compliance with safety guidelines to ensure your baby's well-being. Check for any recalls or safety issues related to the item you're considering.
Thoroughly Verify Product Details: Pay attention to dimensions, materials used, and weight limits to ensure suitability for your baby's needs.
Quality Over Price: Don't compromise on quality for the sake of a lower price. Investing in durable, high-quality baby items ensures longevity and safety for your child.
Test Product Functionality (If Possible): If shopping in-store, take advantage of the opportunity to physically inspect the item. Check for sturdiness, moving parts, and potential hazards.
Check Return Policies: This knowledge can prove invaluable if the purchased item doesn't meet expectations or safety standards.
Consult Trusted Sources: Seek advice from trusted sources like parenting forums, pediatricians, or experienced parents. Their insights and recommendations can guide you toward making informed decisions when purchasing baby essentials.
---
Quick Pack 'N Play Buying Guide
When buying a Pack 'N Play, it's vital to consider several key factors to ensure you choose the best fit for your little one and your lifestyle.
First and foremost, prioritize portability. Opt for a Pack 'N Play that's easy to fold, lightweight, and comes with a travel bag. This feature ensures hassle-free transportation, whether it's a weekend getaway or a visit to the grandparents' house.
Secondly, safety features should be non-negotiable. Look for models that adhere to safety standards, such as sturdy construction, mesh sides for breathability, and secure locking mechanisms.
Ease of assembly is another crucial aspect. Select a user-friendly Pack' N Play in terms of setup and breakdown. Quick and straightforward assembly saves time and effort, especially when you're on the move or dealing with a restless little one.
Lastly, consider additional functionalities that cater to your specific needs. Some Pack 'N Plays come with features like a changing table, storage pockets, or bassinet attachments, providing added convenience and versatility.