Babyletto Gelato 2-in-1 Mini Crib Review
A cute mini convertible crib, with a minimalistic yet unique design!
Babyletto Gelato 2-in-1 Mini Crib
Baby's Little Place Reviews
Gelato is a mini crib with a distinguished Babyletto's design. The crib is gentle, sleek, and surrounded by spindles. That gives it a touch of modern European style, and at the same time, allows good airflow through the crib.
Babyletto Gelato is a 2-in-1 convertible mini crib, perfect for small space nurseries or shared rooms. I am sure modern moms will adore this mini crib's look. I certainly do! The crib itself offers good quality and enough features. But does all this outweigh its slightly higher price?
Read further to find out the results of our Babyletto Gelatto 2-in-1 mini convertible crib review, where we have reviewed its features, space-saving features, and safety.
Babyletto Gelato 2-in-1 Mini Crib Review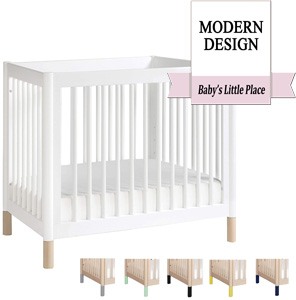 PROS:
grows with your child
small footprint
modern design
interchangeable feet
adjustable mattress support
includes 1″ mattress pad
perfect for short moms
exceeds all safety standards
CONS:
lack of different finishes
Since I have already said a few words about Babyletto Gelato's design, I will start with its more detailed review first.
Babyletto Gelato mini crib's design and space-saving properties
The crib is constructed to fit almost any room layout. Babyletto Gelato mini crib looks great either next to the wall, in the room's corner, or even as a centerpiece of the room, whichever fits your needs the most.
I find this very useful, after all, most parents opt for a mini crib because they have to squeeze it into a small space.
This mini crib is available only in two different color combinations. You can pick amongst a White crib with Washed Natural feet, or vice versa, a Washed Natural crib with White legs.
If this is a disappointment for you, let me cheer you up with the Gelato's cool feature. Babyletto Gelato has interchangeable feet! Combining the crib's neutral or white frame with funky Mint, Yellow, Black, Navy, or Grey legs, makes it to match almost any room décor.
Short moms will also love the Babyletto Gelato mini crib. Its proper height, combined with the smooth top and adjustable mattress positions, makes it much easier for them to access their baby.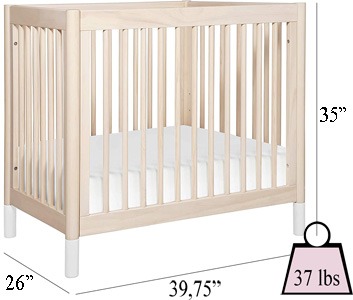 ---
Gelato's convertibility Review
What can I say about Gelato's convertibility? I have no complaints regarding the conversion itself. The transformation is easy, the instructions are clear, and the converted crib stays sturdy.
Babyletto Gelato mini crib is a 2-in-1 convertible crib, which means that the crib converts into one bed. In this case, this is a twin-size bed.

The twin-size bed conversion kit is, like on any other convertible crib on the market, sold separately.
However, I can't get rid of the feeling that it could offer a little more for the money you are paying. Babyletto could add at least a daybed to the Gelato's conversions. After all, cheaper mini convertible cribs, like DaVinci Colby, have such an option.
But on the other hand … Gelato mini crib is a smarter, more long-term alternative to a baby bassinet, with the added benefit of a convertible design, which many mini cribs don't have at all.
What I want to say is that the conversion itself is safe and high quality, but compared to other mini convertible cribs, you might get a little less for the same price.
How long can my baby use the Babyletto Gelato mini crib?
Stop using the Gelato as a crib when your child begins to climb or reaches 35 inches. It is time for the transition into a bigger bed. If you decide on a twin-size bed, it has a weight limit of 500 lbs.
---
Babyletto Gelato mini crib Safety
Babyletto Gelato mini crib is a safe crib! It meets and even exceeds all required ASTM international and U.S. CPSC safety standards. The crib doesn't wobble, it's lead and phthalate safe, and finished in a multi-step non-toxic painting process.
Babyletto is one of the rare crib manufacturers whose cribs are also GREENGUARD Gold certified. The crib has been screened for 360 VOCs and over 10,000 chemicals to obtain it. This certification ensures that your baby breathes in cleaner air.
---
What size crib mattress fits into Babyletto Gelato mini crib?
First of all, you will get a 1″ mattress pad with the crib, which is great. But it's quite thin, so I recommend you pick a thicker mattress for everyday sleep.
I don't see a problem using it occasionally, so if you choose Babyletto Gelato for a grandparents' house, buying a thicker crib mattress is might not necessarily.
Some say that the included mattress pad doesn't feel comfortable, as it's too firm. That's how it should be! Your baby, especially a newborn, needs a firm crib mattress.
A firm and tight-fitting crib mattress contributes to a better bone and muscle development, adds to the overall safety, and reduces the risk for SIDS (Sudden Infant Death Syndrom). 
So, if you opt for a thicker crib mattress, pick a firm one! If it feels too firm to you, it's probably perfect for a newborn! Babyletto Gelato mini crib takes any US mini crib mattress, which is at least 37″ long by 23.875″ wide, and no more than 5″ thick. 
You can choose Babyletto's Pure Core mini crib mattress, which is a perfect fit. You can find its review and links for the best price HERE, but keep in mind that you have to pick a mini version for the Gelato!
Other Babyletto Gelato crib mattress information:
It has 2 adjustable mattress levels.
The mattress sits on a TSCA compliant MDF mattress support.
---
FREQUENTLY ASKED QUESTIONS
Is Babyletto Gelato mini crib portable?
A portable mini crib is every crib that is smaller from a standard size baby crib and stands on wheels. Most mini cribs on wheels also fold down for easy storage.
Babyletto Gelato doesn't stand on wheels or fold down, so it's not portable. However, it's a mini crib with a sleek design, so it doesn't weigh a lot and fits through standard doorways. As such, you can move it around the house without disassembly, however it's not designed for that.
If you want a portable mini crib, I recommend you take a look into Babyletto Origami mini portable crib, which is similar to the Gelato. Babyletto Origami stands on wheels and folds down, but it doesn't convert into a bigger bed.
Does one side come off to use as a toddler bed?
No, Babyletto Gelatto doesn't convert into a toddler bed or daybed. As this is a mini crib, toddlers outgrow toddler bed and/or daybed very fast, so they are not as usable as on full-size cribs. However, as I already said, it would be a fine addition.
What is the space size under the crib? Is the clearance from the floor to the bottom of the crib big enough for storage boxes?
Babyletto Gelato mini crib has a 4″ clearance from the floor to the bottom railing. So there is not a lot of space for under-crib storage.
If you need additional storage, you might like a mini crib with an under-crib drawer, such as DaVinci Colby mini convertible crib, or a mini crib with an attached changing table, such as Dream On Me Casco mini convertible crib with an attached changer.
What is the height from the top of the mattress to the top of the railing?
The height from the top of the spring frame to the floor is 16″ when the mattress sits on the highest level and 7,5″ when it's on the lowest.
Babyletto Gelato 2-in-1 Mini Crib Review

SPACE-EFFICIENCY:
CONVERTIBILITY:
SAFETY:
QUALITY:
VALUE FOR THE PRICE:
Summary
I like Babyletto Gelato's style, small-footprint, quality, and sturdiness. The crib serves its purpose to perfection. It doesn't occupy a lot of space, it's a better alternative to a baby bassinet, and even grows with your child.

Yes, there are mini convertible cribs with more conversions, which are available for the same price or even cheaper, but most of them are not as quality as the Babyletto!


---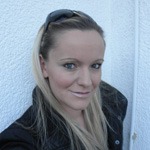 Hello!
I am the founder of Baby's Little Place. I'm a mom to the one-year-old daughter and I know how overwhelming could be when you are looking at things and tips for a new baby, especially if you are a first-time parent. That's why I set up this site…because I want to do something I am passionate about, as well as I want to help new parents and parents to be.

I hope you enjoyed reading my article! If you have any questions or comments, please leave them down below. I will be happy to discuss it with you!
---
---