Last Updated on September 21, 2020 by Ines
Are organic crib mattresses truly 100% organic?
Some are, others don't! But, how to know if your selected crib mattress is truly organic? The only way to be 100% sure, is by checking its certifications!
But even that is not enough! Unfortunately, the label with certain certification doesn't assure you that you are buying a 100 % organic crib mattress.
Investigating and reviewing given certifications can be a tough and time-consuming job. But we gave our best. We were surprised by the low number of crib mattresses that are really 100% organic.
Actually, among the many 'organic' crib mattresses, it is only the Naturepedic crib mattresses really 100% organic. It is the only crib mattress with all needed certifications to meet the organic standards for all its components. Luckily Naturepedic offers a great selection of different crib mattresses, so I think everyone can find a suitable model for his needs.
---
How is it possible that a crib mattress, which is not 100% organic, got its certifications anyway?
If the mattress is not 100% organic, it won't get a certification. However, individual parts of the crib mattress may get their certifications.
So, only a specific part of the crib mattress is certified to be 100% organic. The manufacturer puts its certificate on the mattress's label and adds that only a small part of the mattress is 100% in a small print. The customer can easily miss it, thinking he is buying a 100% organic crib mattress.
For example… Lots of crib mattresses have an organic cottoned cover, which can be the only part of the crib mattress that is truly organic. Of course, the manufacturer puts that on the label, because it raises the mattress's selling potential. They are not misleading you, but let's be honest, they probably hope you won't read all the information.
Misleading is not a common practice in the crib mattress industry. But some manufacturers trying to hide certain information to make the crib mattress looks little more organic, or environmentally friendly than it is in reality.
---
At this moment, I want to emphasize another important thing!
Safety standards in the baby industry are very strict. All crib mattresses on the market must meet them! What I am trying to say is that even if the crib mattress is not 100% organic, that doesn't mean it is not safe for your baby.
And vice versa, if the crib mattress is truly organic, it must meet all other required safety standards to be safe for your baby! A safe crib mattress must:
fit snuggly into the crib
have sufficient support for a proper baby's bone and muscle development
has the right firmness for your infant
---
How to know if my crib mattress is really 100 % organic?
Check crib mattress' certifications, because this is the only way to be certain it is truly organic!
Certifications an organic crib mattress must have
When purchasing an organic crib mattress, checking its certifications must be the number one thing you should do. Without the third-party certifications listed below, there will be no way to know if the crib mattress is truly organic.
But read the description very carefully! As I already said, only one part of the certain crib mattress may be certified to be organic.
→ Make sure the whole mattress is certified to be 100% organic! 
Organic crib mattress certifications: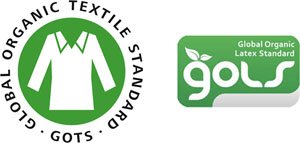 Depending on whether the crib mattress contains organic cotton or latex, it must have one of the following certifications:
GOTS (Global Organic Textile Standard)
GOLS (Global Organic Latex Standard)
Global Organic Textile Standard (GOTS)
Global Organic Textile Standard certifies fiber-based products. It is the worldwide leading textile processing standard for organic fibers. GOTS includes ecological and social criteria, backed up by independent certification of the entire textile supply chain.
Global Organic Textile Standard ensures the organic status of textiles, from harvesting of the raw materials, through environmentally and socially responsible manufacturing up to labeling. GOTS gives the final customer a credible assurance that a product they are buying is certified organic and non-toxic to a strict standard.
A crib mattress with GOTS certificate:
prohibits the use of vinyl and polyurethane foam in crib mattresses
the manufacturer can not mix organic with non-organic cotton
permits use of food-grade polyethylene as a waterproof method
it allows using of certain non-fiber accessories, that must meet strict environmental and health criteria
everyone in the chain of producing organic crib mattresses, from farmers to manufacturers must meet social and environmental criteria
Global Organic Latex Standard (GOLS)
Organic latex with GOLS certification has met or even exceeded specific standards in the processing and manufacturing steps.
GOLS establishes a clear path and procedure of the organic latex life cycle from field or farmer level to the certified organic latex product manufacturer. Manufacturers with GOLS certification have to follow mandatory social and environmental regulations.
---
Pay attention to claims such as "non-toxic", Eco-mattress,…
Lots of manufacturers use phrases like "non-toxic", "green", Eco-friendly", "all-natural", etc. in their mattresses names. That is not forbidden, and it doesn't necessarily mean those crib mattresses are not safe.
In fact, many of these models are very good and can be a great choice for your baby too. We had already reviewed such crib mattresses and got few great results. For example, Colgate Eco Classica III crib mattress is one of the best mattresses on the market, but it is not 100% organic.
In reality, only a few baby crib mattresses are truly organic. And if you are looking 100% organic crib mattress, I would recommend Naturepedic crib mattresses to you. Naturepedic is the only crib mattress manufacturer we had found so far, with all required certifications. All parts of their crib mattresses are certified to be organic!
---
Buying a 100% organic baby crib mattress? Then remember this!
Claims like Eco-friendly, natural, non-toxic, and so on, are not backed up with the certification. If you see such a model, it is far from being a bad mattress, but probably it is not 100% truly organic as well.
Look for certifications like GOTS and GOLS, that assure you the mattress meet all organic standards.
---
What is Greenwashing?
If a manufacturer uses claims like "non-toxic", "all-natural", …or even "organic" with the purpose of misleading costumers, that is called Greenwashing.
Simply puts in words, they want to sell more, by making us think we are buying a safer, environmental-friendly product.
Greenwashing examples in crib mattress industry are:
If manufacturers stated their crib mattress is made of Eco-foam, soy-foam, or other green foams, and they don't provide additional information about what their crib mattress is made of, they probably want their crib mattress to appear more environment-friendly than it really is.
Lots of time, such mattresses are average polyurethane foam crib mattresses with a bit of soybean oil mixed in.
Sometimes, manufacturers want to sell more by labeling their product "made with organic materials". If there are no certifications, you can't tell how much of that product is made of organic materials. It might be 99%, or only 1% organic!
Figuring out, if the manufacturer is Greenwashing or not, can be hard and takes a lot of time and research. So, if you want a truly organic baby crib mattress, for now, we can recommend only Naturepedic crib mattresses. After our research, we had found out that they are the only crib manufacturer with all required certifications a truly 100% organic crib mattress must-have!
CRIB MATTRESS REVIEWS
Unique crib mattresses:
Foam crib mattress Reviews:
Innerspring crib mattress Reviews: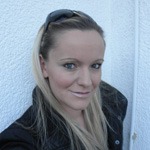 Hello!
I am the founder of Baby's Little Place. I'm a mom to the one-year-old daughter and I know how overwhelming could be when you are looking at things and tips for a new baby, especially if you are a first-time parent. That's why I set up this site…because I want to do something I am passionate about, as well as I want to help new parents and parents to be.

I hope you enjoyed reading my article! If you have any questions or comments, please leave them down below. I will be happy to discuss it with you!