Last updated on February 23rd, 2023 at 11:11 am
Are you a new parent seeking the perfect night light for your baby's nursery? Look no further! We've compiled a list of the best baby night lights of 2023 that are safe, long-lasting, and simple to use to assist you in your search.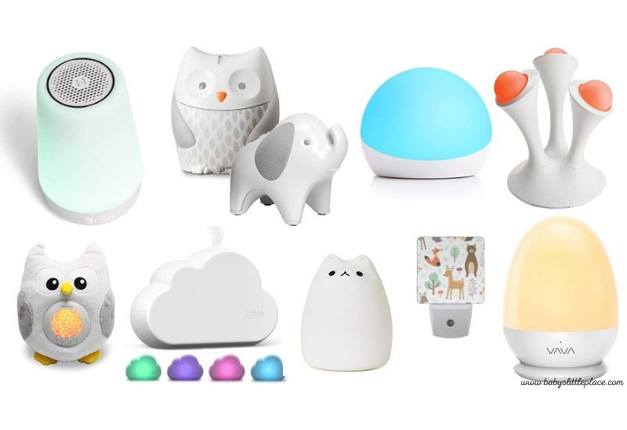 Top-Rated Night Lights for your Baby
Baby's Little Place top rated products
But how can you know which night light to pick when there are so many options? Don't worry; we've got you covered. We have also included a comprehensive baby night light buying guide. It will help you through all the factors you should consider when selecting the best night light for your baby's nursery.
But first, did you know that infants don't mind the dark? I am serious! Fear begins to set in only at the end of their second year when a child's cognitive development allows them to comprehend the concept of fear. Therefore, pick a night light that will help you and become a reassuring companion for your child later.
What kind of night light is good for the baby?
A good night light is necessary to establish a soothing environment that will aid your baby's ability to sleep through the night.
Our list includes lots of dimmable night lights. These are one of the best baby night lights because they provide a proper brightness level to take care of your baby's needs without disturbing their sleep. Parents who need to cross the room without turning on strong lights that might wake their baby up will also find these night lights to be ideal.
We've also included night lights with calming tones. These are good options for your baby because they can help her fall asleep in a stress-free environment.
So, we are sure you'll be in the best possible position to create a peaceful and comfortable sleeping environment for your baby if you select one of the top-rated baby night lights from our list and heed our buying advice.
Top 3 Nursery Night Lights:
Editor's Choice:
Hatch Rest+ Baby Night Light
Night light and a sound machine designed with sleep in mind.
---
Runner Up: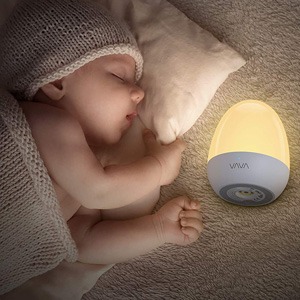 VAVA Night Light
It has everything you need to create a soothing atmosphere in the nursery.
---
Best night light with Projector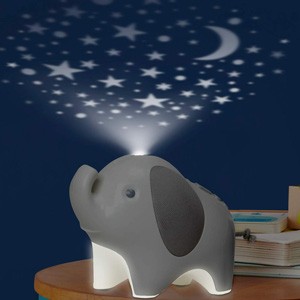 Skip Hop Baby Night Light
Cute, animal-shaped night light with numerous features for a reasonable price.
If you have already done your nursery night-light research, you can skip the buying guide and jump directly on the list with our favorites.
→ Top-rated baby night lights of this year
---
Nursery Night Light Buying Guide
Types of Baby Night Lights
When it comes to baby night lights, your choice is tremendous. That is great, but most parents are confused by so many features, prices, shapes, etc.
Thus I suggest you first decide which type of night light suits your needs. That will narrow down your choice and make the decision easier.
Plug-in nursery night light:
Plug-in night light is a well-known mini light that is on the market for many years. It is a small model with blurred light that you plug right into the wall outlet.
This type of light is usually cheap, and it works well for its purpose. There is no need for recharging, and it is very durable. However, it works only in the wall outlet, so its usability depends on the outlets' position in the nursery.
Plug-in night lights work during the whole day, or they have a sensor. You can opt for a daylight or motion sensor.
Projection night-light:
This type of baby night light projects images onto the room ceiling or wall. Your choice is endless, from the luminous sky, moon or stars, to superheroes and fairytale heroes,… it will keep your baby's interest until she falls asleep. Well, at least in theory.
Projection is excellent for evenings when you place your baby to sleep. It can be very efficient, especially along with a gentle lullaby in the background. However, it is not suitable for nighttime feeding or diaper changing.
Consequently, we have selected a model that combines both a dimmed light and a projection for the best night light in this category.
Another thing you have to pay attention to is the reach of the projector. It has to fit the dimensions of the nursery, so that the image on the ceiling is not blurry or too small.
Portable baby night light:
The portable night light allows the most versatile use. Its advantage is that it doesn't need to be plugged into the outlet to work.
As there is no cord, you can place it wherever in the room you want. But keep in mind that it requires regular battery changes or charging if it is rechargeable.
Best portable night lights are powered using a USB cord and work up to 20 hours at times.
Soft plush night light:
This type of night light is built into a plush toy, which you can place into a child's bed. Basically, it's a kind of portable type, but it doesn't emit as much light as other portable models.
Warm ambient light and the toy's softness comfort kids and help them sleep. But be careful! A soft night light is not suitable for newborns and babies! You should never place stuffed animals, pillows, or other comforters in the crib with your baby!
Such night light is suitable for babies over a year when they are old enough to sleep with a stuffed animal.
You can firstly use it outside the crib, but note that the light emitted from this type is may not enough for nighttime feeding or checking your baby.
Silicone baby night light:
These are portable baby night lights made of soft and safe silicone. They are squeezable, without sharp edges, and can not break.
Your kid can safely play with silicon light or even take it into the bed. Although some claim they are safe to use in the crib, I wouldn't place it in the crib next to a little baby.
I would rather put it next to the crib. A silicone night light can change colors and give more light than plush models, so it can efficiently help you with diaper changing and breastfeeding.
Another great thing about silicone night lights is that they are washable!
Types of Baby Night Lights that we do not recommend:
A classic table lamp is too bright to use during the night. You can use a dim bulb, but I prefer one of the night lights mentioned above. Nursery night lights have additional features made for improving the baby's sleep.
Do not use a candle in the nursery! I don't think I need to stress out how extremely dangerous this is.
---
What to consider when buying a night light for the nursery?
No matter which type you choose, night lights usually come with one or more additional features. Of course, you do not need all of them, but there are few things you should consider:
Night lights' extra features:
If you are like me, you like different gadgets in your life. Night lights are available with various more or less helpful features.
Although they are rarer, you can also opt for night lights with a built-in thermometer, humidifier, voice control, etc.
Benefits of baby night lights
---
Best baby night lights in 2023
This is our most recent list of the best night lights to help you soothe your infant and assist you with those late-night feedings and diaper changes.
Best overall:
Hatch Rest+ Baby Sound Machine and Night Light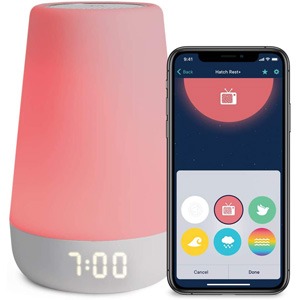 Why we love it:
The Hatch Rest+ Baby might look like an ordinary night light, but it is so much more. It is a multifunctional innovative smart device designed with kids' sleep in mind.
Oh, and it doesn't need to look regular. The cool thing about the Hatch Baby Rest are adorable plastic covers (Hatch coverlets) to customize its design.
Our favorite night light is a new, improved model of the already popular Hatch Baby Rest night light. It retains all features of the previous model, meaning it combines nightlight, sound machine, phone control, and time-to-rise alert. But now it offers even more!
By adding a two-way audio monitor, LED clock, and Alexa control, Hatch Rest+ Baby becomes a perfect sleep companion from infancy to toddlerhood and beyond.
Yes, the Hatch Rest+ Baby costs a little more than other night lights on the list. However, it offers so much that you do not need extra nursery gadgets like a sound machine or baby monitor. By deciding on this night light, in the end, you may even save some money.
---
Best value for the price::
Skip Hop Baby Sound Machine, Projector & Night Light
Why we love it:
The Skip Hop Baby night light lets you choose how to soothe your baby. It has a projector, night light, and sound machine. And the best part? You get it for a reasonable price.
Due to the lower price, all individual features are only basic ones. But Skip Hop's advantage is that it combines all of them in a cute, quality, and low-priced night light that kids love.
For example, the nightlight in the animal's belly shines only in one color. Still, it emits a warm glow, which promotes better sleep. It is soothing for your baby, allowing nighttime feeding, checking on your sleeping child, and is dimmable.
Or if we take a look at the Skip Hop's sound machine. Although it does not play hundreds of different melodies, it plays four lullabies and four nature sounds, which is more than enough.
What I am trying to say is that you get a lot for the price you are paying! Besides the features described above, you can also set the timer and adjust its volume. Also, do not forget that kids love the animal shape of this night light (choose between a cute owl or an elephant)!
---
Soft glowing friend:
GoLine Silicone Night Light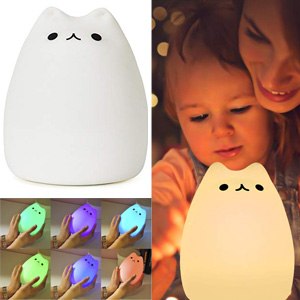 Why we love it:
If you want an unbreakable, shockproof night light, this is the one you are looking for.
The GoLine Kitty night light is made of BPA-free washable silicone. It is soft, flexible, and pleasant to the touch. Its smooth rubbery surface also doesn't get hot, meaning, if your baby touches it, she won't get hurt!
I can easily say that it charms many with its appearance alone. Who can resist such a cute cat face? But, of course, it offers more than an adorable look!
I like that you can operate the light by touch. It is very convenient when you want to turn the light on or quickly change between modes. You can switch between normal white light mode, 7-color breathing light mode, and standby mode.
However, if you want a remote control, you can get it for an additional $ 3. When buying, pay attention to which model you will choose!
The GoLine Kitty night light is a portable model that works on rechargeable batteries. I love that it works for an extended period without recharging it, so it can easily stay on all night long.
As for its brightness … It's bright enough to let you see around the room, yet still noninvasive, and does not distract the child.
---
Best plug-in nursery night light:
2 Pack Plug-in LED Baby Night Light Lamp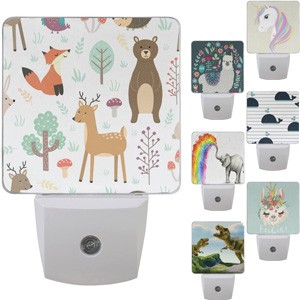 Why we love it:
This plug-in night light is for those who do not want to deal with its control. Just plug it into the outlet, and it will work automatically via the sensor.
It features a dusk to dawn sensor, which turns the night light on when it begins to darken and goes out when it detects light.
The plug-in night light provides the right amount of glare-free lighting to guide you in the dark. It is bright yet energy-saving and not too bright to interfere with the baby's sleep.
Of course, with this type of light, you have to consider the location of outlets in the nursery. If the outlet is not fully covered, you should see well enough to feed and change the baby's diaper during the night.
I love the light's minimalist design. It is an ultra-slim, square acrylic LED light with clean lines. Those who have themed nurseries will also appreciate that they can choose from many beautiful designs.
The light is cool to the touch and lasts up to 100000 hours. And do not forget, you get two in the package!
---
Best touch-controlled night light:
VAVA Home VA-CL006 Night Lights for Kids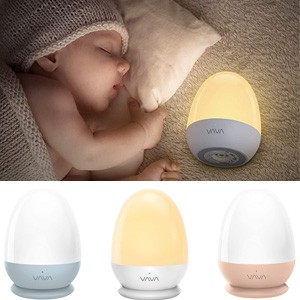 Why we love it:
The VAVA Home Night Light is everything a mum and baby need for peaceful nights. It is portable, dimmable, and 100% safe for your baby's eyes.
Unlike color-changing night lights, the VAVA Home Night Light emits only the white and warm yellow light. However, the warm glow is the only one you need for a good night's sleep! Such night light creates a safe and comfortable atmosphere that gets your baby to sleep deeply throughout the night.
Another feature that is very handy in the nursery is adjustable brightness. You can set its brightness just enough to feed or change diapers, but not too much to fully wakes your baby up.
In my opinion, the VAVA light has one of the best touch-control systems. Its easy touch controls are very responsive compared to other night lights in its price range. For example, you can double-tap the top to power the light on/off, hold the top to adjust the brightness, or hold the VAVA logo to switch the color temperature.
But VAVA Home is not just a nursery night light, but it is also a great toddler's companion. It is appropriate for indoor & outdoor usage, the light doesn't warm up, and is made of toy-grade ABS and PC materials.
---
Futuristic fun:
Boon Glo Nightlight with Portable Balls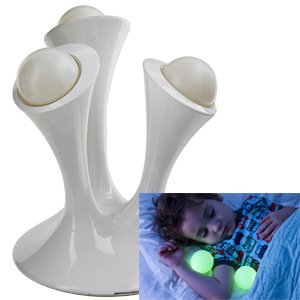 Why we love it:
The Boon Glo Nightlight is a funky modern night light that toddlers love!
Due to the nature of its operation, this night light is might a better choice for older babies and toddlers. Therefore, if you are looking for a light that would help during night-time feeding or changing, I suggest choosing another model from the list.
However, for a toddler or older baby, the Boon Glo Nightlight is a perfect choice. It will help them feel safe and secure at night.
The Boon Glo is an interactive nightlight with portable balls. They are removable and illuminate up to 30 minutes after removed from the base.
The night light is multicolored. So, while on the night light, balls glow in the color that the base is glowing. You can select your favorite color or let them circulating. But keep in mind that when removed from the base, balls glow only green.
Furthermore, balls do not contain BPA or PVC, and there is nothing electronic in them. It is entirely safe for the toddler to hold them or even take them into the bed.
Just do not forget …. Although they are safe for toddlers, you should never place them in the crib with the baby!
---
Best nursery night light with a humidifier:
Pure Enrichment® MistAire™ Cloud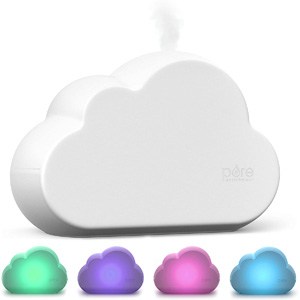 Why we love it:
If there is dry air in your home, it is a good idea to consider buying a humidifier.
A humidifier in the baby's nursery may help your little one sleep soundly. It helps your baby breathe easier, prevents skin from drying out, soothes dry lips, reduces viruses in the air, etc.
The Pure Enrichment MistAire Cloud is a perfect choice for those who need a humidifier and a nightlight. Yes, many humidifiers have built-in LED lights, but this one has a unique cloudy design that complements any nursery decor.
I like that it is a cool-mist humidifier. They are considered safer from warm-mist models, especially for children. Other pluses of this humidifier are the ability to adjust the moisture output to meet your comfort level, auto safety shut-off feature, and the ability to mists up to 24 hours.
The Pure Enrichment MistAire Cloud has a quality soft glowing night light. It is bright enough to function as a night light for changing/feeding the baby but not too bright to interfere with her sleep.
You can also pick your favorite color or leave it to rotate between different colors.
---
Cute, plushy choice:
Owl Baby Soother and Night Light
Why we love it:
This is a perfect soothing toy from infancy to toddler age! However, if you need a nightlight to assist you during nighttime feeding, it may be better to look at other models.
Especially toddlers love their sweet snuggly animal soother! But it is appropriate for babies too. Your crib should be free of any toys for the first year, so BubZi added a safety strap on the animal's back.
The strap is adjustable, allowing the night light to secure out of the baby's reach. You can fasten it to the top of the crib or elsewhere in the nursery. Furthermore, although it is soft, it can stand on its own too. Therefore you can place it on the dresser, changing table, or other nursery furniture.
In addition to the soft surface, I also like its versatility. It plays numerous soothing sounds and lullabies, has volume control, and turns off automatically after 30 minutes. In its belly is a projector that projects stars that slowly fade into different colors. It is battery-operated, so you can take it anywhere you go. Fasten it on the stroller, Playpen, etc.
You can also choose between various animals (owl, penguin, elephant, and unicorn), and wash it if needed.
---
Best Alexa compatible baby night light:
Echo Glow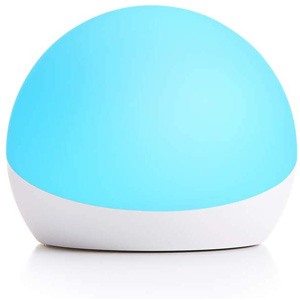 Why we love it:
The Echo Glow Smart night light is designed especially for kids. It helps establish a healthy sleep routine, provides dimmable light to check up on a sleeping baby, assists during nighttime feedings, etc.
Later it turns into a perfect kids' companion. It gives them the freedom to add color and fun lighting in their room.
It is controllable by the voice, but you need a compatible Alexa-enabled device such as Echo Dot Kids Edition, Echo Plus, or Echo Show 5, etc. However, if you want, you can operate it with a tap too.
The Echo Glow is a multicolored night light, which can glow from soft, calming light to bold colors. You can ask Alexa to change the color and brightness of the glow. Furthermore, you can choose from endless color modes, such as color flow, campfire, siren, firetruck, underwater, etc.
The thing I like the most is setting the nighttime routine by using Alexa App. Your options are limitless. You can set the time to turn on, set the light to gradually gets brighter until it is time to wake up, set the time after which it should dim or turn off, and so on.
---
Conclusion:
Establishing a cozy and comforting sleeping environment for your baby begins with selecting a suitable night light. A reliable, long-lasting, and simple-to-use night light will help you and your baby! Your baby will sleep through the night, simplifying your bedtime ritual.
Our list of the best night lights for 2023 includes dimmable lights and gentle, calming colors to provide just the appropriate amount of light to promote sound sleep for your baby. And with our buying guide, you'll have all the details you need to choose a night light for your baby's room confidently.
Remember that you need a good night light just as much as your baby. Picking a night light that enables you to move around the room for late-night feedings and diaper changes without awakening your baby will make your bedtime routine less stressful and calmer.
You and your baby will soon be sleeping quietly through the night if you take the time to select the best baby night light for them!